In Stride
Internal Investigations Won't Stop Abusive Coaches 
What the Dave Scott-Thomas and Alberto Salazar scandals have in common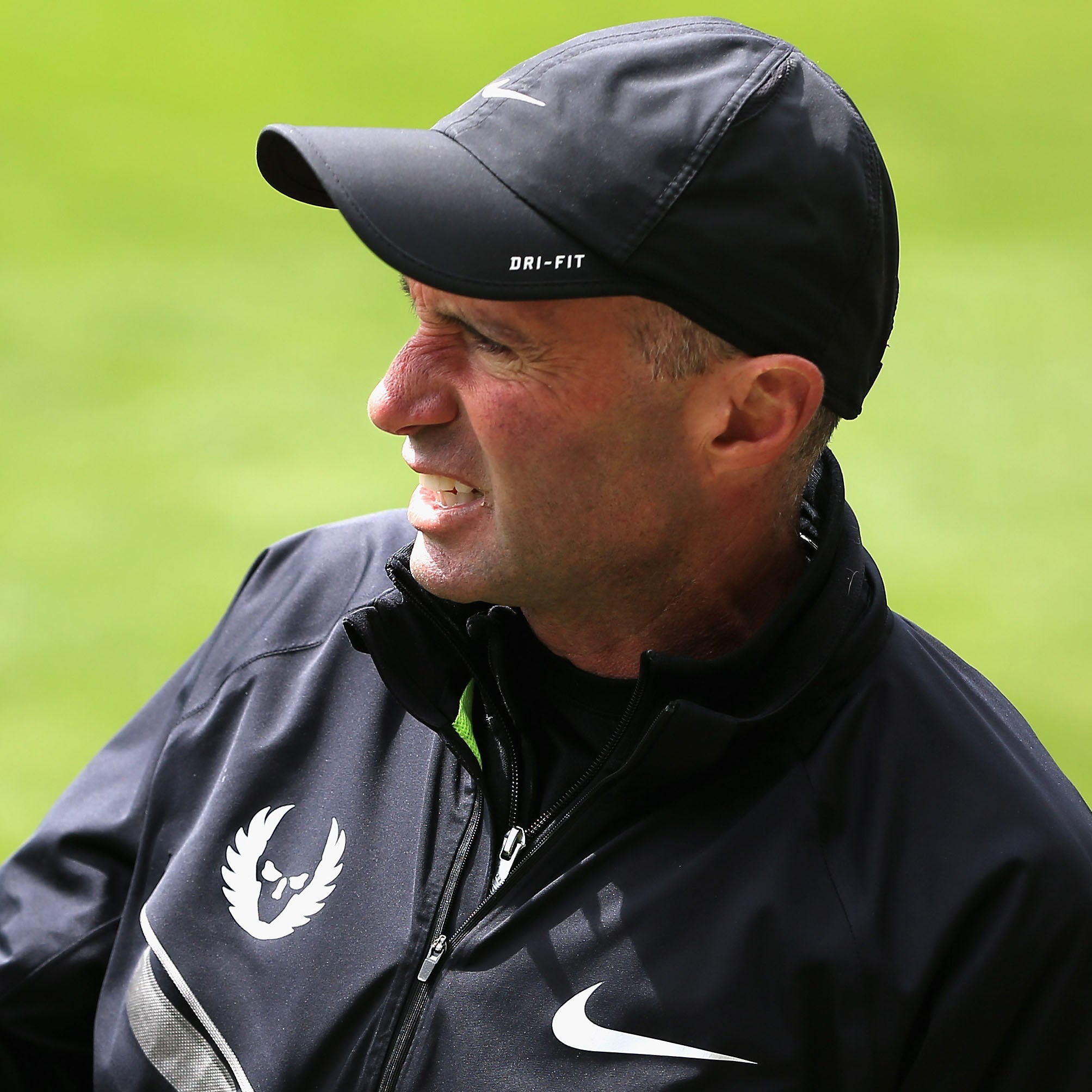 Heading out the door? Read this article on the new Outside+ app available now on iOS devices for members! Download the app.
Earlier this month, the Globe and Mail published an unsettling exposé on Dave Scott-Thomas, a Canadian coach who elevated the University of Guelph's distance running program from mediocrity into a national powerhouse. According to the report, Scott-Thomas recruited a teenage phenom named Megan Brown in the fall of 2001 and subsequently initiated a sexual relationship with her while he was her coach—first at Speed River, his club team, then at the University of Guelph. When the relationship began, Scott-Thomas was married and in his late 30s. Brown was still in high school. 
Towards the end of 2004, Brown confided in her coach that she had told one of her friends about their affair. Scott-Thomas allegedly responded by grabbing Brown's throat with both hands, forcing her against a wall, and telling her that she was "finished" at Guelph. As the Globe article illustrates, the fallout from this relationship kept Brown from maximizing her athletic potential and left her psychologically traumatized. Scott-Thomas, meanwhile, would go on to become one of the most successful running coaches in Canadian history. (Scott-Thomas's lawyer has called Brown's allegations "unsubstantiated and inaccurate," but did not specify which aspects of her account his client has denied.)
Unsurprisingly, this story has struck a nerve, and a number of individuals from the wider running community have expressed their solidarity with Brown in recent weeks. Among those giving their support is ex-Nike Oregon Project runner Mary Cain, who last year called out Alberto Salazar, her former coach, for abusive behavior. Brown has cited Cain as inspiration for making her own story public. 
Although the allegations against Scott-Thomas and Salazar are very different (for one thing, Salazar has not been accused of assault) there are some obvious parallels. In both cases, a celebrated coach said to subscribe to a "win-at-all-costs" mentality has been accused of precipitating the physical and emotional breakdown of a teenage running sensation. When the allegations were made, both coaches benefitted from being ensconced in a large institution—i.e. the University of Guelph and Nike—that said it would look into the issue, despite having little incentive to expose the wrongdoings of its more prominent employees. 
Among the more damning revelations in the Globe's reporting was that Brown's father had informed the University of Guelph of his daughter's relationship with her coach back in 2006, and provided an extensive email correspondence between the two as proof. The University hired a consultant to look into the matter and eventually sent Mr. Brown a letter that largely exonerated Scott-Thomas, despite conceding that "his personal involvement with Megan was inconsistent with his role as her coach." The letter also informed Mr. Brown that "appropriate action had been taken," but was cryptic about what that might have been. 
More than 12 years later, after abruptly firing Scott-Thomas in December 2019 when another one of his female athletes came forward with allegations of misconduct, the University of Guelph told the Globe that it had suspended the coach for four weeks in the wake of Mr. Brown's initial complaint. Despite interviewing more than 70 coaches and athletes, the Globe couldn't find anyone to confirm that this suspension had occurred. 
"In 2006, we painfully tried to warn the university," Mr. Brown told the Globe. "My perception is that their energy was more devoted to protecting Dave Scott-Thomas and their reputation than student safety."
Some of that may sound eerily familiar to those who have followed the fallout from the Salazar scandal. Last November, after Cain accused Salazar of publicly humiliating her for her weight in a widely-read New York Times op-ed, Nike responded that such "deeply troubling" behavior was "completely inconsistent with the company's values," and that it would be launching an immediate investigation. Since an in-house probe would pose an obvious conflict of interest, Cain called on Nike to let a third party look into potential abuses at the Oregon Project. 
This did not happen. On January 27, Women's Running first reported that Nike had concluded an internal-investigation and would be using the findings to "identify areas where we can do better in supporting female athletes." These findings will not be made available to the public however, nor will any other details about the investigation. Anyone who might have wondered what, specifically, in Cain's allegations was such an affront to Nike's values will have to remain curious. 
What's more, Cain told Women's Running that she opted not to take part in the probe because some of the people involved appeared to be "investigating themselves." Kara Goucher, another prominent ex-Oregon Project athlete who has become one of the more outspoken Nike critics, informed Outside that she likewise did not participate in the probe, also on the grounds that it was solely an in-house affair. Thus, in a Kafkaesque twist, the only thing we know about this now-completed investigation is that two principal witnesses did not take part in it. 
A Nike spokesperson confirmed to Outside that the company will not be making its findings public, but asserted that Nike plans to "invest in scientific research to understand the impact of elite athlete training of girls and women, increase the number of women coaches in sports, and provide a network of resources to support women athletes." The spokesperson did not respond when asked whether Nike is still funding Salazar's appeal to overturn his four-year suspension for doping-related misconduct that was levied by USADA last September.  
Even among Nike loyalists, the brand's continued support of Salazar has proven controversial. Last December, several hundred Nike employees took part in a protest at the company's corporate headquarters in Beaverton, Oregon, on the the same day that a building was being rededicated in Salazar's honor. (Protestors were allegedly handed a flier that read: "No employee is permitted to speak with the news media on any Nike-related matter, either on or off the record, without prior approval from Nike Global Communications." In a statement to Willamette Week, a company spokesperson said that the flier was "not officially distributed by Nike.")    
Not to go out on too much of a limb here, but the fact that there's an Alberto Salazar building on Nike's world headquarters suggests that, maybe, just maybe, an internal investigation could have included a hint of bias. In a similar vein, Salazar's personal relationship with ex-Nike CEO Mark Parker is another reminder that the disgraced coach isn't exactly short on influential friends. 
In both recent scandals, there were individuals who witnessed forms of abuse, but didn't speak out—in part because they were intimidated by an insular system where one man wielded a disproportionate amount of power. (Even Goucher, who was a key whistleblower in helping to expose Salazar's doping-related misconduct, has expressed regret that she failed to come to the defense of Amy Yoder Begley, one of her Oregon Project teammates, on whom her former coach was especially harsh. "I feel bad that I didn't stand up for her, and I didn't because I was just glad it was not me," Goucher told the Times.) 
Perhaps it's time that we take a cue from Mary Cain and dispense with this notion that these insular systems should be trusted to police themselves. It may be naive to expect them to voluntarily open themselves up to public scrutiny. But, when they don't, we certainly don't need to give them the benefit of the doubt.