Why Altra Signing Two Pregnant Runners Is a Big Deal
Last week, the shoe company announced that it will sponsor runners Alysia Montaño and Tina Muir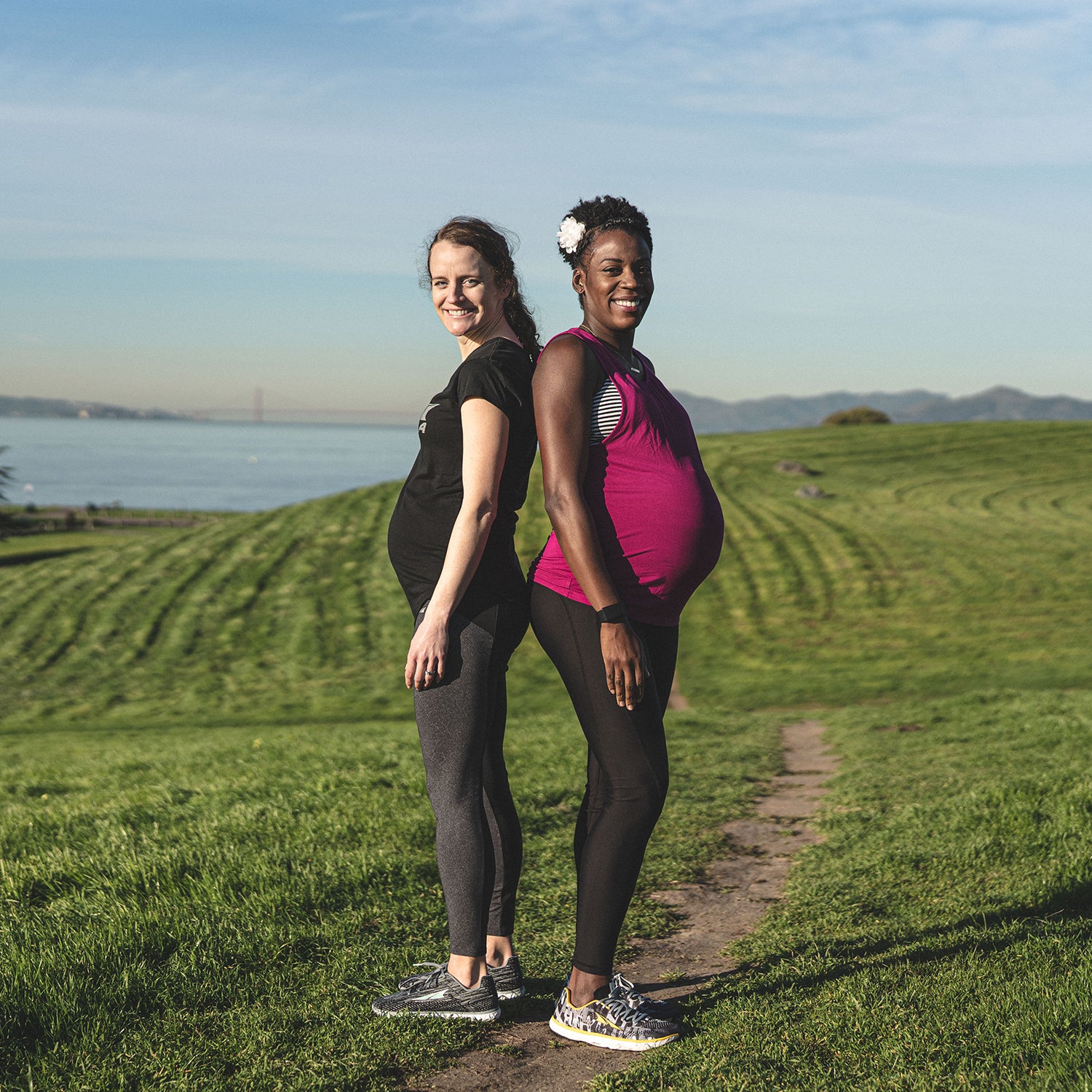 Courtesy Altra(Photo)
Heading out the door? Read this article on the new Outside+ app available now on iOS devices for members! Download the app.
Last Thursday, Altra Running announced its sponsorship of two pregnant runners, Alysia Montaño and Tina Muir. Montaño is a U.S. national champion and an Olympian in the 800 meters, and Muir is a 2:36 British marathoner and host of the podcast Running for Real. In an industry that has historically penalized women for having children, this new move by Altra is setting a new standard. 
"Altra signing two pregnant women is a huge step for recognizing the strength, perseverance, and determination of women," says Tricia Vieth, manager of Runners Roost in Boulder, Colorado, and a mother herself. The package Altra is offering Montaño, 33, and Muir, 31, includes financial compensation and shoes in exchange for press appearances. It is, unlike other contracts, noncontingent on how often they compete or reach the podium. 
Even before she had her first child in 2014, Montaño was thinking about her future as both a mother and an athlete. After learning that her then sponsor, Nike, would pause her contract if she became pregnant and stop paying her until she returned to competition, she left the brand. Montaño soon earned a reputation as "that pregnant runner" when she ran the 800 meters at the 2014 USA Outdoor Track and Field Championships while 34 weeks pregnant. Her sponsor at the time, Asics, reduced her pay that same year based on her performance during her pregnancy before completely withdrawing financial support. Although she sustained diastasis recti—a common condition in which abdominal muscles become separated by the growing uterus—during that first pregnancy, Montaño soon returned to the track after giving birth to her daughter, winning national championships at six and ten months postpartum. Two weeks after her daughter's first birthday, she raced the 800 meters in the 2015 IAAF World Championships in Beijing, pumping breast milk and shipping it home during her downtime. In June 2017, pregnant for the second time, Montaño toed the line at the national championships unattached. 
Last May, Montaño and fellow Olympian Kara Goucher became the public faces of the difficulties pregnant runners often experience with their sponsors. In an op-ed for The New York Times, they violated their Nike nondisclosure agreements to write about the company's lack of maternity protection. Shortly thereafter, former Nike track athlete and Olympic medalist Allyson Felix wrote her own op-ed, also for the Times, about the crushing pressure she experienced from Nike to train through a high-risk pregnancy and immediately following an emergency C-section. Soon after, Montaño launched Dream Maternity, a social-media hashtag and campaign supporting working mothers. She hopes to eventually turn the effort into a nonprofit foundation that can advise both athletes and nonathletes with compensation concerns during their pregnancies.
Muir is probably most well-known for her podcast and her decision in 2017 to walk away from an elite marathon-running career due to her struggle with medical malnutrition. Soon after, she wrote a blog post about her eating disorder and the loss of her period for nine years. In her podcast, she interviews members of the running community about their training routines, race strategies, and more. To date, it has been downloaded over two million times.
According to Montaño, the idea of signing a shoe contract while 37 weeks pregnant with her third child would have been inconceivable a year ago. Even with a long list of previous accomplishments, she says the Altra sponsorship is the highlight of her career. Muir, who is 22 weeks pregnant with her second child, says she was just as surprised as Montaño to be approached by a shoe company with a sponsorship. She feels that the outcome is a direct result of Montaño, Goucher, and Felix risking their reputations to talk about the way Nike and other companies treated their pregnancies like injuries. "This is showing their fights are worthwhile," Muir says. 
While Altra's move is surprising, it fits into a larger recent shift of companies signing athletes for their stories, not just their performance. Shanna Burnette, an Altra brand-communications manager, told Outside that Altra wants to help Montaño and Muir any way it can, whether that means supporting them as runners or as advocates. This new category of sponsorship has been greatly helped along by social media—more and more, fans aren't necessarily following elite runners on Instagram or Twitter for their times. When I started following Montaño's Instagram feed in 2014, for example, I didn't know whether she raced in ultras or on the track. All I knew was, like me, she'd just had a baby, was dealing with a diastasis recti, and was trying to figure out how to manage motherhood and running. Muir explains that when elite runners share their pregnancy struggles, "it makes people feel like, Oh, I'm not the only one. That puts the elite runners back on the level with everyone else, which I personally think is more inspiring than seeing someone run fast." 
Montaño agrees. "The more human we can be, the more relatable we can be," she says, adding that she's much more than her personal record. "I love running fast, of course," she explains with a laugh. "But my purpose is greater than how fast I can run." 
Montaño hopes that being open about the issues mothers face, both within and outside the world of sports, will help companies understand these problems and work toward solutions like robust maternity policies. Montaño says that many have reacted to the Dream Maternity campaign with surprise, having had no idea what kind of challenges women athletes face when it comes to pregnancy and motherhood. It's one reason she intends to keep spreading the word: "Why wouldn't we champion a human for their whole humanness, even if it entails pregnancy and motherhood and beyond?"
Lead Photo: Courtesy Altra