Are Running Studios the Future of Training?
A new trend of group treadmill training is being modeled after the success of other machine-based cardio classes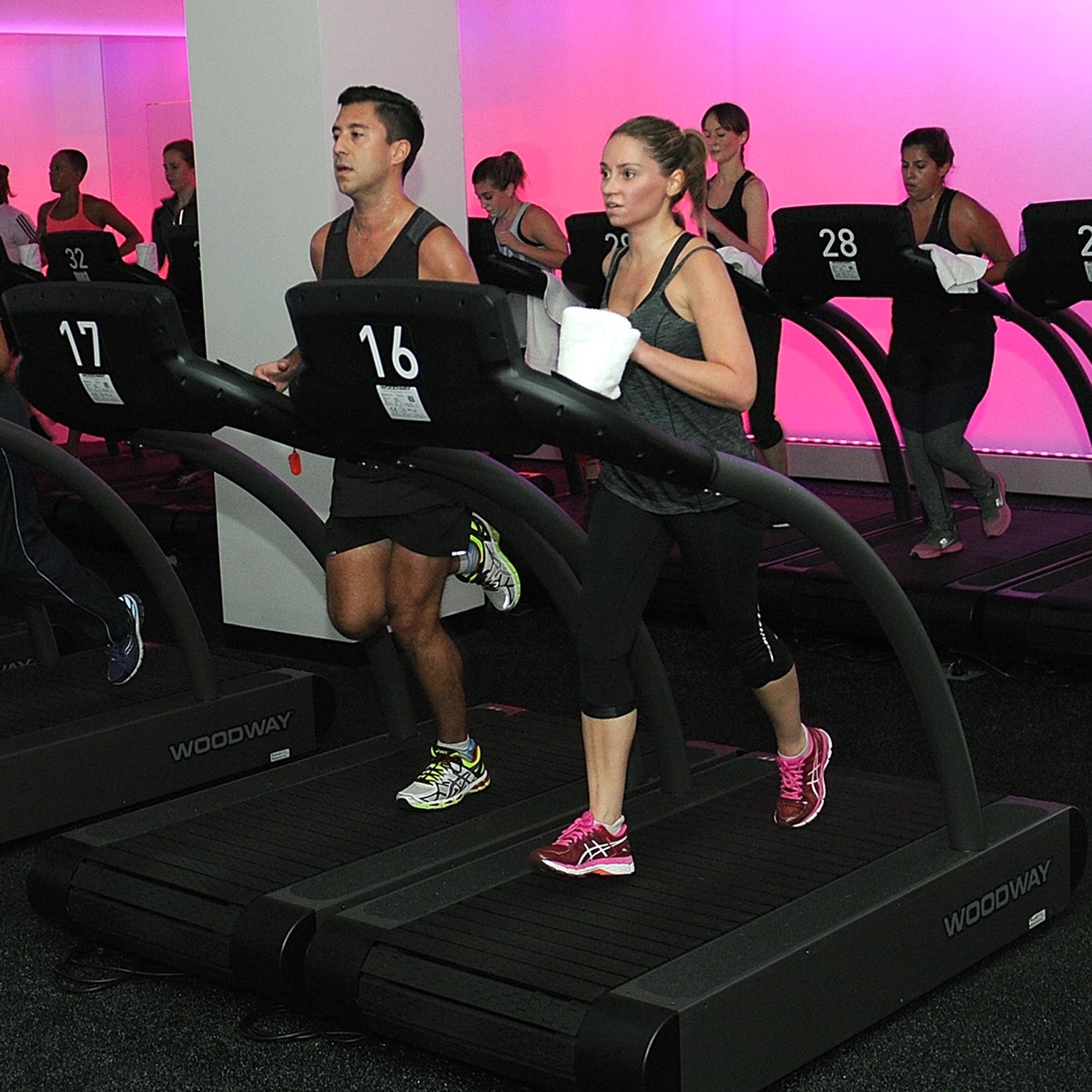 Mile High Run Club(Photo)
Heading out the door? Read this article on the new Outside+ app available now on iOS devices for members! Download the app.
The instructor's voice boomed through the speakers, telling us to "keep moving," as the pounding bass of hip hop music vibrated against the exposed brick walls. Everyone around me dripped with sweat while their legs churned. It felt just like a cycling studio—except without the bikes.
Instead, I was on a treadmill, keeping a 6:45-mile pace at a 6-percent incline, about half-way through a 45-minute "endurance" class at MyStryde, a newly opened running studio in Boston. Yes, I said running studio. MyStryde is part of a new trend of group treadmill training that's being modeled after the success of other machine-based cardio classes.
Wearing a headset with a microphone, my instructor Katie told the group to imagine we were running up a hill, almost to the crest. "C'mon Stryders (what they call anyone who attends a MyStryde class), move your bodies! Let's go!"
She was peppy and upbeat, and at that very moment, I hated her. Yet there's no doubt that I was pushing myself harder than if I were working out by myself on a treadmill. 
MyStryde is the creation of 28-year-old Rebecca Skudder, a former collegiate runner who got tired of her desk job in downtown Boston and began planning several years ago to start a treadmill gym. It opened in January on the site of a former clothing boutique in the city's North End. It's the first of its kind in Boston—and one of the few anywhere in the country.
Her intent was to "create a spin environment, a motivating environment" for runners, she says.
The concept of a modern running studio first started in 2014 in New York City, when Mile High Run Club opened its doors on East 4th Street in Manhattan, offering classes on its 36 treadmills. It now gets 1,700 customers per week, says founder Debora Warner, nearly 90 percent of them repeat visitors.
"I've been surprised to see how much enthusiasm there is not only for the classes but also our brand. I see runners all over town wearing our t-shirts," Warner says.
Some traditional-style gyms have also picked up on the group treadmill concept. High-end chain Equinox, for instance, offers classes at some of its clubs across the country, as does Barry's Bootcamp, and FitMix in Los Angeles.   
During the class I attended at MyStryde, which was on a Thursday night and cost $15, only three of the studio's 12 treadmills were empty. To my right was a woman training for the Boston marathon, moving at a quick pace. I was curious to see exactly how fast she was running—but the atmosphere is intentionally kept non-competitive, and workout stats aren't shared.
"A big part of this place is to make sure everyone feels comfortable," Skudder explains. She adds that she wants runners to see the studio's classes as an alternative to a typical road workout, in any season.
 "We're just trying to spread the love of running. The feeling you get here is a little bit different than on the road. You've got the music, you've got the instructor," she says.
After my workout, my instructor Katie walked up to me.
"How was it?" she asked.
"I'm still alive to tell the tale," I said.
Lead Photo: Mile High Run Club