In Stride
Why the Bowerman Track Club Is the Best in the Nation
Thanks to its dominant women's squad, the BTC has supplanted the Oregon Project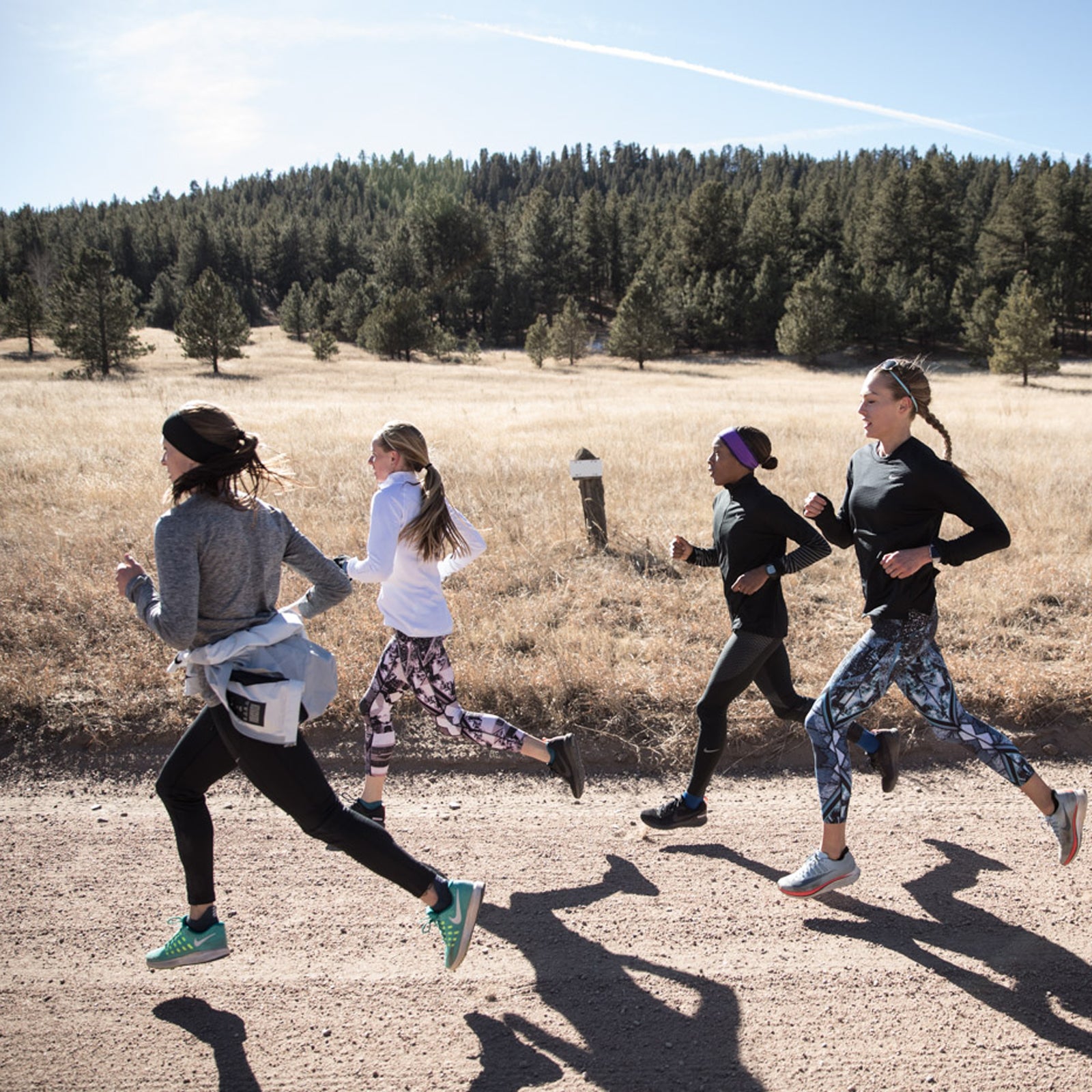 David Bracetty(Photo)
Heading out the door? Read this article on the new Outside+ app available now on iOS devices for members! Download the app.
I'm not the first person to point it out, but it's increasingly evident that Bill Belichick is pro football's version of Nike Oregon Project coach Alberto Salazar. Both men have a reputation for being cagey, shrewd, successful, and, possibly, a little bit shady. They both have an aura of glowering seriousness, which might be why it's weird to see them smile. 
While watching a post-game interview with Belichick after the Patriots win on Sunday, I was reminded of the one time I saw a jubilant Salazar in the wild. It was the penultimate night of the Rio Olympic Games and I had just witnessed Oregon Project runners Mo Farah and Matthew Centrowitz kick their way to gold medal glory in the 5,000 and 1,500-meters, respectively. Salazar was celebrating with his entourage. No wonder. It was 2016, and the Oregon Project was the most prestigious running club in the land. 
That status now seems in jeopardy, to put it mildly. As the club continues to be under investigation for alleged doping violations, a number of prominent athletes (including Farah and Centrowitz) have left the Oregon Project. Meanwhile, the Bowerman Track Club, which is also based out of Nike's world HQ in Beaverton, Oregon, is suddenly overflowing with talent. The team is led by former University of Wisconsin coach Jerry Schumacher, who among other accolades, was USATF's Coach of the Year in 2017.
"BTC is arguably THE program for The Swoosh right now," Mario Fraioli wrote in a recent issue of his running newsletter The Morning Shakeout.  
When you are able to beat BTC athletes, Northern Arizona Elite coach Ben Rosario said in an email, "you're beating the premier group in the country. I would agree that that's what they've become, at least in terms of performance." 
By and large, this "premier" status comes from the increasingly impressive performances of BTC professional women. At last weekend's USATF Cross Country Championships, for instance, BTC took five out of the top seven spots in the women's open division. The cross-country champs aren't typically a high stakes event on the annual USATF calendar, but this year's race was unusually stacked. The fact that BTC women were nonetheless able to dominate felt like an affirmation of what most running fans in this country already know: the "Bowerman Babes," as they have branded themselves, are on fire right now.   
It wasn't always like this. When she joined in 2009, Shalane Flanagan was the only woman on the team. In early 2015, BTC's professional squad still only had two female members, after 10,000-meter specialist Emily Infeld joined in 2012. Word soon got out, however.
"All of the Bowerman babes have one thing in common," BTC steeplechaser Colleen Quigley wrote in a piece for Tempo Journal. "We all chose the Bowerman Track Club. We did not get recruited." The appeal seems to have come from a growing awareness that BTC was a place to evolve as a runner, even if it occasionally broke you. As Quigley writes, "When you can't finish a Jerry workout, you're still doing way better than any workout you've ever done before joining the group."
By the time the 2016 Olympics rolled around, that group expanded its roster to include eight women—seven of whom qualified for the Games. Since then, a number of these women have had professional breakthroughs that have launched them into the stratosphere of world-class running. In 2018, Shelby Houlihan, who eviscerated the competition with her finishing speed at last weekend's cross-country championships, set a new national record in the 5,000-meters and won a Diamond League 1,500. Meanwhile, steeplechaser Courtney Frerichs, who had previously been overshadowed by her rival Emma Coburn, also set a national record when she ran 9:00.85 last summer in Monaco (only six women have ever run faster). Lest we forget, in 2017 BTC matriarch Shalane Flanagan won the New York City Marathon, becoming the first American woman to do so in 40 years. 
There are currently eleven women on the BTC (which has roughly the same number of professional men), and one could argue that the squad has the top American athlete in every competitive distance from the 1,500 up to the marathon. 
On the men's side, there has also been a recent development which suggests a shifting balance of power among top American clubs. A year after his Olympic triumph in 2016, Matthew Centrowitz relocated from Oregon to the East Coast to train on his own. Last November, Centrowitz finally confirmed that he had left the Oregon Project, only to announce in January that he would be competing for BTC. It seemed like trolling, par excellence. Even though he expressed gratitude to his former coach, there was still something impressively in-your-face about Centrowitz bailing on Salazar and joining forces with longtime Salazar nemesis Jerry Schumacher. (In case you don't know: Salazar and Schumacher are not the best of friends.)
Then again, Centrowitz has always been a pretty in-your-face type of guy. Among other things, it will be interesting to see how he gets on with Olympic silver-medalist and resident BTC nice boy Evan Jager. (When he's not tearing it up on the track, Jager has the air of someone who might spend his free time volunteering at his local church, or scrubbing the schmutz off an injured baby seal.) 
As for the Oregon Project, it should be stated that, despite losing a few big names since the club's 2016 high-water mark, Salazar's crew is not short on heavy hitters. New pickups include Dutch-Ethiopian runner Sifan Hassan, who is probably one of the few women in the world right now who's capable of outkicking Houlihan in a distance race; and Ethiopian Yomif Kejelcha, who will try to break the indoor mile world record at this weekend's Millrose Games. This is no B team.
But if there's any lesson in the recent surge of BTC athletes, it's that talent only counts for so much. Ideally, your training group will also provide an environment where top athletes actually want to stick around. Farah ostensibly left the OP because he wanted to move back to England with his family, and Centrowitz never publicly claimed to have any beef with the club. It's difficult to imagine, however, that the allegations of potential misdeeds by Salazar didn't play a role. If you want to attract and retain top runners, it pays to actively cultivate an image of being on the up and up. 
BTC appears to have figured that out. "Inside the 'bubble' that is made up of American professional distance runners and coaches, [BTC] are seen as a group that does it right," Rosario said in his email. "Meaning that we believe they are 100% clean. So to see them have such success helps all of us who also do it the right way. We know it's possible."
Lead Photo: David Bracetty
Trending on Outside Online