In Stride
The Case for Racing Flats
Ditch your trainers on race day. We promise, you'll go faster.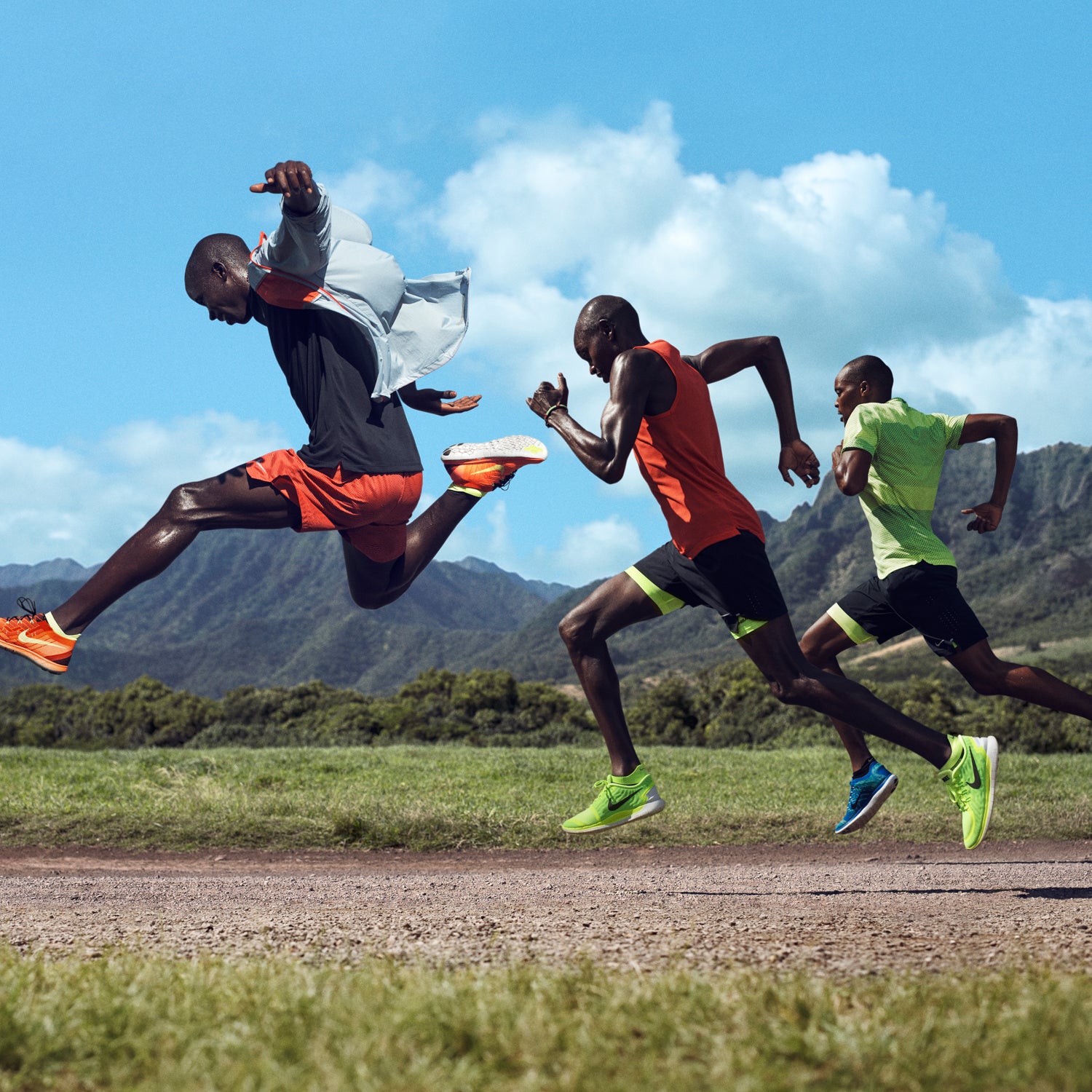 Nike(Photo)
Heading out the door? Read this article on the new Outside+ app available now on iOS devices for members! Download the app.
For experienced runners, the quest to achieve a PR often comes down to getting the little things right as race day approaches: a smart tapering strategy, plenty of sleep, and laying off the Philly cheesesteaks during the final weeks of training. And if you're willing to forgo molten cheese-covered bliss in order to give yourself a shot at running that coveted sub-3 marathon, you may want to consider also investing in a good pair of racing flats.
Racing flats are ultralight running shoes designed to give athletes an additional edge in competition. And when we say light, we mean light, with some models coming in at barely 3 ounces. It doesn't take a latter-day Isaac Newton to understand the benefits of shedding unnecessary weight when looking to maximize running potential, especially when it comes to your extremities. Try it out for yourself: run a 5K wearing a 20-pound weight vest. Now do it again with a 10-pound barbell in each hand. Good luck with that second one. 
Those who prefer to leave such empirical unpleasantness to others can consult what is arguably the most famous paper on the subject, a 1984 Nike-funded study entitled "Physiological and ergonomics factors in running shoe design." Here, researchers found that the "effect of carrying extra weight on the foot during running has been measured at 1 percent [increased aerobic demand] per 100 g per foot." Most people won't know exactly how that translates to race performance, but fortunately one of the researchers involved in the study, coach Dr. Jack Daniels, provides further explanation on his website:
We found adding 100 grams to the shoe increased the aerobic demand of running by 1 precent. Now 100 grams is about 3.5274 ounces, so each ounce changes the cost of running about 0.2835% (1/3.5274= 0.2835). If you can run a mile in 5:40, that is going 284 meters per minute and that speed of running typically coasts about 55.55 ml O2 per Kg body weight per minute. One less ounce will change the cost to about 55.7075 (from 55.55 above) and that VO2 will be associated with a running speed of 284.7 m/min and a mile time of 5:39.17, so about .83 seconds for a mile, per ounce less weight.
Shedding unnecessary weight maximizes running potential, especially when it comes to your extremities. Run a 5K wearing a 20-pound weight vest. Now do it again with a 10-pound barbell in each hand. Good luck with that second one.
While lighter shoes can definitely help make you quicker, it's worth remembering that cutting down on weight usually also means cutting down on cushioning. Unless you've got sledgehammer-proof feet like Abebe Bikila, the Ethiopian who famously won the marathon at the 1960 Rome Olympics while running barefoot, you are probably going to want some support. There is a reason you don't see elite marathoners competing in ballet slippers. 
Here is Daniels again on the findings of his study: "As shoe weight went lighter the cost [i.e. of energy on the runner] also dropped some, but when the shoe weight went too light, then the cost went up because there was getting to be less midsole cushioning and the runner's muscles had to start absorbing more landing shock and that costs more energy."
Daniels goes on to point out that running surface also makes a difference, which is part of the reason why track athletes, who race on spongy Mondo, can compete in stripped down racing spikes without getting a stress fracture in every race. Road runners and marathoners, however, need to contend with pavement, so some cushioning is a must.
As for how much cushioning is needed, the ideal racing flat will differ from runner to runner and vary according to factors like foot strike, speed, and intended race distance; a 5-to-10K flat will typically weigh less than a shoe meant for the marathon. Speed comes into play for the obvious reason that a slow runner will take longer to cover a race course than a 2:30 marathoner, and more time spent on your feet generally necessitates more support.
At the end of the day, picking the right flat involves a certain amount of trial and error, though gait analysis can be a useful way to narrow down your options. When you do decide on a pair, make sure you break them in with a few longer runs before lining up on race day. Chances are that when you do, being lighter on your feet will help you run your best race yet and make that finish line cheesesteak all the more delicious. 
4 (Marathon-Ready) Racing Flats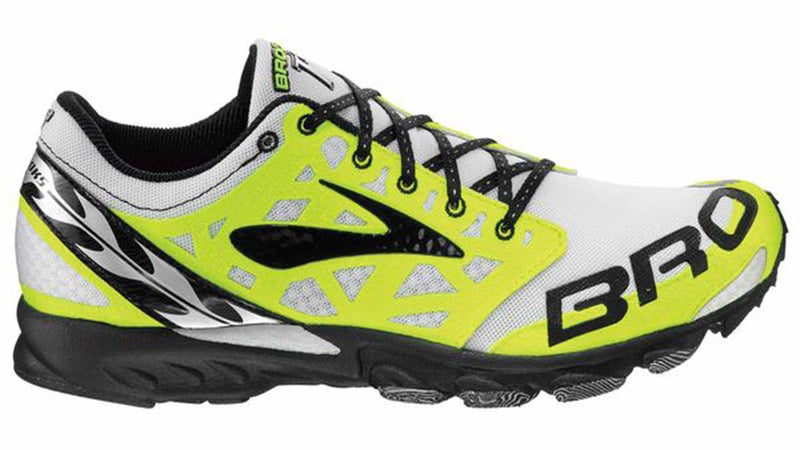 Brooks T7 Racer ($56)
Weight: 6.4 ounces
Worn by elite American road racers Des Linden and Ryan Vail, the Brooks T7 Racer is particularly suited to runners with medium to high arches. This is a neutral running shoe, so those with specific pronation support needs should look elsewhere.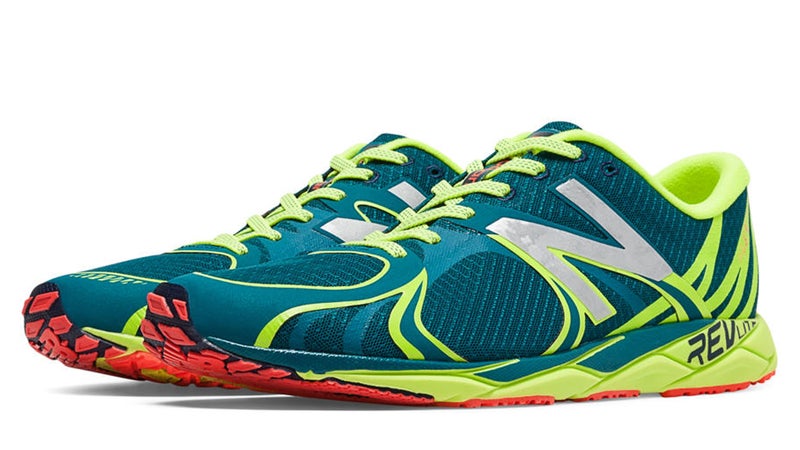 New Balance 1400v3 ($100)
Weight: 6.5 ounces
The third iteration of the wildly successful 1400, this is New Balance's most reliable marathoning flat. Not too many changes to the previous version, but an increased use of blown rubber on the outsole makes for better grip on slick city streets–call it insurance for those rainy day marathons. Those confident with less shoe can opt for the sparser 1600v2, which is a full ounce lighter, but racing flat newbies are well-advised to begin with the 1400.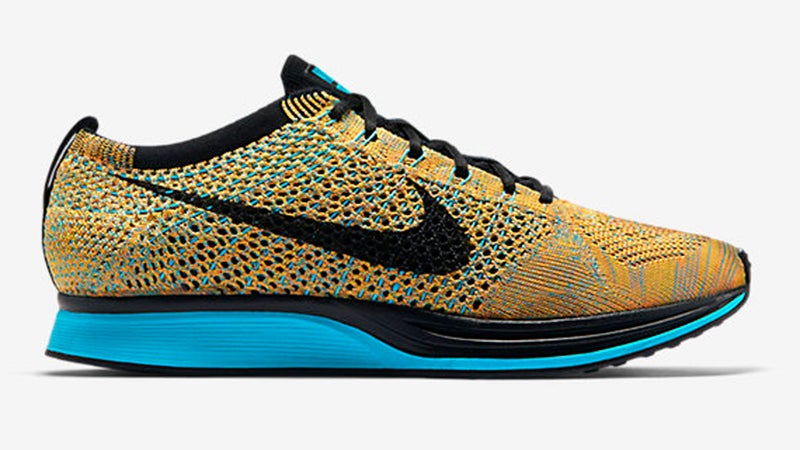 Nike Flyknit Racer ($150)
Weight: 5.6 ounces
The lightest shoe featured here, the Flyknit Racer from Nike is particularly notable for its one-piece knit upper, which molds around the shape of your foot for a sock-like feel. This may be the ideal shoe for those who chronically suffer from mid-race blisters.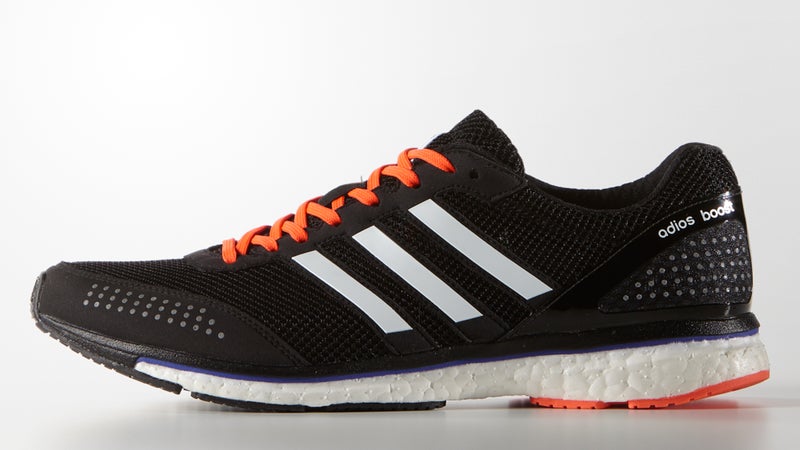 Adidas Adizero Adios Boost 2 ($140)
Weight: 8.3 ounces
Just to prove that the lightest kicks don't always make for the fastest race, the Adizero Adios Boost 2 was worn by Dennis Kimetto when he smashed the world record in the marathon last September. This ridiculously well-cushioned shoe benefits from Adidas's "boost foam" technology, which will add a pleasant snappiness to your stride, even if you're not as quick as Kimetto.  
Lead Photo: Nike