A Conversation with Appalachian Trail Record Holder Karl Meltzer
On Sunday morning, Karl Meltzer broke Scott Jurek's year-old Appalachian Trail speed record, completing the 2,190 mile trek in 45 days, 22 hours, and 38 minutes. Here, the winningest 100-mile racer in history tells us how he pulled it off.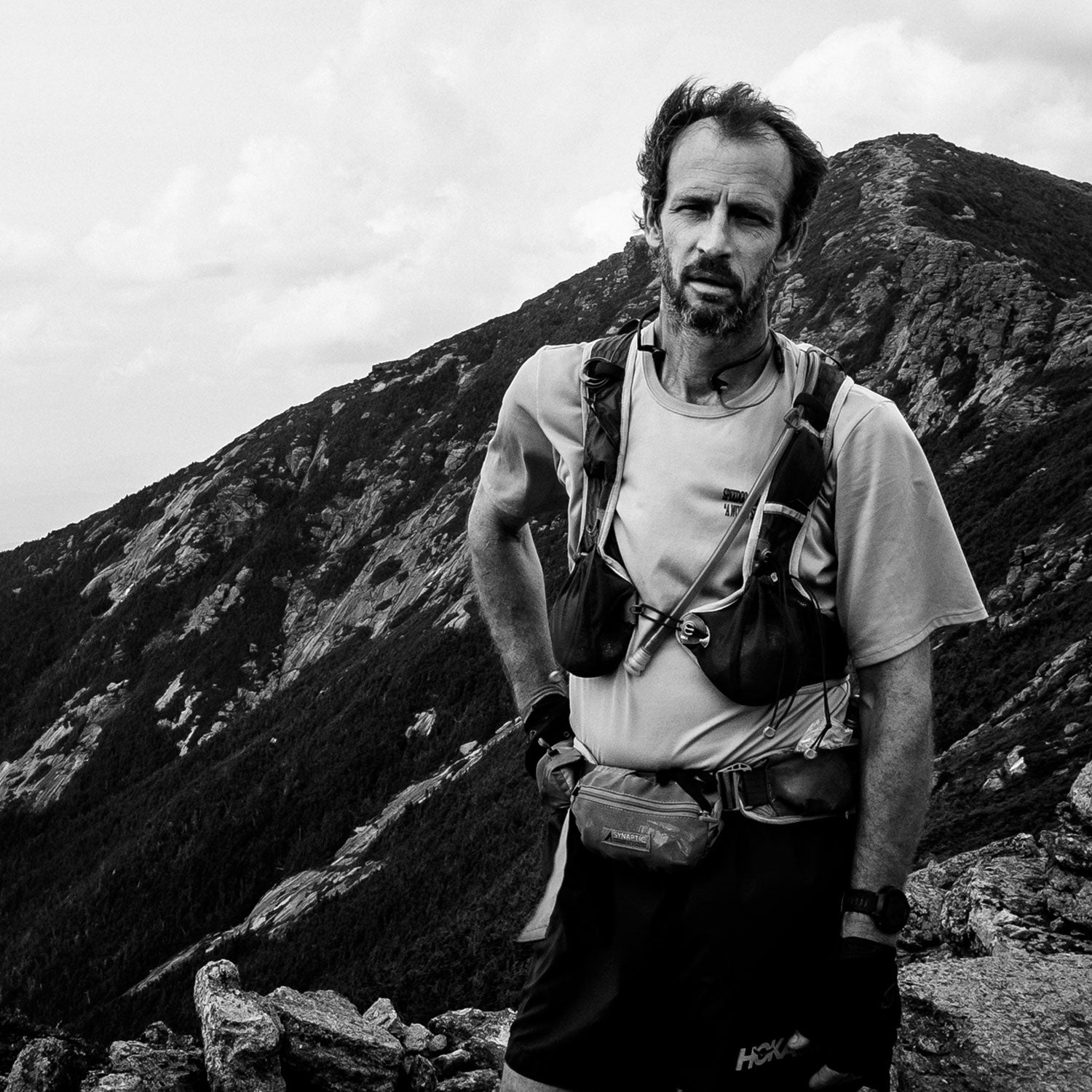 Heading out the door? Read this article on the new Outside+ app available now on iOS devices for members! Download the app.
I called Karl Meltzer last Thursday, four days before he broke his friend and rival Scott Jurek's year-old Appalachian Trail speed record. It was 6:30 p.m. ET on a weekday, and the 48-year-old Utahn known as Speedgoat Karl was somewhere south of Hot Springs, North Carolina, with more than two hundred miles to go before he reached the trail's southern terminus. According to his crew chief and phone answerer, Eric Belz, he'd just crashed.
"Sorry, man," Belz, told me, yawning. "But when Karl lays down, he's down for the count." Seven hours of sleep was the only daily reprieve that Meltzer, who had attempted the A.T. record twice before, got from his Red Bull-fueled death hike into history.
Meltzer's journey began at five in the morning on August 3, on top of Maine's Mount Katahdin. He was behind schedule by the time he hit New Hampshire, a week later, with shin pain and a nerve issue in his foot. Hundreds of things, avoidable and otherwise, can prevent a person from walking, jogging, or limping the nearly 2,200 miles of the A.T. trail; breaking the speed record requires luck, patience, and plodding. But after traveling at 3.2 miles-per-hour for fifteen hours a day—with the help of a crew chief who made sure his bananas weren't bruised and his feet and underwear were clean—Meltzer arrived at Springer Mountain in Georgia a record holder. His mark: 45 days, 22 hours, and 38 minutes—just under ten hours faster than Jurek.
On Monday, I traveled to the Atlanta offices of Red Bull (his sponsor since 2001) and sat down with Meltzer. He spoke quickly, at one point propping his callused, fissured feet onto the desk. "Those toes are perfect," he smiled. "Aren't they?" While still buzzed from an energy drink, Melzer told me how he pulled this off, what this record means to him, and why he ended each night with a beer.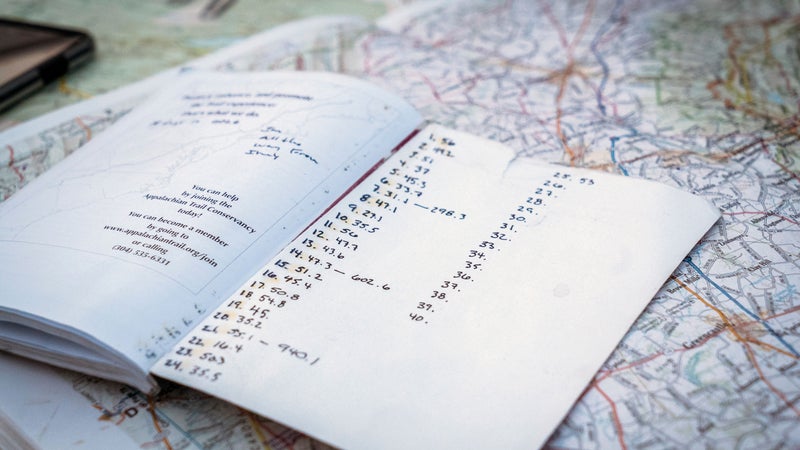 OUTSIDE: Take us back. How did you get here?
MELTZER: I moved to Snowbird in 1989 to become a ski bum, and I slowly focused my summers on running. It wasn't the initial plan when I moved out there; it just happened. I ran in high school, so I started running around the Wasatch, which was cool. 
My first paycheck from Montrail was like $500 a year. What's that get you? A plane ticket, if you're lucky. But I was excited. I got free shoes. I won my first 100 in 1998, I started really focusing on the 100 miler. I said, "I'm gonna try to win more than anyone else." Red Bull picked me up in 2001, and they said, "What's your goal?" I said, "To win more 100s than anyone." At the time, the record was 22. And I got to 23 and they said how many more do you want to win? I said 35. Then it was 38. That was my passion. I focused on that and didn't worry how much money I made. My parents helped me buy a house and I rented out rooms to pay my mortgage. I was all about one thing.
 
How do you describe yourself?
I'm a very simple person. I'm very easy-going. I let things slide off pretty easily. I can be a jerk, too—we all can. But, at the same time, I usually don't let things bother me. For example, the one time my crew missed me in Massachusetts on this trip, I was frustrated. I was upset. But when they finally found me three hours later, I said, "Guys, stop it. Let's not argue about why this happened. It's in the past. Let's clean my feet and keep going." That's how I am.
 
If I'm in a race and I feel crappy, I kind of laugh at myself: I think, "Here's the bad patch!" instead of saying, "Ah, I'm gonna drop out." You can't let stuff like that bother you. You live once, man, come on.
 
Why go for the A.T. record?
It's not fame, and it's certainly not money. Not even competition. For all my career, I've liked to raise the bar for myself. When I brought this idea up in 2008, I just wanted to do something different. I could run 100s all the time. Boring. This is something, the ultimate challenge. 2,220 miles is daunting, and it's expensive! 
What does it cost?
You can do it for $20,000. It just depends on your crew. This time around, it was around six figures—it wasn't cheap. But that's because the crew was paid. I flew back and forth before heading out, too.
 
In 2014, when I did it on my own, under the radar, I paid for everything. I bought a van for $13,000. I paid my crew a whopping $1,000 a week, which is nothing for what they were doing. But I just wanted to do it.
 
This time, we talked to Red Bull, and obviously there's more cash involved. It's expensive. But I always say to myself, "Who gets to do this stuff?" If I have the opportunity to do it, I wanna do it. This is the Everest of FKTs. When Kilian Jornet goes for the actual Everest record, that's going to be massive. It's a hell of a lot more dangerous. But the A.T. is iconic. It's got history. It's ridiculously hard.
This record is not about speed. It's about being able to deal with adversity, which, I think, is why I'm good for this.
What's the experience of beauty like on the A.T. for you, moving so fast?
Jurek stopped at views more than me. For me, the beauty of the A.T. is the green tunnel. The first year I did it in 2008, it was raining a ton. And what was really cool was that in Maine there were mushrooms popping up everywhere. But for me the beauty of the A.T. is just being out there in the woods. You don't really know where you are, going north or south. I don't really stop. People say, "You don't get the A.T. because you're moving fast." But guess what? I never averaged more than four miles per hour in a day. That's not that fast. To me, the beauty is in the quiet. Sometimes I turned my music off and listened to the forest. It's just woods. I like the woods.
[This record] is not about speed. It's about being able to deal with adversity, which, I think, is why I'm good for this. And why I'm good at 100s. I don't want people to dictate what I do when I race. That's why, even when I'm a favorite to win, you won't see me leading after thirty miles.
 
Did you ever forage?
Jurek was telling me, "Chanterelles are everywhere!" But no, I didn't. No foraging for me. My crew was supplying all the food I needed. This time, I was focused more on being efficient. Getting to bed within 30 minutes of arriving at camp, and getting out of camp within 30 minutes of waking up. This time was so much more about just the record. Scott even said to me on Clingman's Dome, in the Smokies, "Dude, I went up to the top of the tower!" He looked around. He went swimming. When I got there, I just kept going. I took a picture with two hikers, but that was it. Scott, when I saw him that night, was like, "Dude, did you go up to the tower?" I was like, "No, man, I'm trying to break your record." 
It was different for me this time. It's my third time freaking doing it. When he did it, he fumbled around a lot. Nothing wrong with that; he's just a different person. I decided I wasn't going to go out of my way for anything. I'm not staying in a hotel. I don't care about taking a shower. The last time I showered before finishing was in the Shenandoah, with 18 days to go. My dad said, "Hey, I've got this pump shower." I said, "Hey, I don't care. I'm going to bed. It's more important to sleep." I know it's disgusting, but that's the A.T.
 
What did you carry on you at all times?
I always had toilet paper, a little pouch with food, and thirty-six ounces of water—I'm somewhat of a camel; I don't seem to need as much water as some people.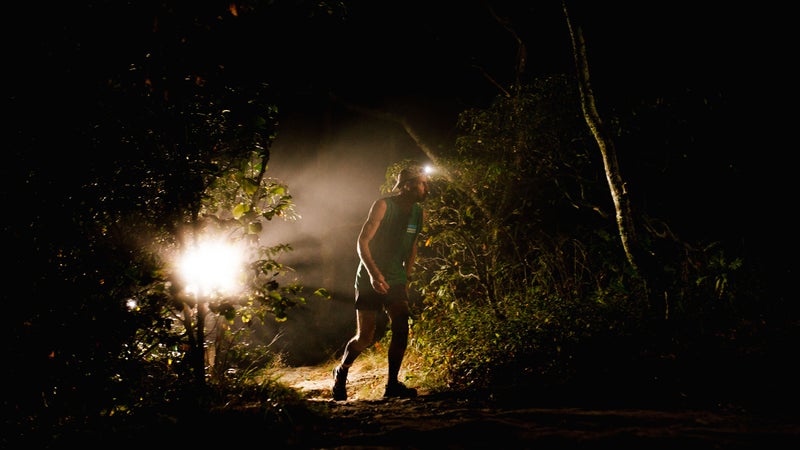 What do you think about out there?
Well, I think about grooming my croquet court. I think about the honey-do list I got from my wife for when I get home…
You think about everything. What I would always try to think about before I got to my crew stop is: "Okay, I need a new light, or a new watch." I'd usually forget by the time I got there. You think about random stuff. I often had music going, which guided my thoughts. But at the same time, you think about anything in life. I tried not to think about negatives or injuries. I hated it when someone would say, 'Hey, how's your shin doing?' It brings your attention to a negative. I'd be like, "What are you talking about?"
What was your worst trail injury?
I was in Virginia and the bottom of my left foot was killing me. I have a neuroma—an inflamed nerve that can get pinched and really hurts—and I've had it for five years. It's tolerable, I deal with it. I thought that's what was bothering me. But a friend of mine came out just to say hello. His wife is an ER doc and she was off that day. She said, "No, no, no. [2005 A.T. record-setter] Andrew Thompson had this, too. It's a super, super deep blister." So we tried to pop it with a safety pin. We got some fluid out, but the next day they said they'd bring me a real surgical needle. On cue, they show up at four a.m. and stick my foot and we pull out fluid. It didn't hurt, but the fluid comes out and I put my shoe on and start going at roughly five o'clock and the pain is totally gone. Like, gone. I'm like, "Dude, you just changed my fucking world." From that point on, my left foot didn't hurt anymore. And that was with 700 more miles to go. That was a total game changer.  If his wife hadn't been off that day, I'm not sure I would have set the record.
 
How important was traveling south for you?
I've never gone north [on the A.T.]. I did south in 2008. I did all my recon that direction. It might be faster because you get Maine and New Hampshire out of the way. So, if you survive Maine and New Hampshire without hurting yourself, you're in a good position. At the end, I had 85 miles to go with 23.5 hours. The terrain in Georgia is easier than Maine. It's a highway—a hilly highway. But smooth. I can't imagine what Scott was doing climbing up Bald Pate and Old Speck, in Maine, when he was so tired on his attempt.
 
Did you ever hallucinate out there?
A lot of people talk about hallucinating in races, but that's never happened to me.
I decided I wasn't going to go out of my way for anything. I'm not staying in a hotel. I don't care about taking a shower.
What about dreams on the trail?
I snored and talked in my sleep, but I don't remember my dreams. And I was taking an Advil PM every night to sleep a little better. I aimed for seven every night, and sometimes I'd get eight. When I went down, I was out. Next thing I knew, [chief crew member] Eric was making coffee. I swear to God. Maybe it was the Advil PM. It does that.
How were the bugs?
Starting in August helped, but we had a lot of gnats in Pennsylvania, New Jersey, Connecticut, that area. I was always swatting at them. But other than that, there were no black flies. Few mosquitoes. Our van was dialed with netting and a fan that allowed us to sleep with the van open. 
 
Most embarrassing pump-up song?
A little Macy Grey. I got some Keith Urban crap. I like banjo. I like the Dead, Phish, Strangefolk—jam band music. I got busted singing out loud a few times on the trail.
 
Hardest section?
I feared the rocks in Pennsylvania. They had me for breakfast, lunch, and dinner. But I had them for dessert!
 
Is this challenge more mental than physical?
I think so. I mean, if you're gonna challenge something like this record, you're obviously fit. And a pretty decent runner or hiker, like Jen [Pharr Davis, one-time record holder]. Fighting the mental battles is the hardest part: every time you leave a stop, it's like, "Okay, I've got eight miles, or 16 miles." And the further you get down the trail, the faster it goes. I never thought about how many days I had left until I was about three days out. You can't do that to yourself at, say, day 35, when you've got 11 left. I just stayed in the zone—one station at a time.
 
Any trail magic received?
In one place, there was beer on ice. I grabbed two sodas at another place and walked into the next aid station with two cans of root beer or something. Eric was like, "Where the hell did you get that?' But I tried not to grab stuff meant for thru-hikers without their own support crews. I drank Red Bull 98 percent of the time.
 
One guy—I don't know how he found me—fed me doughnuts. They were good. He was at every road crossing for a while. It's cool to have fans come out and do that for you.
 
Did you get recognized out there?
It happened quite a bit. People knew I was coming. We tried to avoid it by posting on my blog two days after the fact. But there was maybe two-to-three hikers a day who said, "Hey, Speedgoat!" As I got further south, I got followed once in awhile. Some hung for twenty miles or more! A couple guys kept showing up. This one guy, great guy, Emerson, found me around the Priest in James River, Virginia. He showed up in low canvas Converse shoes, cotton socks. But dude was tough. He hiked right up Priest with me.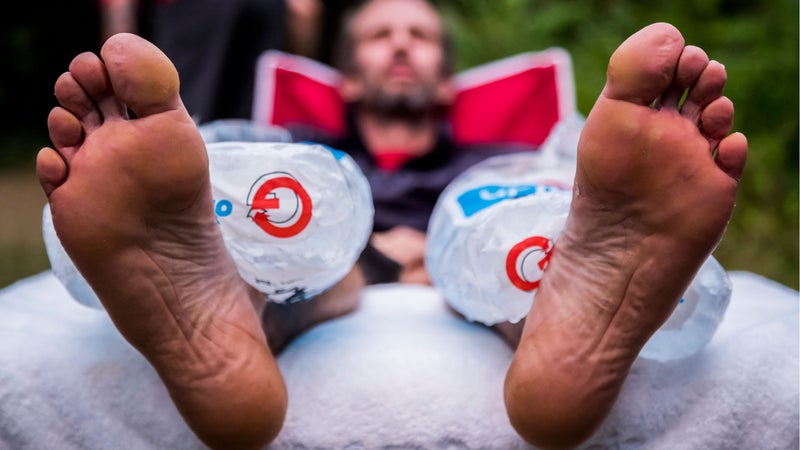 Favorite meal?
Eric made a pork loin that was killer. He made a bunch of ribeye steaks that were great, too. I ate a whole bucket of Kentucky Fried Chicken one night. I never eat that kind of stuff when I'm back home.
 
I drank one beer a night. If it was early, I might have had two. I like beer on a regular basis. A cold beer—frosty cold. I'd sit down and Eric would pop it for me. Nothing better. I also drank Ultragen, a recovery drink.
 
In 2008, I drank a little more. This time, I was more focused on going to sleep.
 
What was your morning routine like?
Eric would wake up first and make coffee in a Jetboil. He wouldn't wake me until the coffee was done, so I always slept an extra ten minutes. Hearing that thing go in the morning was my alarm, basically. He had my medical stuff on the shelf, too: mole skin, cut into round pieces the night before, and little alcohol pads to clean myself off. It was all perfect. I'd wake up, sit there on my little stool, and be done getting ready in 30-35 minutes. I didn't eat a big breakfast: yogurt and banana. They'd feed me more later, so I'd get out quickly. My pack was ready—just pick up and go. No fumbling around.
 
Sounds like Eric did a lot.
Yeah. He got paid, which helps. You can't ask someone to help you for two months without paying them, especially if they're married. He missed his first anniversary doing recon with me, and his second while he was on the trail during this record attempt! 
 
So you didn't shower, but did you trim your beard out there?
Not usually, I let it grow, but it was cooler when I cut it. I pulled over in Jersey once when my beard was long and hot and I shaved in the mirror of the van. It was funny. 
 
No deodorant, either. I was filthy. But that's just, you know… It was about the efficiency, even when my wife showed up. From my knees down, I kept it clean—my feet were all I really cared about.
I think this was proof that I still have it.
Did you drink champagne when you finished, like Jurek?
I finished at 3:32 a.m. Springer [in Georgia] is different than Katahdin [in Maine], where Scott finished and got in trouble for that. I didn't want controversy, so I didn't drink any. I just went to the top, had a beer back in the parking lot. It was a Yuengling—pretty basic, I know. And I like good beer. But it was satisfying. I had a slice of pizza or two as well. Scott actually bought me a bottle of champagne, but Red Bull wanted me to play by the rules.
 
Even what Scott did with the champagne, it was silly for him to be abused for that. I mean, come on—how many people go up and smoke their doobie on top of Katahidin when they're done?
Would you do it again?
[My wife] Cheryl and I have talked about walking the A.T. like normal people, starting in March or April. Will I do it again? I don't know. Maybe.
 
What are the main differences between ultras and this kind of record attempt?
When Scott and Jen and Andrew and I do this, we're hikers, not runners. I maybe jogged a little more than Jen did, probably, but I wasn't going very fast. I jogged the downhills, slowly, and some flats—maybe twenty percent of the whole thing. But I never averaged more than four miles an hour on any full day. I think my fastest foot mile was like 11:13, and that was one gradual downhill mile somewhere. Anytime my mile was under twenty minutes, I was happy. 
 
Think this will be the first line of your obituary?
Maybe. It's the big daddy. It's a huge accomplishment. I'm excited I finally got it.
 
Is PCT on the horizon?
No. I say this now, but I think I'm done with the 50 mile a day shit. It's misery, man. It's hard. And I got the big goal I wanted, and I didn't need a map. On the PCT, you're following maps. Not for me. I'm also a good technical runner, and [the PCT] only has half the vertical climbing.
Was this your "masterpiece," as Jurek called his A.T. record?
It was Scott's, but I think it's just my stamp. I've got that 100-mile record—38 100-mile wins—and that's killer, but I think this was proof to me that I still have it. I'm 48, man! I'm gonna lose it eventually.
Do I need to do anything else? No, I don't. Will I try? Probably. It won't be this long again, though. I'll run more 100s, probably.
Lead Photo: Interpret Studios/Red Bull Conte