You're Only As Fast As Your Ass
Wild and crazy running adventures on the Colorado pack-burro racing circuit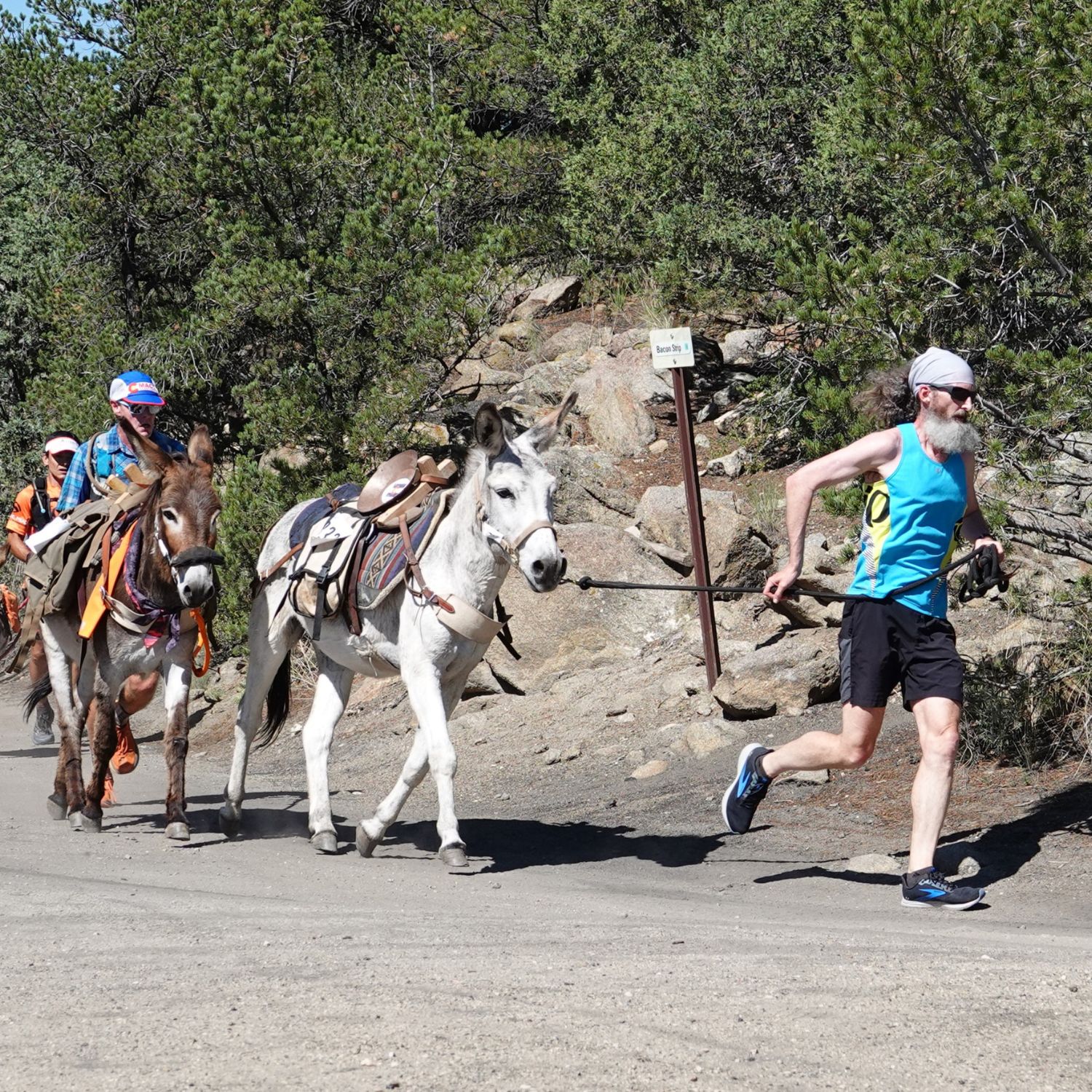 Courtesy Brian Wanke/Western Park Burro Association
Heading out the door? Read this article on the new Outside+ app available now on iOS devices for members! Download the app.
Ever start out a running race way too fast? And by too fast, I'm talking way, way, way too fast.
C'mon, we've all been there — no matter if it's a marathon we've trained months for or a local 5K race that we barely prepared for at all. Whether it's brought on by pre-race anxiety or a distorted, overambitious sense of competitiveness, it almost never ends well.
When you go out too fast relative to your fitness level, you know it almost immediately because it brings on overwhelming feelings of hysteria and regret, not to mention lung-burning discomfort that quickly turns to early onset leg fatigue. Unfortunately, none of those agonizing symptoms are usually strong enough to overcome the hypoxia-inducing madness and return to rational thought in time to slow down and run at a more honest pace.
That's the exact predicament I found myself in with my pal, Jack, on the morning of August 14 in the opening miles of a 13-mile trail running race in Buena Vista, Colorado. But this was no ordinary trail running race and Jack wasn't the two-legged running buddy you might think.
Jack is actually a fuzzy, dark brown 22-year-old male donkey, I am a moderately fit middle-aged has-been age-group runner and yet we were running about 6:30 mile pace just off the back of the exceptionally fast lead group of the Buena Vista Pack Burro Race at a shade under 8,000 feet above sea level. Oof!
As we ran along a trail adjacent to the Arkansas River just beyond the 1–mile mark, Jack was galloping with vim vigor and vitality, but I was completely gassed and holding on to the 12-foot lead rope for dear life.
Welcome to pack burro racing, a quirky, strenuous and invigorating endurance sport in which a human runner teams with a burro (the Spanish name for a donkey) and run tethered together for the duration of a rough and rugged trail running race. (Mules, which are an equine hybrid between a male donkey and a female horse, are strictly prohibited in burro races.) 
The key to success in this wild sport steeped in mountain culture and unpredictable calamity is the ability to develop a bond and strategic synergy between human and beast. It's a sport I have participated in for more than a dozen years but, admittedly, have never quite figured out.
"It's really more fun than running on your own, because it's not about you, it's about the donkey," said Tracy Loughlin, a 44-year-old packaging engineer from nearby Salida, who has been racing since 2011 when a friend of a friend got her into it. "There's such a cool dynamic out there, and if you really, really take the time to form a relationship with your animal, you can really do well, regardless if you're a fast runner or not."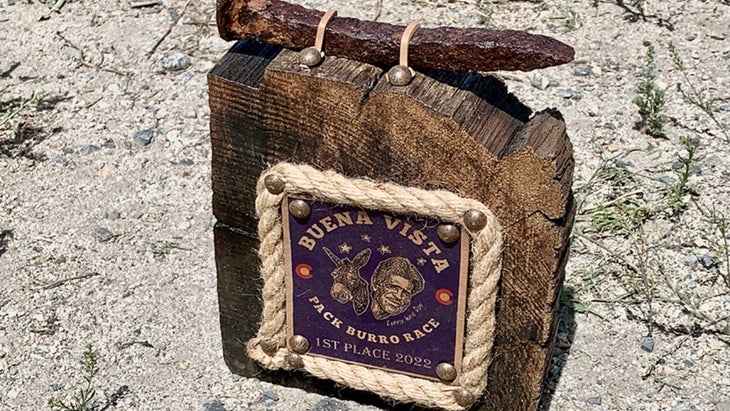 A Sport with a Mining Legacy
Pack burro racing in Colorado dates back to 1949, but burros have been around for hundreds of years, dating back to when Spanish explorers used them as their primary gear-hauling vehicles as they pushed north from Mexico in the mid-1700s. The four-legged equines played a key role in the Colorado mining industry after the 1860 discovery of gold — and later silver — in Leadville, near the headwaters of the Arkansas River about 45 miles north of Buena Vista.
Legend has it that the sport was born when two miners were drinking in a Leaville bar when one of them more or less said, "I can get my ass over the pass faster than you," a friendly bet was made and a challenge was set in motion, with the two miners rambling on foot alongside their donkeys for 29 miles from Leadville up and over Mosquito Pass to the remote outpost of Fairplay the next day in pursuit of bragging rights and the hundred bucks they'd wagered.
Melville Sutton and his trusty steed Whitey were victorious that day, thus winning what would become known as the first World Championship Pack Burro Race. That original race eventually led to a triple crown of races with additional events in Fairplay and Buena Vista and the formation of the Western Pack Burro Ass-ociation (WPBA) as a governing body to organize and regulate the sport.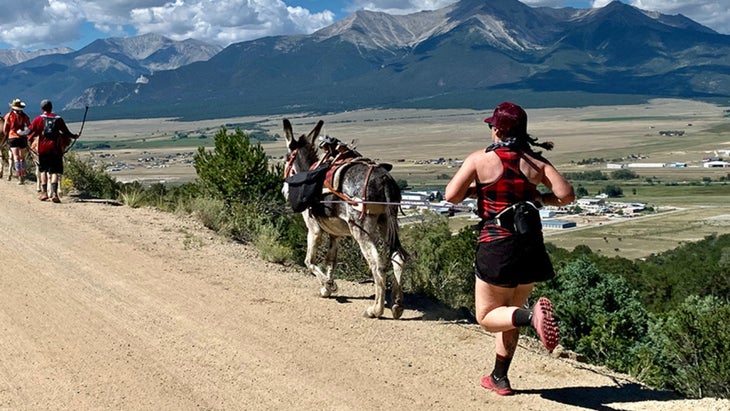 The WPBA Triple Crown and 29-mile world championship have been held every year since and always paid out cash prizes as the sport has maintained a small but fervent regional following among ultrarunners, marathoners, ranchers, donkey lovers, hikers and a wide variety of other eccentric participants.
"Everybody thinks they're the greatest trail runner in the world, but technically in burro racing, you're only as fast as your ass," said Brad Wann, the event organizer for the Buena Vista Pack Burro Race and longtime spokesman for the WPBA. "And if you can't motivate your donkey and make them think it's their idea, you better pack a lunch because it's going to be a long day. This sport is where you check your ego at the door and you really focus on the animal and motivating them and making them happy. It's kind of like getting a 4-year-old through a shopping mall."
The sport might have petered out early as the 21st century dawned and the older generation of longtime racers started to age out of the sport. But as Colorado's population soared and trail running boomed, the sport got a new life with the infusion of youthful curiosity, media attention and fast competition.
In 2012, members of the WPBA successfully lobbied the Colorado state legislature to become recognized as the state's official summer heritage sport.  There are 10 races on the Colorado racing schedule this year — the most ever in a single season — and races have had as many as 80 tandem competitors. In recent years, the sport has started to gain a foothold in Arizona and last April a new race debuted in Inyokern, California.
RELATED: Horse Are Great, but Who Will Save the Wild Burros
Come for the Burros, Stay for the Humans
"I like being out there with the animals and a bunch of friends running around," said Shad Mika, a 46-year-old trail runner from suburban Denver, who placed 13th with Alice, four weeks after placing 22nd at the daunting Hardrock 100 ultrarunning race in Silverton. "It's kind of like when you run ultras, it's all about creating memories with your friends, and this is the same thing. That's the only reason I run 100-milers is to create those memories of running through the night with my best buds. And the reason I do burro races is because of the community of people connected to it."
Most of the frequent racers have known each other for years, but they're always eager and willing to help newcomers. About half of the participants own their own burros, while the others rent from one of several rancher-runners who bring a trailer full of donks to each race. This summer, the human competitors have ranged from about 12 to 75 years old.
Loughlin, who has posted consistent results all summer racing a 10-year-old jenny named Mary Margaret, was fortunate to have Hal Walter, a seven-time pack burro racing world champion, take her under his wing and share plenty of the tricks of the trade through the years.
The previous week at a 21-mile race in Leadville, Loughlin took second to Leadville's Marvin Sandoval, 44, and Buttercup. Not far behind were Walter, 61, and Full Tilt Boogie — the 43rd time Walter has run that race dating back to the late 1970s.
And therein lies the beauty of burro racing — there is no gender or age bias. The better you can work with your donkey — and the better your attitude and ability to deal with mayhem — the better you'll be able to race.
"That's why I love it. I am a 4-hour marathoner but I can race with Mary Margaret and she elevates me," Loughlin said. "She allows me to be competitive in running, which I loved for years. You don't have to be competitive at running, but it's a lot of fun, and this is something entirely different, too."
Loughlin ran another strong race with Mary Margaret in Buena Vista, finishing fourth overall (2:20:28) behind winner Bob Sweeney and Yukon (2:17:00), Sandoval and Buttercup (2:17:05) and Joe Polonsky and Jake (2:19:38). Sweeney took home $500 and a hand-crafted trophy for his victory, but the race also paid out prize money to 10th place. Loughlin earned $200 for fourth and $500 more for taking the women's WPBA Triple Crown by winning her division in each of the three marquee races this summer.
You Can't Ride Your Donkey
The rules of pack burro racing have always been minimal and loose — generally speaking, you can't ride your burro, you have to keep your burro safe, you can't use any implements to prod your donkey and you have to follow the prescribed course without cutting switchbacks on the trail. Competitiveness has always been intense among the lead racers, but there have been many hints of rising tensions at the front end of the pack in recent years.
Unfortunately, there was a bit of a squabble among the lead group of competitors after the race in Buena Vista. A few competitors complained that Travis Macy, a 39-year-old veteran endurance athlete and a relatively new pack burro racer from nearby Salida, had cut a corner with his donkey, Sugar Ray, in the first mile of the race in a tight singletrack section as it looped around a disc golf course, inadvertently passing several runner-donkey teams in the process.
Whether or not it played a role in the outcome of the race isn't clear, but Macy was provisionally DQ'ed (pending a video review this week) after Wann had heard all sides of the story after incorporating input from all participants who were still hanging around two hours after the finish.
After that incident, Sandoval and Buttercup eventually built a 45-second lead on a singletrack section on the other side of the Arkansas River before they were caught a few miles later by Sweeney and Yukon. From there, Sweeney, 55, a former 2:30 marathoner from Leadville, and his steed held the lead to the end amid a tight three-team race that ended in a close finish with Macy and Sugar Ray crossing the line in the runner-up position a few seconds ahead of Sandoval and Buttercup. But even with Macy being DQ'ed, Sandoval came up just short of winning his third men's Triple Crown title in the past four years.
"People always have always had complaints about how other people run their donkeys out on the course and they always will," Sweeney said. "There are two lines out there between gamesmanship and sportsmanship and we have to find a way to fit between the two."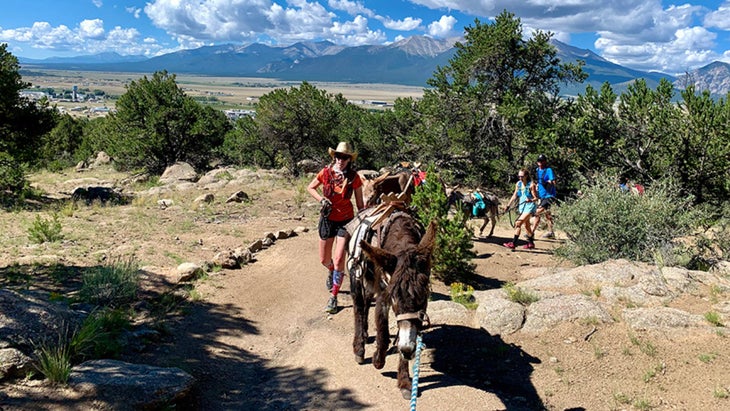 Pack Mentality
There were plenty of tumbles out on the course and a few runners got dragged because they didn't let go of the lead rope when their donkey was running fast. Will Carlton, a 47-year-old racer from Steamboat Springs took a fall and wound up with bloody knees and legs. David Edwards, 71, the 27th-place finisher, bloodied his nose after face-planting on a fall, while 12th-place finisher RJ Fogal, 33, was taken to the hospital for X-rays after getting his right wrist tangled around his lead rope and getting pulled to the ground.
As for me and Jack, well, we've both aged and our burro racing skills have probably diminished a bit. In my very first pack burro race in 2010, we ran this exact same race, placed 9th overall and earned a $75 payout. This time around was a long day — finishing 43rd overall in 3:45:33 — but it was a fun journey.
We were moving pretty good for a while with Amber Wann and Cheeto encouraging us from behind, but we wound up alternating between walking and slow-trotting to the finish. We wound up finishing just behind first-time racers Kevin McNamee, 32, a middle school teacher and coach who ran with a jenny named Lola and Marey Scully, 35, a Hoka sales rep who ran with a jack named Paco.
"My first impression after that starting gun went off was, "Holy smokes, what have we gotten ourselves into?!" McNamee said. "I didn't realize what a pack mentality burros have. Our burros are stablemates, so from the moment that gun went off to the finish line Paco and Lola ran together the whole. It's a totally different kind of running, but the burros did all of the work. It was a wild adventure, something I'll remember for the rest of my life."
RELATED: The Sustainable Guide to Colorado's Best Summer Adventures
Lead Photo: Courtesy Brian Wanke/Western Park Burro Association
Trending on Outside Online