How an Elite Track Athlete Secured a Spot on 'The Voice' 
Chloe Abbott is an elite sprinter and Olympic-hopeful who trains under coach renowned Bobby Kersee.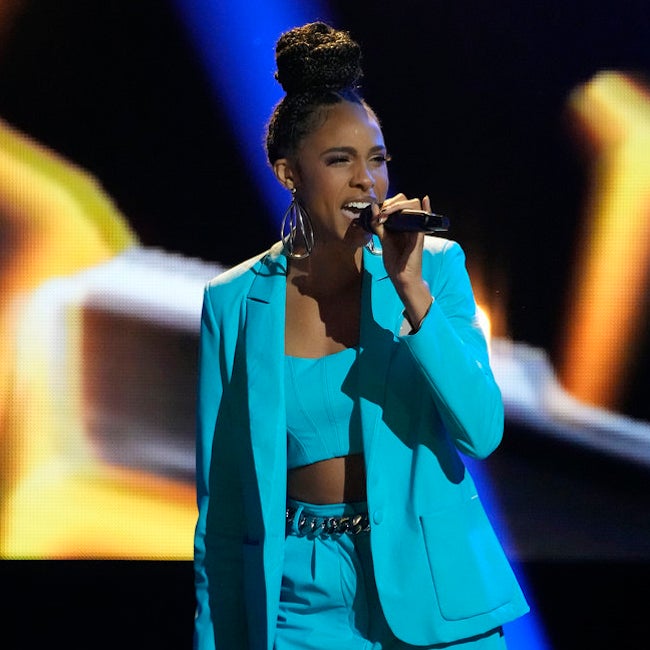 Heading out the door? Read this article on the new Outside+ app available now on iOS devices for members! Download the app.
Chloe Abbott admits that she loves performing on a stage as much as she loves performing on a track.
Turns out, the Los Angeles-based professional sprinter is equally talented singing a wide range of pop songs as she is running the 200- and 400-meter events. Since growing up in Detroit, her two biggest dreams she's been working toward are the opportunity to sing in a competition on TV, and to run on the track with legendary American sprinter, Allyson Felix.
Last year, when she joined Bobby Kersee's high-level post-collegiate training group, Abbott trained alongside Felix during her final season of the legend's historic career. Now Abbott is realizing her second big dream coming true, with a recent appearance on NBC's The Voice.
Last October, Abbott earned the chance to perform on the 23rd season of the talent-uncovering reality TV show by singing a stunning rendition of "How Deep is Your Love" in the show's blind auditions at NBC's Universal City studios, near Los Angeles—a performance that was eventually broadcast on March 14 and watched by an estimated 5 million viewers.
Next up are the pre-recorded Battle Rounds of the show, which will be aired on NBC beginning on March 27. After that, if Abbott keeps advancing—she's not able to give out details—it's the Knockout Round, and then the Live Playoffs.
The winner of Season 23 will earn a $100,000 cash prize. But Abbott, whose long-term goals on the track are focused on competing in the 2024 and 2028 U.S. Olympic Trials for a chance to run in the Olympics, feels like she's already won.
"I've had this dream for so long and it just came full circle, watching it on TV with all my friends and my family," Abbott said. "It really makes you wanna cry. I've had friends and family say things like, 'I always knew this was gonna happen,' but I've just kept working hard toward my goals. No matter what the circumstances, no matter how many races I win or lose, I still have these desires and I still go for them with everything I have in me."
During the auditions, singers perform solo with the show's four coaches—Kelly Clarkson, ​​Niall Horan, Blake Shelton and Chance the Rapper—initially turned around in their chairs, facing away from the singer so they can focus only on the performer's voice. If one of the judges likes what they hear, they turn their chair around and claim that performer for their team.
Prior to beginning, Abbott had a good feeling Chance the Rapper was going to choose her. And sure enough, about 20 seconds into her song, he turned his chair around, signaling he wanted Abbott on his team.
"It's not even that you're nervous, it's more that you just want to scream! But you're in the middle of a lyric, so you have to just keep your composure," Abbott says. "I just knew that he was going to choose me. When it happened, I pointed right at him even though I was in utter shock. It was a moment I will not forget. I will say I didn't remember when he turned until I watched the audition back on replay."
Abbott says she gets immersed in the moment while singing on stage, much the same way she does on the track.
"It's almost like when you go back and watch the film of a 400 with your coach, and you're like, 'Oh, that's what happened at 300 meters?'" she says. "Typically, when you have a bad race, you're aware of it. You know what's going on at all times. But on those really good days, you kind of wake up when you finish and are like, 'Wait, what just happened?' That's kind of what happened to me during the audition."
Singing and Sprinting
Abbott has been balancing her running with singing and acting since she was a young girl. She was an All-American sprinter for Purdue and later Kentucky, and in 2019 finished second in the 400 at the NCAA Championships for the Wildcats. She also helped Kentucky's 4 x 400-meter relay team finish third at the NCAA indoor championships and sixth at the outdoor championships.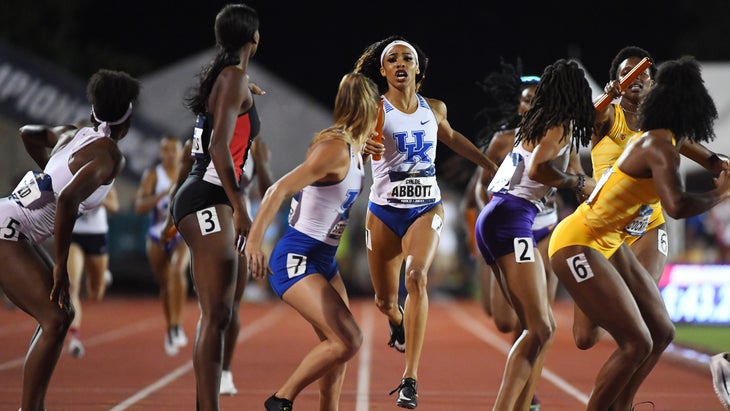 Since turning pro, she signed a sponsorship deal with On and has competed in numerous domestic meets—including the U.S. Olympic Trials in 2021 and last summer's U.S. championships.
Kersee and Abbott agreed it would be best for her to skip the indoor season because of her singing obligations, but she's still been training hard on the track and in the gym. She'll open her outdoor track season in May at the Mt. SAC Relays and compete in several meets leading up to the U.S. championships July 6-9, in Eugene, Oregon. She'll also be singing the National Anthem and a few other of her favorite songs at the On-sponsored Track Fest meet on May 6, in Los Angeles.
Kersee's training group includes Sydney McLaughlin-Levrone, Jenna Prandini, Athing Mu, and others. Felix, the most decorated athlete in track and field history, retired at the end of the 2022 season, but not before making a huge impression on Abbott.
"Allyson Felix has been the only woman I've ever wanted to meet and just hang out with. She ended up being my teammate for the whole year," Abbott says. "Not only that, she was a sounding board for me, to really help me through some of the tough meets last year and just normalize the fact that being a professional athlete includes losses, too. She told me, 'you're not always gonna be on top. You're not always gonna feel healthy. You're not always gonna be happy to be on the track.' That really helped me keep things in perspective."
It was that input that galvanized Abbott's confidence, both on the track and heading into the tryouts for The Voice. For her audition, she chose The Bee Gees 1977 hit, "How Deep is Your Love," from a list of possible songs, but sang it in a soulful rendition similar to how Yebba Smith and PJ Morton performed it.
"I went up there very confident," she says. "I thought, no matter what happened, I feel really good about this song and where it's at. But getting to that point of peace was not easy. When it happened and it all came to fruition and Chance turned his chair around, I was like, 'Oh my gosh, this couldn't be more perfect in this moment.'"
Abbott admits she's still working hard to make it at the pro level on the track, but if there's something her singing has taught her, it's that being diligent to her craft and having considerable patience are the keys to success. Before earning a spot on The Voice, she went through numerous auditions for America's Got Talent, The X Factor, and American Idol, only to get rejected each time.
"You can't allow those things to determine how far you've come and how long your journey is gonna be," she says. "Sometimes things don't go right, but you have to realize there are so many things that happened on the way that did go right, so all you can do is be thankful. There are moments when you just want to quit, when you just feel unworthy, and yet, it teaches you so much. That's the best part."
Lead Photo: Casey Durkin/NBC