Inside Lane: Emily Sisson, Marathoner, Has Arrived
After her 2:23 debut in London, Emily Sisson is officially one of the best American marathoners of all time. And she's got a plan to get better.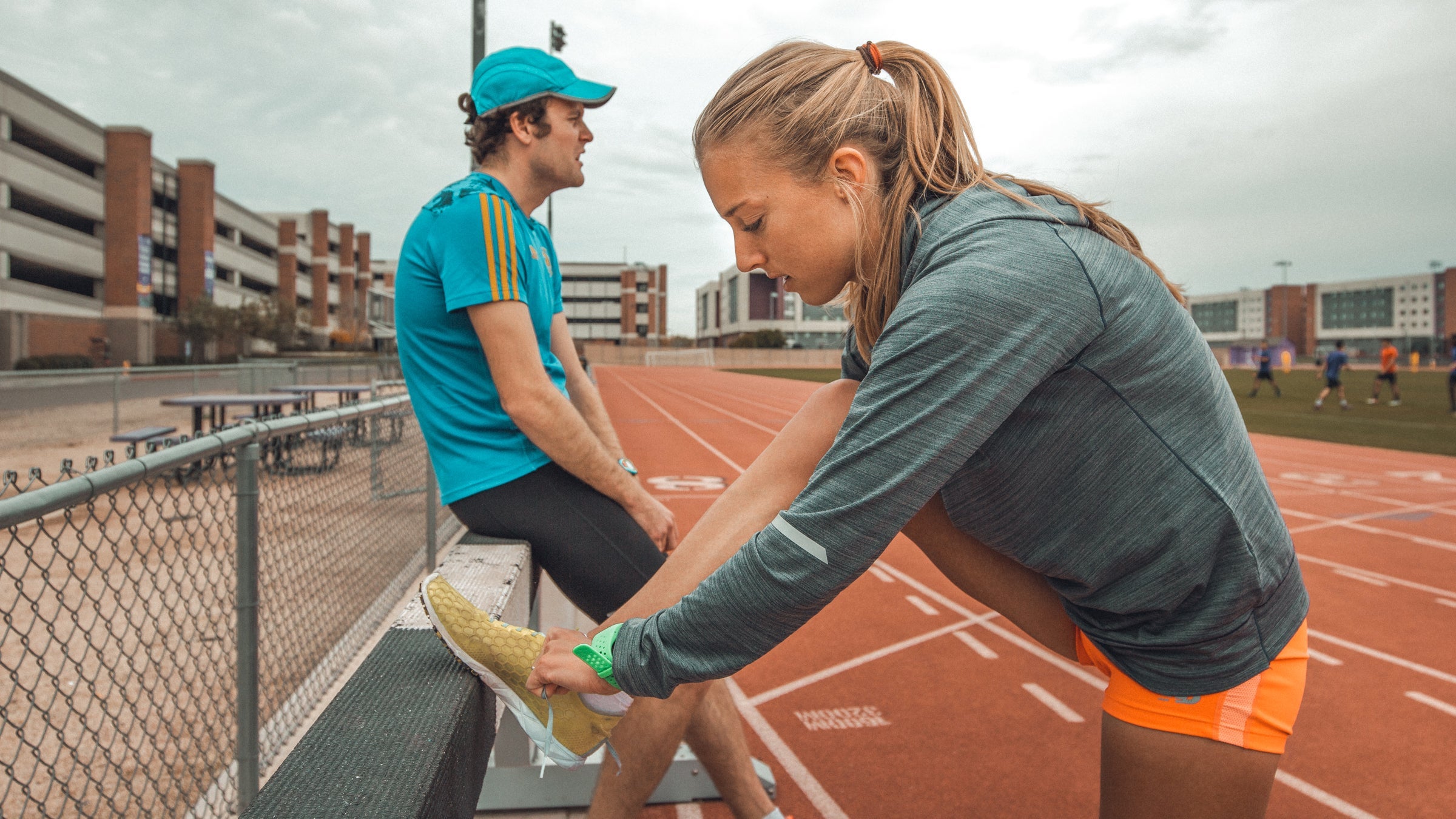 Heading out the door? Read this article on the new Outside+ app available now on iOS devices for members! Download the app.
Emily Sisson is not one to get ahead of herself.
From what her coach Ray Treacy told her, she figured she'd be good at the marathon—eventually.
She hoped to match her training partner, 27-time national champion Molly Huddle, in races—eventually.
But that eventuality is happening now, as the 27-year-old stacks up a pristine competition record in 2019. Her most recent accomplishment was an incredibly successful marathon debut—a sixth place finish at the London Marathon in 2:23:08, a time that makes her the seventh-fastest American woman ever. Her run is the second-fastest debut for a U.S. woman (just off Jordan Hasay's debut of 2:23:00) and she's the third-fastest qualifier for the US. Olympic Marathon Trials so far (behind Hasay and Amy Cragg).
It's also her third headline-making race of the year: In January, she ran five seconds off the American record at the Houston Half Marathon (1:07:30) and, in March at the Stanford Invitational, became the third-fastest 10K runner (30:49) in U.S. history.
What makes those runs doubly significant is that she's completely closed the gap to Huddle, her one-time idol and now legitimate (if extremely friendly) rival. The half-marathon record Sisson nearly broke belongs to Huddle, and she outright beat the Olympian at Stanford and in London.
"It's been a slow, gradual process," Sisson says. "When I graduated [from Providence College] in 2015, working out with Molly terrified me. We could tempo together but on the track, she was just so much faster than me. Slowly, over time, I was able to do her workouts, hanging on for dear life. It's just taken years of continuous training.
"She's been great about helping me get there as well. It speaks volumes about her character, because she was the one who helped me in the beginning to rise up to another level. I've been pretty lucky."
The women were prepared to run between 2:21 and 2:23 at the London Marathon—but the race did not go according to plan. The top women, who were expected to take off at 2:17 pace, opted not to run with the pacemaker, which slowed down the entire field.
"We didn't want to run faster [than the top pack] and start leading, so we adjusted the plan. I think looking back, I made the right call," Sisson said. "[It would be worse] to have a bunch of people try to catch me and pass me and then I'd fade. That [slower pace] helped the first half feel really comfortable. It's good practice to adjust your plan in the middle of the race when it doesn't go how you expect."
Midway through, the top guns finally picked up the pace. By then, it was clear Huddle was not having her best day and Sisson was left to cruise the latter half of the race in no-man's land.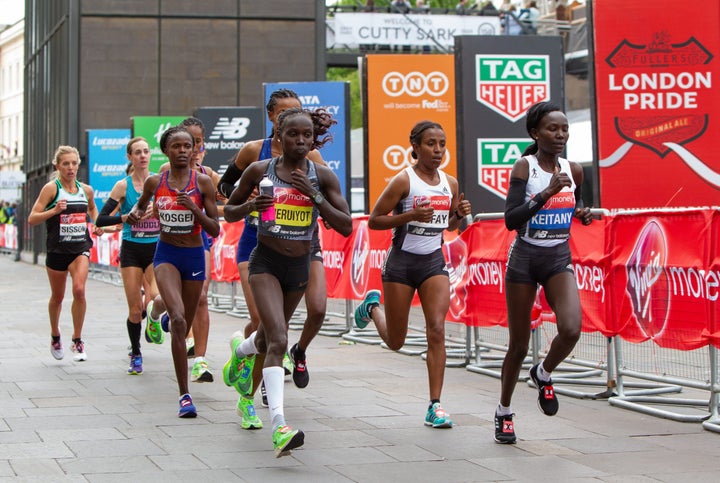 "After halfway when it broke open, she didn't respond," Sisson said of Huddle, whose 11-second personal best of 2:26:33 for 12th place was far from her goal of 2:21. "I knew she was pretty fit and I knew she made some big jumps, especially after the 10K we did at Stanford. I know it was just one of those days when your body isn't feeling good and it's unfortunate with the timing. I know she was feeling achy pretty early on. I was hoping we'd both feel good that day.
"That's the tough part of the marathon," said the first-timer. "You train so hard for three months and pass up on other races, all for one race. You could get sick, eat something funny for dinner, anything can happen. That was always the scary part for me. If you have an off day, you can't go do a 5K in a week."
Part of why Sisson's star shines so bright right now is because it is extremely hard to get all the pieces right over 26.2 miles — especially in your very first one. More than a week after the race, she's a little bit jet-lagged, fresh from a brief post-marathon vacation to Spain with her mom, and still a little shell-shocked that everything went so well.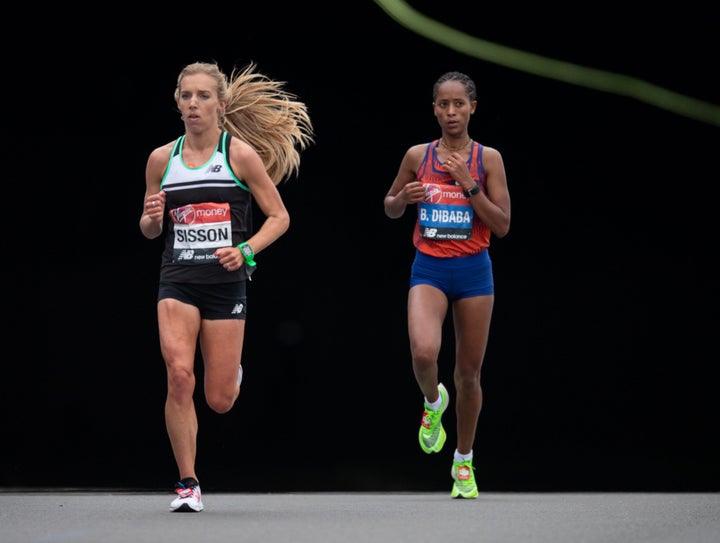 "It took a few days for the race to sink in," she says. "Sometimes after a big race, it takes awhile and the marathon is a totally different beast. After I crossed the finish line, I was in disbelief. I think that was good but I'm a novice. I handled the distance well, I handled the race well and I have a few areas I can improve on."
She pinpoints nutrition—both during the race and carbo-loading—as her main weakness area, explaining she struggled to figure out the best fueling plan during her build-up to the race.
"Compared to what other runners do, I wasn't taking in as many carbs in gels or electrolytes [during the race]," she says. "That's something I can improve on. And the few days leading up to it, the carbo-loading thing, I found weird. I'm not used to eating a lot of bread and pasta. I eat a lot of carbs, but rice and sweet potatoes and quinoa—more complex carbs. I'll try to have a bit more bread and pasta during training so it's not such a drastic change."
Sisson also thinks she could benefit from higher mileage. She jumped from her normal 90 miles per week to a range of 110 to 115 miles, hitting a three-month high of 120 twice.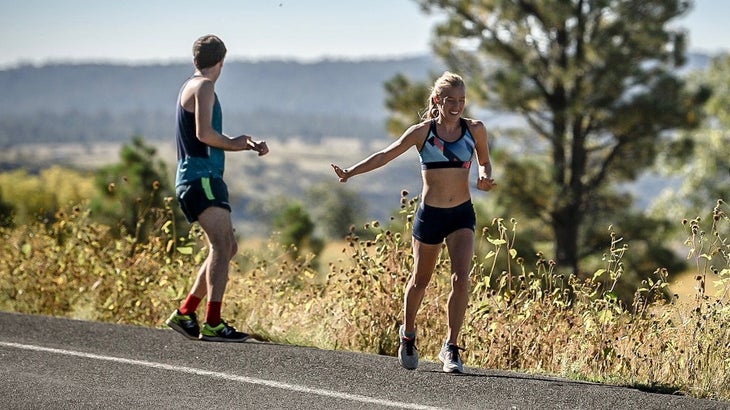 "I was pleasantly surprised at how my body handled the mileage," she says. "I felt a little less sore doing 115 mile weeks where I wasn't getting on the track as much than I did doing 90 miles getting on the track a few times a week. It suited me better. I was pretty surprised at Stanford that I still had speed in my legs, despite not doing track work. I felt more fresh at the end of the race."
On long run days, she typically logged 22 miles and never ran further than 23 miles—which made the back half of the London Marathon unfamiliar territory. By then, she was also completely solo.
"I remember thinking in the race, 'I've never run this far before,'" she says. "It was pretty odd to run 13 miles in a race totally on my own."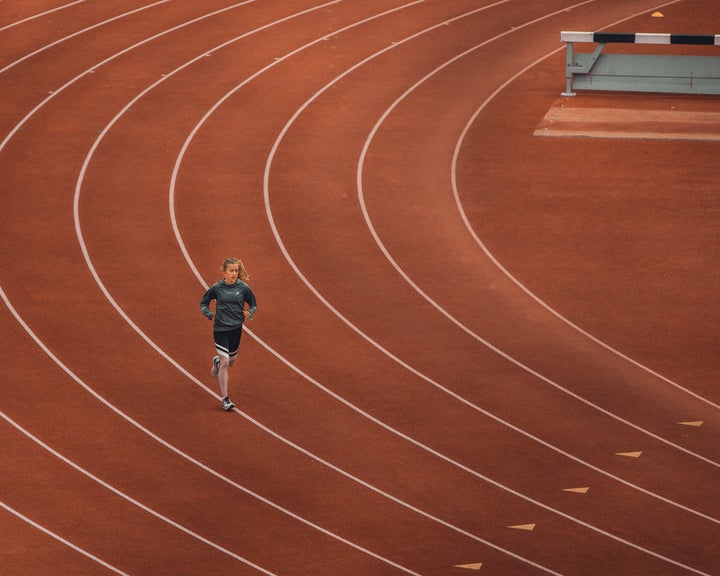 Racing without company may not have been ideal, but Sisson is actually pretty accustomed to working out by herself. Though she and Huddle are technically training partners under Coach Treacy, they adhere to slightly different training plans that highlight their respective strengths. Huddle also spent the first half of the build-up in Flagstaff while Sisson and her husband, former Providence teammate Shane Quinn, moved into their new home in Scottsdale.
"When she came down from Flagstaff, it just worked better not to do workouts together because we are pretty different runners and our strengths are different. I know it sounds a little odd," Sisson says. "She prefers doing track workouts and I prefer tempos. We can both get good results, run a similar 10K [while] doing different training. Especially for my first marathon, [Coach Treacy said] 'let's not force it.'"
Sisson and Huddle instead logged easy runs together and sometimes hopped in each other's long runs. Meanwhile, the new Arizona resident found an unlikely (or, the most likely) workout buddy under her own roof in her husband, whose aid has been paramount in her drastic improvement.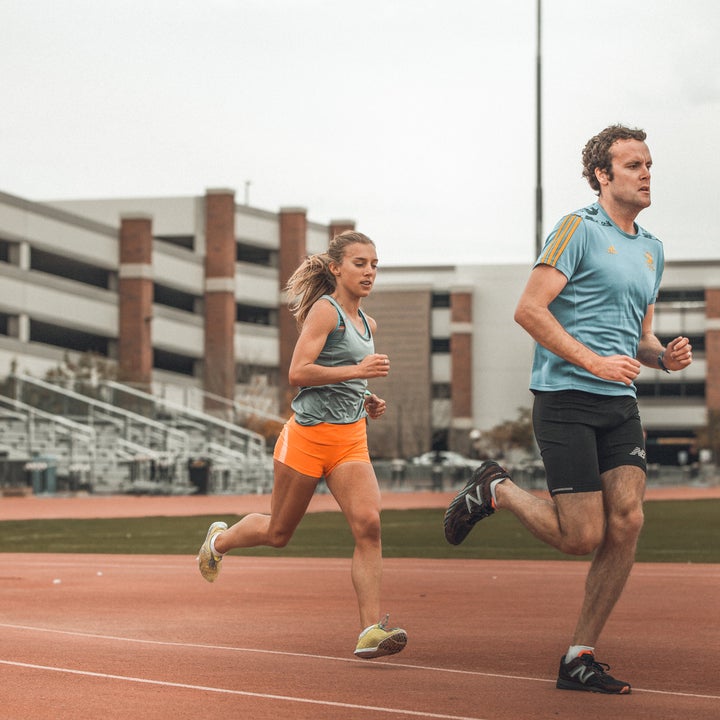 "My track workouts are the ones I need the most help with, having him there to block the wind," she says. "I was doing a lot on my own. I feel like I made some big jumps having him there."
At one point, she realized her pace for 12-mile tempo runs—just under 5:20— was faster than she ran in college for a five-mile tempo—5:30s. Still, the prospect of a marathon left her unsure.
"I'd get confidence and be like, 'well, I need to double that,'" she says. "It was definitely a little strange to me. Racing a distance like that. And it being a mystery."
What's no longer a mystery is whether Sisson is any good in the marathon.
From PodiumRunner