Higher Ground
When 28-year-old Kyle Dempster isn't tending to his Salt Lake City Coffee Shop, he's scaling some of the world's hardest routes.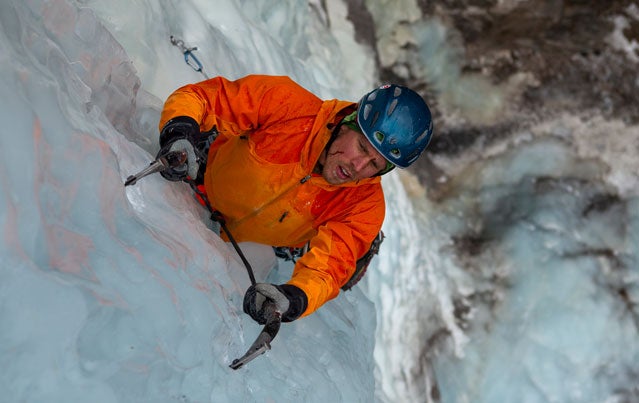 Heading out the door? Read this article on the new Outside+ app available now on iOS devices for members! Download the app.
Last year, Kyle Dempster and Bruce Normand earned their second Piolet d'Or nomination, a French award that recognizes excellence in alpinism, after they made the first ascent of the east face of China's Mt. Edgar. The climbing highs have piled up for Dempster in the last several years, but what's more impressive is his ability to deal with the lows life has thrown at him. We caught up with him before he departed in late June on a solo seven-week climbing and cycling trip through Kyrgyzstan.
Kyle Dempster

Kyle Dempster
Kyle Dempster, Siguiang Shan Mountains

Kyle Dempster, Siguiang Shan Mountains, China
Kyle Dempster ice climbing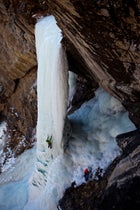 Kyle Dempster ice climbing in Sichuan, China
Kyle Dempster ice climbing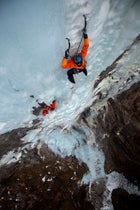 Kyle Dempster ice climbing in Sichuan, China
Kyle Dempster Sichuan, China

Kyle Dempster in Sichuan, China
How did you first get into climbing?
My cousin Drew learned how to climb at a summer camp for kids out in Colorado, and his family would come out here to Utah every Christmas. So he said, "I need a belay. Let's go climbing." Being the younger kid—I was 12; he must have been 14 or 15 at the time—I followed him. We went to REI to go buy some stuff and went to this place called Pete's Rock that overlooks the whole Salt Lake valley. We were using a seatbelt out of a Jeep Cherokee for a top rope anchor.
How close are you to the rest of your family?
I'm extremely close with all my family. My sister, Molly, and I both still live with our parents here in Salt Lake where we grew up. A couple years ago she and I climbed the west buttress of Denali together, and it was only her second time wearing crampons. She since then has pursued a lot of wilderness medicine classes and she guides part time for Utah Mountain Adventures, which is formerly Exum here in Salt Lake. My dad's unique in that he has never owned a car in his life and spends his whole life on a bicycle and commutes everyday—sun, wind, rain, or snow—14 miles each way to work here in Salt Lake. On the weekends he'll take off for these mega-marathon bike loops. And then my mom is the same: loves nature, loves hiking, loves being outside.
What's the strangest thing you've climbed?
A photographer friend of mine and myself were in Chengdu, Sichuan, in China. We were riding bikes around our first day. We pulled up to this brick retaining wall that was maybe a kilometer long and 60-feet high. Every 100 feet or so there was this splitter hand crack. Both of us were like, "Oh my God, we got to come back at night and climb this thing." I got maybe to two-thirds height and I heard some yelling. I looked down below and there were five Chinese police officers yelling at me. So I down climbed. And the next five or six hours we spent in Chinese custody while they tried to find a translator to ask us what we were doing. The translation for "fun" wasn't really there.
What have you been up to recently?
I climbed another route on my third trip to China last October and November. We climbed a mountain called Mt. Edgar, which has an interesting history to it. It's the peak that Johnny Copp and Micah Dash and Wade Johnson died on in 2009. My friend Bruce Normand and myself climbed the east face, the same face that killed them. It was a pretty scary experience—pretty educational. All of the upper 6,000 feet to access the east face is a heavily seraced, cornice-laden area that all funnels down into this thousand-meter-long gulley. The gulley is the main danger. That's where Johnny and Micah died. I guess the biggest thing I walked away from that time with was I don't want to climb a mountain with that much objective hazard and danger anytime in the future.
Now I'm here for a little bit and then I'm leaving at the end of June for Asia. I'm flying to Kyrgyzstan with a bicycle and climbing gear and I'm going to spend like seven weeks just riding around Kyrgyzstan and climbing whatever looks cool. In that seven weeks also I'll need to make my way through Western China and then cross the border into Pakistan and meet up with two friends, Kelly Cordes and Hayden Kennedy. Then we're going to go up to the Charakusa glacier and try and make some first ascents on some unclimbed peaks.
How long did it take plan the biking and climbing trip?
It's been formulating for a while, but we've had some bumps in the road. It's been a rough personal time. I had one friend commit suicide and another friend die in an avalanche, both here in Salt Lake City. I had a car run into the coffee shop, so I've been fighting insurance companies. And then in May my girlfriend was doing a bit of extreme skiing in the Wasatch and took a 1,000-foot fall down the north face of a mountain. She's alive, thank God, but she's slowly recovering and has some injuries. She was actually going to be my partner for the Kyrgyzstan bike trip. Still could be, but she's got some injuries to contend with.
What's been your most fulfilling achievement?
The ability to find the continuation in climbing after my cousin Drew, who brought rock climbing into my life, died on our very first climbing expedition together to Baffin Island in the Canadian Arctic. We did a first ascent on a big wall up there, and after two and half weeks of living on portaledges on this wall, Drew made a mistake and rappelled off the end of the rope. He fell about 900 feet and passed away. I was 22 and he was 24. It put me in a pretty dark place for about a year. I didn't really know what I wanted to do. He had provided so much direction to me in life. I sort of vowed on the airplane home that I would return, and that entire year I worked towards returning to the Arctic. I went out there again in 2006 by myself and just spent a couple months skiing around the frozen fjords with a kite. I did a little bit of bouldering and hanging out, and a lot of reading and writing and reflecting. Being out there by myself in this sacred place that took my cousin's life—it really allowed me to find the continuation to be like, "Yes, this what I want to do."
Trending on Outside Online