DNF: The True Tale of Failure at a Spartan Race
A writer discovers the most underrated, painful, and demeaning obstacle in the world—the burpee.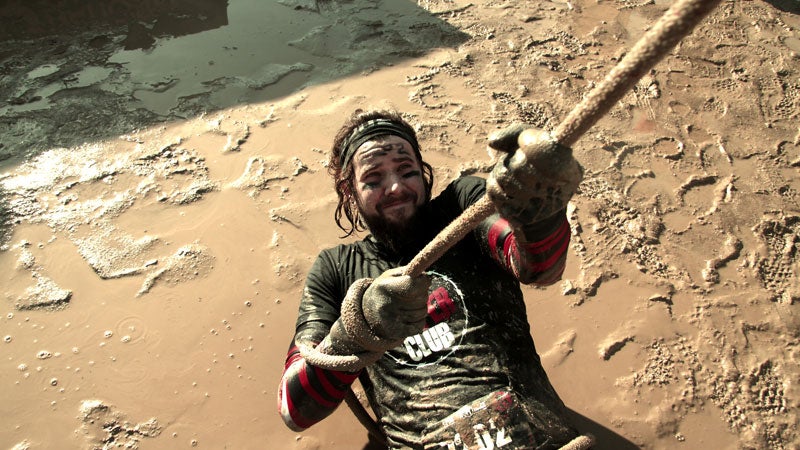 Heading out the door? Read this article on the new Outside+ app available now on iOS devices for members! Download the app.
Spartan Race likes to say, "You'll know at the finish line." But what if you don't make it that far? What do you know then? This is a story about what I discovered when the burpees broke me. But let me go back to the beginning.
I've been hooked on obstacle racing from the second I saw one of Tough Mudder's promo videos. I figured the event's unique horrors would make for a funny essay, so I signed up, trained, and claimed my first orange headband.
That piece made the cover of my local alternative weekly. But, more important, while researching the company, I stumbled upon a Social Network–style scandal that would ultimately be featured on the cover of this magazine.
[quote]I do just enough to maintain the appearance of fitness, which is probably why I've been partial to Tough Mudders.[/quote]
My investigative report received widespread media attention, which opened doors to a consulting gig with 60 Minutes Sports and a speaking engagement at Stanford Business School. I didn't know where any of this would lead, but I knew I wanted to keep covering obstacle racing.
As a journalist, I see a wellspring of fascinating story lines and subjects; as an amateur anthropologist, I can't stop wondering why the hell everyone is suddenly paying for pain. And so, by some strange magic, I decided last summer to make Rise of the Sufferfests, a feature documentary about the phenomenon.
I borrowed enough money to dedicate a few months to the launch of an ambitious Kickstarter campaign. With the help of some friends, I filmed interviews and events, then cut promo videos. I worked on a branding campaign with design wizard and Elite Spartan racer Stephen Sinek (a.k.a. the Painted Warrior).
On August 12, 2013, I launched a fan page for the film, and I've been hopelessly devoted to building that community ever since. Thanks to a steady stream of fresh content, I've managed to create a fairly active and engaged following. By the time I launched the Kickstarter at the end of October, we'd amassed more than 10,000 fans.
Unfortunately, it didn't take long to realize it was all for naught. Despite many likes and comments, shares and support for the film, it was nearly impossible to inspire people to pony up. We'd receive an influx of pledges anytime I'd shamelessly pull the pin on a #guiltbomb, but that wasn't sustainable. And, at the end of a harrowing 40 days, I fell epically short—$263K short—of my $297K goal. It wasn't a Kickstarter so much as a nonstarter.
Undeterred, on the morning the fiasco ended, I drove to the Malibu Spartan Sprint to promote Plan B: Indiegogo! This time around, I was asking for much less—$15,000—just enough to keep us in production while I tried lining up corporate sponsors. Initially, I planned to pass out stickers, fliers, and a few free tees, but a friend roped me into running.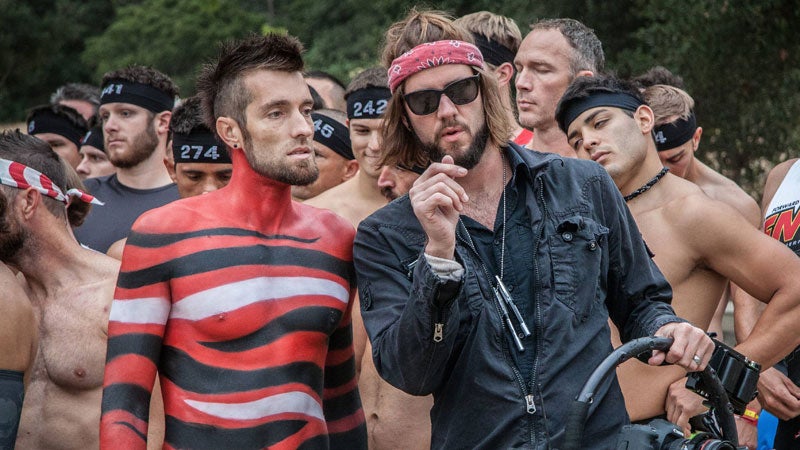 I only had one Spartan Race under my belt, a 5K sprint, and it was—to put it mildly—eye-opening. It started with my wife making me promise I wouldn't ditch her, and ended with her practically dragging me through the final mile. Despite the shorter distance, it was far more taxing than my two Tough Mudders. And this is mostly because of the burpees.
If you're not familiar with the burpee, it's a body-weight exercise first popularized as a military fitness and agility test. It repackages squats, push-ups, and jumping jacks into one little horror show. And for every obstacle you fail or skip, Spartan famously dishes out 30 more. This is very problematic for a man like me. I enjoy exercise, but at my own pace. I like some parts of my life to be high intensity, but interval training isn't one of those parts. I'm more of a VO2-mid kind of guy. I do just enough to maintain the appearance of fitness, which is probably why I've been partial to Tough Mudders.
Tough Mudder is not a race, but a challenge—and everyone's a winner. Whether you walk, run, or take a nap halfway through, as long as you cross the finish line, you get to share in the orange headband's rich social currency. There aren't any timers, results, or outward metrics of success, aside from that terry-cloth totem. It's quite possibly the perfect event for a just-enougher like me. What I didn't realize at the time was that my three headbands would do little to prepare me for my second Spartan Sprint in the Malibu Mountains. 
While I was in good running shape on that frigid December morning, regularly logging 10 to 15 trail miles a week, I'd done little else to prepare for the race. A handful of burpees here and some pull-ups there, but I was nowhere near Spartan strong.
Still, ever the optimist, I expected to finish the course in a little over an hour. I arranged to run in the 8:00 a.m. wave of Elite men, figuring that if I could avoid burpees, I could probably keep up with some of them. The Painted Warrior and I, for instance, shared a similar 5K time on the road. I felt strong through the first two miles, and was firmly in the back of the pack. And then came the Traverse Wall, Spartan's equivalent of a bouldering climb. I made it most of the way, but slipped off before ringing the bell.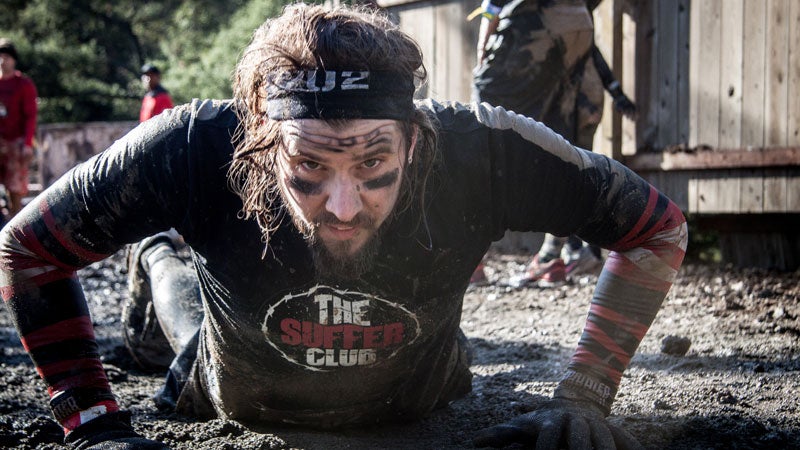 It took me several minutes to complete this first set of burpees. I didn't know if it was because I was running much faster than usual, or because I totally spaced on eating or drinking anything at all, but I felt especially weak. By the time I hit 30, the men were long gone, and I started getting left behind by the first wave of females.
Fast-forward past a lung-busting, resistance-band bunny-hop loop and a staggeringly cold water crossing, and I came upon the Rope Climb. It's a signature obstacle that involves climbing 25 feet up a rope, then ringing a cowbell, before lowering yourself back down. Though I'd never attempted it, I'd seen plenty of people struggle and fail. I was determined not to be one of them. Especially since the obstacle was smack in the center of the festival area, and surrounded by spectators.
Maybe it's because I was wearing a Suffer Club tee, or maybe it's because I'm about as inconspicuous as a Muppet, but a few people recognized me. "Rise of the Sufferfests!" one shouted.  Admittedly, it was a bit of a thrill to be noticed. Until I started climbing.
The ascent was tedious, graceless, and marked by periods of panic as I fumbled for footing atop the knots. Since I had all the core strength of a wilted celery stalk, I was holding myself up with white knuckles and will. It was exhausting, and by the time I reached the top knot, I was cashed. My arms were shaking, my nerves were racing, and the goddamned cowbell was still several inches out of reach. Worse yet, I was the only competitor on the ropes.
"Rise up!"
"You got this!"
"You can do it!"
Under most circumstances I'd relish such focused attention. But, in this case, I wished they'd all just shush and cover their eyes while I slid down the rope and tip-toed to my car.
I couldn't envision a scenario in which I crept back down to face another round of burpees. But I had to at least try to ring the bell, so I sized up the distance, mustered all of my might, and lunged for it.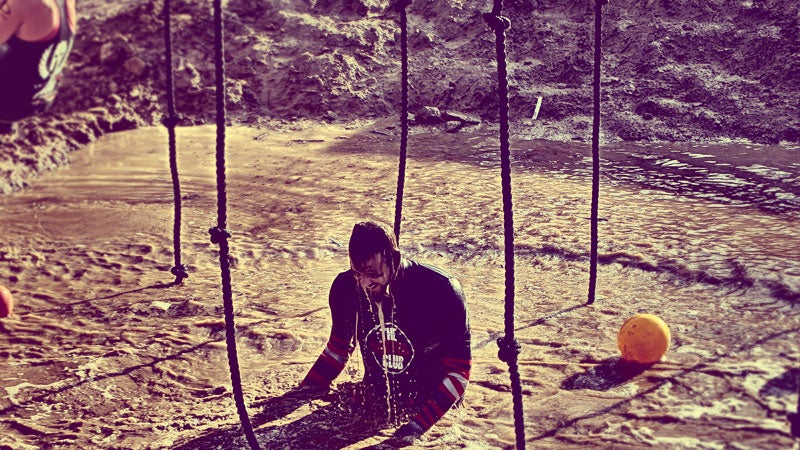 ---
On the way down, the cheers curved toward a collective gasp. I'd missed the bell, and I'd missed it badly. And now, all six-feet-four, 205 pounds of me were falling from the sky until —splash!—I backflipped into the muddy trench.
When I surfaced, I was greeted by stunned silence.  Mortified, I stood motionless, praying for a giant sinkhole to open up. Or for aliens to swoop down and abduct me. Something, anything, to get me out of there. I still had almost a mile to go. I guessed that, at my current pace, it might take me somewhere between two and four weeks to cover that ground.
The next 30 burpees took something like 15 insanely long minutes. I was dizzy, dehydrated, and struck by a thunderclap headache. On the bright side, my vanity had been vanquished. I stopped caring what anyone thought about my big splash. I was solely focused on figuring out how in the world I could possibly finish this race.
Next up was the Hercules Hoist, another upper-body blaster. It involves hoisting a cement block 25 feet in the air via a rope-and-pulley system. Just what I needed! It seemed a bit sadistic to place these two challenges next to each another, but it was very Spartan.
The course designers seem to take pride in stacking obstacles that test similar muscle groups to expose and exploit your weaknesses. And if you fail one, you better believe the burpees will beat you down on the spot, further depleting you. It's starkly different from Tough Mudder, where you can just skip any obstacles you don't feel like doing. No harm, no foul. How I wished I was at a Tough Mudder.
The Painted Warrior, who by now had finished his race, fed me tips on how to beat the Hoist. He suggested I wrap the rope around my body and lean back, using my weight as leverage. I took his advice one step further, wrapping any excess slack around my limbs every time I pulled the rope. It wasn't pretty. I was hooking my leg around the rope, twisting it around my elbow and wrist. By the time I'd hoisted the bucket near the top, I looked like I was losing a battle with a boa constrictor.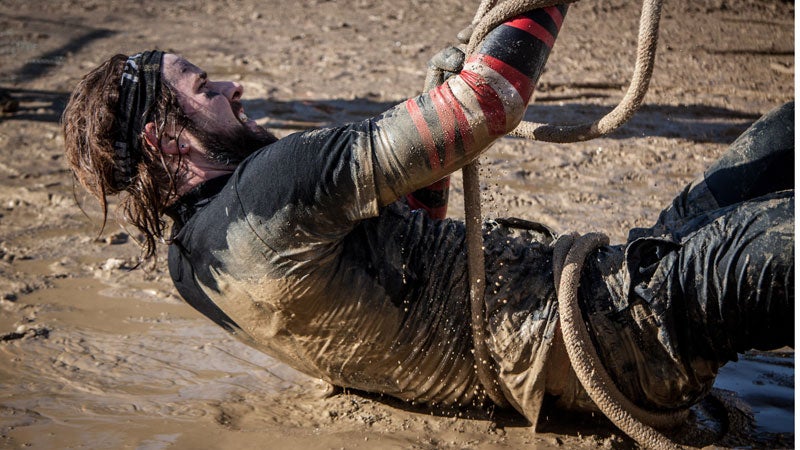 This was about the time my grip strength started giving out. After four minutes of a struggle that sapped my last bit of energy, I could pull no more. Adding insult to injury, superstar Hunter McIntyre, who was on his second go through the course—just for fun!—was now standing across from me, pulling on the rope as casually as if he were flying a kite. Worse yet, behind him I saw a teenager from a later heat scaling the Rope Climb like an American Ninja Warrior. Forget about getting chicked, the universe was out to get me, and I was done.
I'm not entirely sure what the hell happened out there—why I quit. But maybe the DNF is perfect. Maybe it's fitting. Maybe it's poetic justice that, on the same day my Kickstarter failed, a 5K I'd underestimated swallowed me whole. Either way, I know it's a turning point. And while I didn't make the whole race, I still learned something while breaking and embarrassing myself along the way.
I want to be more than the filmmaker who champions OCR and spotlights people who've found salvation through it. I want to be one of those people. Especially since my wife and I are trying to have a kid. There's no place for a just-enougher in fatherhood. I want to be strong, fit, ready. And to do that, I need to embrace the suck, push myself past that VO2 mid, and Spartan the fuck up.
Trending on Outside Online