Eight Minutes with Ultra Runner Darcy Africa
Heading out the door? Read this article on the new Outside+ app available now on iOS devices for members! Download the app.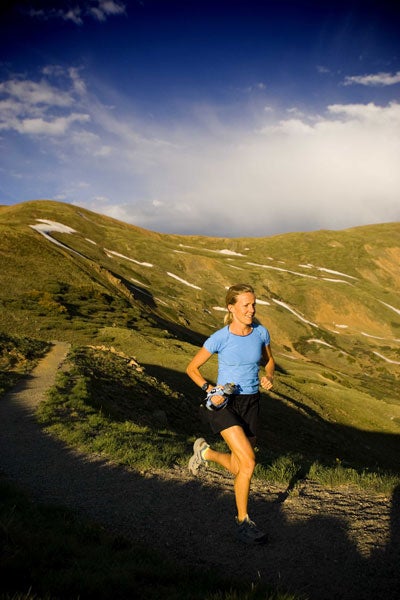 How on earth do you find time to train for ultra marathons with a toddler underfoot?
It's hard. My husband does these thing as well, maybe not as many races, but he does train quite a bit. So it's tough because we have to do a lot of tag-teaming. That's really all it is. You go in the morning on Saturday. I'll go in the afternoon. And you can go in the morning on Sunday. 
How many miles do you run in a week? 
I don't keep track of anything. Generally. I just get in an hour to two hours a day. I tend to do it by hours. In the heat of training, I'll do my long runs on weekends, pretty typical to most runners, six or seven hours. I try to do races as training b/c I don't go out and run 50 miles on my own, so throughout the season I'll start with a 50K and then build up to two or three 50-milers before a 100 mile race. It's hard because I sort of I know what type of weekly mileage my competition is doing, and I can't even come close. They're getting in 100 mile weeks, and I don't think I've ever gotten in 100 mile week. My training is almost similar to someone who's training for a marathon—only my weekend runs are longer. I'm not able to put in 15 miles on a weekday. I don't train at that intensity, ever. There's always that thing in my head where I wonder if I slept less and trained more, maybe I could do better, but I'm not willing to sacrifice certain things—sleep. [Laughter.] It's all about priorities, and right now my daughter is totally my priority, and I'm totally OK with that. 
Why don't you track your training more closely?
I'm not that scientific about anything I do. I guess it's just my style. There's a part of me that worries that if I got so into it, I'd lose the passion and joy of it. So I just do what I feel like doing. I guess it's worked for me so far. I have suffered some injuries in the past few years, but I guess it's just age and childbirth. It changed my body.
You hear stories about how runners, like Paula Radcliffe, come back stronger after childbirth. Did having a baby make you a better runner?
I didn't find that to be true. Maybe if I ran shorter distances and faster, that might have been true because I think that's where people see the difference. I think it has to do with VO2 max—red blood cells increase after childbirth. But it was a lot harder to get back into than I ever thought it was going to be. You lose a lot of fitness, especially in the longer distances. 
How soon did you come back?
She was born in November, and I ran my first race in February, which was kind of crazy. That was a little bit quick. It was a 20-miler and it was very painful. In hindsight, I don't know why I did it. I was really determined to get back after I had her. 
What's harder in ultra running, the mental or the physical?
For me, the mental, I think. You have to train the mental part of yourself just as much as the physical.
How do you do that?
Personally? I train a lot alone. I actually prefer not to have pacers. I worry that I'm going too slow for them, and that they're not having a good time. I do better when I don't have external things to worry about. Also, for the past several months, I've been doing a lot of sitting meditation. That helps. Your mind can convince you of anything at any point in time. It's just about knowing that you'll pull out of things, even in the worst of times, when you think you're not going to finish. Most of the time, my experience is that you pull through. 
Do you cross train?
If you call yoga cross training, then yes. I'm still trying to figure out if it helps or if it hurts. I try to get in at least one or two classes a week. It's not very much, but it's what I can do. And I lift a little bit, some upper body. Now that it's winter time, I'll be skiing more. Hiking's good, too. 
What's on your iPod?
A big variety. Kind of party music, with some Cold Play, Jack Johnson, Black Eyed Peas. 
What's your favorite piece of gear for parenting and running?
Definitely my BOB jogging stroller. I ran a lot with it when she was very young because I had her all the time. There's a really smooth trail by my house that's pretty flat and you can easily take jogging strollers, so I went there a lot. But now that she's getting older, I don't like to as much, because she's heavier and it's harder, and I think it changes your form. You have to have this awareness of how you're pushing it and not lean too far forward. But it's great. It allowed me to get back. Without it, I'm not sure I would have been able to get back into running so quickly. 
[photo align="center" size="full"]2215541" class="pom-image-wrap ">

Trail shoes: minimal or maximal?
I'm sponsored by Pearl Izumi, so I run in their Fuel XC or the Peaks, which is their lighter trail shoe. Sometimes I run in the triathlon shoe—it's a very lightweight with holes in the bottom. I'm starting to like minimal shoes more and more. I always thought I needed a ton of cushion. I think for the 100s I do. But I like to switch it up. I have issues with plantar fasciitis. I think if I ran in something too minimal all the time I would have big problems. 
— Katie Arnold
Trending on Outside Online