Conquering Oregon: the Pacific Crest Trail Female FKT: Part One
An epic story about a quest, friendship, choices, exhaustion, empowerment, persistence and possibility.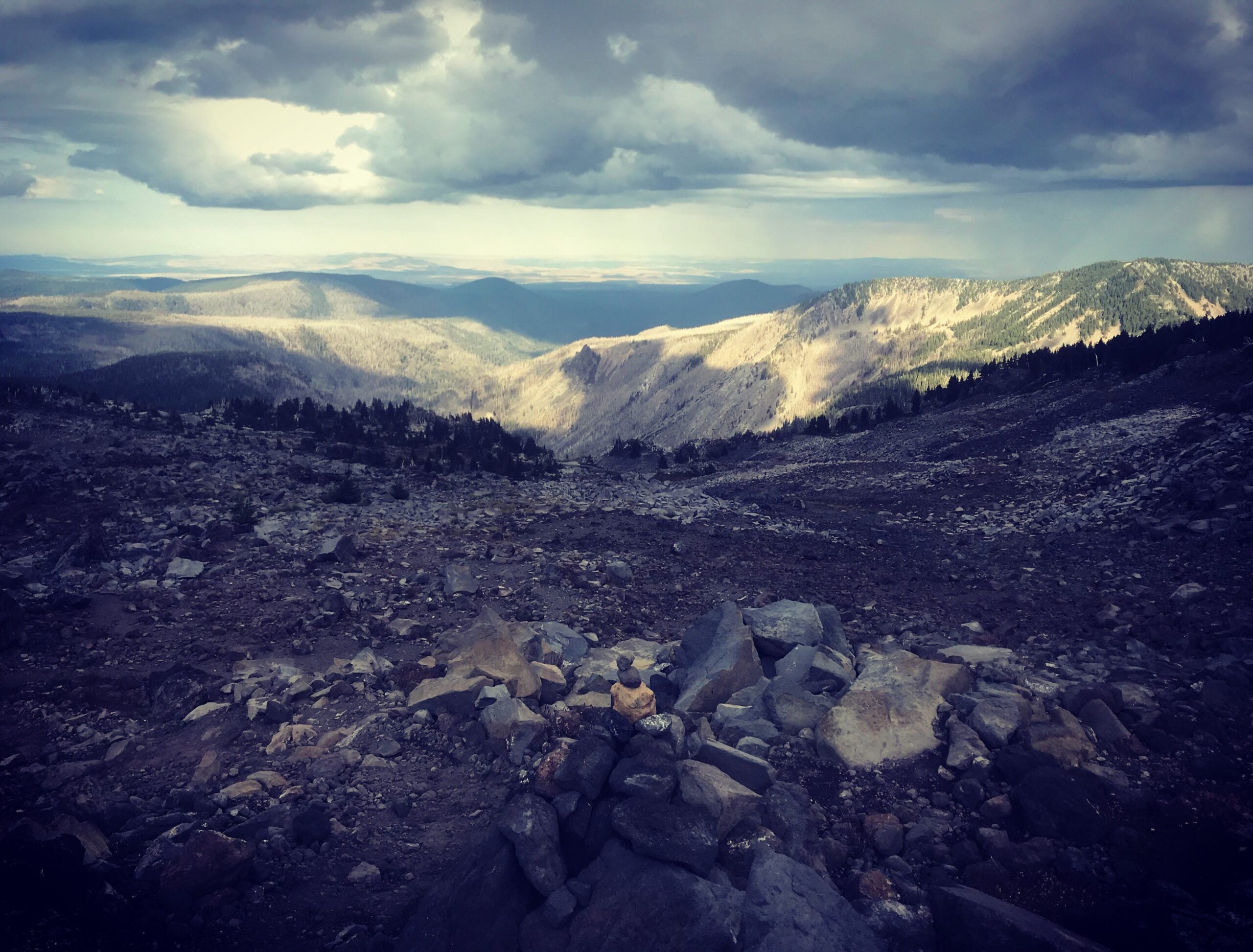 Heading out the door? Read this article on the new Outside+ app available now on iOS devices for members! Download the app.
Last year, my adventure partner and I started to plan for summer 2019. We wanted something different, more challenging and bigger than a race. We wanted a way to use our running for a broader platform—a stage to start a bigger conversation.  
During our long, loping runs together in the lush greenery outside Portland, we started to form an idea: the Oregon leg of the Pacific Crest Trail, aiming for the fastest known time. There are many FKT trails to choose from, many that are one or two days—but, true to our personalities, we jumped straight into a multiple day, 460 mile beast of a run. This was our year, our grand dance, the perfect moment to test our bodies against the mountains and see what shook out.  

An Empowering Quest
As the planning continued, so did the strength of conviction in our goal: to empower women runners. As we researched our FKT attempt, we found that, while the FKT websites list male and female records, only 366 women held fastest known times records internationally. In contrast, 1,351 men had completed and held FKTs for trails across the world. The disparity speaks for itself—more men are running more trails. Given that men are outrunning, or at least chasing and setting records, at a rate of almost 4:1, it seemed to me that not enough women are testing their mettle on these transcendental, multi-day trail runs in the most beautiful wildernesses in the world.

In my personal life, I am constantly confronted with my own uniqueness. As a dedicated ultra runner and women of childbearing age, I am asked more often how my running will impact my ability to bear children than I am what my mile time is. Women athletes face scrutiny over their decisions in a way that men rarely do.

To many women, there is something almost shameful in lustily racing after one's own dreams, and it felt distinctly uncomfortable for me to ask others to support me as I single-mindedly hunted down my first FKT. Studies show again and again the disparity between men and women—in pay in the workplace, in household chores, in FKT attempts. Could this disparity be shaping the way women feel about asking for help in pursuing dreams that are too big to be done alone?

"There isn't any rule book for running for 500 miles as fast as possible."
Making it even harder, many attempts at FKT's fail. The adventures are so big and ambitious with so little room for error that failure is as likely as success. There are clear and easy guides to follow for running a marathon or 50 miler. There isn't any rule book for running for 500 miles as fast as possible. It seemed an immense risk to buck against the rules of femaleness and then face the reality that, even once you stand up to the traditional role you are expected to play, you may still flat-out fail.
Society discourages people from trying. Athletes are bombarded with the message that the risk of failure and embarrassment is just too high a price to pay for going after a wild dream. My adventure challenged this idea for me and my running partner. How do we deal with unspoken (and spoken) fears? We went into our FKT attempt as underdogs with a large possibility of failure. I was able to face this fear because even the attempt of such a big run allowed us to open up about our message to other women: We learn and grow from failure and the journey is the victory—not the outcome.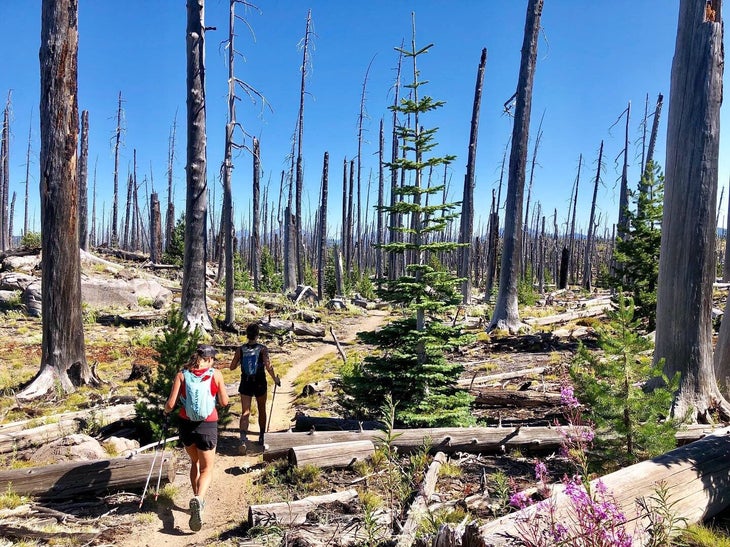 Snafus from the Start

The Oregon PCT, when traveling north out of California, begins in Donomore Meadows and travels 460 miles through Oregon until Cascade Locks when the "trail" crosses the steel, narrow Bridge of Gods and, in the middle of the river, becomes Washington.

On August 22nd, 2019 Jameson and I set off with the intention to take the overall supported FKT on the Oregon section of the Pacific Crest Trail. This meant beating the men's (Yassine Diboun and Scott Loughney) previous supported time of 8 days, 12 hours and 5 minutes.  
No other woman had attempted to run this section of the PCT. As long as we finished, we would hold the FKT for women—and, we hoped, inspire other women runners to chase our time now that we had established it could be done despite the intensity of the miles, the elevation gains and losses and the extended periods of time on the trail without access to support or the outside world. 
Our first adventure happened before we got started. Jameson and I had created a robust schedule and planned to start at 4:00AM at Stateline Trailhead. Google determined this was a fairly simple drive from my home in Bend, OR and my partner, Aaron, and I had planned on leaving in the morning of August 21 and meeting Jameson and her husband, Matthew at the trailhead. We would camp there, run the half mile south to the CA/OR border and then begin our journey. That was the simple plan. Instead, we ran into the first of many challenges we would encounter of the course of the next week in half. 
Jameson and Matthew's rented truck had no difficulty managing the limited-maintained road to the trailhead, but our van could not reach the start. We tried many different ways and still could not get closer than ten miles to the destination. This could have been simple, IF we had cell service. Instead, we had to drive 1.5 hours back to service in order to message Jameson and create a different plan, then drive back to where they would pick me up in the morning. By the time we got there, it was rainy, cold and late. I got into bed around 12 AM and agonized over needing to be up in 4 hours rather than sleeping.
Next: The adventure begins, plunging us into long days that challenge us more than we had bargained for.
From PodiumRunner
Trending on Outside Online