Inside Lane: The Mindset of a 3:49 Miler
Johnny Gregorek talks about being in a world record race, taking down his father's mile mark, and his positive views on the new Olympic standards.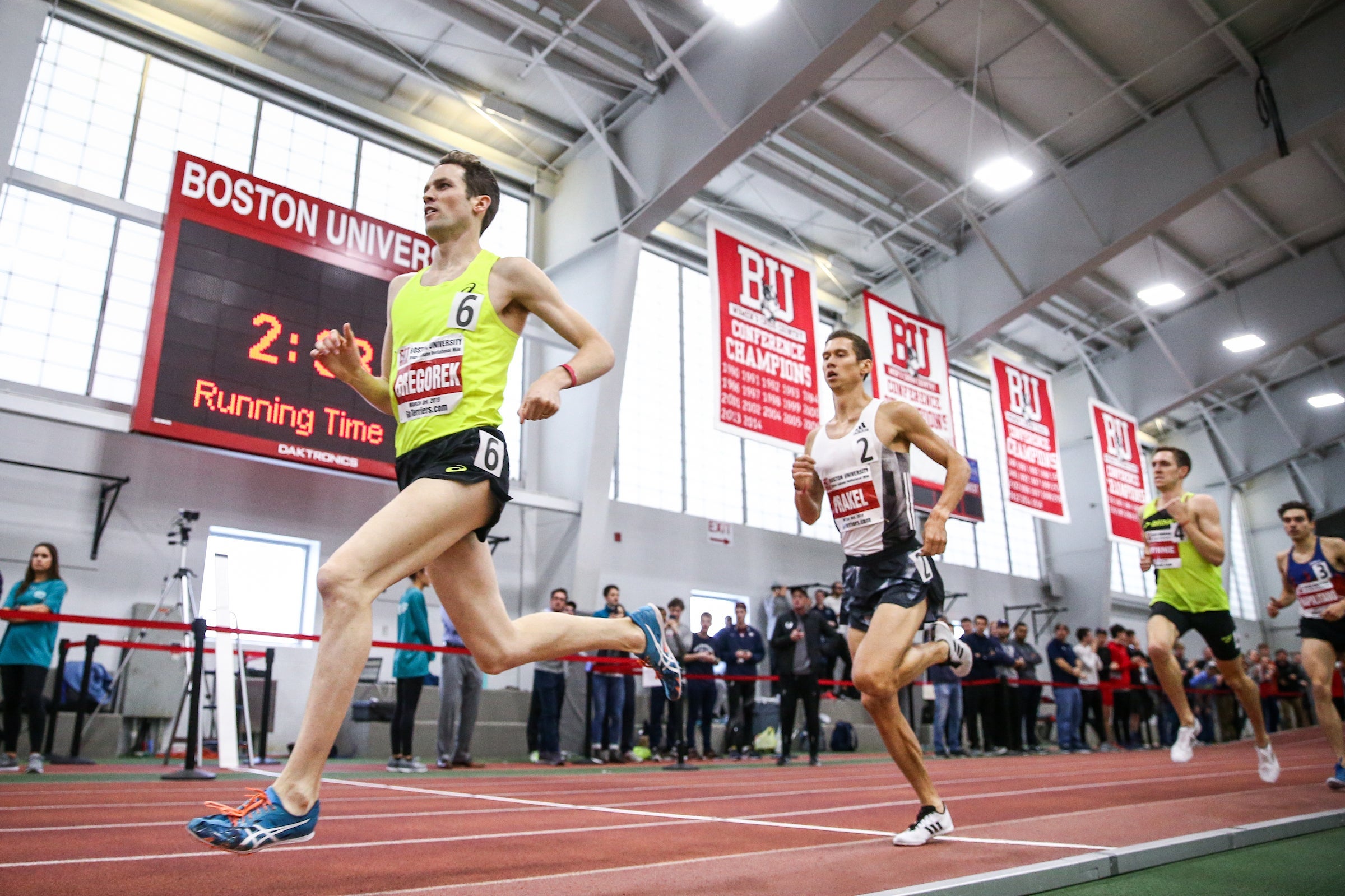 Heading out the door? Read this article on the new Outside+ app available now on iOS devices for members! Download the app.
The big story out of Boston two weeks ago was Yomif Kejelcha's new world record in the mile, a mind-blowing 3:47.01. But less than three seconds behind him was an American miler leaving his own mark on the record books—Johnny Gregorek, who ran 3:49.98 to just narrowly miss Bernard Lagat's U.S. indoor record. His time ranks him as the sixth-fastest man indoors in world history, and—perhaps more importantly—faster than his Olympian dad, John Sr.
Gregorek snuck onto the World Championships team in 2017, but this run shows he is quite literally the fastest active American miler and ready for big things in the 2019–2020 World Championship and Olympic cycle. We talked with the ASICS-sponsored athlete after a training session with the New Jersey-New York Track Club to chat about the record race and the controversial new Olympic standards.
What's it like to be in a race where a guy sets a world record?
It's funny to have such a breakthrough performance for myself but still get blown out of the water by somebody. It's incredibly impressive for Yomif to have run 3:47.
As far as the people around me and the guys I compete with on a regular basis, it was nice to compete well against them. You have to keep things in the right frame of reference. [Yomif] is one of the best runners in the world; it was a lot of fun to be in the race with him and it was super exciting—super validating.
What were your expectations for that race?
The goal was definitely for everybody to run the world standard, which would be a 3:53.1, to have a qualifying time to go to the world championships. We wanted to get that time knocked out and we did—by a lot.
I knew I was in shape and I wasn't putting too much of a limitation on what I could do on the day. It was one of the most open-minded approaches I've ever had in a race.
I said, 'I'm really just gonna give it everything I've got, squeeze every little bit of fitness I can out of myself that I can.'
I went in really with no expectation other than I was ready to run something fast and I think that's what made me run so much faster than I ever had, was because I had no limitations on it.
Did you have any idea you might break 3:50?
I didn't have much of an idea of how fast we were running. I knew we were running fast and on pace to run that world qualifying standard but that last 400 meters, I was really just focused on winning my race, beating the guys around me. Craig Engels was right in front of me and he had just won the U.S. Championship, so I was keen on getting him back for that.
I made a hard surge to pass Craig and then coming around the turn, there was a 1500 meter clock set up… I realized it was [at] 3:34, 3:35—and my fastest 1500m ever is 3:35.0—so I was basically two-tenths off my fastest outdoor time ever.
I knew we were flying.
As I came around the final turn, I saw the clock going 3:44, 3:45 and I knew it was a short straight away.
You don't think you have anything left but I had an adrenaline shot with like five seconds left in the race and I was able to throw in 10, 15 hard hard steps and really lean for it. I figure you only get so many opportunities to run something that fast.
A stunned @JohnnyGregorek passing through the timing camera after breaking 3:50 yesterday @TerrierTFXC Bruce Lehane Invitational Mile. @RunnerSpace_com pic.twitter.com/9Qo9jamVgZ

— Paynes Corner Timing (@PCTiming) March 5, 2019
What's been the difference for you this year to have a big breakthrough?
Last year, I had been a little banged up and wasn't as consistent with my training. I had plantar fasciitis, classic runner's injury. Had to go through that rite of passage of having my heel really hurt all the time. Got it under control and had a good year of healthy training under my belt, which is key.
[This year] I had run a lot of races more confidently, running more towards the front of the pack, whereas traditionally, I had sat more at the back of the pack. I had a different view of myself as someone who belongs at the front, belongs pushing the pace, winning races.
There wasn't necessarily anything magic that happened in the training. It was just the same stuff I have been doing but [with] consistency and feeling positive and there was no reason I shouldn't run fast. Having an open mind and having faith in the training. Doing everything I could do and that led to a big breakthrough.
What were your thoughts on taking third at the USATF Indoor Championships?
I don't want to say I was bitter about it, but I thought I could win it and I came short of that. Top three isn't the worst thing in the world but I wanted so much more out of myself, especially at this point in my career. I knew I had it in me.
[In Boston], I let go of that anxiety and wasn't so stressed out about having to win the U.S. Championships and just ran super fast. I think that's something to take away and learn for the future—approaching races with a more relaxed mindset and doing as well as I can.
Now, it's on to hoping I can take the win at the U.S. Outdoor Championships. On to bigger and better things.
Did you do any workouts that indicated you were ready to run fast?
Friday workouts are fitness indicators [where we] run reps that are pretty much at race pace if not faster. We'll do a few reps without a ton of rest and that basically indicates what pace you can do comfortably for a race. We did some winter training in January [where] there were a few times doing 600s or 800m repeats or 1000m repeats and I'd run goal mile pace [3:51] or faster and that gets you excited.
There are people who do crazier things but I had a workout where I did three or four 600s going from 1:25 down to like 1:22. I had a couple workouts where I would do 1000m at 2:24 and a 600m at 1:24 and a 400 at 53.
What did your dad say to you after you ran the 3:49?
[John Gregorek's family record was 3:51.34, set at the 1982 Bislett Games Dream Mile in Oslo, Norway].
Just goofing around, 'congrats on the family record,' that sort of thing.
My whole family was there, it was awesome. It was definitely a fun thing, it's not something we talk about, ever, but it's nice to have those bragging rights. He was the first to congratulate me and acknowledge it. He's still got me in 10 other events that I'll probably never get, but it's nice to have this one.
Thankfully, my dad cares a lot more about me being a good person. When the dust settles, he always says he cares about me being a good guy rather than a fast runner, so that always means a lot to me.
Still in shock! 3:49 for the GREGOREK FAMILY RECORD! Infinite thanks to everyone in my corner. I guess now I'll try to break 3:40??

— Johnny Gregorek (@JohnnyGregorek) March 4, 2019
Did your parents' success ever make you feel pressured to do well?
[In addition to his Olympian dad, Johnny's mom, Christine [nee Mullen] was an Olympic Trials finalist and two-time NCAA champion for Georgetown].
No, no, not really. Thankfully my parents are pretty cool about it. I put pressure on myself because I'm a person who can be a little type A. I expect a lot out of myself. My parents are the ones who have to talk me down from the stress I put on myself.
Honestly, when I was really first starting out or even early in college, it was far-fetched to think of myself on the same plane of ability as my parents. I would never even think about running as fast as my dad did. I was like, 'that will never happen'… But then it did!
What are your goals for this year?
Definitely to win the U.S. Outdoor Championships, make the world championship team, make another world championship final, keep competing well.
It's been nice [to have] people excited that I ran a fast time, but running fast times is a really small part of the sport. Competing well is the emphasis. Winning races. I want to keep getting better at being a good tactical runner.
I'll have to run the Olympic standard the next time around coming into 2020, but that's the next time I'll really care about time.
I think it varies from event to event, it's kind of a complicated thing. I can't speak for other events—for the marathon, there's a lot of challenges that come with it because the marathon time they have to run is pretty quick [2:11:30] and it's tough for them to prepare in time for this next Olympic Trials.
But as far as the 1500m goes, the standard that was set in 2012 was 3:35.50. And now it's 3:35.0 and I know that the people who deserve or who do eventually make the Olympic team will have the ability to run that fast. I don't think it will be too much of an issue for them.
All I can worry about is myself and competing well. At a certain point, you just have to put your trust in the governing body and do your part as a runner—which is to run fast.
Do you think this will change how athletes structure their seasons?
[USATF will no longer allow athletes to "chase" the standard after the national championship, so in order to be selected for the Olympic team, athletes must either enter the meet with the standard or run the standard at the Trials].
Definitely. It will lead to faster races. The fact that you can't chase the time after is definitely a big change, which is kind of a good thing, too, because once the U.S. Championships are done, the team is decided. Everyone knows, everyone's on the same page and it's a benefit to everyone in the end.
So you're feeling positive about it?
Yes, definitely. You have to be. That's what's in place and I don't see it changing. Might as well just embrace it, stay positive about it and rise to whatever challenge is put forward.
Within your training group, do a lot of people have that opinion or is there more of a debate?
I think people are all relatively of the same mind in my training group. I think everyone understands some of the standards are challenging. I can't speak for anybody, but the general consensus is that we're all of the ability to run the times set before us and should be fine as far as the middle distances go.
This interview has been edited and condensed for clarity.
From PodiumRunner