Conquering Oregon: The Pacific Crest Trail Female FKT: A Hard Push To The Finish
Five days in, with hundreds of miles more to go, Jameson and Danielle confront their biggest challenges yet while facing down doubt, pain, and the wilderness of Oregon.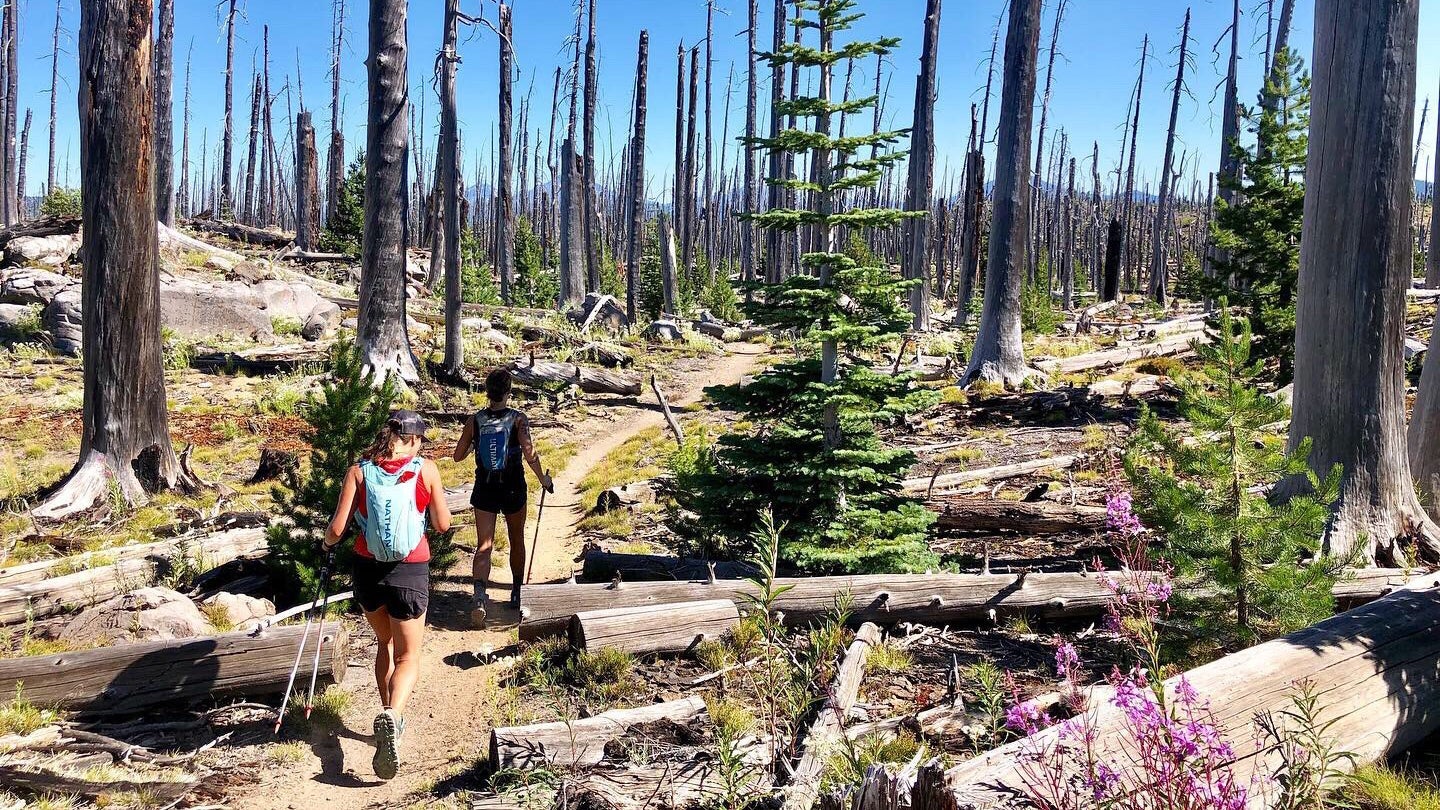 Heading out the door? Read this article on the new Outside+ app available now on iOS devices for members! Download the app.
Recap: Five days into the quest to set the FKT on the Oregon section of the Pacific Crest Trail (PCT),
 my adventure partner, Jameson, has a swollen ankle and can barely walk. We are about to face the hardest decisions of the trip.
Day 6: Pushing Through Pain
By the morning of Day 6, I felt ready for the next section. Jameson's shin was still swollen, but she decided to try and gut out the next 46 miles. We restarted our trek at 4:10 AM.
This section had fewer mosquitoes, and as we ran/power hiked in different areas affected by previous fires, we were able to witness the beauty of regrowth in the woods. During these miles, I saw the true grit and toughness of my adventure partner. Although watching her in pain was extremely tough for me, she was a warrior. 
At the end of Day 6, after much deliberation, Jameson decided to call it. 
What do you do when your plan to start and finish an adventure with a specific person goes awry? In pre-adventure meetings, we discussed this happening, but I never truly expected to have to continue on alone. 
Leaving Jameson to continue our dream alone didn't seem fair, and yet Jameson wouldn't let me stop. If you want to truly understand the character of a person, see them during their ultimate time of struggle. Not only did Jameson quickly transition into my support, she smiled and did it with grace and integrity. Sure, completing the adventure was awesome, but want to know what is more special? Witnessing an individual be so selfless in pursuit of a dream you once shared.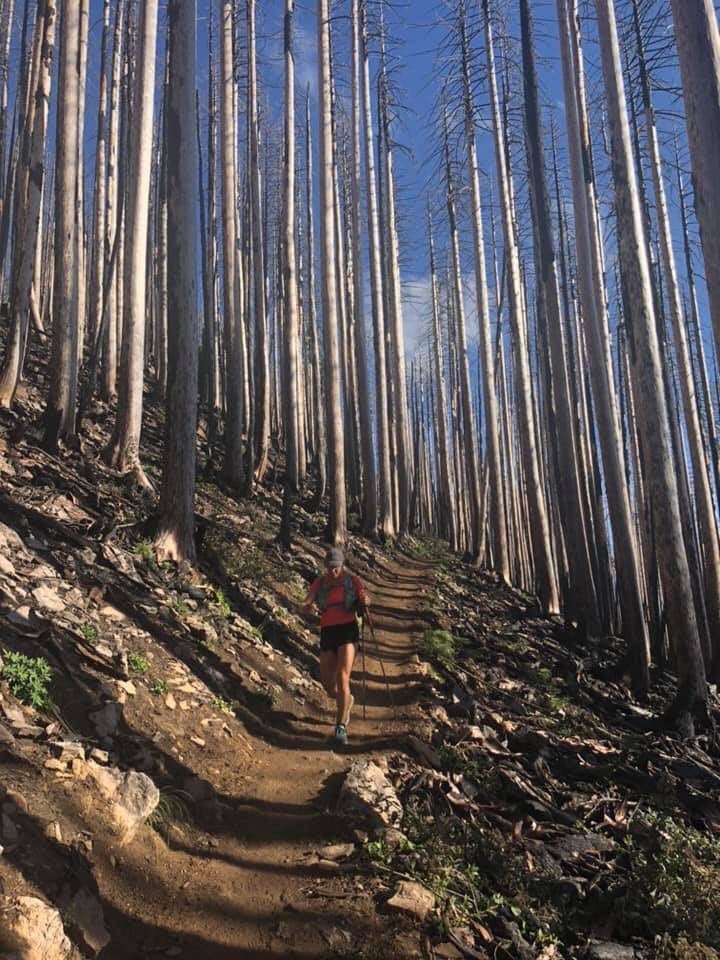 Day 7: Soloing Past Fear
On August 27, I set off solo from Elk Lake. I started around 3:05 a.m. and was able to witness the sunrise in the Three Sisters Wilderness while seeing the mountains that I play in during normal training runs, not far from Bend. The familiar terrain gave me time to reflect on being an adventurer.   
I've always called myself an adventurer, and I still believe I had been in some manner before this FKT. These solo miles, however, greatly expanded the definition.
Prior to this experience, I spent solo days in the mountains but generally stayed in areas I knew, capping distances around 25 miles or doing long races. Although I had great navigational tools on me and appropriate gear, for the first time EVER I was going to be solo in the woods for over 33 miles until I could see crew, and then need to be alone again for 20 more miles. To say I was scared is an understatement; I had struggled so many miles before, with Jameson present, I didn't know if I could do it on my own. 
In my private mental health coaching program, Inner Drive Athlete, I empower athletes to believe in themselves, take on their fears and learn from 'failure.' A lot of the lessons I encourage my athletes to embrace appeared along this FKT of the PCT. It seemed almost as though my work led me to be ready for this experience. 
Tears were shed, but I found this incredible strength within me. The negative voices challenged me and I challenged them right back. It feels surreal—and I still can't fully grasp how this all happened—but I looked straight into some of my deepest fears and refused to give up multiple times an hour.  
After the first 33 miles on Day 7, I had to run through volcanic rock to reach my crew. I kept myself motivated by picking certain yummy foods to eat after so many miles. My go-to food became peanut butter and jelly sandwiches and pringles. The rock is challenging to run over, and I slowed to a walk in the mid-day heat, but when I got to see my crew I was so excited I forgot that I had to continue on.
They informed me that the next miles continued on the volcanic rock in the hottest part of the day with little access to water. Although the terrain turned sandy and held new growth where a fire had been previously, the heat was slowing draining my joy. I ran into very few through-hikers (because they were not as dumb as me to be out in exposed rock in the middle of the day).  
I completed Day 7 with gnarly blisters, and Jameson was quick to help clean and massage my feet. I went to bed at Santiam Pass, an area I've run many times. I was excited and renewed to be on home turf.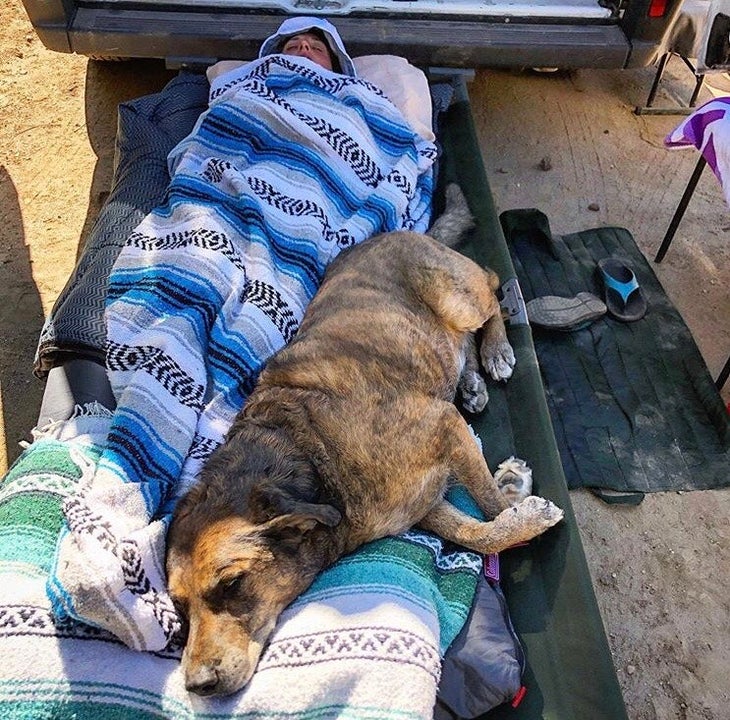 Day 8: Storms and Swollen Rivers
Day 8 began late due to thunderstorm. Much of the section past Santiam Pass is beautiful ridge running with views of Mt Jefferson. Generally, this is some of my favorite terrain, but during unpredictable lightning strikes it can be downright stupid and dangerous. After the radar indicated that the storms had passed, I set out at 5:02 AM.   
I left my crew in tears with the knowledge I would be alone for over 34 miles. Worse, the beginning of the section is switchbacks, and I could turn towards the parking lot and still see one main light. Many times, I debated turning around, until I reached the edge of Three Fingered Jack and saw mountain goats. Somehow the baby mountain goats were able to help me refocus and stay on track. 
As I climbed towards the ridgeline I heard my first rumble of thunder. I decided moving forward on the ridge would be in my best interest. I was able to go around 2 miles until the full storm hit. I sat crouched and shaking underneath some brush. Although I have been out during thunderstorms before, the lack of choices on how to proceed was paralyzing. The storm eventually ended and I was determined to get off the ridge before the clouds blew what looked like another one my way. 
I made it around 20 miles further when the next storm hit. Thankfully, I was not at the highest point and able to hide in some brush again. Although the storms were absolutely terrifying, this was by far one of my favorite sections on the PCT. The views of the cascade-range with low-hanging clouds were magnificent and the view of Mt. Jefferson highlighted my progress thus far.  
Around 34 miles in, Aaron had hiked in with our two dogs and an egg sandwich, surprising me. This amazing pick-me-up got me motivated until I reached a roaring stream crossing—which was the first time I felt actual fear about being alone. 
The guide had warned that hitting the Roaring Springs later in the day was ill-advised, and the stream was deep and moving fast. At this point, I was pretty tired and I kept looking at the steam for many minutes to determine what the best route was. Finally, I heard someone come behind and we both scouted out the best option. I went across, soaking my feet.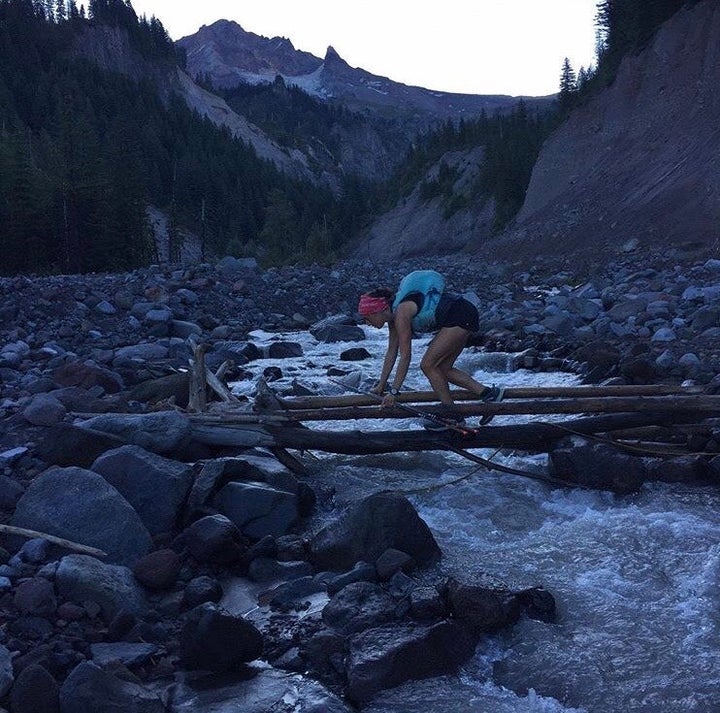 Generally, another foot-soaking would not matter but my peeling, blistered feet did not appreciate the dip. Without any way to repair this, I began the final ten miles to my crew and was brought to another open area in Mt Jefferson Park where I was struck by the gnarly climb and beautiful views. 
As I was admiring the outlook, the thunder clouds came rolling back in and the next miles were focused on out-running the storm. I finished the day at 46.07 miles with 7,1379 ft of climbing in 12 hours and 58 minutes.
Day 9: Still so Far
Finally, on day 9, I had reached the last 100 miles.
Instead of the mental battle becoming easier, however, the last two days were the hardest to get my mind around because I was SO close and yet so far. Day 9 started at 4:26 a.m. with one very blistered foot and feeling extremely tired. I remembered starting the trail in Warm Springs and fighting to keep myself awake. At some point, I removed my bright red jacket and tied it to the front of the pack. When I reached my crew after 17 miles I discovered I had dropped my jacket somewhere on the PCT and had not noticed.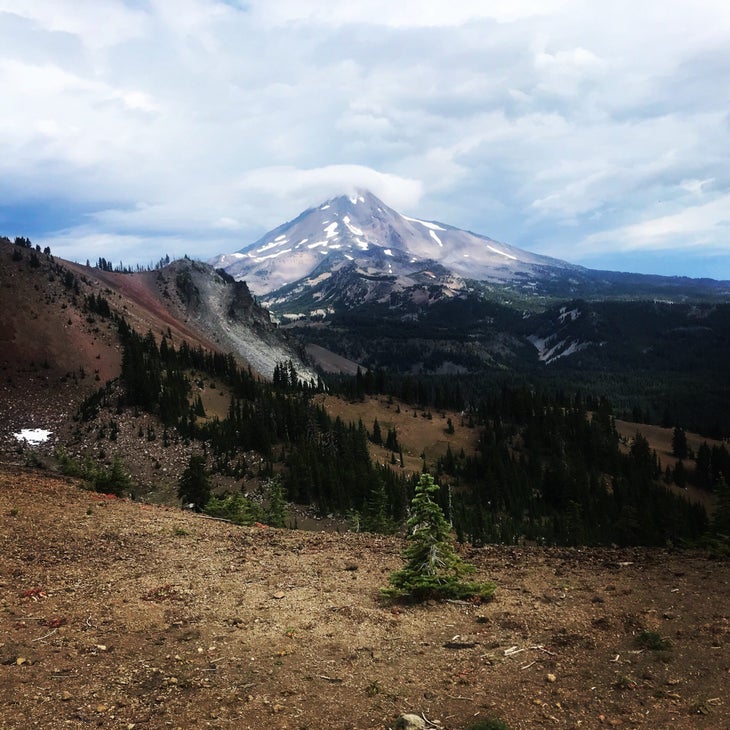 I drank coffee and was somehow able to become more grounded and focused. As I crested the climb towards Frog Lake, I got my first glimpse of Mt. Hood and it was the first time it actually hit me that I was going to do this. I completed the 50.77 miles in 13 hours and 16 minutes with a total gain of 6,722 ft. Reaching Timberline Lodge reinforced this newfound feeling of possibility. It felt monumental to come that far, yet I still had 50 miles until the end. In the overall scope of the adventure, 50 miles was nothing and yet, 50 miles is still really far.

Day 10: Finale: Fastest Known Female
On the final day, I woke at 5:11 AM and was able to start my run with a new pacer. She ran the 18 miles through Mt Hood Wilderness with me and we were warmed by the rise of the sun over the mountain. We discussed the fear of failure guiding our choices and the importance of pushing our boundaries. How I was able to have such meaningful conversations is still hard to believe. 
I reached the start of the Columbia River Gorge Area and met my crew and my pacer for the final 32 miles. We ran through Eagle Crest which earlier last year had burned badly during a wildfire. This year, the growth had started, and the vast difference between the burned trees and new growth spoke to the resilience of nature and rendered me speechless. 
I continued to run until the last 3 miles, where the trail descends from the Gorge into Cascade Locks. Towards the end of each day, my feet would feel bruised and any pressure on them would become unbearable. The last three miles of rocky descent was some of the worst pain I have ever experienced. It was the first time since Day 4 that I seriously considered quitting. If someone had offered me a ride at that point, I would have gladly taken it. 
The only way to be done was to finish, however. I slowly limped down, as my patient pacer waited for me, until we saw the headlights of Aaron and the Van. He ushered us toward the underpass where the rest of my crew was waiting. I walked arm in arm with Jameson to the middle of the Bridge of Gods at the end of the PCT.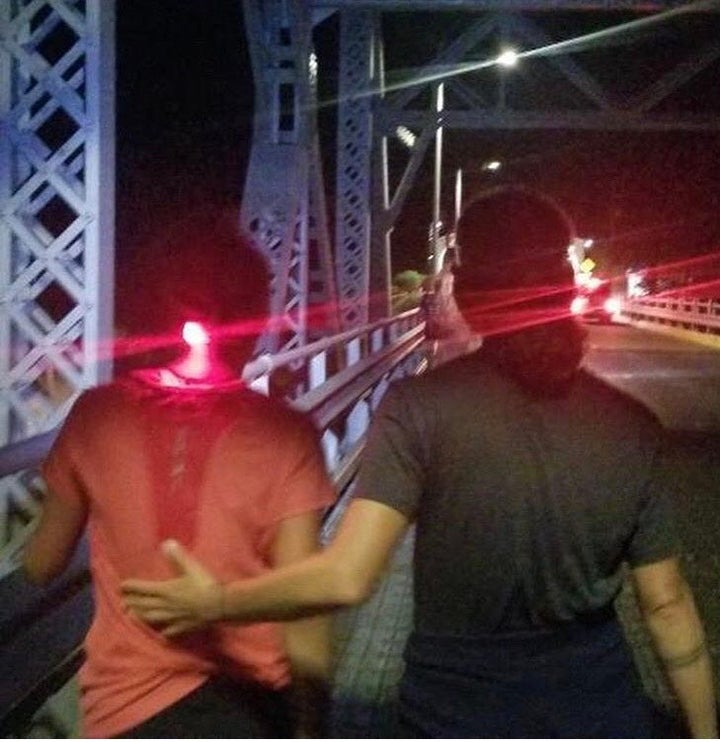 15 hours and 8 mins into my run, on the evening of August 31, I reached Washington. The total distance covered was around 460 Miles. Being the first known female to run the Oregon PCT, I set the fastest known time for a female: 9 days, 15 hours, 8 mins.  
At the end of the adventure, I was determined to spread my mission to other female athletes. I am nothing special, I am not an elite runner or sponsored. I train hard and am dedicated to trail running and empowering other athletes—especially women—to be brave in pursuit of their dreams despite the outcome. 
I have never before attempted such a huge undertaking, but I wanted my message to be heard: try, regardless of the outcome. I said yes to an adventure that could have ended in failure. If I can do it, why not you?

From PodiumRunner