In Stride
Everything You Need to Know About the Nike Oregon Project Doping Scandal
The athletes stepping forward, the book of pills, the open letter—it's a lot to keep track of. This is the evidence, weighed by experts.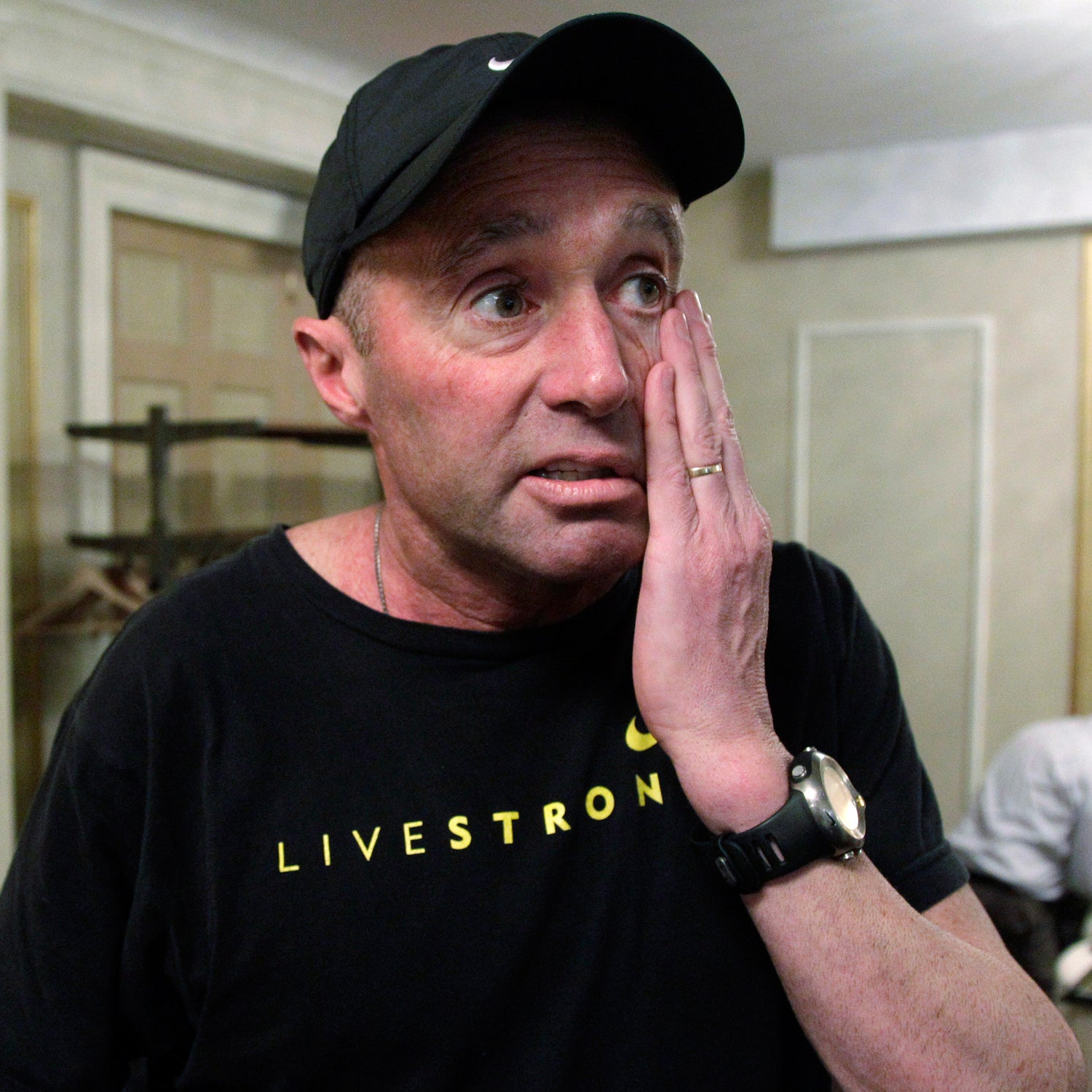 Heading out the door? Read this article on the new Outside+ app available now on iOS devices for members! Download the app.
On Wednesday, Nike running coach Alberto Salazar posted a lengthy, detailed response to allegations that he doped his star athlete Galen Rupp and skirted regulations governing prescription drugs, reported earlier this month by the BBC and David Epstein of Propublica. A few hours later, Epstein replied to Salazar's rebuttal.
Between Epstein's original report, his two follow-up articles, his rebuttal, and Salazar's response, there have been tens of thousands of words written about doping at the Nike Oregon Project. Even if you've followed the story obsessively—we have—there are dozens of accusations and counter-accusations to keep track of. Here, we summarize the major claims.
The Testosterone Photo 
In 2011, then-NOP assistant coach Steve Magness came across blood-test data for Rupp filed by Nike physiologist Dr. Loren Mhyre, who died in 2012, and photographed it, according to the original Propublica story. Dated December 2002, the report included a notation that Rupp was "presently on prednisone and testosterone medication," which Magness believes indicates that Rupp, then 16, was doping with testosterone, a prohibited substance. In response, Salazar wrote that "as a 16-year old kid, [Rupp] must have misspoken about the supplements he was taking." Salazar says that Rupp told Mhyre he was taking something to raise his testosterone, which Mhyre mistakenly recorded as "testosterone medication."
Runner's World asked three physicians whether "testosterone medication" could have meant something other than the illegal hormone. One said the notation was odd as written, a second interpreted it to mean the drug, and a third, who knew Myhre, didn't believe Myhre would confuse the drug with a supplement. "The notation [was] made by an exercise physiologist who [knew] the difference between an herb and testosterone, and my interpretation is that this is referring to testosterone," Dr. Jack Taunton said. Epstein's most recent report notes that many NOP athletes have taken legal testosterone supplements. But ex-NOP runner Adam Goucher says he "does not believe any of his lab documents indicated that he was taking testosterone medication," even while on supplements.
The Park City Androgel
Ex-NOP physical therapist John Stiner told Epstein that, in 2008, Salazar asked him to clean out a Park City, Utah, condominium and mail him a vial of Androgel, a banned testosterone gel, that he had left behind. Salazar said the gel was for his heart, Stiner says, which concerned him because testosterone is potentially dangerous for people with heart problems. (Salazar had a major heart attack in 2007.)
On Wednesday, Salazar confirmed that he did ask Stiner to mail him Androgel in 2008, but wrote, "I have a valid prescription for Androgel and have never said it was for my heart." Instead, he continued, his doctor prescribed the testosterone to counter "excessive training as an athlete [that] did extensive damage to my body." Salazar produced a June 5-dated statement from his physician saying his need for testosterone outweighed concerns that the drug might aggravate his heart condition. Stiner stands by his original claim, and in response Epstein quoted a prominent cardiologist who said he "would try very hard never to prescribe testosterone" to someone with a heart condition.
The Testosterone Testing 
In the original Propublica report, Magness claimed that Alex Salazar, Alberto's son, told him he had rubbed testosterone gel on his legs, then submitted a urine sample for drug testing to see how much would trigger a positive result. In 2006, after testing positive for testosterone, Nike sprinter Justin Gatlin claimed that a physical therapist had rubbed testosterone gel on his legs without his knowledge, and Magness says Alex explained that he was helping his father avoid someone sabotaging a NOP athlete. Magness didn't believe that explanation. "It seemed ludicrous," Magness told Epstein. "[I]t was them trying to figure out how to cheat the tests…So it's how much can we take without triggering a positive."
On Wednesday, Salazar confirmed that in 2009, to avoid sabotage, he had rubbed testosterone on both Alex and his other son, Tony, and had them submit urine samples to see how much gel would trigger positives. Salazar has posted emails discussing the tests with Houston, Texas, endocrinologist Jeffery Brown. Brown told Propublica that he advised Salazar on how to set up the tests but did not prescribe the testosterone used on Salazar's sons. 
Kara Goucher's Cytomel
Some of the most unpleasant allegations involve former-NOP runner Kara Goucher's weight. Epstein recounts that in early 2011, a few months after the birth of her son, Colt, Goucher says that Salazar got on her case about losing post-pregnancy weight. Before the Boston Marathon, Goucher says that Salazar told her to take the thyroid drug Cytomel, against her doctor's advice, to help her lose weight. Goucher kept the bottle of pills Salazar gave her but didn't take any.
In response, Salazar says he asked Goucher to take Cytomel in 2011, but in August, not before the Boston Marathon, and that he was merely following Dr. Brown's advice. He has produced emails from Brown dated August 2011 advising that Goucher take Cytomel. On Wednesday, Goucher told Propublica that Salazar was dissembling. "His story is a different timeline," she said. "He's trying to use Daegu to cover up Boston." Propublica contacted Brown, who wouldn't comment directly on Goucher's allegations, but said he would never proscribe Cytomel for weight loss. 
The Hollowed Out Book
In the original Propublica report, Magness said Salazar mailed Rupp two unlabeled pills in a hollowed out book while Magness and Rupp were traveling in Germany. In response, Salazar says he sent Rupp Nasonex, a prescription steroidal nasal spray (not a pill), in a hollowed out book. He also writes that he sent Rupp prescription medication overseas in a magazine. 
Witness Credibility and Prescription Drugs
Salazar's response is more than 11,000-words long and attacks Magness's and Goucher's credibility at length. (Magness responded to some of those attacks today.) He also argues that a relatively small number of Oregon Project athletes have been diagnosed with asthma or thyroid disorders, and few are taking prescription medications.
What's a reader to make of all these allegations and counter allegations? The evidence surrounding Salazar's experimentation with testosterone is hard to disregard. Each anecdote is plausibly explainable on its own, but in aggregate they imply either a doping program or a recklessness with a serious drug—one that could result in bans for Salazar's athletes, and jeopardize his or his sons' health.
There's not enough evidence to be certain what happened, but there may be soon. On Wednesday, the Associated Press, quoting an anonymous source, reported that the U.S. Anti-Doping Agency is actively investigating the allegations raised by Propublica and the BBC. If past doping scandals are any guide, there's more to come. 
Lead Photo: AP