Altra Escalante Racer Review: 100 Mile Rundown
This limited edition, zero-drop, lightly-cushioned racing flat fits like a featherweight slipper and is designed with marathons in mind.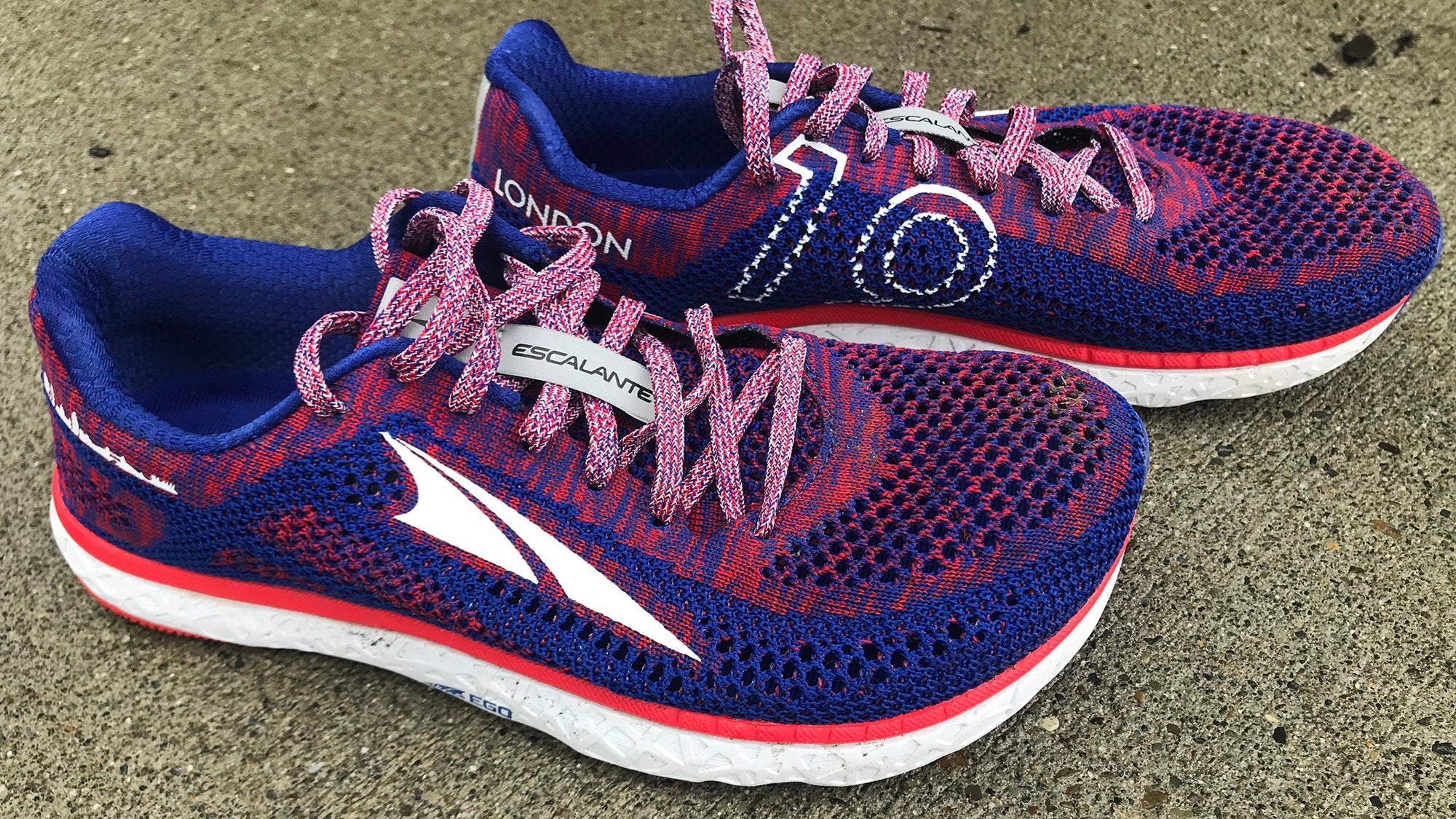 Heading out the door? Read this article on the new Outside+ app available now on iOS devices for members! Download the app.
The Rundown
Our review: the limited edition Altra Escalante Racer might pay aesthetic homage to World Marathon Majors, but it is tooled and ready to rock any race or street.
Surface

Road

Stack Height

Low
Altra stripped down one of its springy trainers to create a special racing flat that fits like a featherweight slipper. This year's releases highlight big-city races including Tokyo, London, and Berlin with detailed designs, but the Racer's strength is how it performs, not how it looks.
The Specs
Weight

5.7 oz. (W) / 6.8 oz. (M)

Offset

0mm

Midsole

AltraEGO

Outsole

Blown rubber in FootPod configuration

Upper

Engineered knit mesh

Price

$140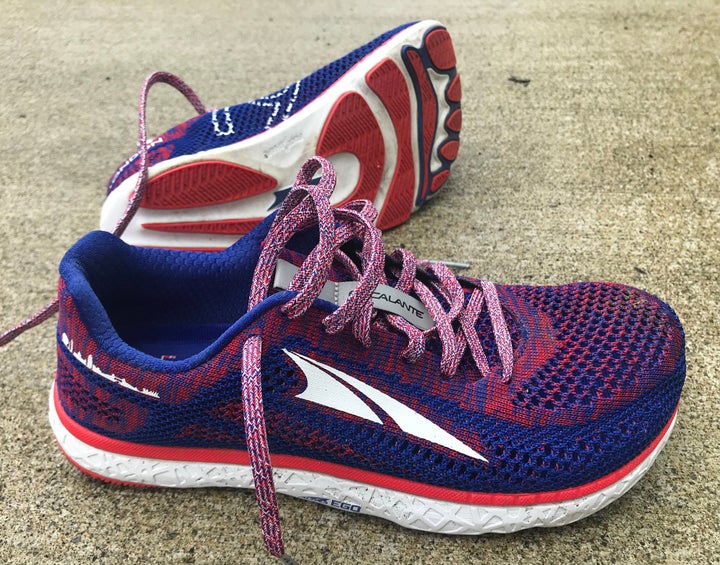 100 Miles In: The Review
The Altra Escalante Racer is a lighter, performance-oriented version of the Altra Escalante. First launched in 2017 to coincide with the Boston Marathon, it's been released in limited, special editions. Each edition celebrates big races including World Marathon Majors Tokyo, London, and Boston—where Altra-sponsored Sarah Sellers, last year's runner-up, will race. Each style features the year, city skyline, and colorful knit nods to each location.
Out of the box, the Altra Escalante Racer popped. It's light, but bold. The London version's British blue and red colorway and zany laces are bright.
It boasts a commanding forefoot—Altra's so-called Footshape toe box—but overall a slimmer last than the Escalante. The mid- and outsole combo feel firm but pliable. On foot, it feels close to the ground yet firmly cushioned. The airy knit upper is static, not stretchy, but precisely snug.
My keyhole-shaped foot fit perfectly within the last. By God, I thought, this accommodates my knobby near-bunion! Running and dress shoes generally squeeze my forefoot in varying degrees, so commonly that I rarely notice. It feels "normal" to be confined, because that's how it's always felt to wear running shoes (with the notable exception of the adidas Supernova Classic circa 2000, R.I.P.).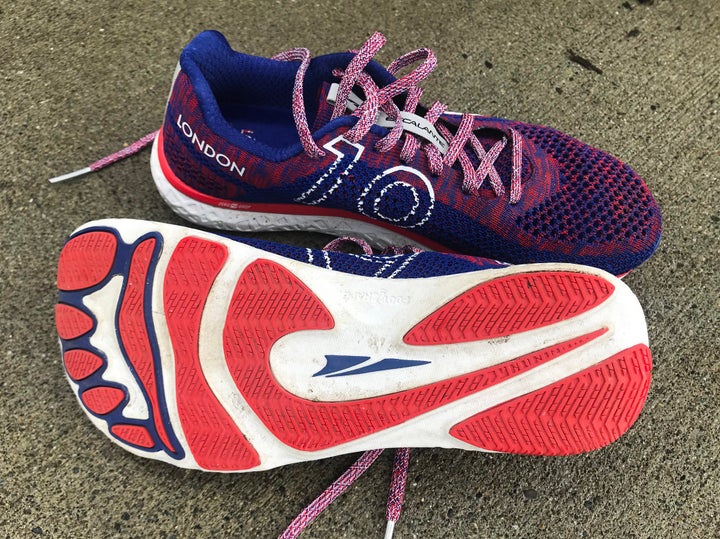 Altra uses a female-specific design for women's shoes. In general, women's feet are wider in the forefoot, narrower in the heel, and have a higher arch, and the brand has tooled every women's style to these specifications. I found the accommodating forefoot allowed my toes to splay and my big toe to engage on every stride while the last shape and upper kept my instep secure.
Like most people, I ignored the transition guide included in the box—much to my coach's chagrin. As a coach myself, I advise against this approach, unless you're like me: neither reckless nor inexperienced in the zero-drop world. I knew what to expect in these when transitioning from higher heel-to-toe offset silhouettes: lower leg and feet soreness. I took it easy, though, on my first run, an 8-ish mile plod on concrete around Lake Union in Seattle.
Immediately, I noticed the sound of my feet slapping the pavement—Whap! Whomp! Whap!—and adjusted my footstrike accordingly. Thinking about a quick, quiet cadence and landing on my midfoot seemed to help this study of one. The next-day soreness was minor, even after a few years of running in the 4- to 12-mm drop range.
Altra was founded by Golden Harper, who wondered if elevated heels in running shoes exacerbated poor posture and subsequent injuries in running store customers. He whittled away at what was then deemed a "traditional" shoe to create "zero drop," while still cushioned, running shoes. Subsequent research on drop and footstrike has produced conflicting results about the relationship between drop and running economy and/or injury risk. It comes down to finding what works best for an individual runner with the body and stride she has now. For me, the form adjustment prompted by the Altras happened to coincide with relief from a persistent case of sciatica, but that's another story.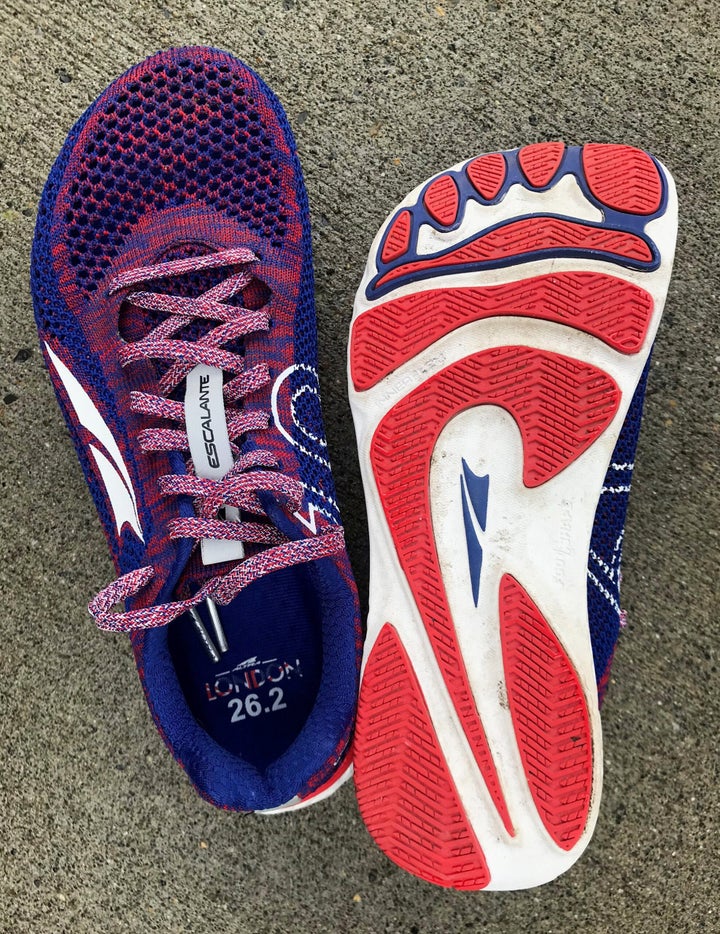 The Racer's unencumbered outsole is simple and slick. Traction-wise, it held up on sidewalks, bike paths, groomed pea gravel, and roads, even in the rain—not so much on damp grass or mud.
The midsole, made of the energy-return foam AltraEGO, is firm, but forgiving, akin to an amped-up racing flat. Altra calls it "race-tuned." The upper, improved from earlier models, kept my foot in place even while cornering and surging downhill. It didn't bag out, but was extremely breathable. A snug lacing system lies flat and tight.
Most importantly, I didn't have to think much about this shoe. Whether logging easy miles or hill repeats, the Racer melted seamlessly into the experience at every speed. After a few runs, it just felt natural.
There's The Rub
The Racer felt so natural, in fact, it is too breezy. On cold and/or wet days, my toes froze, even with wool and/or padded socks. The lack of protection from elements could pose an issue on, say, a race day like last year's Boston Marathon or even in a mere drizzle due to the prevalence of puddles here in the Pacific Northwest. On a hot day, it might feel great.
Beware the drop. Getting used to a zero-offset shoe can stress calves and Achilles. So be patient in getting used to this geometry, especially if you're planning on racing.
While this shoe tested well on moderately long runs, I didn't race a marathon in it and can't attest to how my feet would handle that much pounding. If you're used to running with more padding, it could take some getting used to, but that's what training (and experimenting with different gear before race day) is for.
TL;DR
The Altra Escalante Racer is a limited edition, go-fast shoe. With zero drop and just a touch of cushion, it's a paired-down Escalante ready to accelerate on the roads. With special editions launched in early 2019, the Altra Escalante Racer is available in specialty running stores and online at altrarunning.com now, priced at $140.
From PodiumRunner