7 Pearls of Wisdom From a 103-Year-Old World Record Runner
Julia Hawkins insists we should all try new things. She would know—she started running at 100 and became an age-group ace by 101.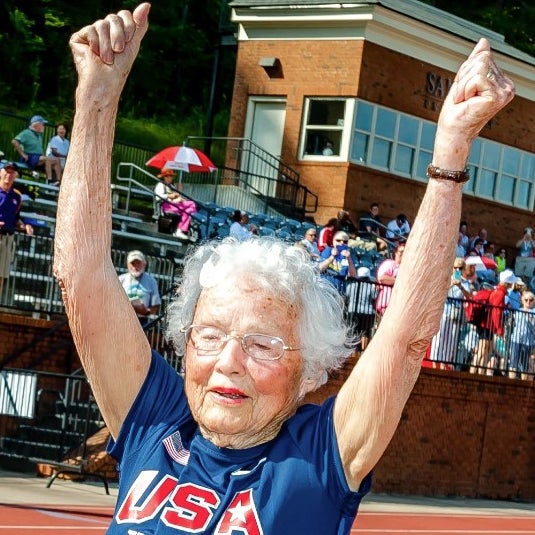 Bret Huckaby
Heading out the door? Read this article on the new Outside+ app available now on iOS devices for members! Download the app.
Editor's note: this article was originally published in 2019 by our partner Women's Running and syndicated to Outside Online in 2022.  Julia is still running at age 106 as of 2022.
---
Julia "Hurricane" Hawkins is still taking the running world by storm.
In 2017, at age 101, Hawkins set the world record for her age group in the 100-meter dash at the USA Track & Field Outdoors Masters Championships. She completed the distance in a blazing 40.12 seconds, instantly catapulting herself to running stardom.
Now 103, this great-grandmother from Baton Rouge, Louisiana, is busy preparing for the National Senior Games. This biennial competition—open to runners ages 50 and older—is scheduled for June 14-25, in Albuquerque, New Mexico. Hawkins will throw the shot put and race the 50-meter dash, 100-meter dash, and potentially the 200-meter dash.
"As you get older you don't usually break your own record. I'll give it my best, I'll tell you that," said Hawkins about her upcoming opportunity to make history – again. In addition to the 100-meter world record, Hawkins holds the centenarian world record in the 60-meter dash (24.75 seconds) and shot put.
Throughout her 103 years on Earth, Hawkins has amassed a wealth of life knowledge, which she's been kind enough to share with Women's Running. Take a cue and a little bit of inspiration from these seven pearls of wisdom:
Try new things
"I try to do as many new things as I can. I never say no to an invitation. I like to go to plays and musicals and church and all kinds of places," Hawkins said.
Her enthusiasm for new experiences ultimately led Hawkins to start running—at the age of 100.
"I thought it would be neat to do the 100-meter dash when I turned 100. My first year I did the 50-meter dash to see how that would go, and I fell in love with it," said Hawkins, whose children signed her up for the 100-meter dash, following her first qualifying 50-meter run.
Pursue your passions
"When you get old you should have a lot of passions. Passions keep you going. They make you want to live and want to do," Hawkins said. "Get out there and make new friends and do something new every day."
She also enjoys reading (Chariots of Fire is her top pick for runners), bird watching, and tending to her garden filled with bonsai trees.
In fact, while in her garden, she first suspected that she might have a talent for running. "I knew I could run because I'm always in the yard working, and when the phone rings, I go running inside to answer it," Hawkins said.
Appreciate magic moments
She was born during World War I and grew up in much simpler times—no cell phones, internet, or television. She has learned to appreciate the little things in life.
"I've given books to a lot of my friends about magic moments—things that you get every day that you might miss. Sunrises, sunsets, hummingbirds, shooting stars, music, and friends' comments," Hawkins said. "All of those things that just touch you so much, just seeing, hearing and feeling it… I hope most people our age have more magic moments than senior moments."
Embrace adventures
Her initiation to adventure came at a young age. When she was a baby, her family traveled by boat down the Mississippi River, from Chicago to Louisiana.
Her adventures have also taken her abroad. Right out of college, Hawkins taught four grades in a one-room school on a Honduran banana plantation.
"It was quite an adventure—I loved it. I went horseback riding, played golf, went in the jungle, and came home with a monkey," said Hawkins, whose pet monkey was quite mischievous.
"He would let the clothes off of the clothesline and take shingles off the roof. He would jump on people's heads and scare them to death. But he was cute and everyone loved him."
Put family first
Hawkins knows a thing or two about building a strong family unit. She was married to her college sweetheart, Murray Hawkins, for 70 years before he passed away in 2013, at the age of 95.
"He was in Pearl Harbor, working as a physicist to demagnetize ships, when it was bombed. He was out there that day getting ready [to demagnetize a ship] when they heard the first bomb land," Hawkins said. "So we were married by telephone. He was afraid if he was gone too long, I might change my mind. But when I make it up, I make it up."
Their four children—ages 71, 78, 68, and 66—are a huge part of her life and travel to most of her races.
"They always go with me and encourage me. None of them are runners, a lot of them are bikers, but they are all active. My daughter may be doing the swim relay this year at the Senior Games in Albuquerque," said Hawkins, who is excited about the opportunity to compete alongside her daughter.
Treat yourself
Even before she started running, Hawkins led an active lifestyle. She has bicycled all of her life, averaging about 5-10 miles each day. She is no stranger to the National Senior Games either. Hawkins, who primarily competed in the 5K and 10K bike races, amassed six gold medals over the course of 10 years of competitions.
Hawkins credits her good health in old age to maintaining an active lifestyle and keeping her weight down. But, she occasionally allows herself to splurge.
"Here in Louisiana we have such wonderful fish and oysters and shrimp and crabs. And I like all of them, and they are all better fried than any other way," she said. "Every now and then I'll splurge and do something like that."
Inspire others
Even several years into her running fame, she is still shocked at what she has achieved.
"It absolutely floors me. I can't believe. I just feel like… how did this happen to me?" Hawkins said. "They tell me that I'm an inspiration to others. That's one thing that keeps me going. If I can be an inspiration to people and keep them a little more healthy and active, I'm proud to do it."
You can read more about the life of Julia Hawkins in her book, It's Been Wondrous: The Memoirs of Julia Welles Hawkins.
Lead Photo: Bret Huckaby
Trending on Outside Online