The Super Shoe Controversy and World Athletics' Ruling
A brief history leading to the World Athletics' ruling setting limits on the Nike Vaporfly and similar shoes — and where we are now.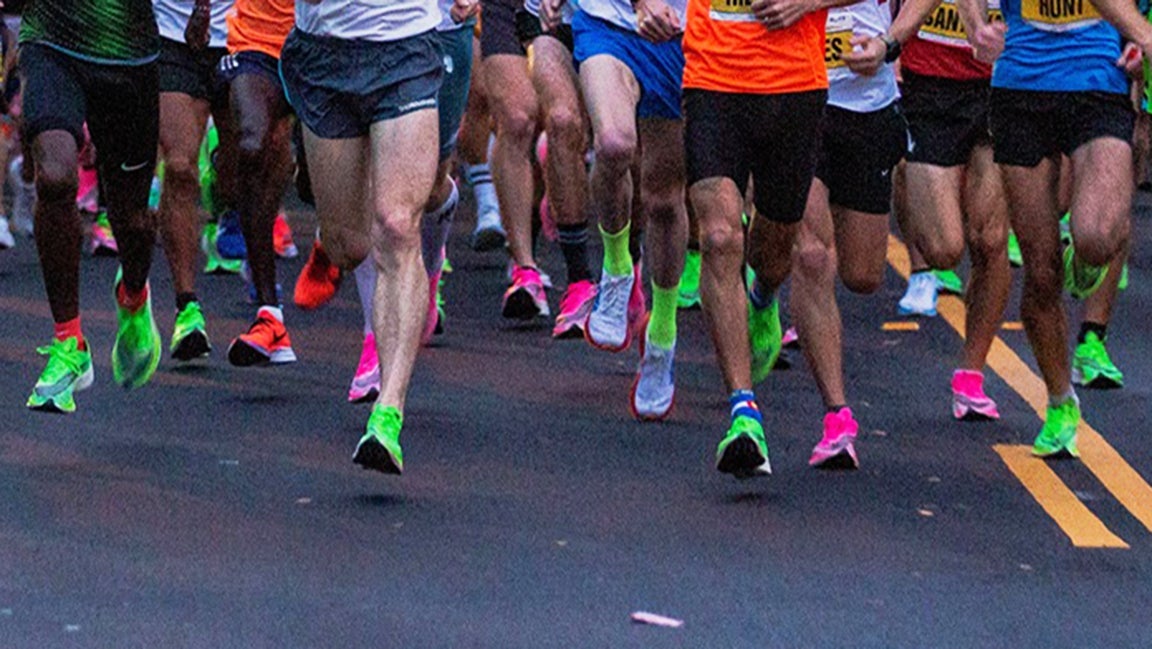 Heading out the door? Read this article on the new Outside+ app available now on iOS devices for members! Download the app.
On January 31, 2020 just before the U.S. Olympic Team Trials in the marathon, World Athletics (WA) introduced its much-anticipated "amended" running-shoe rule.
The previous statute (Competition Rule #143 5.B.) had stated, vaguely, that no shoe can provide an "unfair" advantage and that "Any type of shoe used must be reasonably available to all."
The new rule now requires that running shoes have a maximum midsole thickness of 40 mm and no more than one stiff plate. The competition manager at any race will have the right to confiscate, post-finish line, any shoes he/she believes to be questionable. These shoes could then be measured for midsole thickness, and presumably sawn in half to assess the number of plates.
"It is our duty to preserve the integrity of elite competition," said WA president Sebastian Coe, long associated with Nike. "As we enter the Olympic year, we can draw a line by prohibiting the use of shoes that go further than what is currently on the market."
The new rule also addresses the "widely available" side of the equation. It states that no shoe can be used in competition unless it "has been available for purchase by any athlete on the open retail market" for at least four months.
A shoe that does not meet this criterion will be termed a "prototype," and prototypes will not be legal. Three Nike runners famously wore prototype Vaporfly 4% shoes in the 2016 Olympic Marathon Trials, and the first three finishers in the Rio Men's Marathon likewise wore Vaporfly prototypes. With its new rule, WA is clearly trying to avoid a repeat of 2016.
The new rule has satisfied those who desired a restrictive shoe rule to keep record performances from continuing to fall at their recent rapid clip. On the other hand, many others favored an approach of unfettered innovation, and wonder if these limitations will make a difference or if designers will simply find ways to improve shoes within the new parameters.
Here's a brief history of how we got to this point.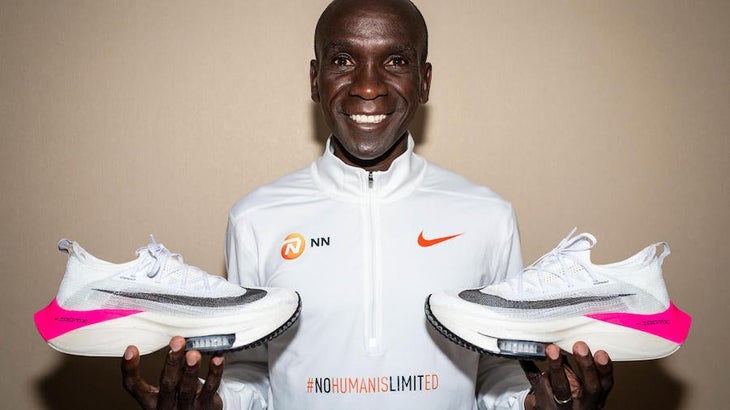 Let's Review
Prior to 2016: Training shoes were generally thick and stiff, and racing shoes were thin and flexible.
February, 2016: At the U.S. Olympic Marathon Trials in Los Angeles, three Nike athletes — Galen Rupp, Amy Cragg, and Shalane Flanagan — made the Olympic team wearing unusually thick Nike shoes. No one knew anything more about these strange, unnamed shoes.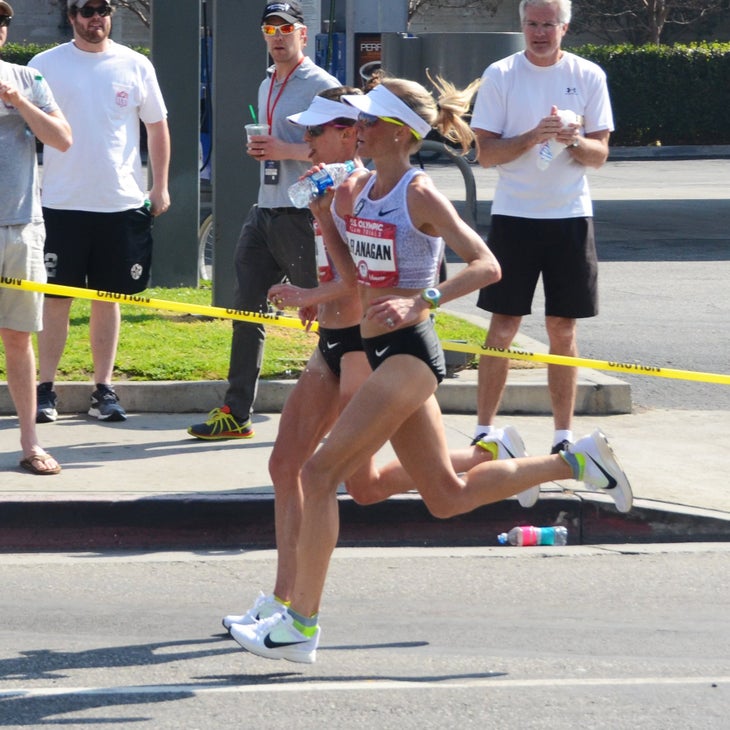 August, 2016: At the 2016 Rio Olympic Marathon, the top three men finishers all wore the new, unnamed Nike shoe.
May, 2017: Eliud Kipchoge ran an astonishing 2:00:25 in Nike's Breaking2 exhibition on a car track in Monza, Italy. He wore a thick, rockered shoe named the Vaporfly Elite.
November, 2017: A group of Nike researchers and University of Colorado biomechanists published a paper in Sports Medicine investigating the economy of runners in the Vaporflys vs. traditional racing shoes. The Vaporflys conferred approximately a 4 percent advantage (hence the name of the version the public could buy: Vaporfly 4%). A 4 percent reduction in energetic cost is equivalent to roughly 3.4% faster in a marathon—about 4:13 for a 2:04 runner and 5:47 for a 2:50 runner. The tested version of the Vaporfly had a heel height of 31 mm.
September, 2018: Eliud Kipchoge lowered the marathon world record to 2:01:39 in Berlin. He wore Vaporflys.
October, 2018: Sport scientists Kyle Barnes, a researcher at Grand Valley State University in Michigan, published a study in Sports Medicine with results almost identical to the University of Colorado report from November, 2017.
April 2019: Nike introduced the Next% — an enhanced Vaporfly 4%. The Next has a heel height of approximately 40 mm.
May 4, 2020: Jim Walmsley broke the 50-mile world record wearing the HOKA Carbon X with a similar bouncy-foam-plus-carbon-plate construction.
October, 2019: Kipchoge ran 1:59:40 in the Ineos 1:59 Challenge over an urban loop course in Vienna. He wore a shoe code-named the Alphafly. It appeared to be thicker than either the Vaporfly or the Next. Internet sleuths quickly matched the new shoe to a Nike patent application for an extraordinarily-designed shoe with three carbon plates and cushioned, forefoot pillars. However, there has been no verification that Kipchoge actually wore the shoe from the patent application, or even that such a shoe has actually been produced.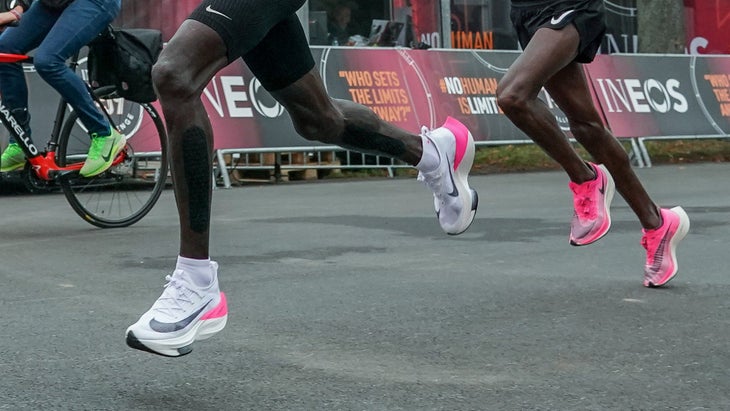 October, 2019: The British Journal of Sports Medicine published an editorial by biomechanists Nicholas Tam and Geoff Burns. It advocated that WA should limit the "midsole thickness" of running shoes to 31 mm.
October 13, 2019: Bridgid Kosgei wore Nike Next% and ran 2:14:04 in the Chicago Marathon. This shattered Paula Radcliffe's 16-year-old world record, 2:15:25, which no woman had come remotely close to since Radcliffe's run.
October, 2019: When WA began receiving inquiries about the legality of Nike's shoes, it acknowledged that a "working group" was studying the issue. WA said a finding was expected before the end of the year.
November, 2019: On his blog, podiatrist-biomechanist-shoe consultant Simon Bartold offered a novel reason for the success of Vaporfly-wearing runners. He argued that maybe it's not about energy return but fatigue-resistance. According to Bartold, the thick midsoles dampen muscle vibrations, which prevents the muscles from growing tired and cranky. This explanation agrees with a real-life observation; Vaporfly marathoners don't just start fast, they finish even faster, running impressive negative splits.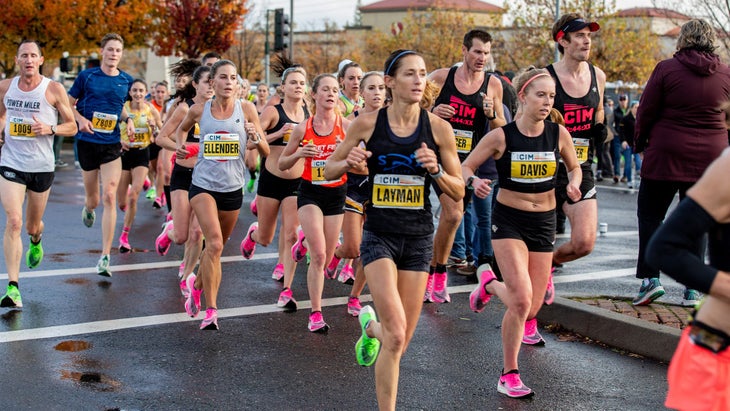 November and December 2019: At the Indianapolis and California International marathon races, a high percent of runners who achieved qualifying times for the U.S. Olympic Marathon Trials did so in Nike Vaporfly 4% or Next% shoes.
January, 2020: In Japan's most famous ekiden race, the Hakone, 84 percent of elite college runners wore Vaporfly 4% or Next% shoes. They set many stage records. In previous Hakones, Japanese runners had preferred minimalist racing shoes from Mizuno and Asics.
January, 2020: A German sports scientist, Helmut Winter, published an analysis of best marathon times (under 2:08 for men, under 2:25 for women) in recent years. He found that 2019 had roughly twice the number of fast times vs other years. The top men were about 1:45 faster, and the top women about 3:00 faster, than in prior years.
January, 2020: World Athletics announced that its working group hoped to file a report by the end of the month.
January 31, 2020: World Athletics announced its new ruling.
February 3, 2020: Skechers GOrun Speed Elite Hyper, also with a firm, curved plate and light, bouncy foam, released to the general public.
February 6, 2020: After much speculation that the new rule excluded Nike's Alphafly model, Nike managers confirm in a Reuters article that the Alphafly shoes, including those worn by Eliud Kipchoge in his 1:59:40 marathon, do in fact meet the new WA shoe rules. They have just one plate, and a midsole height of 39.5mm. The shoes worn by Kipchoge had a special design (ie, "paint job") that made them appear much thicker than they actually are, and the widely-circulated tech sheet from a 2018 patent that showed multiple plates turned out to falsely represent the Alphafly design.
February 27, 2020: Brooks Hyperion Elite released to the public. (An updated Elite 2 set for a September 3 release date).
February 29, 2020: At the U.S. Olympic Marathon Trials, Nike made pairs of Alphafly shoes available to all qualifiers. This was quite different than in 2016 when only a handful of Nike runners, including three eventual Olympians (Galen Rupp, Amy Cragg, and Shalane Flanagan) used the then-brand-new Nike Vaporfly 4% shoe. In Atlanta, four podium finishers wore either Nike Alphafly or Nike Next shoes: Galen Rupp, Jacob Riley, Abdi Abdirahman, and Sally Kipyego.
Aliphine Tuliamuk wore Hoka shoes and Molly Seidel wore Saucony shoes. Both the Hoka and Saucony shoes had a firm plate embedded in a thick-but-super-lightweight foam. That is, they mimicked the Nike shoes. The Hoka Rocket X model was released to the general public on race day, the Saucony shoe remained a prototype.
April 15, 2020: Saucony Endorphin Pro available to the general public.
March 24, 2020: Tokyo Olympics officially postponed for a year, pushing back the deadline for release of new models to mid-March 2021 to be eligible to be worn at the Games.
May 18, 2020: Adidas Adizero Pro available globally.
June 26, 2020: Asics MetaRacer released globally.
July 23, 2020: While some researchers believe that recent improvements in shoe energy return result primarily from the  new superlight, high-rebound foams — and this is the approach World Athletics has taken in limiting midsole heights — there is another possibility: It could be the carbon-fiber plates. In July, world-renowned shoe expert Benno Nigg published an editorial in the British Journal of Sports Medicine explaining that the "teeter-totter effect" of a curved carbon plate could produce a 6 percent improvement in running economy vs just 1 percent from thick midsoles. In other words, the race is still on.
August 13, 2020: World Athletics releases the first list of shoes approved for competition under the new regulations.
A final note: The word "banned" is often used in discussions around the WA shoe rules. However, the WA cannot universally stop a shoe company from producing and selling a shoe. It can only restrict elite athlete use of the shoe. Who's an elite athlete? That's relatively easy to define in the Olympics and World Championships, and relatively more difficult to decide in other events.
Amby Burfoot won the 1968 Boston Marathon. He offers KISS Training Programs (Keep It Simple & Smart) at RunWithAmby.com
From PodiumRunner