Jared Ward, Olympian and Professor, Is Helping Saucony Develop Faster Racing Shoes
Saucony-sponsored Ward doesn't want to be at a racing disadvantage against the Nike Vaporfly 4%, so he's fighting back with laboratory testing and statistical analysis.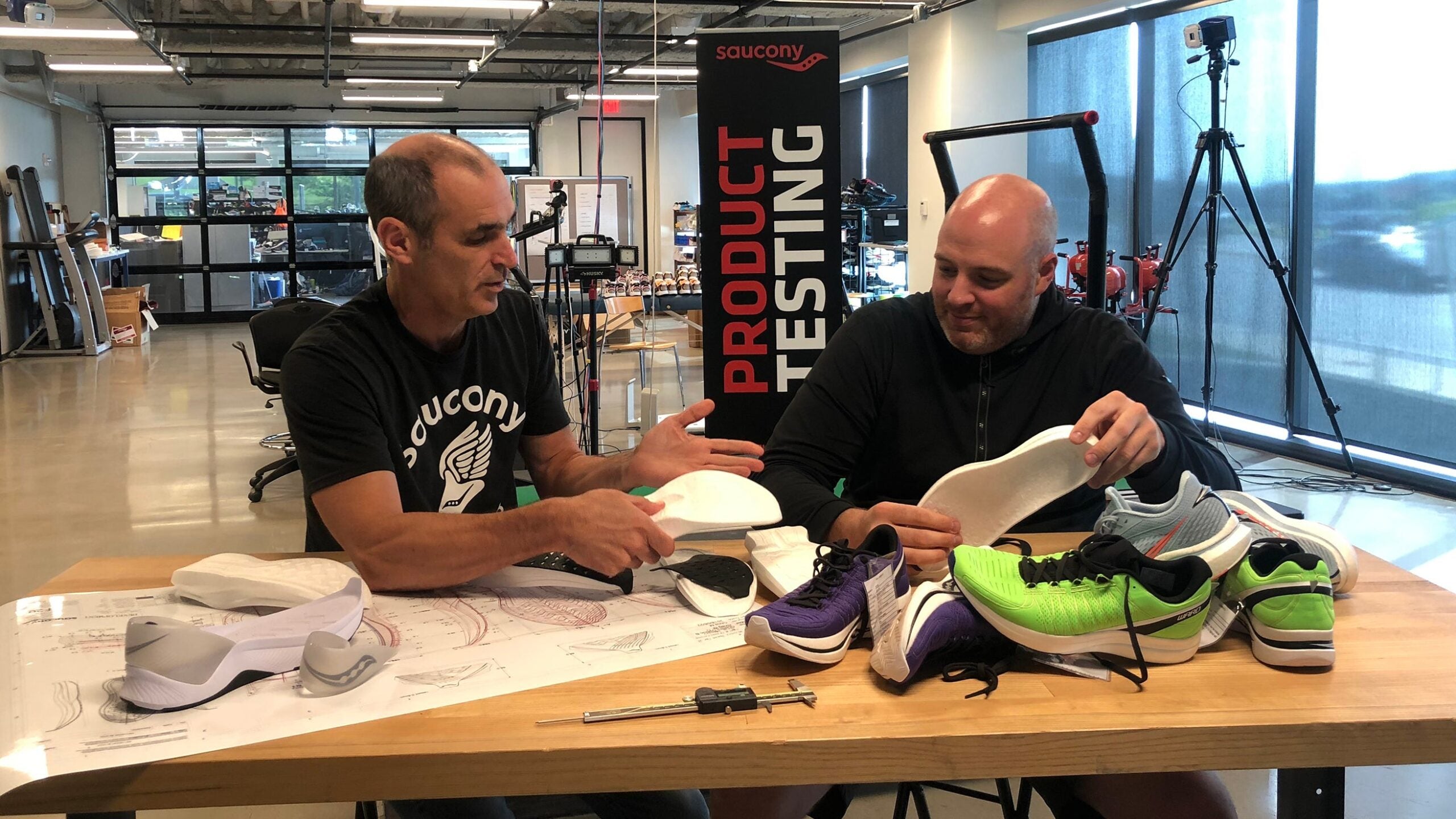 Heading out the door? Read this article on the new Outside+ app available now on iOS devices for members! Download the app.
There are many differences between next year's U.S. Olympic Marathon Trials and the last Trials in 2016, the most obvious being the locations: Atlanta vs Los Angeles. Another key difference has been less discussed—shoes!
In four decades of prior Marathon Trials, the top runners gave little thought to their shoes. Everyone basically followed the same approach: Less is more.
"I only thought about shoes that were lighter, lighter, lighter," admits Jared Ward, who finished third in Los Angeles and then a strong sixth at the Rio Olympics. "As far as we knew, that was the most important thing." Ward wore a pair of Saucony Type A8 shoes in 2016; they weighed a mere 5.9 ounces.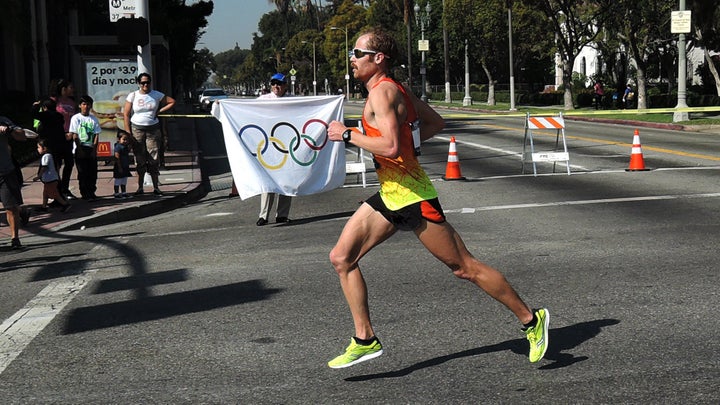 Ward didn't even notice the clunky-looking Nike shoes worn by Los Angeles Marathon Trials winner Galen Rupp. In Rio, Ward didn't realize the top three finishers—Eliud Kipchoge, Feyisa Lelisa, and Rupp—wore similarly big, cushy Nike shoes. They were 0.6 ounces heavier than Ward's shoes and twice as thick in the rearfoot.
After Rio, however, it didn't take long for Ward and the rest of the world to learn about Nike's revolutionary Vaporfly 4% shoes. Scientific testing at several labs showed the shoes could improve a runner's efficiency by about four percent. (Study 1; Study 2). That's a huge difference in a world where one percent gains are rare, if not downright illusory. The shoes combined a stiff carbon plate with a new, responsive, and lightweight midsole foam.
Then came the highly publicized Breaking2 marathon attempt on a car track in Monza, Italy. There Kipchoge clocked a previously unthinkable 2:00:25, indicating the Nike shoes were game changers.
This raised a serious problem for Ward and other non-Nike athletes. How could they make sure, at the 2020 Marathon Trials, that they wouldn't get beaten by a rival's shoes rather than the rival's talent and hard training?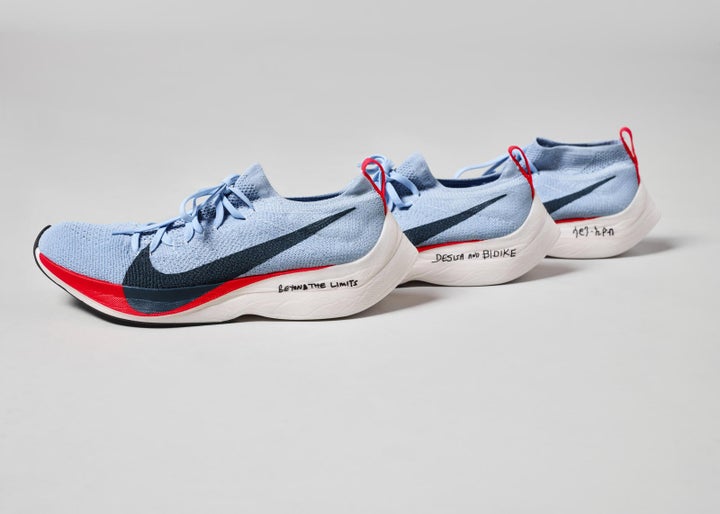 To answer that question, Ward joined a BYU research team that analyzed the Vaporfly 4% shoes. The results of that study have just been published by the Journal of Sports Scientists. The BYU group found the Vaporfly shoes improved runner efficiency by 2.7 percent—not quite as much as other reports, but similar.
"I've never stood on a starting line and thought my opponents were using better equipment than me," notes Ward, a BYU statistics professor who helped with data analysis of the BYU study. "But when you see actual, measurable results with your own eyes, it sparks a quest to find out how the shoes work."
The BYU paper produced several possible answers. In particular, when test subjects wore the Vaporfly 4% shoes vs Adidas Adios Boost shoes and Nike Zoom Streaks, they ran with greater vertical oscillation—or "bounce"—and a longer stride. Vertical oscillation is often considered wasted movement, but that's not necessarily the case if it increases stride length without requiring additional muscular effort. And that's what the BYU researchers observed. The bounce came from the shoes, not the leg and foot muscles.
So what's the secret sauce? No one can say for certain at this point. But Iain Hunter, head of the BYU running biomechanics lab, has his theories. "The plate seems to change the mechanical advantage of the foot lever," says Hunter. "And the foam is very effective at storing and releasing energy at the right time."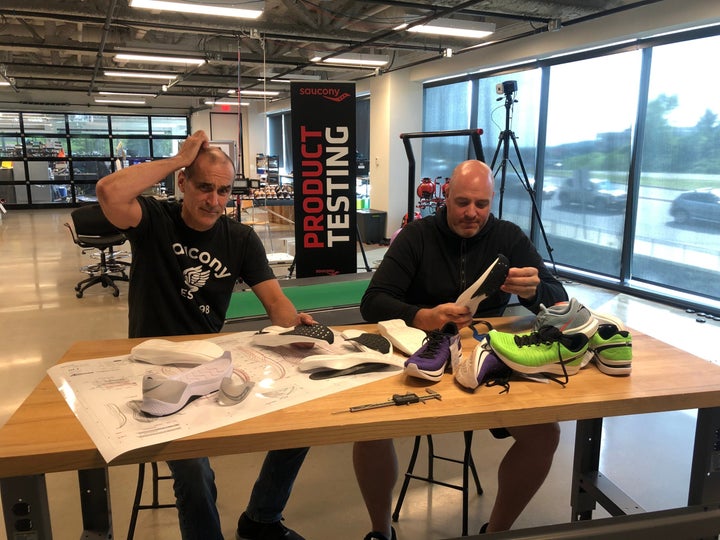 Fortunately for Ward, Saucony's research and development group had already begun the hunt for more efficient shoes. "I give Nike credit for their breakthrough," says Saucony VP Spencer White, head of the company's Human Performance and Innovation Lab. "But we weren't far behind."
White's team was also investigating composite plates and new foams. "The pieces of the puzzle have been around for decades," he notes. "We're just getting better at fitting them together. It's a complex process. If it were easy, I wouldn't have a job."
Saucony is testing new prototype shoes with a number of its best runners. Ward just happens to be an outstanding subject. "He's willing to try something new," says White, "and he understands the science and statistics behind what we're doing."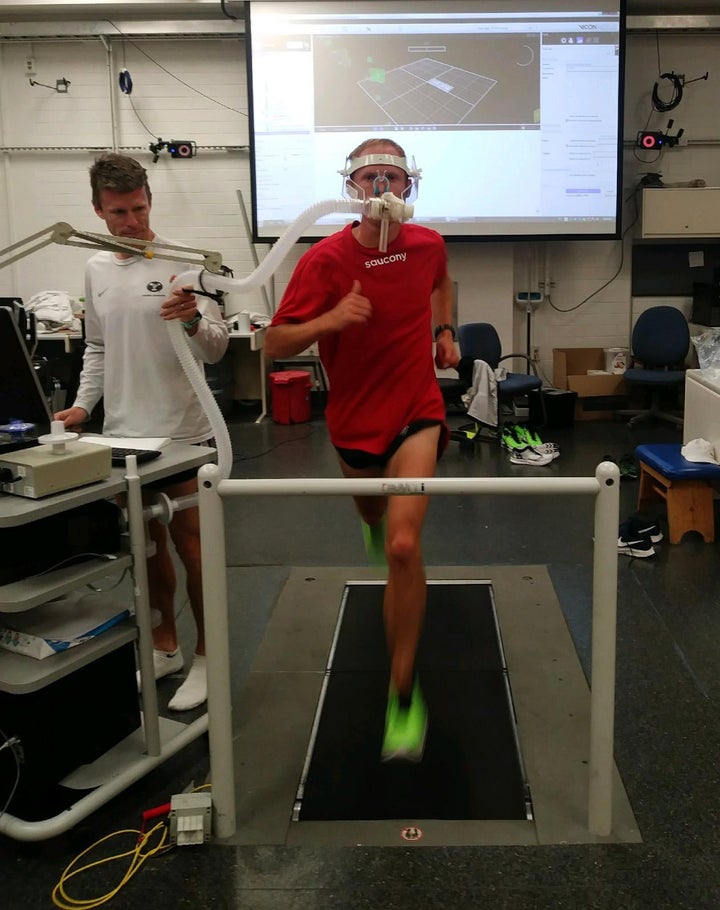 A year ago, Saucony began shipping new models to Ward. He takes them straight to Hunter's lab for personalized, on-the-treadmill testing, subjecting himself (and the new shoes) to both a max test and an efficiency test. So far, the experience has made him a believer in "the preferred movement paradigm" proposed by veteran running biomechanist Benno Nigg.
"When I try new prototypes, the ones that feel the best on my feet and body almost always produce the best lab results," Ward observes.
Last fall, he received a new shoe five days before the New York City Marathon. After just one test run, he decided to wear them in New York, where he finished sixth (first American) in 2:12:24. "The shoes felt so much better than the minimalist racers I had been using," Ward says. "I particularly noticed it on the downhills. They absorbed so much more shock. I could really let loose and go hard without worrying about beating up my legs."
In April at the Boston Marathon, Ward wore another new pair. Again, the results were impressive, as he lowered his personal best by two minutes to 2:09:25, finishing eighth. "My Boston shoes felt faster on the flats and uphills without giving away any of the downhill advantage," he says. The course for the Atlanta Marathon Trials (February 29, 2020) will be hilly, putting a premium on a shoe's up-and-down versatility.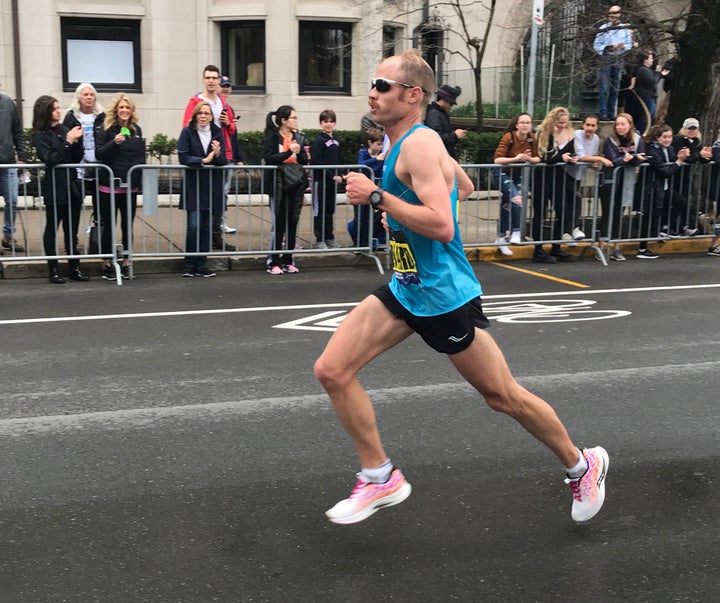 Saucony is not ready to reveal any specs on its new shoe—the name, the weight, the heel height, etc.—but White points out that the potential benefits should extend to midpack runners as well as Olympians. "The new foams are better in the heat and cold," he notes, "and our athletes have all reported better muscle recovery. These are things that can help all runners."
Ward just returned from a family vacation last week to find six new pairs of shoes waiting for him. He's eager to test them in the lab. "We've taken some big steps forward in the last year, so now we're down to smaller, baby steps," he observes. "But it's great to be able to combine two of my passions—performance running and statistical analysis. It's been a fun project to coordinate this with the Saucony research team."
He's also quick to acknowledge that shoes don't win the race. The athlete still comes first, especially his/her total preparation. But even there, shoes can contribute.
"I believe the biggest factor is and always will be mental," Ward says. "It's about your mindset on race day. The thing about my new racing shoes is: They feel so good on the start line that they build my confidence. I know I'm ready to compete."
From PodiumRunner
Trending on Outside Online