Who Wore Which Shoes at the 2023 Boston Marathon
Our editors tallied shoes worn by the top 25 men and women pros at the 2023 Boston Marathon. Here's what we found.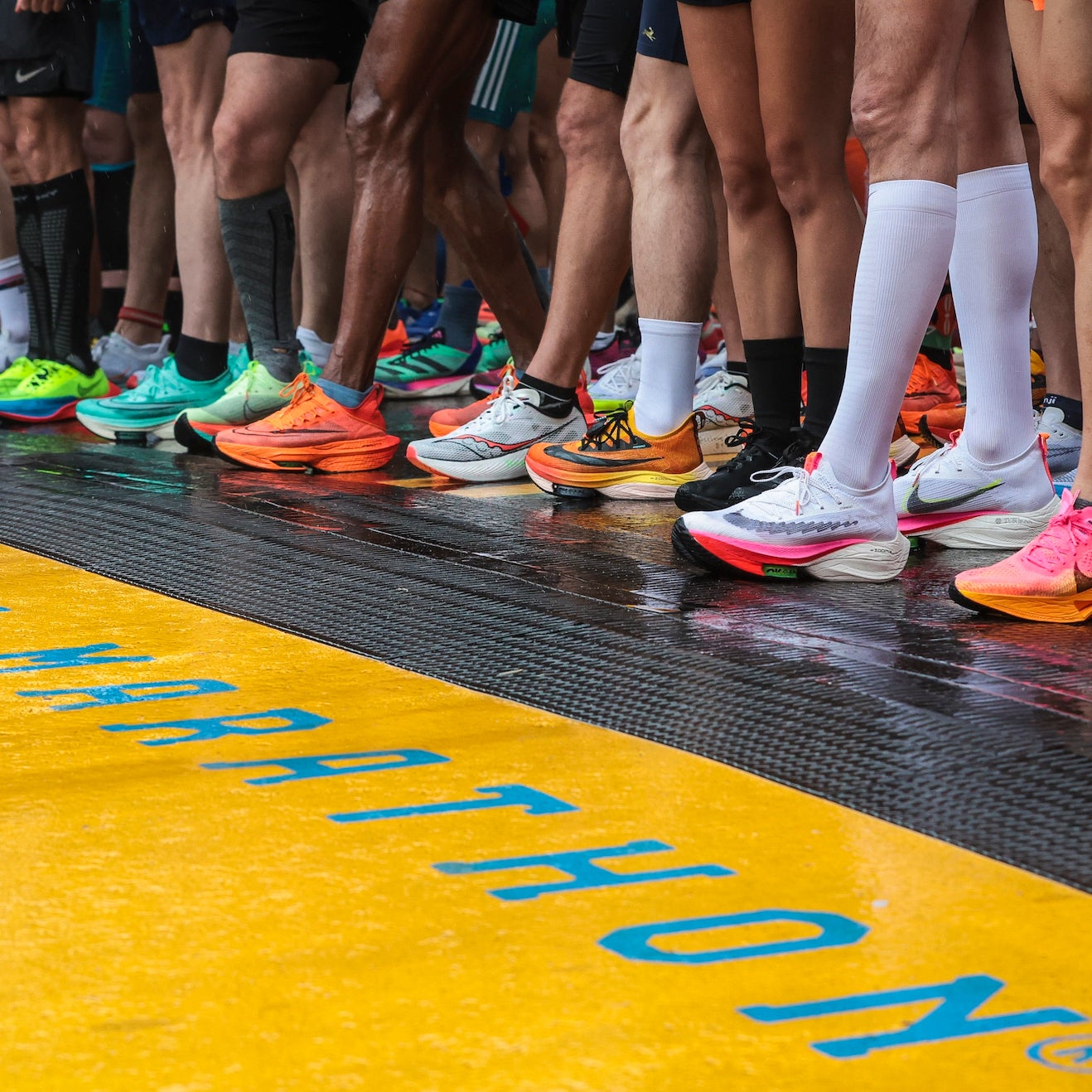 Erin Clark/The Boston Globe/Getty
Heading out the door? Read this article on the new Outside+ app available now on iOS devices for members! Download the app.
This article is part of Outside Run's complete 2023 Boston Marathon race coverage.
With more than a dozen top-of-the-line marathon racing super shoes for runners to choose from at running stores, it's always interesting to see which shoes the elite runners in a race are wearing. We reviewed photos of every professional runner who finished in the men's and women's top 25 at the 2023 Boston Marathon to come up with a definitive list of which shoes were most prevalent among the elite runners.
Top Running Shoes of the Boston Marathon
Adidas was the most popular brand among the elite runners with 16 runners wearing the German brand's Adizero Adios Pro 3 model. It was worn by the top four finishers in the men's race and eight of the top 25, as well as the runner-up in the women's race and eight of the top 25. (There were four different colorways of the Adizero Adios Pro 3 among those 16 runners.)
"My Adizero Adios Pro 3s really give me an edge in the closing stages of the race, helping my legs recover from the hills to have the energy to finish strong," Chebet said after he won Boston in 2:05:54, his second consecutive victory.
Nike was the second most popular brand among those fast finishers, with 14 runners wearing some variation of its top-tier Vaporfly or Alphafly models.
The second most popular shoes among the top 25 runners in the men's and women's fields were the ASICS Metaspeed Sky+ and the Nike Vaporfly with eight apiece found among the top finisher's. Six runners ran in the standard off-the-shelf version of the ASICS Metaspeed Sky+ shoe, and Emma Bates and Sara Hall wore the yet-to-be-released World Athletics-approved prototype. Eight runners wore Nike Vaporfly 3 prototype or the previously released Vaporfly 2 shoe.
But the most interesting shoe of the day was the On CloudTri 1 on the feet of women's champion Hellen Obiri, a hyper-responsive World Athletics-approved prototype designed for marathoners and long-distance triathletes. Although On is still a relative newcomer compared to brands like Adidas, Asics, Nike, and Brooks, the Swiss brand has continued to advance its high-performance footwear. Obiri's win comes on the heels of other On success stores, including Gustav Iden's 2022 Ironman World Championships victory, Ollie Hoare's gold medal win in the 1,500-meter run at last summer's Commonwealth Games,and Alicia Monson's recent American record in the 10,000-meter run.
Women
Hellen Obiri, Kenya, 2:21:38, On CloudTri 1
Amane Beriso, Ethiopia, 2:21:50, Adidas Adizero Adios Pro 3
Lonah Salpeter, Israel, 2:21:57, Nike Vaporfly 3
Ababel Yeshaneh, Ethiopia, 2:22:00, Nike Vaporfly 3
Emma Bates, USA, 2:22:10, Asics Metaspeed prototype
Nazret Weldu, Eritrea, 2:23:25, Xtep 160X 2.0
Angela Tanui, Kenya, 2:24:12, Adidas Adizero Adios Pro 3
Hiwot Gebremaryam, Ethiopia, 2:24:30, Adidas Adizero Adios Pro 3
Mary Ngugi, Kenya, 2:24:33, Nike Vaporfly 3
Gotytom Gebreslase, Ethiopia, 2:24:34, Nike Vaporfly 3
Aliphine Tuliamuk, USA, 2:24:37, Hoka Rocket X 2
Joyciline Jepkosgei, Kenya, 2:24:44, Adidas Adizero Adios Pro 3
Viola Cheptoo, Kenya, 2:24:49, Adidas Adizero Adios Pro 3
Nell Rojas, USA, 2:24:51, Nike Alphafly 3 prototype
Nienke Brinkman, Netherlands, 2:24:58, Nike Vaporfly 3 special makeup (Nike Trail logo)
Celestine Chepchirchir, Kenya, 2:25:07, Adidas Adizero Adios Pro 3
Sara Hall, USA, 2:25:48 Asics Metaspeed prototype
Des Linden, USA, 2:27:18, Brooks Hyperion Elite 4 prototype
Vibian Chepkirui, Kenya, 2:28:12, Adidas Adizero Adios Pro 3
Annie Frisbie, USA, 2:28:45, Puma Deviate Nitro 2
Atsede Baysa, Ethiopia, 2:30:14, Adidas Adizero Adios Pro 3
Anna Rohrer, USA, Saucony Endorphin Elite
Sydney Devore, USA, Saucony Endorphin Elite
Maggie Montoya, USA, Salomon Prototype
Anne Marie-Blaney, USA, Brooks Hyperion Elite 3
Men
Evans Chebet, Kenya, 2:05:54, Adidas Adizero Adios Pro 3
Gabriel Geay, Tanzania, 2:06:04, Adidas Adizero Adios Pro 3
Benson Kipruto, Kenya, 2:06:06, Adidas Adizero Adios Pro 3
Albert Korir, Kenya, 2:08:01, Adidas Adizero Adios Pro 3
Zouhair Talbi, Morocco, 2:08:35, Asics Metaspeed Sky+
Eliud Kipchoge, Kenya, 2:09:23, Nike Alphafly 2
Scott Fauble, USA, 2:09:44, Nike Alphafly 3 prototype
Hassan Chahdi, France, 2:09:46, Adidas Adizero Adios Pro 3
John Korir, Kenya, 2:10:04, Asics Metaspeed Sky+
Matt McDonald, USA, 2:10:17, Adidas Adizero Adios Pro 3
Conner Mantz, USA, 2:10:25, Nike Alphafly 2
CJ Albertson, USA, 2:10:33, Brooks Hyperion Elite 4 prototype
Nico Montanez, USA, 2:10:52, Asics Metaspeed Sky+
Shura Kitata, Ethiopia, 2:11:26, Nike Vaporfly 2
Andualem Belay, Ethiopia, 02:11:50, Asics Metapeed Proto
Hendrik Pfeiffer, Germany, 02:12:22, Puma Fast-R
JP Flavin, USA, 2:13:27  Brooks Hyperion Elite 4 prototype
Turner Wiley, USA, 2:13:57, Nike Vaporfly 2
Isaac Mpofu, Zimbabwe, 2:13:57, Adidas Adizero Adios Pro 3
Chad Hall, USA, 2:14:13, Nike Alphafly 2
Colin Mickow, USA, 2:14:27, Nike Alphafly  2
Mark Korir, Kenya, 2:14:27, Asics Metaspeed Sky+
Ben True, USA, 2:16:06, Asics Metaspeed Sky+
Connor Weaver, USA, 2:16:25, Nike Vaporfly 2
Jonas Hampton, USA, 2:17:05, Adidas Adizero Adios Pro 3
Top Running Shoe Brands in Boston
Adidas – 16
Nike – 14
Asics – 8
Brooks – 4
Puma – 2
Saucony – 2
Xtep – 1
Hoka – 1
On – 1
Salomon – 1
RELATED: Who Wore Which Shoes at the 2012 New York City Marathon
Lead Photo: Erin Clark/The Boston Globe/Getty
Trending on Outside Online