Yes, Those Nike Shoes Are (Too?) Fast, But Should We Ban Them?
Before we ban super shoes, we should also be considering if they could reduce injuries.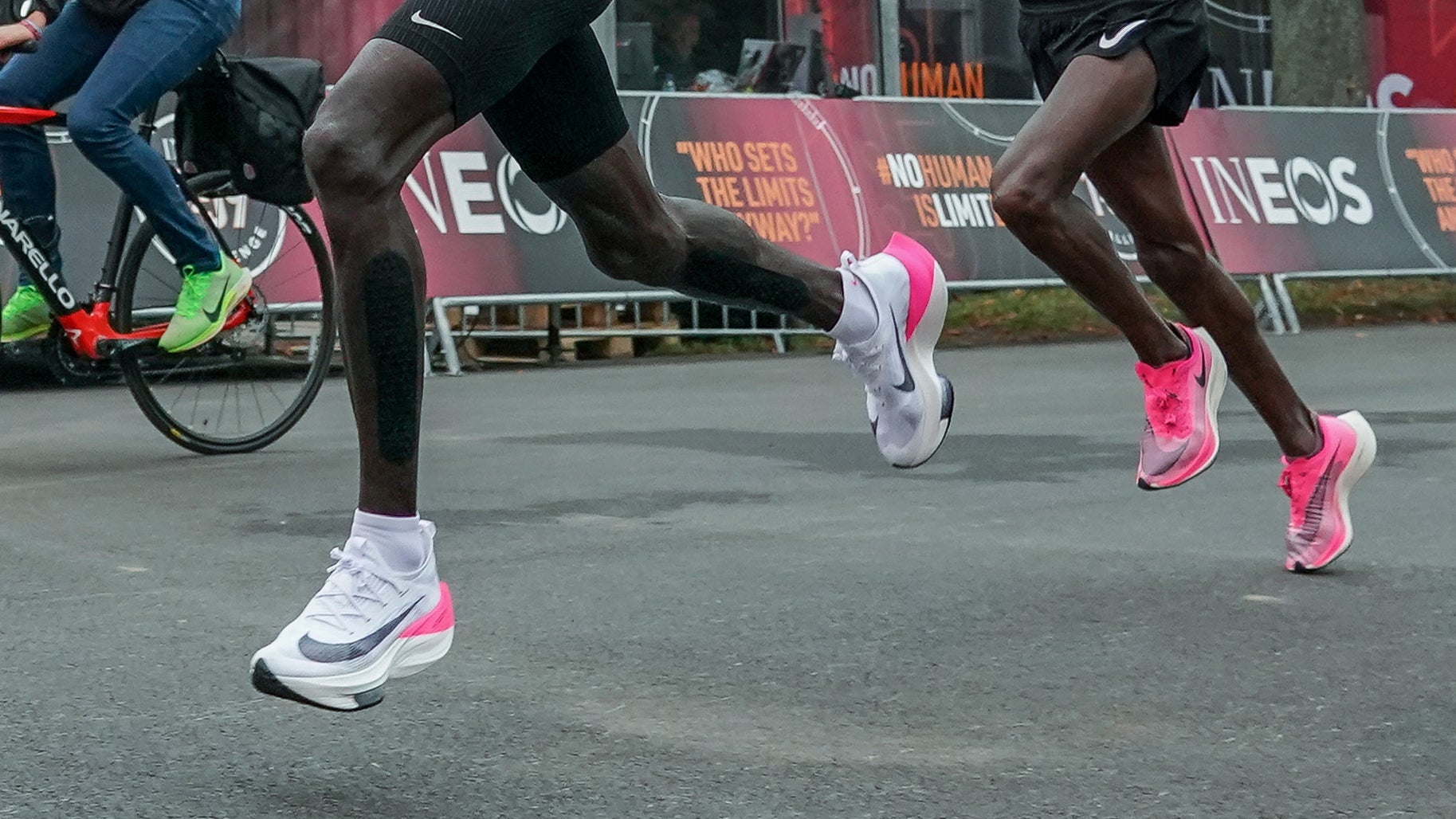 Heading out the door? Read this article on the new Outside+ app available now on iOS devices for members! Download the app.
Editor's Note: This article was written and published before the World Athletics ruling on shoes on January 31, 2020, yet still provides valuable context, history and ongoing considerations on super shoes.
Several recent and spectacular marathon times have put pressure on the IAAF to consider a ban on Nike Vaporfly-like running shoes.
Eliud Kipchoge ran 1:59:40 in Vienna in a pair of radical Nike shoes with a midsole height that possibly reached 51 mm. Brigid Kosgei hit the Chicago finish line in 2:14:04 in what appeared to be Nike Next% shoes with a midsole height of about 40mm.
The shoe that gave the Vaporfly4% its name, because it boosted running economy by 4 percent in scientific testing, had a stack height of 31mm. In other words, Nike's shoes are growing; they're getting bigger. This wouldn't be happening unless Nike had found the shoes beneficial to its elite, sponsored runners.
Kipchoge's and Kosgei's times and shoes lead us to wonder where the current shoe revolution is headed, and what the IAAF intends to do about it, if anything. (We know only that the IAAF is studying the shoe question.) Another important consideration: Is it possible to serve elite runners and recreational runners at the same time?
The Question of Springs
A lot of this hinges (a bit of a pun there) on the question of "springs" in running shoes. To understand better, let's take a short history tour.
Nike's new shoes contain a super-lightweight and super-responsive midsole foam as well as one or more carbon fiber plates in the midsole. The patent application for Kipchoge's Vienna shoes includes three plates—a sub-floor of energy-return, so to speak.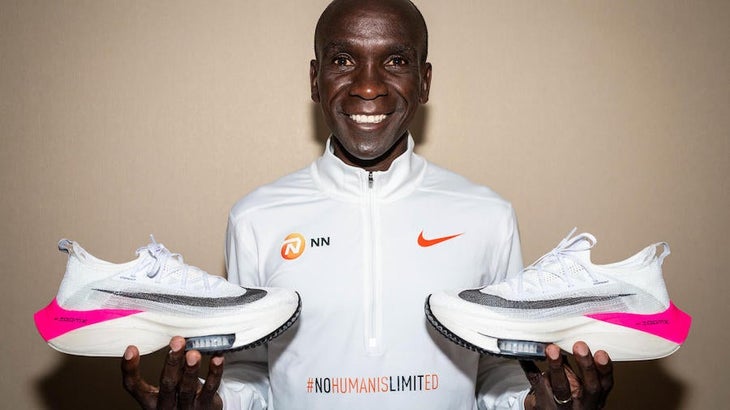 Flash back to 1977: Harvard gained global attention for its new, "tuned" Albert H. Gordon indoor track, designed by Thomas McMahon and Peter Greene. Gordon was a Harvard alum who began running marathons in his 80s, lived to be 107, and made billions on Wall Street. McMahon was a genius biomechanics professor at Harvard, and Greene one of his students. Because the Gordon track was tuned for running, it produced faster times and fewer injuries than previous tracks. Of course, that benefit was extended to all the runners on the track.
Runners immediately clamored for a McMahon-and-Greene midsole in their shoes. Problem is, when you make a track, you can construct a deep subflooring full of varied materials. When you run on that track, you leave the track behind on toe-off. Your shoes, on the other hand, come with you. You must carry them, affixed to your feet, and no runner would want to lug around subflooring with each stride.
This sounds like a stupid distinction, but it has real ramifications in shoe design: Midsoles must be light, hence, in the past, relatively thin. For many decades, running shoes, especially race shoes, remained thin, so they could remain light. And they didn't have much energy return.
The Blade Runner and the Ban
The year 2007 was a big one for springs and running. On March 17, a South African double-amputee runner named Oscar Pistorius ran 400 meters in 46.56, signalling that he had the intent and possibly the speed to qualify for the next year's 2008 Beijing Olympics. Pistorius ran on two carbon-fiber "blades." The IAAF thought these artificial legs/feet gave him an unfair "spring" advantage, and responded with a new rule banning "springs and wheels."
That April, two runners ran side-by-side well ahead of the field for 18 miles of the Boston Marathon. They grabbed 90 minutes of world-wide TV promotion for their footwear company, Spira. Spira made shoes with a small, coiled metallic spring in the forefoot and heel. While its runners faded at Boston, the shoe company continued to sponsor second-tier athletes. It also tried to get its shoes banned, figuring that an X rating would lead to massive, free publicity.
As it turned out, runners didn't widely feel Spira's springs improved their running, and Spira shut down in 2016—the same year Nike's Vaporfly4% debuted at the U.S. Marathon Trials. Unlike previous super-thin racing shoes, Nike's new shoes managed to achieve super-sizing by using an almost miraculous new foam, a Pebax-based material they called ZoomX, that's both much lighter and much springier than EVA. Nike also buried a carbon-fiber plate—shades of Pistorius!—in the Vaporfly midsole.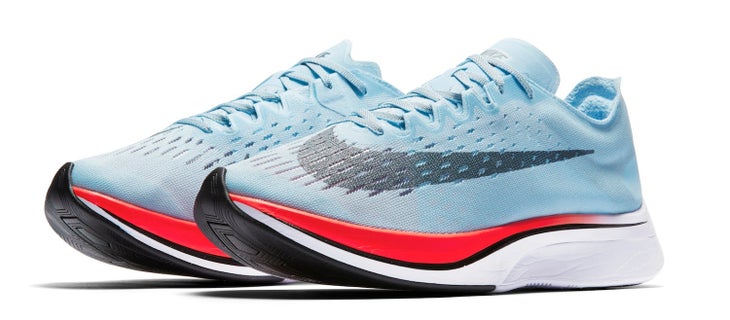 Pistorius didn't managed to qualify for the 2008 Olympics. It took him until 2012 when he ran in the London Games, where he failed to advance to the 400 meter final. Pistorius's lasting legacy may one day be for winning a 2008 Court of Arbitration for Sport (CAS) case against the IAAF. The decision allowed him to continue running in international events, and still stands today. It will eventually return to the headlines, probably next year, the Olympic year, because other blade runners are getting faster every year.
At any rate, after Pistorius, the IAAF dropped "springs" from its shoe rule, which now only bans shoes that confer "an unfair advantage" or aren't "reasonably available to all."
That brings us to 2016 when Nike runners first raced in thick shoes containing Pebax-based foam and a carbon-fiber plate sunk into the midsole. The lightweight thickness of the Vaporfly and subsequent versions gave the company more midsole room in which to position a plate, ie, with a tilt instead of flat. And those shoes appear to reduce impact forces and improve running economy, providing somewhere between 2.5 and 4 percent—or more?—time benefit over 26.2 miles.
Springs are no longer banned, but do the shoes constitute an unfair advantage?
More Than Just Fast
Before anyone bans the shoes, however, let's acknowledge that runners aren't reporting only that the shoes make them faster. Many also believe that Vaporfly shoes, or similar non-Nike shoes with plush, responsive midsoles and/or carbon fiber plates, reduce their leg soreness the day after a hard race or workout. That is, these shoes could be improving recovery and decreasing injuries … for all runners.
Those are characteristics all runners (and the IAAF) would want. Such shoes could introduce more people to a healthy running program while reducing public-health expenditures. What's not to like?
Last week, while gathering information for a New York Times story, I was struck that several biomechanists wanted to talk about injuries, not speed. This was particularly true of Saucony VP, Spencer White, who first mentioned it to me last June in an interview about Jared Ward's racing shoes.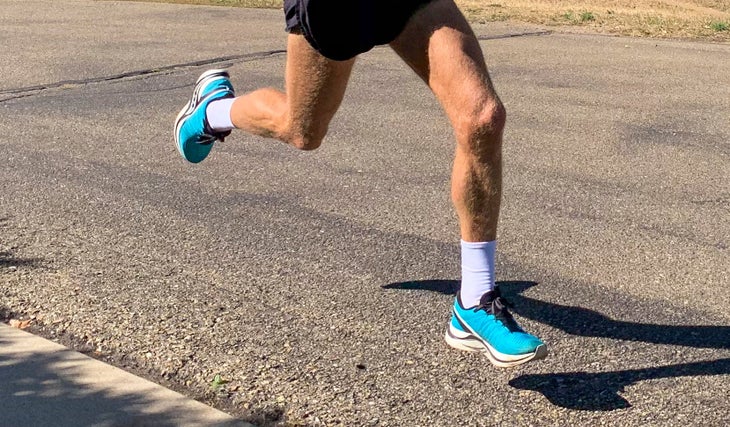 "A lot of our test runners have said our prototype shoes make running easier and more enjoyable, and improve their recovery the next day," White told me. "It might be that the foam and plate work together to improve how the foot functions as a lever. If we can bring this greater enjoyment to more runners, that would be very exciting."
That's White's way of saying he hopes the IAAF doesn't meddle in shoe construction. Other companies are moving fast to catch up with Nike, and maybe surpass them. Several are using new types of light, resilient foam, and several are fiddling with carbon-fiber plates. Some are doing both.
For example, Hoka One One, known for its highly-cushioned shoes, has put a fiber plate in a model named the Carbon X. When I reached out to Hoka, I was told the company didn't want to discuss its current thinking about foam-and-plate shoes.
It's hard to argue against unfettered creativity and innovation. Still, I like the approach that ultramarathoner and biomechanist Geoff Burns proposed last week in the British Journal of Sports Medicine. Maybe there should be a limit to midsole heights of international-competition shoes.
At the same time, we'd all like to reduce injuries, so let's not limit what's available for daily use. I'd offer sports drinks as a somewhat-parallel analogy. In international competitions, there are strict rules about obtaining your drinks. But no one cares when you sip drinks on your 18-mile training runs or if your buddy or partner hands you a water bottle at mile 16.
Shoes rules could follow a similar path. Don't mess with our daily kicks. Restrict them, if necessary, only for professionals on race day.
—
Amby Burfoot won the 1968 Boston Marathon. He offers KISS Training Programs (Keep It Simple & Smart) at RunWithAmby.com.
From PodiumRunner
Trending on Outside Online