In Stride
What I Learned from Watching My First Ultra
Our running columnist is an expert in the track and road running scenes, but the ultra world isn't exactly his beat. He dove in head first at UTMB.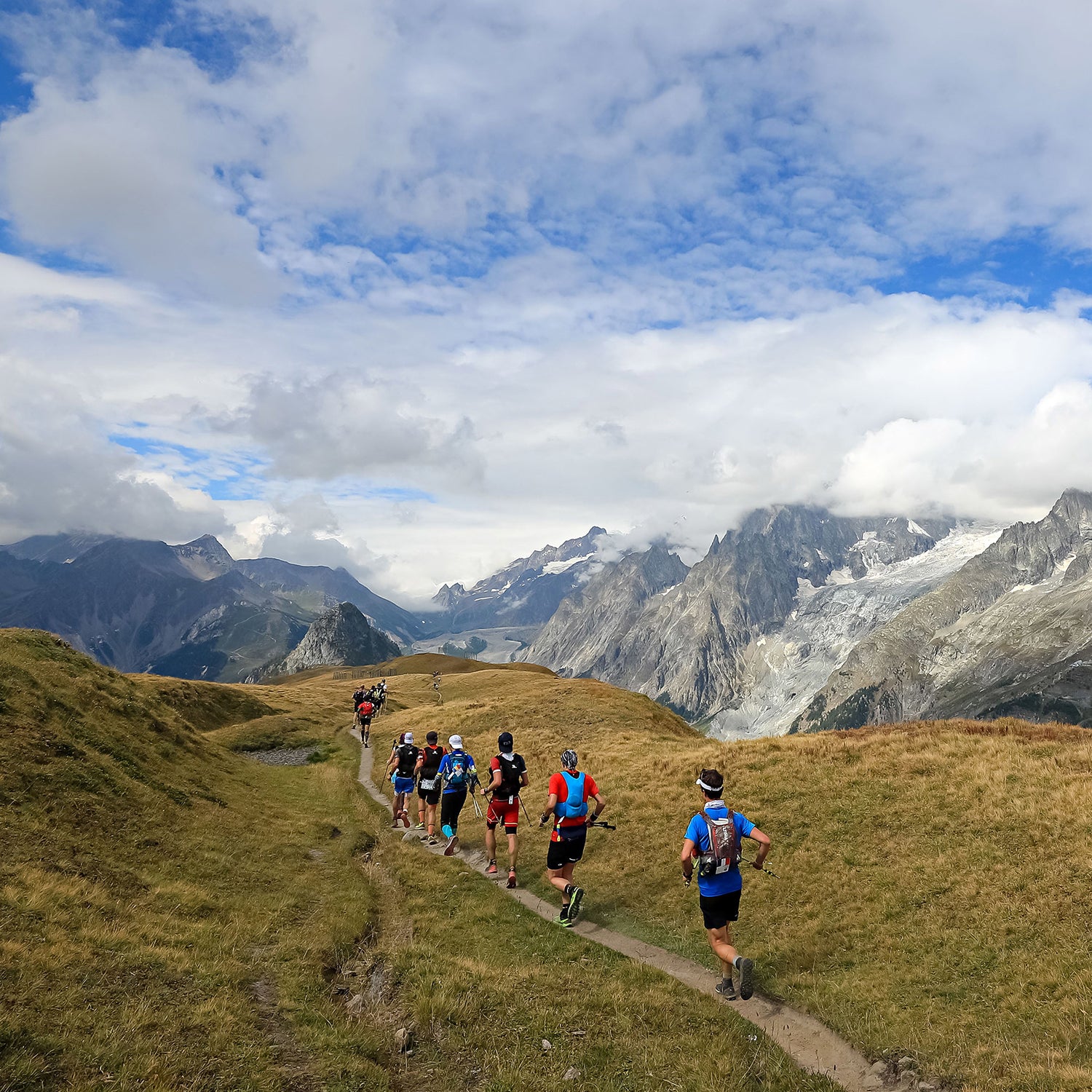 Heading out the door? Read this article on the new Outside+ app available now on iOS devices for members! Download the app.
I have a confession: For someone who spends a lot of time writing about long distance running, my knowledge of the ultra scene is shamefully thin. Very long distance running, thankfully, isn't my beat. I'm not a total ignoramus; I know about Jim Walmsley, Rory Bosio, and Kilian Jornet. I've read race reports on irunfar.com and have used the word "sufferfest" without sounding too affected. For the most part, however, I've always assumed ultrarunning was essentially long-distance speedhiking. 
Eager to further educate myself about this bizarre sport, I jumped at the opportunity to attend a press trip to last weekend's Ultra Trail du Mont Blanc (UTMB). In terms of event scale and talent level, this 105-mile loop around the Mont Blanc massif is arguably the most competitive ultramarathon in the world. The race starts and finishes in the French Alpine town of Chamonix and passes through Italy and Switzerland, as runners navigate over 30,000 feet of elevation gain. It's a popular hiking trail, and ambitious wanderers are typically advised to give themselves about ten days to complete it. Last weekend, Xavier Thévenard, the overall winner of this year's UTMB, did it in 20 hours and 45 minutes. Francesca Canepa won the women's race in just over 26 hours.  
I followed most of the race from a press van. The experience gave me some insight into why UTMB has garnered such a vaunted reputation. I was also able to bolster my scant knowledge of ultrarunning. Here are some things that stuck with me. 
The Euros Know How to Cheer
During the pre-race press conference, the elite American athletes were asked about the differences between racing at home and in Europe. 
"A huge difference is the spectators. People here are fired up," said 2015 Western States champion Magda Boulet. "They come out in the middle of the night to watch us run. That is just unheard of anywhere else." 
She wasn't kidding. On Friday night, I was standing in the rain near the 32 kilometer (20 mile) checkpoint in the village of Les Contamines-Montjoie (population: 1,200), and could barely hold onto my spot on the side of the course. There were so many people in street that it felt like a national holiday. Compared to the post-apocalyptic vibe of many U.S. track meets, witnessing such mass ebullience for a 100-mile slog was both uplifting and a little depressing. Next to me, Kurt Decker, the run geek extraordinaire who frequently appears on the podcast Talk Ultra, was getting emotional. "Can you imagine something like this back home?" Decker asked me. The rain made it hard to tell, but I think he was crying.  
Never Underestimate the Power of a Killer Soundtrack 
Part of why the UTMB inspires such zealous spectatorship has got to be the cinematic spectacle—the sheer pageantry of it all. It was difficult not to get caught up in the drama at the start. Imagine: Stone-faced runners assembled in Chamonix's main square, as the minute hand of the clock tower creeps towards the 6 p.m. start time. Rows of people are flanking the first few hundred yards of the course—a lucky few are watching from the elevated balconies of the Hotel le Chamonix. Over this thrum of expectation speakers are blasting Vangelis's "Conquest of Paradise"—a melody so portentous that if you listened to it while doing the laundry it would feel like you're performing an exorcism. I think it was the soundtrack that really did it for me. I heard it approximately eight billion times over the course of the weekend and I'm still not sick of it. The New York City Marathon, by contrast, has "New York, New York," as its kick-off song. Not a bad choice, but when I hear Sinatra I'm more inspired to go on a whiskey binge than to run 26 miles. 
Anything Can Happen in 105 Miles 
As with this year's Boston Marathon, one of the main stories of the 2018 UTMB was the high attrition rate of pre-race favorites—particularly among the men. Two months removed from his record-setting triumph at Western States, Jim Walmsley wasn't able to maintain his early lead and ended up dropping out. His teammate Tim Tollefson (a two-time UTMB podium finisher) also started strong, but took a bad fall early and eventually DNFed as well. American Zach Miller held the lead for several hours, but ended up pushing himself so hard that he could barely walk after 80 miles. Eventually, he was airlifted off the course. 
But the real shocker was that Jornet, the dauntless idol of ultrarunning and extreme mountaineering, was forced to quit after a prolonged allergic reaction to a bee sting. Yeah, a bee sting. 
When you're racing 105 miles through the mountains, there's an exponentially higher number of variables that can affect your performance. Of course weird shit can also happen in a short race, but, generally speaking, the longer you're out there, the more can go wrong. This, I would argue, enhances the excitement. "That's what is great in [ultra] racing," Jornet said in a statement following his early exit. "Until the race, nothing is written."  
Speedhiking Is Tougher Than It Looks 
Members of the media who wanted to experience one of the gnarlier sections of the UTMB were offered a chance to hike over the Grand Col Ferret—an Alpine pass which traverses the highest point of the course—a few hours before the race leaders would be coming through. Having failed to read the fine print, I wasn't aware of this option until after the race had started, but I knew I wanted to do it. Never mind that I hadn't packed a headlamp and that the hike was supposed to commence around 3 a.m. How hard could a "media hike" really be?
Pretty hard, it turns out. The march was lead by a perversely fit French mountain man who seemed intent on replicating a race atmosphere. After a rather brief introduction ("Okay, we go now."), he took off into the switchbacking darkness at such a vicious pace that I thought he would stop after 30 seconds and reveal it was just some sick joke. But it wasn't a joke and he did not stop. For the next hour, my hands were glued to my thighs as I pushed up the mountain while trying not to throw up on my puffy. When we reached the summit, my fellow Outside contributor and semi-pro ultrarunner Matt Hart wondered aloud if we'd gotten the FKT. He was being facetious. (I think.)
Cautious Racing Is Rewarded 
This year's race was the third UTMB victory for Xavier Thévenard, the baby-faced Frenchman with the subtly villainous air of a Disney movie antagonist. The feat put "le Petit Prince," as Thévenard is referred to in French media, on par with Jornet and François D'Haene, who also have three wins each. Meanwhile, no American man has stood at the top of the UTMB podium since the inaugural race in 2003. 
Why this discrepancy? Thévenard's race might provide a clue. He ran intelligently, letting several other favorites go out hard and then gradually reeling them in as, one by one, they fell apart. It was a conservative approach that stood in stark contrast to the big guns on the American side. True to their reputation as devil-may-care frontrunners, Walmsley and Miller started aggressively, but eventually it caught up to them. It's a racing strategy that's either bold or reckless, depending on where you sit, but so far at least it hasn't proved too effective in the French Alps. (Of course, the same criticism was leveled at Walmsley before he broke the record at Western States this year in dominant frontrunning fashion. So much for the peanut gallery.)  
In short, UTMB helped me understand—and respect—the grubby psychos of the ultrarunning world. From now on, if I hear one of my fellow road-racing snobs speak derisively about ultrarunning, I'll be sure to squirt them with my hydration pack. 
Lead Photo: UTMB