How To Make GPS Art
Fun-ify your workouts by running cats, names, or something naughty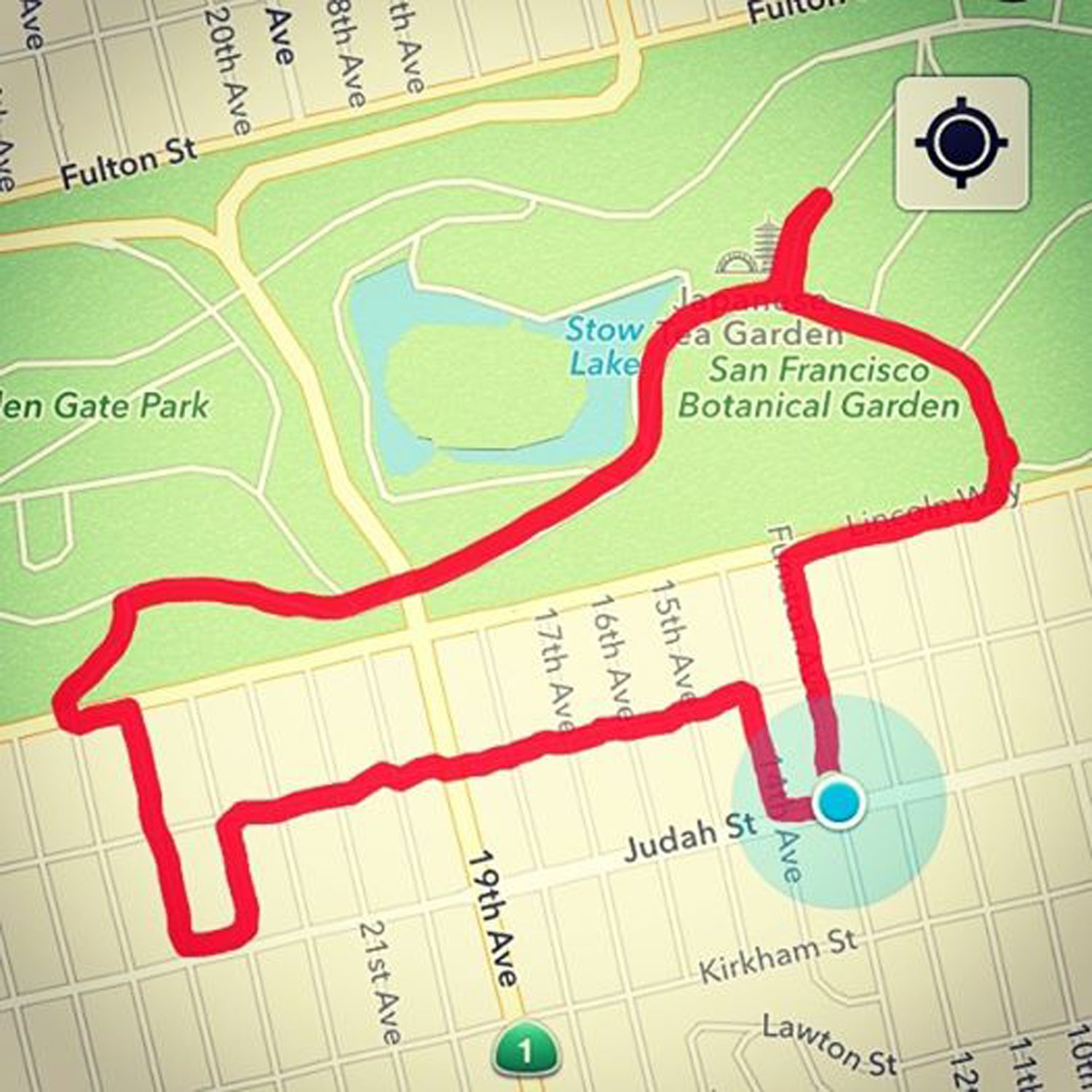 Heading out the door? Read this article on the new Outside+ app available now on iOS devices for members! Download the app.
Running, as Born to Run author Christopher McDougall likes to remind us, is something human beings have been doing for a long time. Unless the Chauvet cave paintings and Tennessee mud glyphs all prove to be part of some elaborate hoax, the same can also be said for our species' desire to create art. Thus, the increasingly popular practice of using run tracker apps to trace whimsical shapes on digital maps (aka "GPS art") is a fascinating example of an atavistic need expressed in a hyper-modern context. Or maybe we just like drawing giant phalluses over mid-town Manhattan. Either way, the trend has taken us by storm.
Why do it? For one, GPS art provides an additional motivator to get out there. Not only will you be burning calories, releasing endorphins, and forgetting about the cretins you work with, you'll also be creating something in the process. Claire Wyckoff, a Portland-based copywriter and (in)famous GPS artist, told Outside that her run drawings changed her perception of a sport that had previously left her less than enthused. 
"Once I started running shapes and drawing pictures," Wyckoff said, "I noticed that it took my mind off of running and put it in a different arena where all of a sudden my goal was no longer to huff and puff and look at my watch and roll my eyes and wish it was over, but it was actually to finish a picture, and in some cases to go and run wherever I needed to run to make that drawing work." 
When the drawing dictates where you run, you will be forced to change up your routine, and in running, as with life in general, change is good. Plodding along the same six miles in your local park, week after week, can get a little stale, so why not see if you can superimpose a giant walrus onto your neighborhood. (If that's too ambitious, you can also start by drawing an "L" and work your way up from there.)
Here's what you need to know to get going: 
1. Pick an App
Most basic GPS running apps–RunKeeper, Strava, Nike+, Runtastic–will work. Once you've got it set up on your phone, you're good to go. But before you do, you should ask yourself what kind of GPS artist you want to be. If you're content to wing it, you needn't read any further. Go out and see what you can come up with.
2. Make an Outline
If, on the other hand, you're an obsessive perfectionist, you will benefit from having a blueprint of your creation before you hit the streets. Wyckoff's approach is to use a run mapping tool like mapmyrun.com to sketch out her exact route online. Sometimes she will already have an idea of what she wants to draw–you can probably guess her favorite subject–and sometimes she will allow herself to be inspired by shapes she sees in the map. Once she has her route-cum-artwork drawn up, Wyckoff takes a screen shot which she then periodically checks during her run to make sure she hasn't veered too far off course. (Yeah. She's really into it.)
3. Run in New Places
"Travelling is great because all of a sudden you have a new canvas to work with," Wyckoff, who was just about leave for Thailand when she spoke with us, said. "For me, some of the art form is trying to find a picture in the streets, to see what you can come up with."
The layout of different neighborhoods and cities will present unique challenges and opportunities for the GPS artist. It may, for example, be fairly straightforward to render the Empire State Building on downtown Phoenix's grid, but if you ever tried to replicate the feat on the winding avenues of San Francisco's posh Westwood Highlands, you'd be in trouble. On the other hand, the latter location may be the perfect place to make that toilet seat drawing you've been dreaming about. 
4. Beware Elevation Changes
The Phoenix/San Francisco example is also a useful reminder of something that wouldn't necessarily be obvious from looking at a map of the two cities: some places are hillier than others. Part of the fun of creating run paintings is that you don't always know what you're getting yourself into when you set out; maybe that dollar sign that looked so straightforward when you sketched it out at home will involve an unexpected 800-foot climb. Don't want the surprise? Google's Map Pedometer will show you elevation profiles.