How to Watch the Olympic Marathon Trials
Heading out the door? Read this article on the new Outside+ app available now on iOS devices for members! Download the app.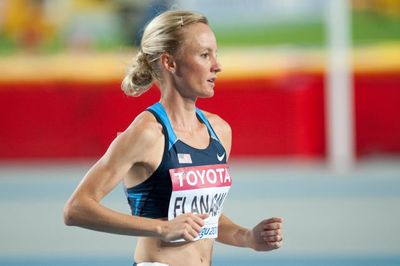 Shalane Flanagan, photo courtesy Erik van Leeuwen/flickr
If my enthusiasm for tomorrow's Olympic marathon trials is a bit tempered, it's because the entertainment specialists at NBC have declined to broadcast the race live. That should strike you as scandalous: these are the Olympic trials, which happen every four years, and, as such, are somewhere between four and eight times more important to running fans than tomorrow evening's Patriots-Broncos game is to football fans, which I'll be able to watch even though I don't live anywhere near Boston or Denver. NBC so misunderstands the viewership for this event that earlier this week they almost induced the U.S. Olympic committee to ban live tweeting of the race. Live tweeting.
Anyway, I'm no good as a forecaster. But here's who I think will make the Olympic team.
Men
1. Ryan Hall. Hall is (obviously) the most obvious pick, not least because his two fastest marathons, 2:04:55 (wind aided) and 2:06:17, are between three and six minutes faster than his biggest rivals. Even more, Hall ran arguably the greatest marathon of his career at the 2007 Olympic marathon trials, and he ran the greatest half marathon of his career in Houston in 2007. He's an emotional runner, and it seems reasonable that he'll be channeling his 2007 self on Saturday, as silly as that may sound. He'll be very, very hard to beat.
2. Mo Trafeh. This is either a savvy or naive pick: Trafeh has never finsished a marathon. On the other hand, he's either the second or third most talented runner in the field, and, in my opinon, the only guy who could rattle Hall and steal the win. In his first and only attempt at a marathon, he set out at American record pace before dropping out. I take that to mean that Trafeh thinks he can run 2:05. Anybody with 2:05-type fitness will make the team.
3. Dathan Ritzenhein. That Ritzenhein was hobbling around with a vacuum pump attached to his ankle this summer after achilles-tendon surgery doesn't bother me. He's tough and he gets fitter, faster, than anyone else in the country. Alberto Salazar says he's ready to go. Sure, sometimes Salazar blows smoke, but sometimes Ritzenhein wins medals.
So who doesn't make it? Meb Keflezighi, with his 2004 Olympic silver medal and 2009 New York City Marathon title, for one. Meb raced credibly in November's New York Marathon, but I don't think he'll be ready on Saturday: after New York, he picked up a foot infection and he may be a bit under-trained. Plus, you know, he's 36. I'd also be surprised to see a second-tier runner—Brett Gotcher, Nick Arciniaga, Brent Vaughn, Jason Hartmann, Fernando Cabada, Jason Lehmkuhle, Patrick Smyth—make the team, but in a championship race they won't be far behind if one of the top three falters.
Women
1. Shalane Flanagan. So what if Flanagan isn't the best marathoner on this list? Who can run away from her? Who can outkick her? Who has more experience in high-stakes races? Another question is: After she makes the team, will she snag a medal in the Olympic marathon next summer?
2. Desiree Davila. She almost won April's Boston Marathon and appears to race with her head firmly afixed to her shoulders. I'm as confident that she'll finish no lower than second as I am that Flanagan will win.
3. Magdelena Lewy Boulet. Here's where things get tough. For Lewy-Boulet to make the team, she'll need to parlay her great 2011 track season and 2:26 PR into a race that beats an Olympic medalist and the American record holder (Deena Kastor), a world championships bronze medalist (Kara Goucher), and five—five!—other women with personal bests under 2:30.
Which is to say, I have no idea who comes in for third. I don't like Kastor's racing record since early 2008, I worry about Amy Hastings's consistency, and I don't think Stephanie Rothstein is quite on Lewy-Boulet's level. Kara Goucher is a wild card, but I'm not convinced that she's adapted to life under Jerry Schumacher. That leaves Lewy-Boulet, I guess, but good luck to her.
How fast? I don't think we'll see new trials records (2:09:02 and 2:28:25) in either race: the course isn't especially fast and trials marathons are rarely barn burners. But I'm not confident. It probably won't take sub-2:10 to make the team, as Hall has claimed, but it will certainly take sub-2:10 fitness for the men and something like 2:26 fitness for the women. That makes this the highest-quality trials since at least 1992.
—Peter Vigneron
@PeterVigneron
(If you can hold out until 3 P.M. EST on Saturday, NBC will be showing a tape-delayed and edited version of the race.)