Ladies and Gentlemen: Your 2016 U.S. Olympic Marathon Team
The first members of the U.S. track and field team have punched their tickets to Rio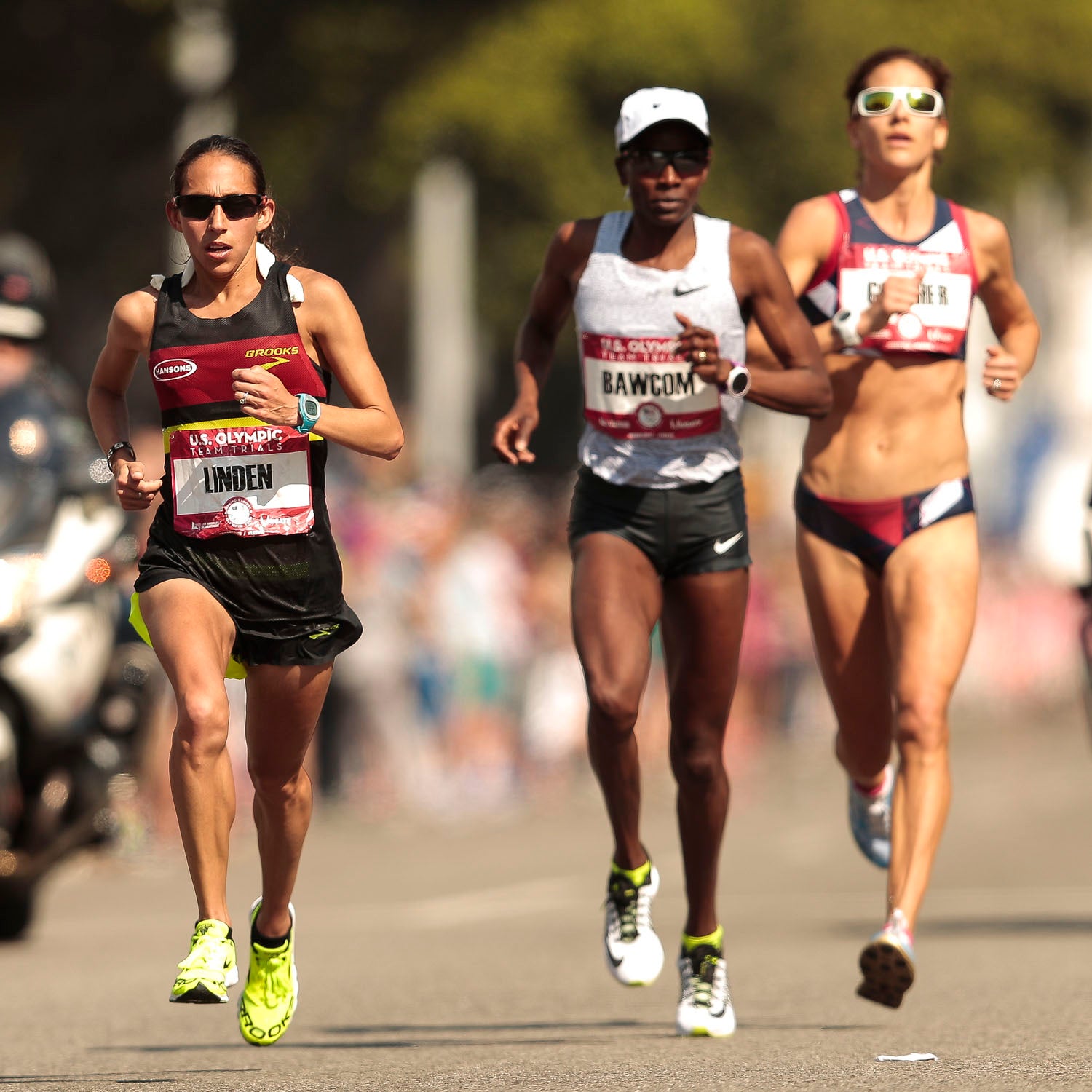 Heading out the door? Read this article on the new Outside+ app available now on iOS devices for members! Download the app.
While some countries select their Olympians based on performance or politics, this is the United States of America. So we put on a do-or-die, one-off, completely meritorious race. Saturday's U.S. Olympic Team Trials Marathon, held in Los Angeles, California, had a basic premise: the top three finishers from each race go to Rio, and the rest can watch it on TV. Of the 166 men and 198 women who started, only 105 and 149 runners finished, respectively, an attrition rate attesting to the hot and dry conditions that made this race the warmest in Trials history, according to U.S.A. Track and Field (USATF). In less than two and a half hours, six Americans earned the right to represent the U.S. in the Rio Olympics. These are the three men and three women who not only survived the heat but managed to excel in it.
Gold: Amy Cragg
If the day had one real upset, it's Amy Cragg, who dominated the women's race. The 32-year-old Bowerman Track Club athlete, who finished a heartbreaking fourth at the 2012 Marathon Trials (one spot from making the team), has a marathon best of 2:27:03, which handicapped her well behind favorites Shalane Flanagan and Des Linden. Cragg and Flanagan, who are teammates and training partners in Portland, broke from the pack midway through the race. Most assumed that, if anyone, it would be Cragg who might struggle to maintain the lead all the way to the finish, but instead it was Flanagan who began to wilt in the heat. After slowing down at first to assist her struggling teammate, Cragg eventually had to go off on her own. She finished in 2:28:20–the sixth-fastest trials performance ever and astounding given the conditions.
Silver: Des Linden
Pre-race pundits (including our own) had Des Linden, 32, coming in second (though few assumed that she'd be behind Cragg). Linden, who competes for the Hanson-Brooks Distance Project, made her second consecutive Olympic marathon team by running a confident, smart race. When Cragg, Flanagan, and the rest of the lead pack made a surge early on, Linden opted to let them go and maintain a more conservative pace in the hot weather. After reeling in Taylor and Hall, it seemed as though this approach would suffice to garner Linden third place. In the final miles, however, it became clear that Linden would fly past pre-race favorite Shalane Flanagan to come home in 2:28:54. It was the kind of running coaches are likely to show their athletes as a paragon of what smart racing looks like.
Bronze: Shalane Flanagan
Honestly, who bets against Shalane Flanagan? The multiple American record-holder was a heavy favorite going into Saturday, and runner-up Linden had only beaten her once in a race, marathon or other*. But the day's heat, which was a significant factor, wilted Flanagan, 34, to the point of putting finishing in doubt. "I started to get chills heading into that last (six-mile) loop," Flanagan told Runner's World. Flanagan and Cragg had a clear gap from Linden in third, but as Cragg pushed on for the win, Flanagan was only able to consolidate as Linden slipped past. Flanagan was given an IV drip for re-hydration immediately upon finishing.
Gold: Galen Rupp
If there were ever any doubts about who is the best American distance runner at the moment, those doubts are long gone. Competing in his first-ever marathon, Galen Rupp delivered a controlled, dominant performance that saw him cruise to victory in 2:11:12, more than a minute ahead of runner-up Meb Keflezighi. A few weeks ago, it was uncertain if the Olympic silver medalist and U.S. 10,000-meter record holder would even compete in the trials. Even after his intentions to race became known, many thought that the experienced Keflezighi would still have the edge. He didn't. Colorado-native Tyler Pennel blew a crowded men's race open with a 4:47 17th mile, and Keflezighi and Rupp were the only ones to go with him. Pennel soon faded and we were treated to a duel between the eventual top two finishers, though it hardly a duel at all. Rupp looked frighteningly comfortable even as he turned on the jets with four miles to go and left Keflezighi in the dust.
Silver: Meb Keflezighi
Until Rupp's announcement, the 40-year-old Keflezighi had to be considered the favorite of the Trials. Why? Despite his age, there are simply no other Americans, besides Rupp, that can handle his speed and experience in the distance. But when put head to head with Rupp—more than 11 years his junior—Keflezighi simply didn't have the wheels. Waving a flag once his runner-up finish (and fourth Olympic team) was secure, the veteran was all smiles. When he toes the line in August at 41, he will be the oldest U.S. Olympic runner ever. 
Bronze: Jared Ward
Ward, 27, was out of the picture after the lead pack splintered at 17 miles. Keflezighi and Rupp had pushed out of sight. But as the two-man race pulled the cameras ahead, Ward steadily worked his way up into third. How did the 2015 USATF Marathon champ have such a strong finish? According to coach Ed Eyestone, himself a former trials marathon medalist, Ward had a few hour-long sessions on a stationary bike wearing full sweats in order to acclimate to the heat—a factor difficult to replicate from his home base in Provo, Utah. "It's a pretty old school technique," Eyestone told Outside.
* This sentence was corrected to reflect the fact that Linden was fourth ahead of Flanagan's ninth at the 2015 Boston Marathon. h/t Dressysweats
Lead Photo: Brooks