In Stride
Can Running's Most Controversial Website Really Change?
It's a new year, and the LetsRun message boards are making some adjustments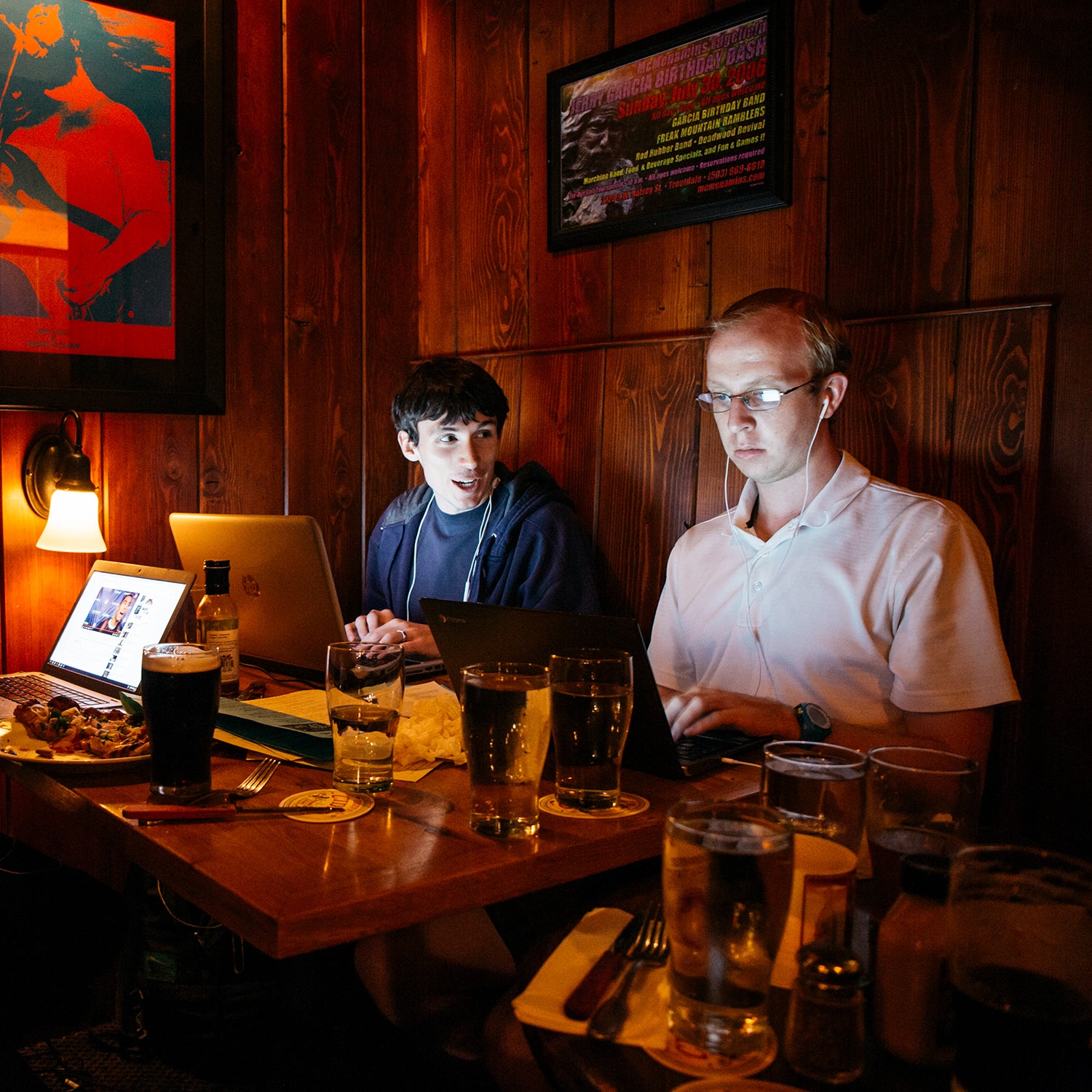 Heading out the door? Read this article on the new Outside+ app available now on iOS devices for members! Download the app.
For anyone seeking a comprehensive overview of the global distance running scene, it's hard to think of a better resource than LetsRun.com. In addition to its own exhaustive previews and race reports of marquee events like the Berlin Marathon or the NCAA Cross Country Championships, the site is updated daily with links to running news both major and obscure. Good luck finding another U.S. publication that cares about the Kenyan national cross-country championships, or the annual Golden Spike track meet in Ostrava, Czech Republic.
But just as LetsRun has established itself as a reliable go-to for the track and field-obsessed, the site's message boards can read like the online id of high-mileage frat bros. Within the insular world of distance running fandom, "the boards" have a reputation for caustic shitposting, with varying levels of misogyny, racism, and homophobia. As one message board poster once observed, "LetsRun is basically 4chan for runners."
As a countermeasure of sorts, LetsRun kicked off 2020 with the announcement that, in addition to some routine updates to the backend of the site, it would be implementing changes to prevent people from using multiple aliases on the boards. Posters don't have to register with the site and can remain anonymous, but, going forward, aspiring trolls will be limited to one fake identity per thread, per week.
"There'll be some thread and I'll be like 'I can't believe all these people think like this," LetsRun co-founder Robert Johnson (aka "RoJo") said over the phone. "And then you look at it and it's the same person posting under eight different names. There's a term for that, I think it's called 'astroturfing.'" (Posters' IP addresses are visible to LetsRun administrators.)  
When he gave me that example, Johnson cited pro-Russia propaganda as the kind of thing that LetsRun's new regulations are hoping to curb. (Although the majority of message board threads are running-themed, politics and dating advice are popular topics. Johnson says he likes to think of the message boards as reflecting what people might talk about when on a run.)
Of course, those in the running community who complain about message board content typically aren't worried that it has been hijacked by the Kremlin, but, rather, that it has evolved into a platform for gratuitous viciousness. Chris Chavez, a Sports Illustrated writer and the founder of the running news site Citius Mag, has "What's the meanest thing you've read about yourself on LetsRun?" as one of the standard questions he asks every guest on his weekly podcast. Last May, the question was put to former high school star Mary Cain, who, due to her precociousness, had been a target of message board vitriol at an extremely young age. Cain said that she had stopped visiting the site in her freshman year of high school, after seeing posts (and photos of herself) suggesting that she was a boy, due to the "bulge in her shorts." 
"I was in middle school and I was reading this," Cain told Chavez. "You're like, 'I have broken five minutes for the mile as an eighth grader and adult men are in their moms' basements writing articles about me.' So, yeah, I don't support those message boards." 
After Cain made national headlines in November when she accused Alberto Salazar, her former coach, of publicly shaming her for her weight and encouraging her to take birth control pills and diuretics to shed pounds, the message boards were subsequently criticized for abetting a culture that was hostile towards female athletes. In the wake of Cain's allegations, former collegiate star Leah O'Connor posted screenshots on her Instagram account of message board posters denigrating her looks when she was competing for Michigan State in 2015. "Platforms like this SHOULD NOT exist… #fixgirlssports." O'Connor wrote in her post.
"I wouldn't want someone commenting on my weight if I was in high school," Johnson says, before adding that he believes the topic could, on some level, still be fair game for public discussion, since weight is a factor in running performance. In response to O'Connor's comments, Johnson's brother (and LetsRun cofounder) Weldon started a thread titled: "Moderation question: When if ever should we allow the discussion of someone else's body/appearance on LetsRun?"
While Johnson claims that it is impossible for the site's modest staff to monitor everything that goes up on the message boards (there have been nearly 10 million posts since the site was founded in 2000), he points out that, unlike with behemoths like Facebook and Twitter, anyone who has a problem with something that gets posted can submit a complaint that will usually be addressed within hours. Pushing back against the message boards' misogynist image, Johnson maintains that the "most bashed" people in the history of the boards have been white men; when he was a star runner at the University of Oregon in the mid-2000s, the message board invective aimed at Galen Rupp was apparently so severe that Oregon's associate athletic director Vin Lananna and Rupp's coach Alberto Salazar approached Weldon Johnson at a track meet and "laid into him." (The site subsequently installed a filter that made it impossible to use the words "gay" and "Rupp" in the same post.)
Sally Bergesen, the founder and CEO of the women's apparel company Oiselle, told me by email that LetsRun's message boards were "hell for women." Both Bergesen and Dr. Sarah Lesko, who is in charge of corporate development at Oiselle, say that most professional female runners they know avoid the message boards entirely.
"If RoJo's defense is, well, everybody gets shit on, that's not very encouraging," Bergesen told me over the phone. "But in terms of what a white man being slammed versus a woman or a person of color, or a person who is openly gay, there's a big difference there because of the power structures that we all live in . . . we are not all equal." 
According to Johnson, LetsRun's negative reputation among women is actually hurting the site's bottom line. "The image that I'm sexist, or that the website is sexist, is not good for business," Johnson says. "We should have way more brand advertisers than we do." 
So what can be done? Johnson concedes that individuals who are not big-name public figures certainly deserve "special protection," and mentioned that he would potentially like to make the high school forum be limited to registered users only. However, citing the example of Twitter, Johnson says that he wasn't entirely convinced that requiring posters to be registered would make a huge difference. Lesko, meanwhile, suggested that if LetsRun seriously believes that it is missing out on advertising dollars because of misogynist content on the boards, the site should test that theory by investing in additional moderators to approve comments—something that LetsRun has previously been unwilling to do on the grounds that it amounts to censorship.
The fact that message board posters can remain anonymous is arguably one of the more contentious aspects of the platform. In the statement announcing updates to the message boards earlier this week, LetsRun wrote that allowing posters to retain their anonymity "allows for a more honest discussion." Presumably, anonymity would also make it easier for potential whistleblowers to call out misdeeds, whether it's exposing a serial race cheater, or an abusive coach.
By the same token, however, there's an obvious downside when people don't have to be held accountable for what they say in a public forum. What if those anonymous allegations of cheating are not true? Likewise, the adult men sulking in their mother's basements would probably be less inclined to troll the Mary Cains of the world if they actually had to own up to it. 
While the conundrum of the LetsRun boards isn't likely to be resolved any time soon, Bergesen says that she is encouraged that women in running are increasingly taking matters into their own hands, by creating their own media to re-direct the narrative of their sport.  
"We don't have a message board yet, but we might soon," Bergesen says. "We're basically saying that we're tired of waiting for you guys to figure this out, and we're tired of you telling us that you can't do anything about it. So we are going to go ahead and start doing our own thing. But wouldn't it have been nice if we could have all been hanging out together?"
Lead Photo: Daniel Cronin