In Stride
The Most Famous (Possibly) Tainted Records in Olympic History
Are these records too good to be true? There's a lot of evidence that points to yes.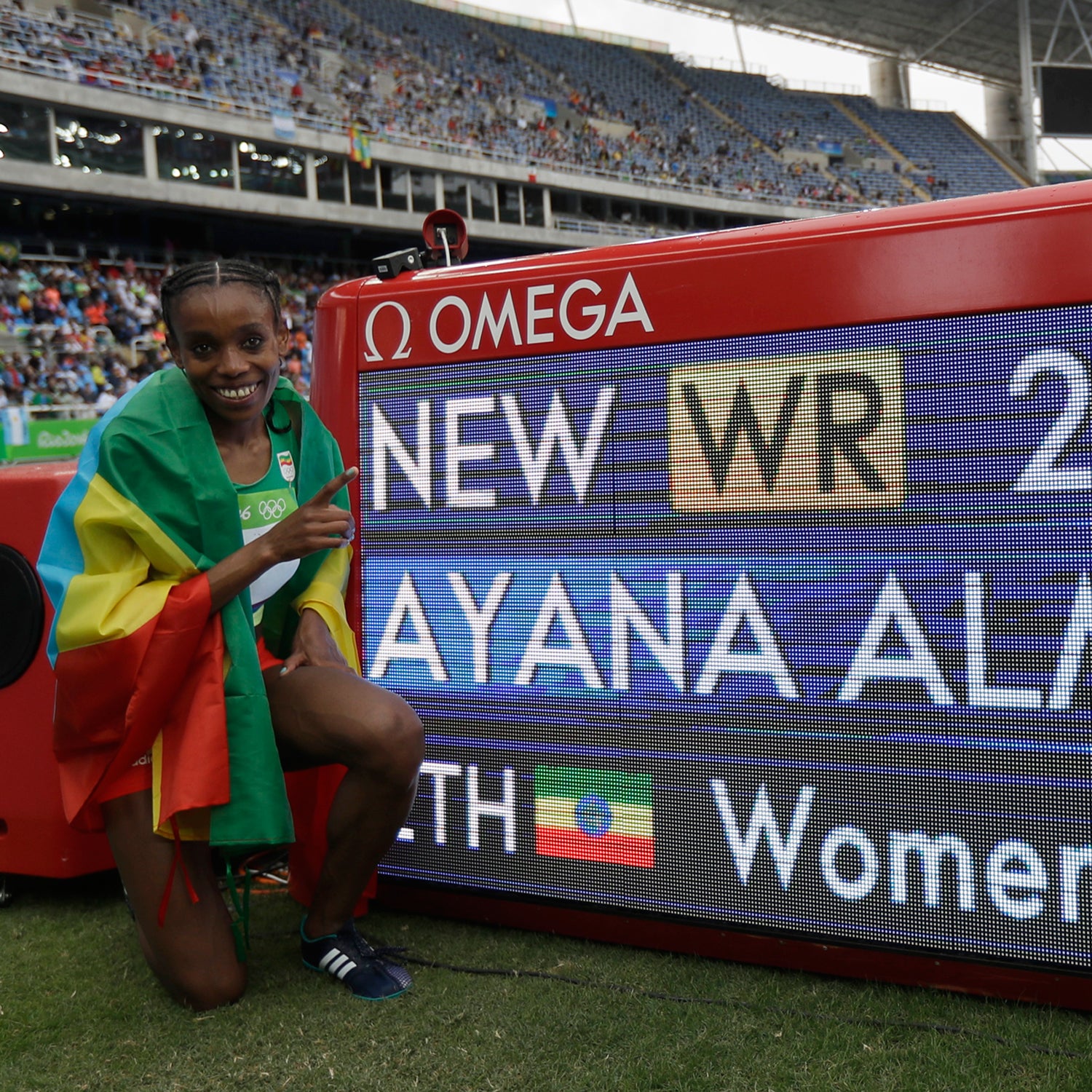 Matt Slocum/Associated Press(Photo)
Heading out the door? Read this article on the new Outside+ app available now on iOS devices for members! Download the app.
Imagine falling in love, swooning for a happy while, and eventually discovering that the object of your affection has been cheating on you. You are crushed, but after some time spent binging on wine and Blood on the Tracks, someone new comes along and all is right with the world. Then the whole process repeats itself again. And again. And again. 
Not to be too melodramatic about it, but this might be an appropriate metaphor for track and field fandom. With each new doping bust or defrocked medalist, it's becoming harder to stay in love with the sport. This was most apparent last Friday on the first night of athletics action at the 2016 Olympics. With a time of 29:17, Ethiopian superstar Almaz Ayana absolutely decimated a 23-year-old 10,000-meter world record that was almost certainly set by a dirty runner. Ayana ran the second half in a time that's faster than the Olympic record for the 5,000-meters—and looked totally relaxed while doing it. 
Alas, there has already been speculation that Ayana's record is too good to be true. A number of the track and field cognoscenti took to Twitter (in some cases before the race was over) to voice to their incredulousness. Ayana, aware of such suspicions, said post-race through a translator, "My doping is my training and my doping is Jesus. Nothing otherwise. I am crystal clear."
Time will tell how crystal clear Ayana's stunning performance was. Or then again, maybe it won't. Unfortunately, women's track and field includes several world records that remain cloaked in uncertainty, even years (and decades) after they are set. 
Here are three of the most high-profile examples:
Jarmila Kratochvílová: 800 meters: 1:53.28 (1983)
In 1983, Czechoslovakian Jarmila Kratochvilova ran the 800-meters in 1:53.28, which is still the longest-standing record in professional athletics. Kratochvilova's "masculine" physique was already a subject of scrutiny during her competitive years in the early '80s, and retrospective suspicions are exacerbated by the fact that she was competing in an era that predated random out-of-competition drug testing. To be clear: Kratochvilova never failed a drug test and all evidence against her remains circumstantial. However, we know for sure that there was a state-sponsored doping program in other Warsaw Pact countries like East Germany and the Soviet Union. To run as fast as Kratochvilova did against that backdrop means that her record will be murky for as long as it continues to stand.
Marita Koch: 400 meters: 47.60 (1985)
One of Kratochvilova's main rivals was the East German runner Marita Koch, who she often competed against in the 400-meters. When Koch set the record in 1985 with a time of 47.6, she effectively put it out of reach for all who came after her. (To put this into perspective, 2012 Olympic champion and American record holder Sanya Richards Ross's PR is more than a second slower than Koch's time.) Koch, who never failed a drug test and still vehemently maintains her innocence, was implicated when a molecular biologist from Heidelberg named Werner Franke uncovered an official doping protocol from the Stasi (the East German secret police) revealing that a number of athletes, including Koch, were systematically being administered various dosages of the banned steroid Oral-Turinabol. These revelations were detailed in a book, authored by Franke's wife, Brigitte Berendonk. When the book was published, Koch threatened to sue. She never did. 
Florence Griffith-Joyner: 100 and 200 meters: 10.49 and 21.34 (1988)
Lest anyone should think that the proverbial cloud of suspicion only hangs over track athletes who emerged from behind the Iron Curtain, the United States has its own famous example: Florence Griffith-Joyner, who died in 1998 at age 38, rendered an array of women's sprint records untouchable, all in one magical year. During 1988's Seoul Olympics, Joyner won three gold medals and ran ions faster in the 100 and 200 than any women has since. (For the geeks: her 200 meter record of 21.34 is .28 seconds faster than the PR of the second fastest woman ever, who happens to be convicted doper Marion Jones.) 
Questioning the legitimacy of Flo Jo's records will always provoke the ire of her many loyal fans, but there are at least three reasons for suspicion: 1) Her times spiked in 1988—improving by more than half a second in both the 100 and 200 from the previous year. 2) There was a noted change in her physique—she was dramatically bulkier than before. 3) She abruptly retired from the sport after it was announced in 1989 that random drug testing would be instated.
---
It should be reiterated that none of the three women listed above ever failed a drug test. (Though, as stated, drug testing was far less sophisticated in the '80s than it is today.) Also, world records will always, by definition, be extraordinary performances. Just because an athlete runs an incredible time doesn't mean that it is indicative of cheating. And yet, as the incessant stream of recent doping busts has shown, many, many athletes have doped. By not exercising measured, objective skepticism in cases where it is warranted, we are betraying those who chose to play by the rules. It's the least we can do. 
Lead Photo: Matt Slocum/Associated Press