In Stride
Will New Endorsement Rules Ruin College Running?
The regulations will allow collegiate runners to market themselves for profit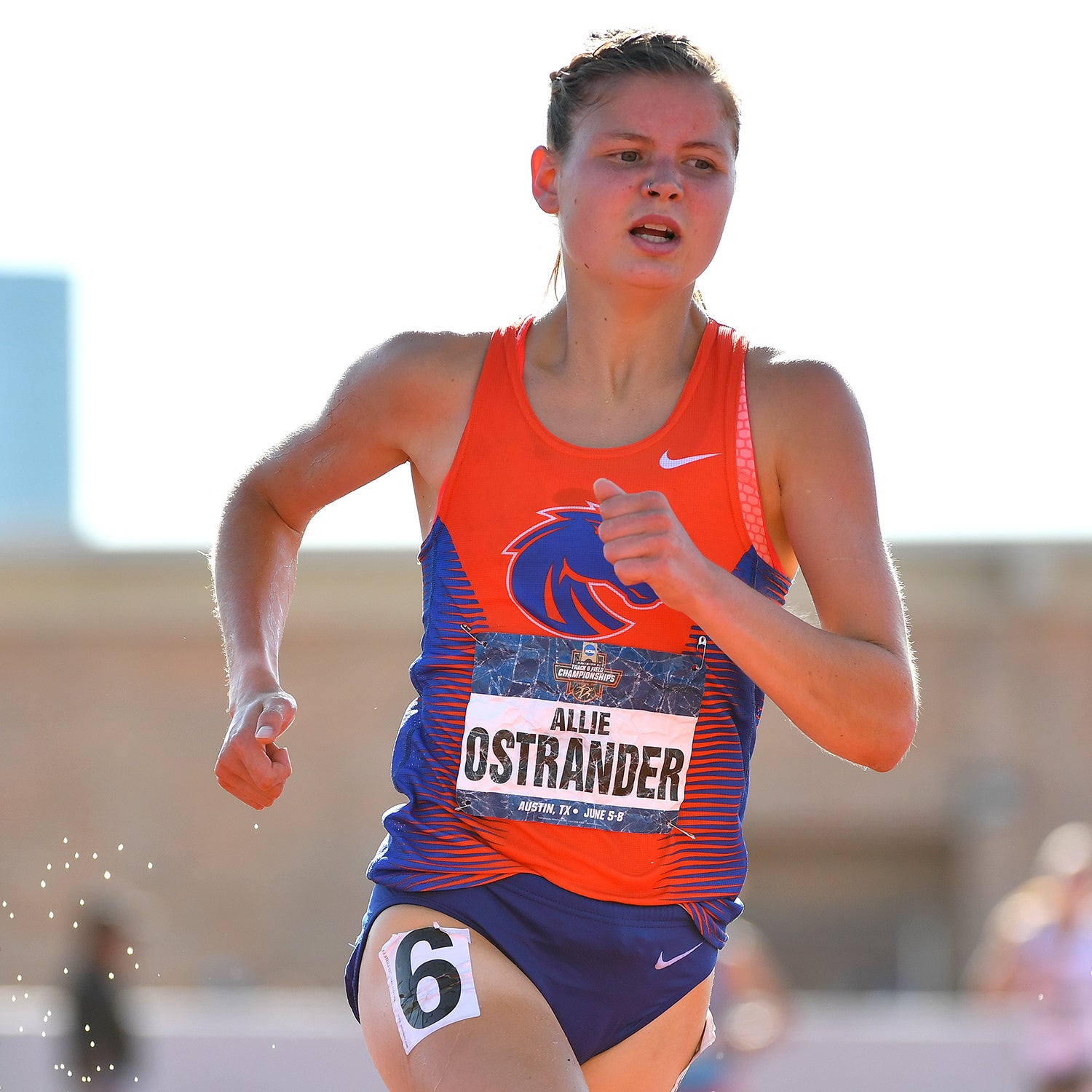 Heading out the door? Read this article on the new Outside+ app available now on iOS devices for members! Download the app.
On April 29, the National Collegiate Athletic Association took another step toward allowing student athletes to earn an income from third-party endorsement deals. The organization announced that it expects to present regulations for student athletes to profit off their "name, image, and likeness" (NIL) by January, and that the new rules would officially go into effect for the 2021–22 academic year. Rather than an act of magnanimity, the NCAA's policy shift is a lurching response to the fact the same thing is already happening at the state level: California, Florida, and Colorado all recently passed NIL laws for their schools, which at this point can only be superseded by federal regulation. In any event, we seem to be nearing the end of an era in American college sports—one that clung to an illusory ideal of amateurism like the Olympics of generations past. It's an ideal that has been for sale for a long time. 
While the debate has typically focused on "revenue-generating" sports—i.e., football and basketball—the new NCAA rules will impact intercollegiate athletics across the board. In the near future, even college runners, hardly the Mick Jaggers of the campus-sports scene, could be allowed to leverage their modicum of celebrity for financial gain. 
"I wish they had had that when I was in college," three-time NCAA steeplechase champion Allie Ostrander says of the upcoming NIL rules. Ostrander, who became a professional runner last year when she signed with Brooks Beasts Track Club, was one of the most high-profile college distance runners during her tenure at Boise State University. She has over 30,000 followers on Instagram and has earned whatever the trail-running equivalent is of street cred for her frequent participation in Alaska's notoriously brutal Mount Marathon Race, which she won in 2017. While she was at Boise State, brands reached out to her for potential collaboration, but Ostrander had to decline.
"It kind of bummed me out that I wasn't able to take those opportunities, even for products that I really believed in," Ostrander says. "When you do become a professional athlete, the social-media presence and the ability to appeal to your audience really become part of your job, so allowing student athletes to do that in college is really almost an extra part of their college education," she adds.
At least one institution seems to have already taken this idea to heart. Earlier this year, the University of Nebraska announced the launch of its Ready Now Program, a form of consulting service for all of the university's 650-plus student athletes that, according to the school's website, will help them "navigate the complexities of social media and maximize their brand in the digital world." 
"Whether you're a fan of NIL legislation or not, it's coming," Nebraska's senior deputy athletic director Garrett Klassy told FiveThirtyEight. "So we wanted to be prepared."
On the face of it, it's encouraging that a university would be so proactive to help its athletes "navigate the complexities" of a changing landscape. As the NCAA prepares to loosen its endorsement policy, the bureaucratic minefield of athlete compliance is almost certain to get worse. (The NCAA has, for instance, stated that university logos and trademarks can't be used for prospective endorsements, which will presumably mean that student athletes can't promote products while wearing their school uniform.) 
Yet the main focus of Nebraska's program is to help college athletes maximize their financial value as would-be influencers. For the bleeding-heart idealists among us, the suggestion that all college athletes need to start thinking of themselves as brands is a little depressing. One can accept the ethical argument for why college athletes should be allowed to profit and still mourn a loss of innocence. Nobody said the illusion of amateurism wasn't seductive. 
It's one thing if some blue-chip quarterbacks could soon be making six figures while in college, but do we really need to fret about a quasi professionalization of college running? Zachary Segal, who founded a website called Student Player that will allow fans and companies to sponsor college athletes, believes that the new NIL rules will be a boon to the more low-wattage sports. 
"The current marketing landscape gives individuals and brands the ability to market on such a niche level that you don't have to have a huge following to have a valuable brand, you just have to have a loyal one," Segal says. "I think that student athletes in all sports, running included, are going to have niche opportunities like this once the world opens up for them."
I asked Segal what such an opportunity might look like. He said that brands could potentially micro-target recreational runners who had attended a particular university with an endorsement from an athlete on their alma mater's cross-country team. Regardless how one feels about targeted ads, it's hard to see how this would fundamentally ruin college running. 
The greater danger, perhaps, is that opening up college sports to third-party endorsements could give rise to a super-PAC system, where wealthy individuals or groups could offer lucrative sponsorship deals to the most talented high school athletes and ensure the dominance of a particular program. (Universities will still be prohibited from paying athletes directly.) The NCAA has intimated that it will place a cap on how much students can earn and put measures in place to prevent endorsements from being used for recruitment purposes, but it's hard to imagine what such rules could look like in practice. Moreover, since the state-level NIL laws have no such restrictions, the NCAA rules would have to be echoed by federal legislation to ensure a level playing field—hardly a guarantee.
Here, again, college running might not seem as vulnerable to corruption. But is it really so much of a stretch to imagine a scenario in which Nike, whose brand identity and origin story will forever be tied to the running program at the University of Oregon, could take advantage by sweetening the pot for future Prefontaines? 
Of course, people like Segal will argue that this has already been happening for a while now. The only difference is that, rather than the athletes themselves, companies and boosters have been heaping cash on university athletic departments. That's why athlete facilities at top football schools increasingly resemble vast, branded pleasure domes—Xanadu for jocks. The recently completed renovation of Hayward Field has left the University of Oregon with what is easily the most sophisticated track and field stadium in the nation. The project is estimated to have cost upward of $200 million, with Nike as the principal donor. If you choose to run for Oregon, this will be your home turf. 
Seen in this light, allowing student athletes to sign endorsement deals doesn't signify a radical break with prevailing attitudes about money in college sports—it's merely the next step in evolution. 
Lead Photo: Jamie Schwaberow/NCAA/Getty