In Stride
These Gen Z Runners Want to Reinvent Running Media 
For New Generation Track and Field, established media companies are too stuck in their ways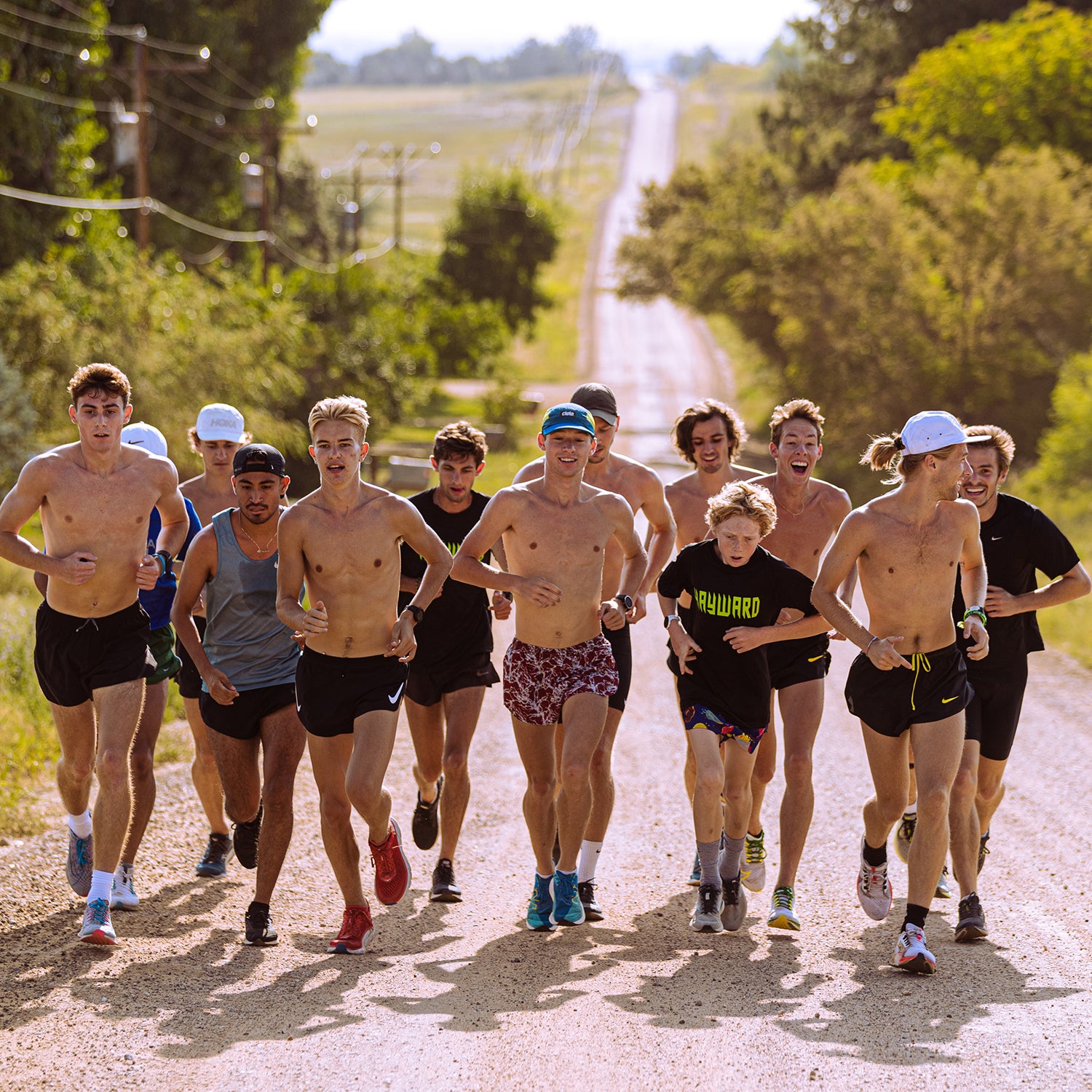 Heading out the door? Read this article on the new Outside+ app available now on iOS devices for members! Download the app.
According to the most recent survey by the National Federation of State High School Associations, outdoor track and field is the most popular high school sport in the United States, with 1,093,621 total participants in 2019. To be fair, football, which sits in second place (1,008,417), is effectively a single-sex sport. Track also benefits from being a "no cut" extracurricular that offers an athletic safety net to those with no aptitude for softball or tennis. Nevertheless, having more than one million high schoolers take part every year seems like it should be an invaluable asset for a sport with a famously anemic fan base at the pro level. If only all these young tracksters had more of an incentive to be lifelong addicts of the oval.   
Enter New Generation Track and Field, a nascent media brand positioning itself as a younger, fresher alternative to running's legacy publications. The company, which became a registered LLC in early 2021, was founded by University of Oregon senior Ben Crawford, who made a name for himself in the summer of 2020 by filming workouts of Oregon distance runners and posting the results on his personal YouTube channel. At the time, Crawford was interning as a social media manager for the university's athletic department, though his overly freewheeling use of team footage eventually caused him to be "relieved of his duties," as he phrased it to me. (The University of Oregon did not respond to a request for comment.)
Even though he would temporarily lose the privilege of getting candid footage of Oregon stars like Cooper Teare and Cole Hocker, Crawford's videos struck a chord. It turns out that there was a niche demographic of NCAA distance fans who were hungry for a behind-the-scenes glimpse at the nation's most prestigious program that didn't follow the slick conventions of preapproved University of Oregon content. For Crawford, the winning formula was fusing workout footage with extended scenes of shirtless runner bros dishing out pop culture references, mocking their teammates' weird eccentricities, and elaborating on favorite post-run meals.
"The official U of O accounts do have a lot of followers and can help the athletes," Crawford says. "But it's the subversive, no boundaries nature of New Generation that's really attractive to people because there's no limits to what they can say and do, so it feels more sincere."
Of course, what qualifies as "no boundaries" content is always relative, especially when you consider that being a top NCAA distance runner necessitates a rather tame existence. Anyone who starts watching New Generation videos in the hope of discovering that, when you pull back the curtain, Oregon athletes lead lives of madness and excess will be disappointed. The channel's most popular video to date, an eight-minute clip titled "Oregon Long Run" that currently has over 300,000 views, begins with Teare feigning indignation at the unorthodox way his fellow speedster Evert Silva eats Kit Kats.
But even if New Generation doesn't represent a new frontier of irreverence (maybe I just haven't seen the right videos?), it nonetheless feels emblematic of a moment where having a robust yet "authentic" online presence is increasingly crucial. Some crusty old timers might be concerned that in this brave new world social media savvy will eventually outweigh competitive performance, but this isn't something the founder of New Generation is particularly worried about. As Crawford sees it, people only care about Teare's take on appropriate candy bar consumption because he can also run a 3:50 mile.
As the New Generation concept has evolved, Crawford has collaborated with several of the Oregon runners on new endeavors, including in-person events for young athletes and branded merchandise. This summer, New Generation put on a camp for very online high school runners that was technically sponsored by On Running, but whose YouTube videos feel refreshingly brand agnostic—probably because most of the camp counselors compete for schools that are sponsored by Nike.
Early this year, New Generation launched its own print magazine, which was partially funded with ad revenue from the company's YouTube channel. The project was spearheaded by Crawford and Matt Wisner, an Oregon runner in his (COVID-induced) sixth year of NCAA eligibility who recently graduated from the university's Masters program in journalism. Last summer, Wisner transferred to Oregon from Duke—a decision he partially credits to watching Crawford's videos, which he says helped "demystify" Oregon's vaunted program. After arriving in Eugene, Wisner and Crawford became friends, finding common ground in their shared belief that track media needs a shot in the arm.
As Wisner sees it, part of the problem is that track and field is "a young person's sport that's mostly covered by older people." (A complaint which, to be fair, could probably be leveled against most professional sports, except for golf or high stakes bowling.) Wisner told me about a recent experience covering the Pre Classic in Eugene, where established media outlets were asking athletes the "same questions to craft the same stories that have been told so many times." While he recognizes that there will always be a need for sober race recaps, Wisner thinks that track would benefit from fresher, weirder stories that aren't afraid to blur the boundaries between capital "J" journalism and fun, frivolous entertainment. The next issue of New Generation's magazine, Wisner was pleased to tell me, will include running-themed erotic fan fiction. (There will also be more traditional running mag subject matter, including a profile of women's running pioneer Francie Larrieu and a Q&A with the ubiquitous Cooper Teare.)
New Generation is of course not alone in its mission to save track and field from terminal geezerdom. There's Citius Mag, the podcast-heavy online venture by noted impresario and aspiring sub-five-minute miler Chris Chavez. When I spoke to Wisner, he mentioned that Aaron Potts, from the podcast duo 2 Black Runners, had recently prompted world-beating sprinter Noah Lyles to do a freestyle rap during an interview. Here was an example of the sort of thing that traditional running journalism doesn't provide.
But can zanier reporting really be track and field's salvation? The sport obviously has other issues—from antiquated athlete sponsorship models, to a professional racing circuit that, despite valiant efforts, still lacks the cohesion of other organized leagues. At the university level, it remains to be seen how the NCAA's loosening of its name-image-likeness policies will ultimately play out, which could potentially impact how New Generation will be able to proceed with the college-specific video content that has been the brand's bread and butter. In addition to Oregon athletes, Crawford's videos have also featured top runners from other marquee programs like the University of Colorado or North Carolina State, who were also training in Boulder while Crawford was there. (According to Crawford, the Colorado and NC State content wasn't monetized because he didn't have the rights to the music in the videos.) None of these runners have received any kind of financial kickback from New Generation, but the company is still benefiting from their teams' name (and logo) recognition to win subscribers. It's an approach that only works as long as the universities don't become hyper-protective about who can film their athletes.
For now, Crawford seems to abide by the mantra that it's better to ask for forgiveness than permission. (He is adamant, however, that the runners who appear in his videos are his peers and close friends—not university assets that he is pilfering for personal gain.) "I think right now is like the Wild West and things are going to change in two or three years when they make adjustments to these NIL rules," Crawford says. "But right now the floodgates are open and it's a free-for-all. We'll cross the bridge of 'Can we do this or not?' when we get there."
Lead Photo: Joe Hale