In Stride
Nike and the Problem with Pro Running Contracts
Alysia Montaño's story is yet another reminder of how contracted endurance athletes often have to choose between having a career and a life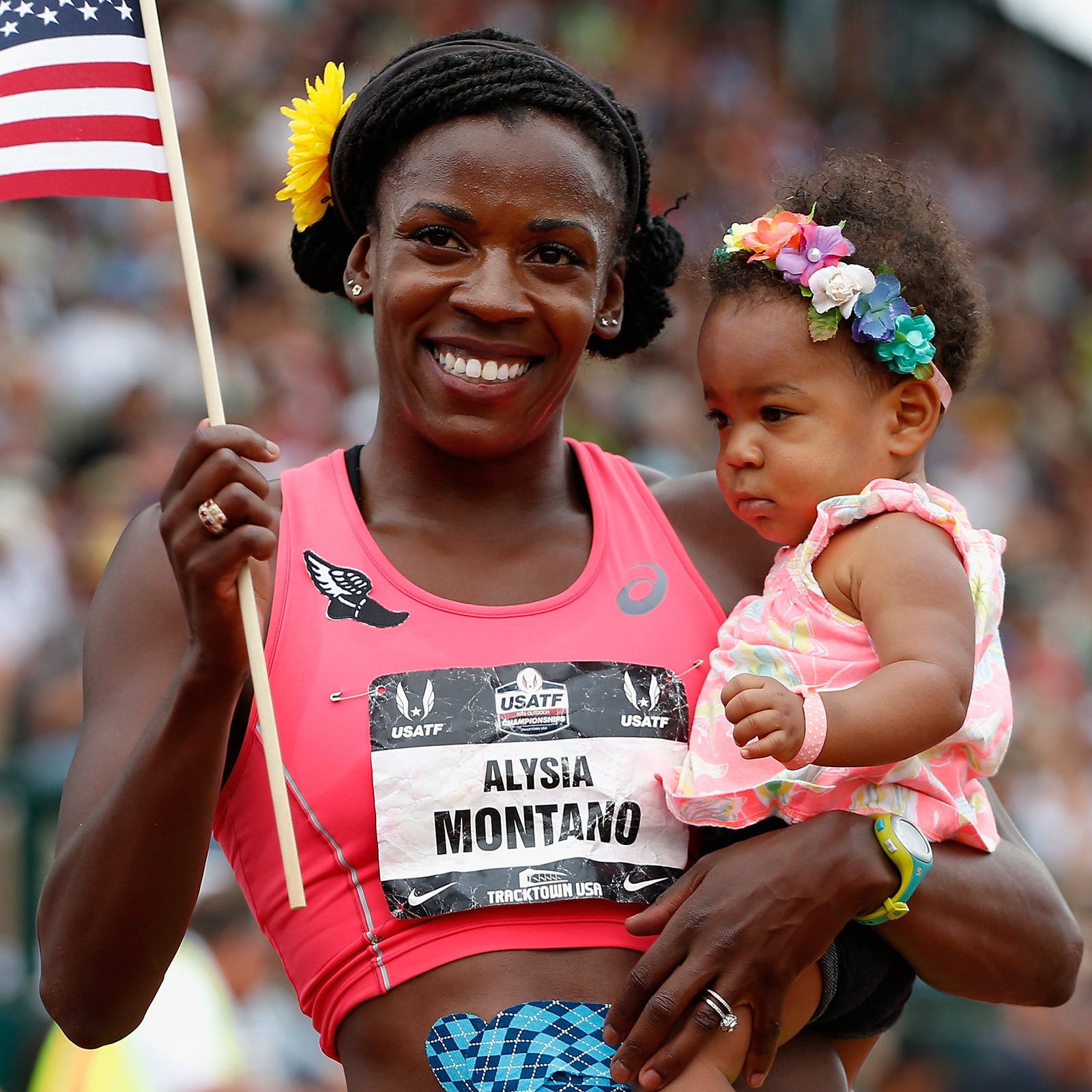 Christian Petersen/Getty(Photo)
Heading out the door? Read this article on the new Outside+ app available now on iOS devices for members! Download the app.
Last weekend, on Mother's Day, the New York Times published an op-ed criticizing Nike for not having a maternity leave policy for sponsored track and field athletes. The article was accompanied by a short video narrated by multiple 800-meter national champ Alysia Montaño, which satirizes Nike's pro-women "Dream Crazier" campaign. For anyone who has been skeptical of Nike's recent foray into performative progressivism, it was a call out that's been long overdue. 
"They tell us to "'Believe in something,'" Montaño says in the video, echoing last year's much hyped Colin Kapaernick ad. "We say: How about maternity leave'?"
Bravo. 
Montaño is a former Nike runner who changed sponsors after finding out that the company would likely "pause her contract" (i.e. not pay her) if she decided to have a baby during her professional career. She switched to Asics and famously competed in the 2014 USATF national championships when she was eight months pregnant—a stunt that was intended to challenge stereotypes around pregnancy and being a pro athlete. Immediately after giving birth, however, Montaño says Asics also threatened to nix her contract if she didn't start competing again ASAP. In February of 2015, six months post-partum, Montaño won a USATF Indoor National Championship in the 600-meters. 
"I was pissed," Montaño says in the Times video, recalling that period of her career.
"I was very upset at the fact that there was not a policy in place that would protect me and I fought tooth and nail to make sure this would not happen to other women."
Last Sunday's op-ed appears to be furthering that cause. The article went viral and, on Wednesday, Montaño appeared on "CBS This Morning." Among other things, the attention has highlighted the fraught economic circumstances of athletes who are independent contractors in a sport that generally only gets noticed by the broader public every four years during the Olympics. Thanks to non-disclosure agreements, these athletes are often not permitted to publicly discuss the specifics of their contracts. As the Times article notes, this mandate of secrecy often serves to perpetuate a situation where athletes get a bum deal—prospective mothers most of all.
 

Unsurprisingly, the Times article hasn't, thus far, inspired any Nike runners to break rank and call out their corporate benefactor. (Call them scabs, if you must, but remember that it's always easier to tell other people—particularly pro runners with families to support—that they should publicly shame their employer when you have no skin in the game.)
 
Meanwhile, over the past few days, runners who are sponsored by brands that do, apparently, offer maternity support, have taken to social media to give kudos to their employer. "While I'm not planning on starting a family now, I'm proud to represent a brand that truly supports women in sport…in all aspects of their life and career," the steeplechaser and Olympic medalist Emma Coburn wrote on Twitter.
Consequently, Nuun Hydration and Burton announced this week that they had updated the language in their contracts in an effort to formalize their pregnancy policies for sponsored female athletes. 
"There is a clear flaw in the system when female athletes are dropped from sponsorship contracts upon announcement of their pregnancy," Nuun stated in their press release. 
But what "system," exactly, are we talking about here? As others have pointed out, the discussion surrounding the options for contracted female runners who are considering pregnancy is part of much broader debate, one which, at its core, is about what kind of society we want to live in. When I read the Times op-ed, I was immediately reminded of Kemoy Campbell, the elite runner who collapsed at a track meet last February and incurred an astronomical hospital bill. Campbell was also a sponsored athlete, but seems to have had minimal health insurance, which unfortunately meant that his family had to start a GoFundMe page asking for $200,000 to help cover his healthcare costs. 
There's the counterargument, of course, that independent contractors don't typically get health benefits written into their contracts, or that nobody forced Campbell or Montaño to agree to such seemingly unfavorable terms. But in the professional running landscape in this country, it's pretty slim pickings when it comes to sponsorship dollars, not least because Nike's behemoth presence in the sport doesn't give athletes (or other brands) a lot of leverage. In case you'd forgotten, thanks to a 500 million dollar sponsorship deal signed in 2014, Nike is an official USATF sponsor until 2040. 
The Times article argues that it's precisely because of this outsized influence in the sport that Nike is an ideal position to set an encouraging example. (The video ends with the line: "So come on, Nike! When are you going to start dreaming crazy?") Given all those recent Nike ads about empowering girls and women, wouldn't the company want to put its money where its mouth is?
Crazy, indeed. 
Lead Photo: Christian Petersen/Getty
Trending on Outside Online