How a Rancher Started the First 100-Mile "Crazy" Foot Race in Montana
Race director Megan DeHaan partners ultrarunning and agriculture to celebrate and protect open space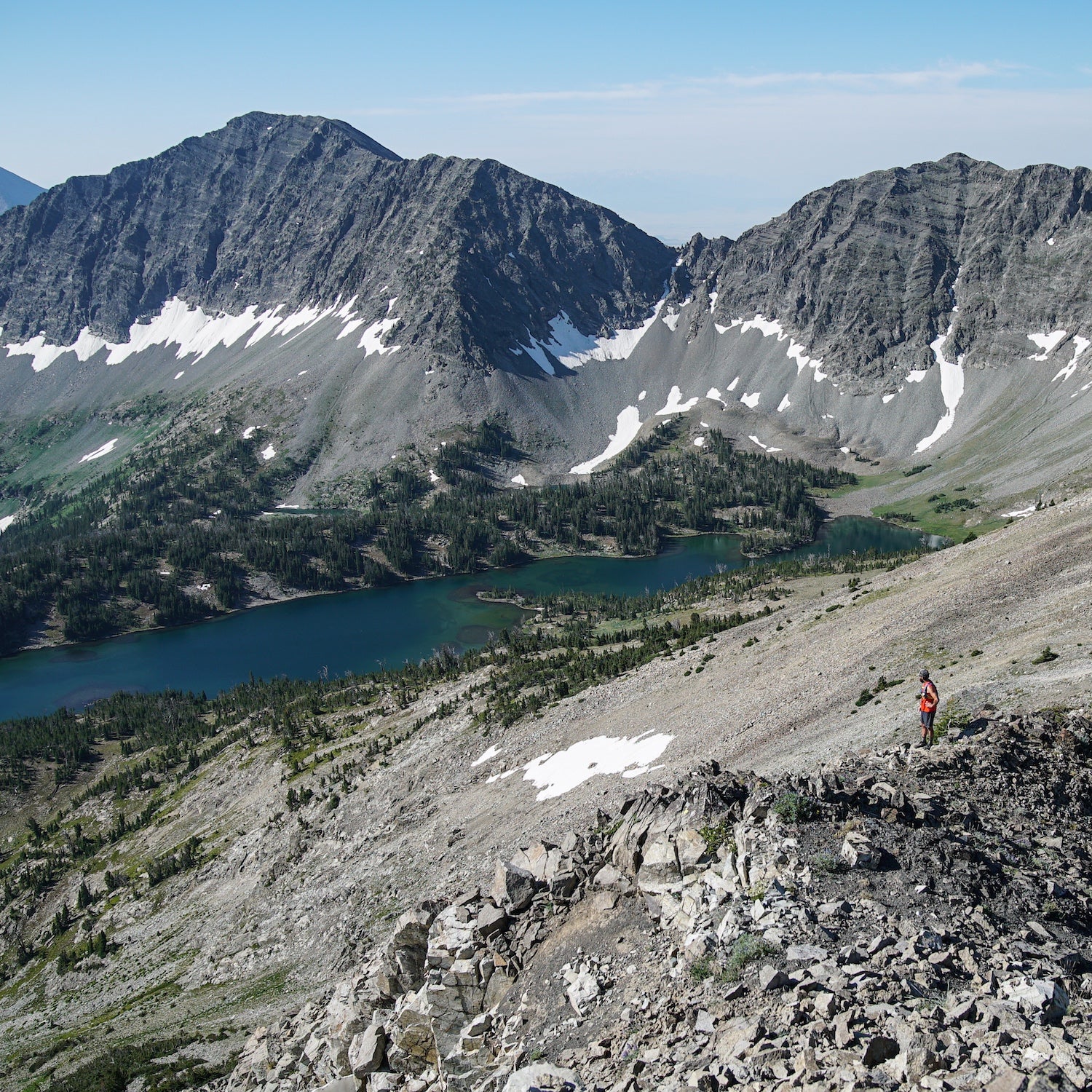 Courtesy Megan DeHaan
Heading out the door? Read this article on the new Outside+ app available now on iOS devices for members! Download the app.
Three seasons exist in southwest Montana: calving, haying, and feeding. Between the all-nighters to bail alfalfa glittering with dew, tagging a sea of 1,870-pound Black Angus cattle, aiding birthing cows, and bottle-feeding dozens of calves, the Crazy Mountain 100 race director Megan DeHaan throws in runs whenever she can—often around 4:30 A.M., when she's not grinding dusk to dawn. It helps that the ultrarunner-rancher's two boys, Cody and Cayson, are now old enough to cook, do laundry, and drive the tractor.
DeHaan, 37, is a rancher, ultrarunner, and race organizer of one of the gnarliest 100-milers in the country. The race, which launched last summer, also happens to be Montana's first 100-mile foot race.
DeHaan didn't grow up running or ranching. She grew up in California but felt a call to be a cowgirl. "I took the first ticket out of the [San Francisco] Bay Area I could find," she says. When she saw an ad for a horseshoeing course at Montana State University in Western Horseman, the 17-year-old left.
That saddle-making school, as well as an animal husbandry job with Trans Ova Genetics, planted her in the world of agriculture. Within seven months, she fell for her now husband, Lance, a fourth-generation Montanan cattle rancher. Now the couple works a large-scale 30,000-acre ranch northwest of Bozeman in the southwest corner of the state. He thinks DeHaan's running hobby is bizarre but offers to join her training on horseback. After all, it's about compromise.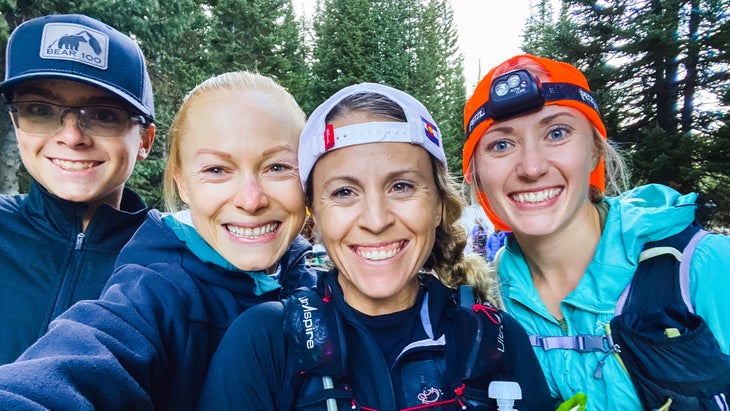 Community and Mental Health in Movement
DeHaan played team sports growing up and, after having her first son, struggled with postpartum depression. She needed a consistent mental outlet beyond ranch labor to combat the symptoms, so on a whim, she signed up for the 2011 Bridger Ridge Run.
After clawing her way through 20 miles and 6,800 of vertical gain, DeHaan crossed the finish line and went straight into half-conscious breastfeeding. Throughout the 20-mile race, Lance had been caring for their son and Cody was ready to see his mom after the long break.
"I had no trail running experience, and the race scared the daylights out of me. I both hated and loved how hard it was, but it was empowering that I did something I didn't think I could do," she says.
Trail running became a healthy addiction. For the past 11 years, Bridger Ridge has been her annual pilgrimage—with the exception of the year she was pregnant—and she became the event's co-race director with friends Boz Boswell and Darryl Baker in 2021. She's also a bow hunter and coaches her youngest's baseball team.
Meeting other runners blossomed into friendships, like with Nikki Kimball, a three-time Western States 100 champion and FKT holder for Vermont's 273-mile Long Trail, who lives in Bozeman. The two initially shared winter miles on the plowed county roads around DeHaan's ranch before eventually sharing time on trails together. "I was blown away at how much fun women running in the mountains can have. While I suffered a little bit, it was really fun," DeHaan says.
In September 2020, she pursued her inaugural 100-miler, Idaho's IMTUF 100. Despite hard-earned training, at the start she experienced a sudden onset of premature labored breathing, muscle fatigue, and an elevated heart rate—and couldn't get her system under control.
"I was walking and hyperventilating. I couldn't figure out what was going on. The race illuminated untreated anxiety I'd been battling, which I assume was also related to my postpartum depression," says DeHaan, whose doctor diagnosed her with anxiety and PMDD (premenstrual dysphoric disorder) and prescribed mild medication for a couple months after the panic attack, to "help her gain control"—which worked.
"I continued to be physically active as part of my own idea of therapy and treatment, until I eventually weaned off the medication when I felt ready to give it a go. I have not gone on medication since. Moving forward, I have been more mentally aware of how and why I become overwhelmed, and I prioritize my mental well being. I don't say yes to everything anymore, and I don't put too much on my plate (as often)," says DeHaan.
Simultaneously, bowing out of the race lit a fire for her to go back and complete the 100-mile distance. DeHaan signed up for—and finished—the Teanaway Country 100 in Washington State a year later. "I loved it. I'll continue to run hundreds as long as I can," she says. Now registered for the 2023 Bighorn Mountain Trail 100 in Wyoming and the Run Rabbit Run 100 Mile in Colorado, she's also putting her name in the hat for the 2024 HURT Trail 100 in Hawaii and considering next year's The Divide 200 in Western Canada.
But Montana is void of a 100-miler race option. Despite being the home of passionate trail runners and some of the country's most competitive athletes—Adam Peterman, Erin Clark, Mike Foote, Jennifer Lichter, to name a few—Montana hadn't yet broken ground on a century race. Why not create one, she thought? Easier said than done.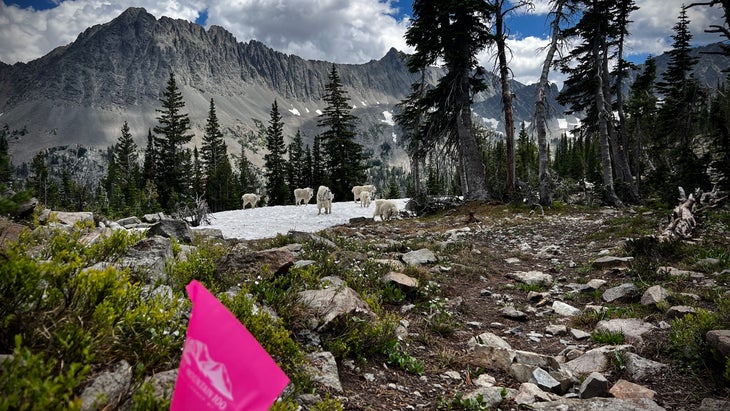 The Creation of a Landlocked 100-Miler
With a dramatic, often snow-capped silhouette, the Rocky Mountains of Montana have been called the Backbone of the World by the Blackfeet Tribe for more than three centuries. Later in the early 1800s, Meriwether Lewis nicknamed the same sparkling view the "Shining Mountains." Ironically, the Land of the Shining Mountains is not the easiest place to develop a human-powered high-alpine event, especially one with elevation gain that rivals Colorado's Hardrock Hundred Mile Endurance Run, which was part of DeHaan's goal.
Nearly one-third of the state is made up of public lands, but half of that federally managed terrain is landlocked by private holdings—nearly 2 million acres, according to the Center for Western Priorities. And though less than 4 percent of the state is nationally protected as a Wilderness area, 13 of those 16 designations within Montana and its encompassed tribal land are in mountainous zones.
After two years of "long nights mapping out rugged mountain ranges, studying the backcountry terrain and public access points, closed doors and a few open ones, and calling [land managers], I was able to put a route together," says DeHaan, who founded the state's debut hundred-mile race in 2022: The Crazy Mountain 100 with an accumulative 23,000 feet of vertical gain and a high point 10,000 feet above sea level.
Dramatic and sharply crowned, the jagged Crazy Mountains rise like an island where the Rockies transition to the Great Plains in south-central Montana. The subrange towers 5,500 feet above the tawny rolling hills and stretches 30 miles, bordered by Yellowstone River in the south and the South Fork Musselshell River to the north. Several theories exist regarding the origin of the name: One account associates "Crazy Mountains" with the convoluted geology of the subrange. Another myth states that a family traveling by wagon was massacred by a tribal band, leaving behind the wife and mother alone and traumatized. The Apsáalooke know the range as Awaxaawippíia, which translates as "ominous mountain."
"The last thing I want is to trespass. It was challenging to find access points that were legal, not contested, and connected to established trails," says DeHaan. "The Crazies are sacred and a focal point for the Crow Tribe or Apsáalooke. I didn't want to disrespect a spiritual place of Indigenous people."
Traditional vision quests of the Apsáalooke, which include prayer and fasting in isolation, still take place in the Crazy Mountains, in addition to the plant gatherings and ceremonies that have been practiced there since time immemorial. One of the most significant quests was that of Plenty Coups (1848-1932), the last named chief of the Crow. According to the interpretation of elders, Plenty Coups's dream revealed that bison would be replaced by cattle, and that the Crow should not attempt war with the white settlers.
By the 18th century, the Apsáalooke had migrated west, from what is now defined as North Dakota, to the Yellowstone River and its tributaries, which span today's Montana, Wyoming, and an upper east sliver of Idaho. Later in the 1860s, colonial settlers pushed west, causing the displacement of tribes, which led to conflict between the Crow, Blackfoot and Dakota Sioux. Before the turn of the decade, the U.S. designated a 38.5-million-acre reservation for the Crow, which initially included the Crazy Mountains, in the 1851 Treaty of Fort Laramie. Though by 1888, a cumulative of 90 percent of the original reservation had been ceded through historic events.
Today, 12 tribes in Montana are federally recognized as nations, and the majority of the Crazy Mountains is federally managed land. Fortunately, following the advocacy of the Apsáalooke, the U.S. Forest Service released an updated Custer Gallatin National Forest management plan, in 2022, that secures protection for the Crazy Mountains including a recommended 9,619-acre Wilderness protection and a 30,641-acre designated backcountry area.
With regards to a race plan, DeHaan sought the counsel of friend, Apsáalooke Shane Doyle, who grew up in Crow Agency in Montana and is a scholar of Indigenous heritage.
"I support the Crazy Mountain 100 because it's held with a spirit of reverence towards the mountains and commitment of respect for the sport of endurance running," says Doyle. "The pros outweigh the cons on this race, because, despite the risks, it brings many people together over the mountains in a way that nothing else can. Everyone who participates in the race, as well as their families and extended communities, are ultimately the best advocates for keeping the Crazy Mountains wild and free, because they understand the amazing power they hold to teach, heal, and inspire all who go there."
For the Crazy Mountain 100, tribe approval was granted and a handful of ranch neighbors were gracious to help and allow access on their property. The race is flanked by fourth-generation Westling Ranch in Wilsall, which hosts the start alongside a powerful Apsáalooke prayer sung by Doyle to bless the day. Fifth-generation Berg Ranch, near Lennep, anchors the finish.
"The history of the mountain range and people that were here before farming and ranching is equally important. Knowing the history gives a deeper appreciation and gratitude for where we're running," says DeHaan.
Teamwork of Ranchers and Runners Builds a 100-Miler
Kari Berg Marks and her husband took over operations of Berg Ranch in 2012. She also co-organizes the The Ranch Run, an annual 25-mile run and relay spearheaded by the Montana CattleWomen. The route traverses the Castle Mountains and three multi-generation ranches to spotlight the value of agriculture and land stewardship.
Kari loves running and so the partnership was a no-brainer. "Berg Ranch hays their field in time for us to set up a camp-style finish along the creek. Westling Ranch lets us use their hunting lodge as an aid station. We love and value agriculture as a way to sustain the planet and be good stewards of the land. A race can positively showcase the reality of good, fertile ground rather than the giant, poorly run factory farms on social media."
Another aid station is situated at the fifth-generation TG Ranch, which received the 2020 Environmental Stewardship Award from the Montana Stockgrowers Association, acknowledging the Voldseth family's focus on conserving water and soil nutrients among other conscious farming techniques. It's "a really well-run cowboy operation," says DeHaan.
Agriculture is woven into the ultrarunning event at every step. With 80 percent of the route on singletrack or above alpine, volunteers set up hundreds of unique flagging: vibrant yellow, reflective cow ear tags imprinted with the race logo, which were donated by Y-Tex Corporation, a company that manufactures livestock identification systems. At the finish-line party, DeHaan serves hand-pressed cow, moose, and elk burger patties locally harvested by her family plus a black bean option. While crossing old homesteads and observing the living history, runners often need to navigate cow-dung.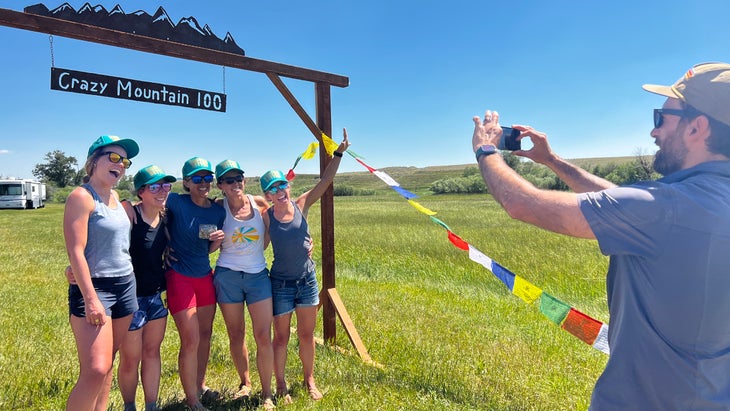 "An athlete complained about stepping in manure, and I laughed. Ruminants like a cow, elk, or deer digest rough materials and their poop fertilizes the soil, contributing to the cycle of growth. Coming across a cow pie is disgusting but it's part of conservation," says DeHaan, adding that preservation of agriculture goes hand-in-hand with safeguarding open spaces and natural resources. "Diverse wildlife and ecosystems exist on ranch lands. We all need to work together to protect our way of life rather than allowing more encroachment and development of concrete landscapes."
To that end, the race collects donations to support agriculture scholarships for female students enrolled in programs such as Montana State University's College of Agriculture or the Farm and Ranch Operations minor at The University of Montana Western. Racers can make a donation at registration or through DeHaan, who works with the Montana CattleWomen organization to designate the grants. Last year's race donations were divided between three recipients, and has already been exceeded for 2023. The race's support and inclusivity of women extends to a pregnancy deferral policy.
"The biggest minority in our field is women," DeHaan says. "The family farm is deteriorating at a very unsustainable rate. The average age of ranchers is getting higher. Land access and the price of property is getting harder to afford. I want to support anyone who wants to get into ag and 100 percent support any female. If we don't, ranching and its land stewardship will be gone."
The first-ever Crazy Mountain 100 recorded 73 finishers (out of the 129 runners who started), many of whom relished in cooling off and recovering in the finish line's free-flowing creek water preserved by Berg Ranch. While the race supports women in sport and agriculture, and ultimately brings ranchers and runners to a shared table of deeper understanding and trust, the event also celebrates the spirit of these local peaks. DeHaan says, "I love having this race for everyone to enjoy in Montana's mountains."
Lead Photo: Courtesy Megan DeHaan
Trending on Outside Online