Top 10 Moments of the Track and Field World Championships in Budapest
The stoke is high for the Paris Olympics after a remarkable nine-day world championships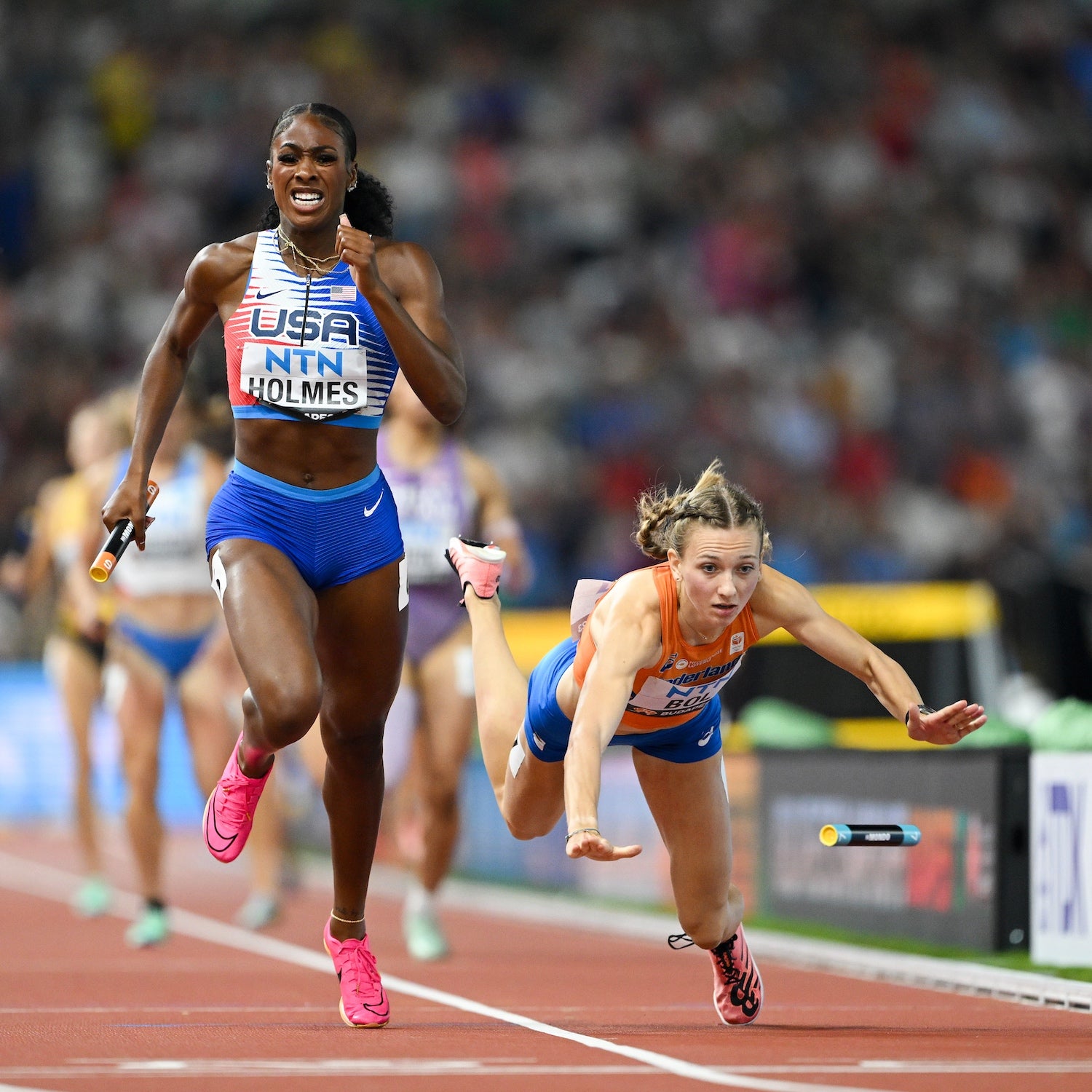 Shaun Botterill/Getty
Heading out the door? Read this article on the new Outside+ app available now on iOS devices for members! Download the app.
For the past nine days, track and field was on display at its best—speed, power, endurance, agility, and some spicy smack-talking—at the 2023 World Athletics Championship in Budapest.
The top stars of track and field—both savvy veterans and newly emerging talents—put together a stunning amalgamation of running, jumping, and throwing performances that gave the first real hints to the action we'll see at next summer's Paris Olympics.
If you didn't tune into the events, here's a quick recap of the brightest moments to know about.
1. Sha'Carri Richardson Is a Soaring Super Star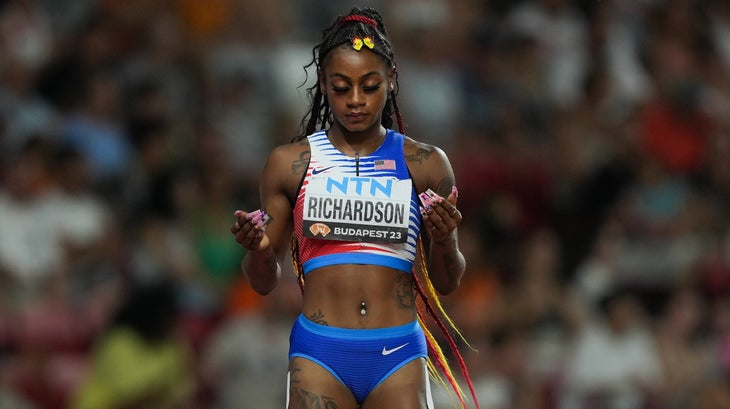 After a few misfires to start her pro career, American sprinter Sha'Carri Richardson set the track on fire in Budapest as she launched herself to the center of the world's stage. The 23-year-old Dallas athlete not only lived up to the hype, but she exceeded expectations by winning the 100-meter dash (10.65 seconds), earning the bronze in the 200 and turning in a clutch performance to anchor the winning U.S. 4×100-meter relay.
RELATED: Sha'Carri Richardson Wins 100-Meter Gold at the World Championships
While her performance in the 100 will get most of the attention—and deservedly so after soundly beating top Jamaican stars Shericka Jackson and Shelly-Ann Fraser-Pryce—her effort in the 200, with a career–best 21.92, showed her grit, dedication, and confidence. Plus, her strong relay leg helped the U.S. set a new championship record of 41.03. Although her 2021 suspension for cannabis that caused her to miss the Tokyo Olympics is behind her, it will be interesting to see if Richardson's new image as a dream-come-true winner can cash in with endorsement deals.
2. Faith Kipyegon Is Definitely the G.O.A.T.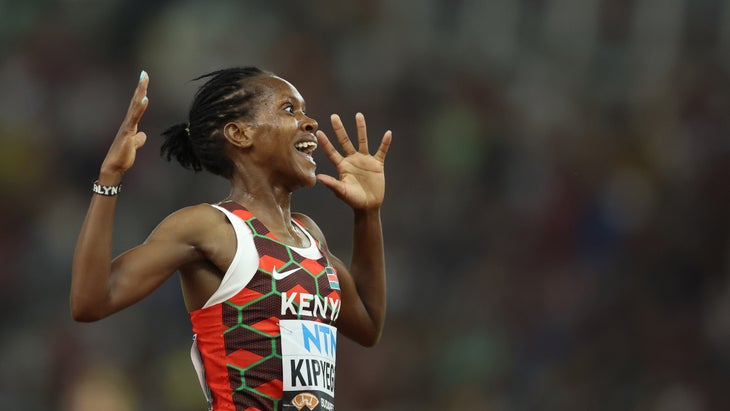 Prior to 2022, Faith Kipyegon, a 29-year-old runner from Kenya and mother of a five-year-old daughter, was probably already the greatest women's middle-distance runner in history. With two Olympic gold medals and in the 1,500 meters and more bling (two gold, two silver) from the past four world championships, she has had few peers on the track.
This year, she cemented her status as the G.O.A.T. by not only setting new world records in the 1,500 meters (3:49.11), one mile (4:07.64), and 5,000 meters (14:05.20) earlier this summer, but she also became the first woman to win both events at a single world championships. On top of all of that, she outran Ethiopian-born Dutch runner Sifan Hassan, the Olympic 5000-meter and 10,000-meter champion, in both events. Kipyegon won't be unbeatable forever, but she'll certainly be the favorite to win Olympic gold in the 1,500 and 5,000 next summer.
3. Noah Lyles Has Become the New Mega Star Sprinter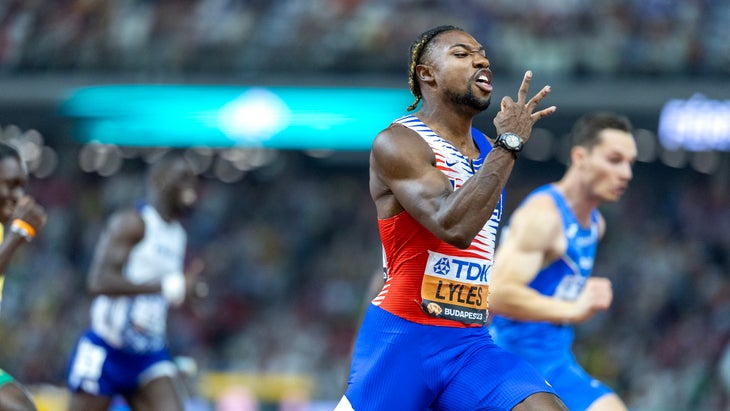 Noah Lyles entered the world championships as the best 200-meter runner in the world, having won back-to-back titles in the half-lap race. But the 200 doesn't carry the same marquee value as the 100, so he lacked hype as one of the world's top sprinters. Fellow American Fred Kerley, who had been talking a big game prior to the championships, was the favorite to win the 100-meters after earning the world championships in the event last sumner. However, when Kerley flamed out in the semifinals, it opened the door for the cool and calm Lyles to blaze the field in the 100 final in 9.87 seconds.
After that, Lyles won his specialty event in 19.52 seconds and ran the anchor leg on Team USA's gold-medal winning 4×100-meter relay. That made him the first man to pull off that feat since Jamaican legend Usain Bolt did it in 2015. Lyles had an exceptional meet, but he's not in the same category as Bolt yet. His times weren't nearly as fast, plus Bolt won all three races at three championships, and also at the 2008, 2012, and 2016 Olympics.
But make no mistake, Lyles—who won all four of his preliminary heats and three finals decisively—is the world's top sprinter now, and heading into next year's Olympics in Paris he'll be chasing the legacy (and times and major endorsement dollars) of the now-retired Bolt. "I think I've said a lot of times that I want to transcend the sport," said Lyles, who is currently the subject of two documentaries and arguably the most engaging character in track. "I am the guy who wants to move past just being 'track famous.'"
4. British Runner Josh Kerr Slayed a Norwegian Giant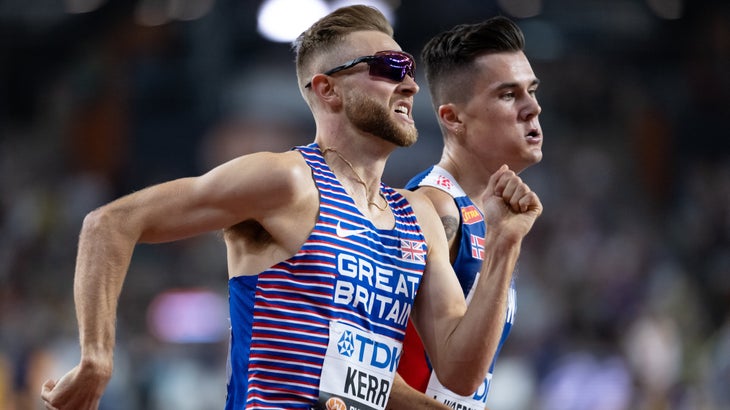 Josh Kerr upset 2021 Tokyo Olympic champion Jakob Ingebrigtsen to win the gold medal in the 1,500-meter gold, marking the second straight year a British runner has taken down the world-leading Norwegian. The 25-year-old Kerr trailed his rival until the final 200 meters before cranking up a big finishing kick to win the race in 3:29.38 over the notably outspoken Ingebrigtsen (3:29.65), who qualified for the final after some showy finger-pointing and waves to the crowd in his semifinal race. It was similar to how Ingebrigtsen, 22, acted last year in his preliminary races, only to lose the final to British runner Jake Wightman in identical fashion. Will Ingebrigtsen learn his lesson before the Paris Olympics? (Just like he did last year, he came back strong and dispatched the field of the 5,000 meters to win that event in 13:11.30.)
Kerr, who trains with the Brooks Beast Track Club in Seattle and is coached by American Danny Mackey, earned the bronze medal at the Tokyo Olympics, but finished a disappointing fifth at last year's world championships. "It's been a long time coming," said Kerr, who won Olympic bronze behind the victorious Norwegian in Tokyo in 2021. "It's quite an overwhelming experience. But I just threw my whole 16 years of this sport into that last 200 and didn't let up until the end. I'd be proud of giving everything I had in that situation if that was [for] gold, silver or bronze. But I've had the bronze—and the gold is a lot sweeter.
5. Dutch Sprinter Femke Bol Gracefully Earned Redemption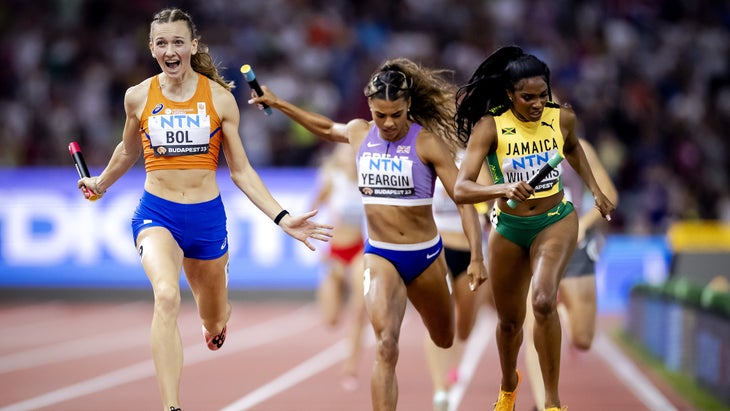 In the absence of 400-meter hurdles world record holder and defending champion Sydney McLaughlin-Levrone, Dutch athlete Femko Bol asserted herself as the new star of the event. But first she had to recover from the frustration and physical pain of falling flat on her face in the mixed 4×400-meter relay. Matching American Alexis Holmes stride-for-stride during the fourth and final leg of the relay, the 23-year-old Bol tripped and fell just a few just meters from the line, dropping the baton and disqualifying her team in the process. Five days later, Bol earned her redemption by flawlessly winning the 400-meter hurdles in 51.70 seconds, the second fastest time in history.
"Everyone thought, of course on paper she's by far the winner, she's gonna win it," Bol said. "But I think the mixed relay showed that it's not always like this, because I think a lot of people thought that when I got the [baton] we would have gold easily and we didn't get it. So I knew I needed to be strong, I needed to execute my race." In one of the last events of the meet, Bol anchored the Dutch women's 4×400-meter relay team to a gold-medal finish in national record and world-leading time of 3:20.72.
6. Grant Holloway and Karsten Warholm Are Hurdling Legends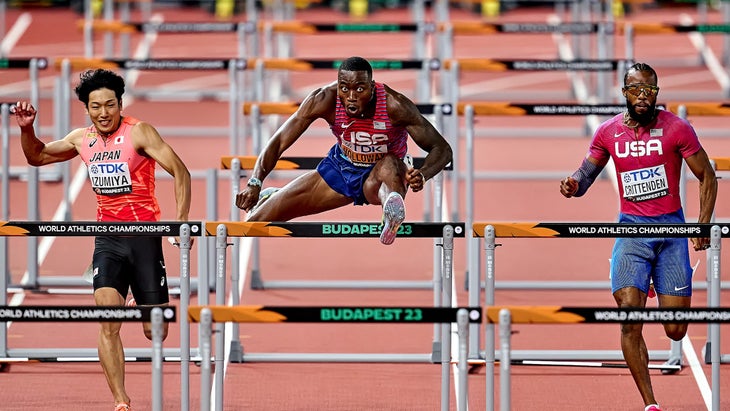 American Grant Holloway and Norway's Karsten Warholm are as dominant at jumping over hurdles as the legends of each of their disciplines. Holloway, 25, won his third straight 110-meter high hurdles world championship title with a dominating effort that led him to a season's best 12.96 seconds. Warholm, 27, also won his third straight world title in commanding fashion, winning in 46.89.
He also won gold at the Tokyo Olympics in 2021, which means he's tied with the great Edwin Moses of the U.S. and Felix Sancez of the Dominican Republic (who each won two Olympic gold, two world championships) with four global titles. Meanwhile, Holloway matched the late Greg Foster, a three-time world champion for the U.S. between 1983-1991, but still trails American Allen Johnson, who won four world titles (1995-2003) and one Olympic title (1996) during his career.
7. Laulauga Tausaga Became The First U.S. Woman to Win the Discus Throw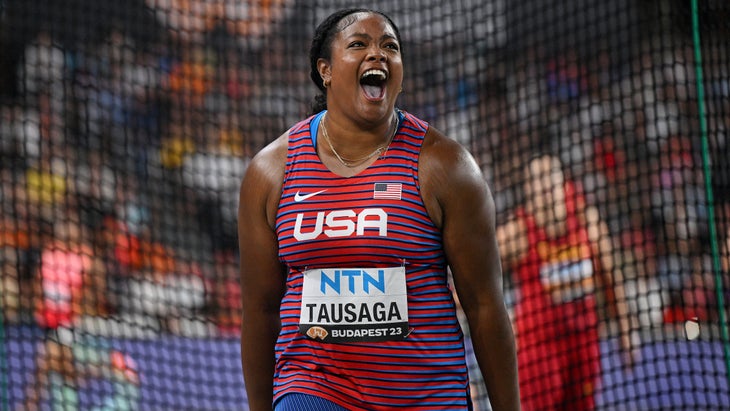 American discus thrower Laulauga Tausaga was born in Hawaii with Samoan roots, but grew up in San Diego and went to college in Iowa (because, she said, it was "time for me to get, you know, locked in in a snowstorm") and now trains in El Cajon, California. Tausaga became the first American woman to win a world championship gold medal in discus, with a career-best throw of 69.49 meters in the fifth of six rounds. That throw, which surpassed her old mark by a whopping 4.03 meters (or roughly 13 feet), vaulted her past teammate and world-leader Valarie Allman, the Tokyo Olympic champion, for the gold medal.
"I just screamed," said Tausaga, who was only ranked ninth in the world entering the competition. "I was like, I don't know how to contain this emotion." Tausaga said she was pained to see the devastation that happened to Maui during the recent wildfire that destroyed the town of Lahaina that killed more than 100 people and left hundreds still missing. "I'm constantly praying for them," she said. "Pacific Islanders stick together."
8. There Were Two Champions in the Women's Pole Vault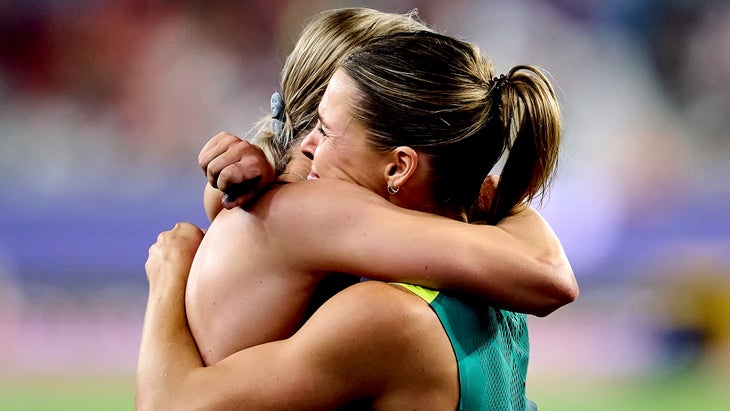 While running races on the track cannot end in a tie because digital timing mechanisms and high-speed cameras can separate finish line times down to the thousandth of a second. But it's different in field events like high jump or pole vault, in which athletes are judged on specific heights attained during a competition.
At the Tokyo Olympics in 2021, Mutaz Essa Barshim (Qatar) and Gianmarco Tamberi (Italy) famously tied for the men's high jump title by agreeing to stop jumping at 2.37 meters. That feel–good moment created a precedent that allowed American Katie Moon and Nina Kennedy to share this year's pole vaulting gold after both cleared 4.90 meters.
"I kind of looked at her and said, 'Hey girl, you maybe want to share this?" Kennedy recounted. Moon, the Tokyo Olympic champion and last year's world champion, certainly did. They both agreed to stop jumping and share the win. "It's funny because, until the Olympics, I never realized you could split a gold medal," said Moon, 32, who is from Ohio but trains in Oregon.
There was only one winner in the men's pole vault, as Armand Duplantis was once again untouchable. The 23-year-old American-born Swedish competitor, who has been pole vaulting competitively since he was six, won his third-straight global title (the Tokyo Olympics and the past two world championships) with a winning vault of 6.10 meters. Like it did at last year's world championships in Eugene, the end of the competition turned into "the Mondo Show" as made three three attempts to clear 6.23, which would have broken the world record he set earlier this year. He narrowly missed clearing that height, but chances are he'll raise the bar again before he gets to Paris next summer.
9. American Shot-Putters Were Best-in-Class
Despite being diagnosed with blood clots in his legs prior to the competition, Ryan Crouser still continued his reign as the world's best shot-putter. The defending world champion, two-time defending Olympic champion, and world record-holder retained his title with a massive 23.51-meter throw on his final attempt, falling just five centimeters shy of his own world record.  The 29-year-old Crouser, who reworked his throwing technique this year, had earlier already extended his own championship best from last year on his second throw (22.98), and was guaranteed the gold medal before his final attempt.
Meanwhile, U.S. compatriot Chase Ealey successfully defended her women's shot put title, winning her second successive gold medal. The 30-year-old Ealey, like Crouser, was competing with a new technique, produced her season-best throw in her fifth attempt to win the gold with a chuck of 20.43 meters (just a shade over 67 feet) to edge Canada's Sarah Mitton, who took the silver with 20.08.
10. Ben Pattison Earned a Medal Three Years After Having Heart Surgery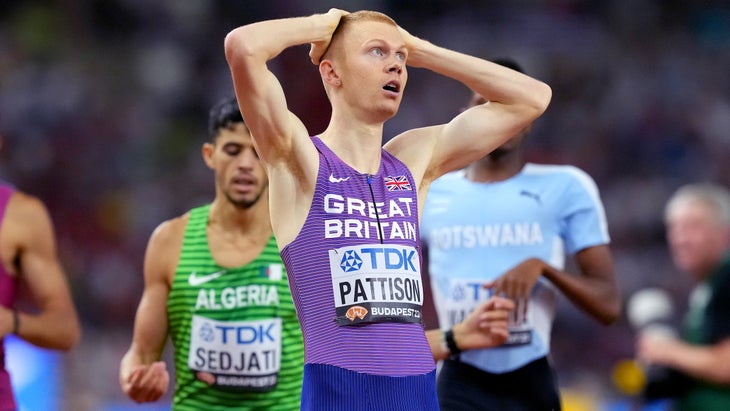 Not all the best stories were based on athletes who came home with gold medals. British middle-distance runner Ben Pattison turned in the best performance of his young career by racing his way to a bronze medal in the finals of the 800-meter run. After the race, the 21-year-old athlete told reporters he overcame a rare heart condition known as Wolff-Parkinson-White syndrome, in which an extra signaling pathway between the heart's upper and lower chambers can cause an exceptionally fast heartbeat.
While he was training in early 2020, he regularly experienced his heart skyrocketing to 250 beats-per-minute and, when diagnosed, doctors told him he had to stop running. During the COVID lockdown, he underwent a surgery in which doctors had to burn off a bit of his heart. "It was a bit scary at the time," he said after the race. "It was during COVID, so I didn't miss out on racing, but I was awake for the whole thing. It was a bit surreal. I was watching it."
Lead Photo: Shaun Botterill/Getty
Trending on Outside Online