Is Running Healthy, or Is It Dying?
Heading out the door? Read this article on the new Outside+ app available now on iOS devices for members! Download the app.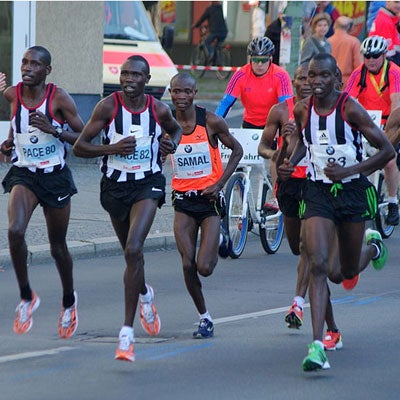 Photo by Dirk Ingo Franke/Wikimedia
Is the dominance of east African runners bad for distance running? That is the implication of a blog post written Monday by eminent running commentator Toni Reavis and titled Distance Racing has Hit the Wall. "Politically incorrect or not," Reavis writes:
the truth is both indisputable and self-evident. The utter domination of distance running by athletes from East Africa, a continuing trend which has seemed to peak in 2011,  has now begun to shrink the sport itself. The atrophy is as evident as in the hollows around Demi Moore's cheekbones.
Reavis, as are many in the running community, is concerned that the sport is not more prominent in the United States. In some sense I share his concern: I derive a great deal of personal satisfaction from competitive running, as a participant and a spectator, and I imagine that other people might also derive a great deal of satisfaction if given better access to races and runners.
But Reavis's post initially puzzled me (unfortunate analogies notwithstanding), because I regard Kenya's incredible year as one of the great achievements in any sport by any country, better than, say, Austria's domination of downhill ski racing or Brazil's domination of soccer. History is being made, and I'm quite excited about it.
But Reavis sees competitive running as a commodity. Or he must, because that is the only metric by which it is not wildly successful. Otherwise, things are humming along nicely: international competitive running has never been more competitive, American competitive distance running has never been more competitive, and more people are running and entering races in the United States than ever before.
If there is one sour note, other than the sport's limited ability to capture the imagination of corporate sponsors, it is that Americans are somewhat less likely to win major marathons than they were in the 1970s and early 1980s. But they appear able to win major track races, and although Kenya has certainly had the upper hand at our major marathons, that door is not exactly closed for an American champion, either.
I would be thrilled if more young Americans could earn their livelihoods as professional runners, if distance-running journalists were better paid (no kidding!), if the sport were given more coverage on national television, or if Ryan Hall were a household name. But relative to running's real value, I'm not sure how much any of that matters. Because running is really about other things—competition, testing boundaries, being fit—isn't it? And by those measures the sport has never been healthier.
I would argue that, on the day of the NCAA cross country championships, which is one of my favorite days of the year, grousing over distance running's failure to make lots of money is badly, badly beside the point.
—Peter Vigneron
@PeterVigneron
Trending on Outside Online