Seven Days in the Desert
DEAN KARNAZES talks about racing in the most extreme conditions on earth.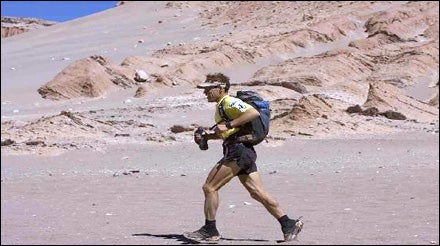 Heading out the door? Read this article on the new Outside+ app available now on iOS devices for members! Download the app.
The Ultramarathon Man wants to be the first person to complete all four legs of the 4 Deserts race series in one year. He survived the Gobi March and the Atacama Crossing, which he won last March. Next up, the Sahara Race—scheduled to begin this Sunday in Bahariya, Egypt—and the Last Desert, at the end of November, in Antarctica.
"My intention is to not necessarily win any of the individual races (the Atacama win was a fluke), but to pace myself to successfully make it through all four," Karnazes said in an email. "I also threw in the Badwater Ultramarathon after Gobi because I wanted to run one of the great deserts in North America."
He took fourth there. Outside caught up with Karnazes just before his departure for Cairo and the 135-degree heat and grueling soft sand of the Sahara.
What's the format of the race?
The 4 Desert series is always the same. They start the race at 8 in the morning, so you do whatever you can to get the finish line. You're on the clock. It's like the Tour de France. You can wait and try to run at night, but the advantage is going to belong to someone who can handle the heat during the day.
How do you plan on tackling the Saharan heat?
I've run across Death Valley in the Badwater Ultramarathon, eight times now. So I have some tricks that I've learned as far as the clothing I wear. Not necessarily being the lightest wicking material, because what I've found is that when the temperatures are getting up around 100, it's better to wear a little bit thicker clothing and actually try to keep it moist. Below those temperatures what you try to do is wick away the moisture to remain dry and get that evaporative cooling effect. But approaching 100 degrees and above, I like to try to keep my clothing moist.
But this has the potential to get up to 135 degrees! What do you do about that?
Then you really want to be wet.
Except you're in the middle of a desert.
Well, you sweat and your sweat is saline so it does create some moisture. Obviously, as well, you try to keep the sun off of you, as much as possible. I use a long-sleeve white shirt, a hat that's got a huge brim, like a legionnaire hat, so I keep the back of my neck pretty sheltered. I have these UV protective pants that I might wear. I'm going to take them. It depends. When it's really that roasting, even with 100 percent UV protective sunscreen, number 60, you can still blister. Because you're still taking the sun on your skin.
The race is 250 kilometers. How fast do you think you can do it?
I hope in under thirty-five hours. The problem with the Sahara is with the depth of the sand. If you were running on a road or dirt, that's one thing, but running through the soft sand, the way you post-hole, it's tough. You've got to wear gaiters, which can create more heat as well, because you're covering the collar of your shoe. You can't have that hot sand coming in to your shoe.

Stage five is the toughest day. At 100 kilometers, it's known as the "Black Desert March." What's your approach?
The same as every other stage: survival.
But this one is more than survival. It's torture.
The long day is always tough, because you're pretty beat up after what you've been through. And to put a long day at the end, as they always do, presents a lot of challenges. I do it in a single push. Even though the conditions are going to be brutal, I still plan on doing it in a single push. I don't plan on overnighting. A lot of the competitors overnight.
You're required to carry most of your equipment with you. What are you taking?
Light and fast. Some of the other deserts we've been to, principally Atacama, got really cold at night, because we were at elevation. The Sahara is a little bit different, because we're not at elevation.
They give you water and a tent. And you share the tent with six other people. So what you need to bring is a pad, your sleeping bag. There's www.4deserts.com/sahararace/documents/SR08_Equipment_List.pdf"mandatory equipment you have to bring. You can choose to bring other things. The top racers go really light. That goes for food as well as what they sleep on. A lot of them don't use sleeping pads at all.
What weight will you be bearing?
I hope that my pack would be under 25 lbs. to start with. And then you eat down a lot of that.
What's your calorie intake per day?
You're definitely rationing. About 2500 to 3000 calories. Not what you'd ideally want. Normally you'd want more calories than that. But the issue is the more you carry, the heavier the pack.
What do you think of your chances of completing all four races this year?
I think they're good. Right now, as far as trying to be the first, I think I'm ahead by 10 or 15 hours, because it's cumulative time. But I'm not looking at that right now. The worst I can do is race hard against some of the elites, like Ryan [Sandes], and not finish. The conditions out there can be dangerous. And if I let my ego get in the way, and really hammer it out with these guys and take some chances—that's the balance of jeopardizing the completion of all of them in one year, versus doing well in this particular one race.
What was the Atacama like?
It was a trippy place. Bizarre. One of the areas we ran through, there's been no recorded rain in 200 years. [Laughs.] Can you imagine? It was like running on the moon. There were no plants, there was nothing living there. Nothing visible, anyway.
Isn't that the idea of the 4 Race series?
It's a cool format. Most ultra-endurance athletes are drawn to extremes. Obviously. You don't run 100 miles unless you're drawn to extremes. This combines the extreme physical challenge of endurance, with the most extreme climates on the planet.
And Antarctica is last after this.
I literally haven't started planning for that yet, because I don't want to get ahead. The worst thing I could do is get ahead of myself. I'm taking it one stage at a time.
Do you prefer extreme cold or extreme heat?
They're both pretty miserable. [Laughs.] To me the cold is a little easier to deal with, because you layer, and I've got a great sponsor in The North Face, so I've got all the right clothing to layer properly, whereas in the heat you can only take off so much.
What's on the menu?
I go with foods that are primarily on the sweeter side. I avoid spices, because I found that if you don't cook the spices all the way through, and there's bits of raw pepper, things like that, those things ferment in your stomach. So I go with dehydrated granola. It doesn't require heating and it's a pretty good load of calories. It does the 40-30-30 thing: 40 percent carbs, 30 percent fat, 30 percent protein. And it's pretty high in calorie content. It's all-natural, with yogurt and berries. That's kind of a go-to; that's what I eat a lot of at home. I don't have to rely on heated water, and I know I'm getting the calories to sustain me. But there's still going to be a negative balance.
How much weight will you lose during the race?
Hopefully no more than 5 pounds, because my body fat is really low. Unfortunately I'll be shedding some muscle weight. I don't have the fat reserves to draw upon. You prefer to burn fat. Muscle is a pretty inefficient fuel source, and recovery is a lot slower when you're turning over muscle tissue.
How can we follow your progress?
Racing The Planet will have live video feeds as well uploads of photos nightly. They have these cool Intel satellite processors with really bomber laptops. I'll be updating my blog and linking to the video on the 4 Desert site.
You mean, you're going to be running 100 kilometers across the desert and then walking into a tent to type a blog?
It's far from ideal. You just want to die. But there's so many school kids who email me and who follow this thing. They're so into it, and they want to live the experience. So I kind of owe it to them. It's such an exotic thing we're doing, and I think it gives people hope. It's an adventure, like living life.
Follow Dean's progress—and that of 170 other competitors from 30 countries—on our blog.
Dean Karnazes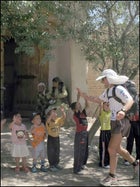 Karnazes gives out some hi-fives.