In Stride
There Will Never Be Another Usain Bolt
The Jamaican sprinter always seemed to be having a great time. We'll miss him.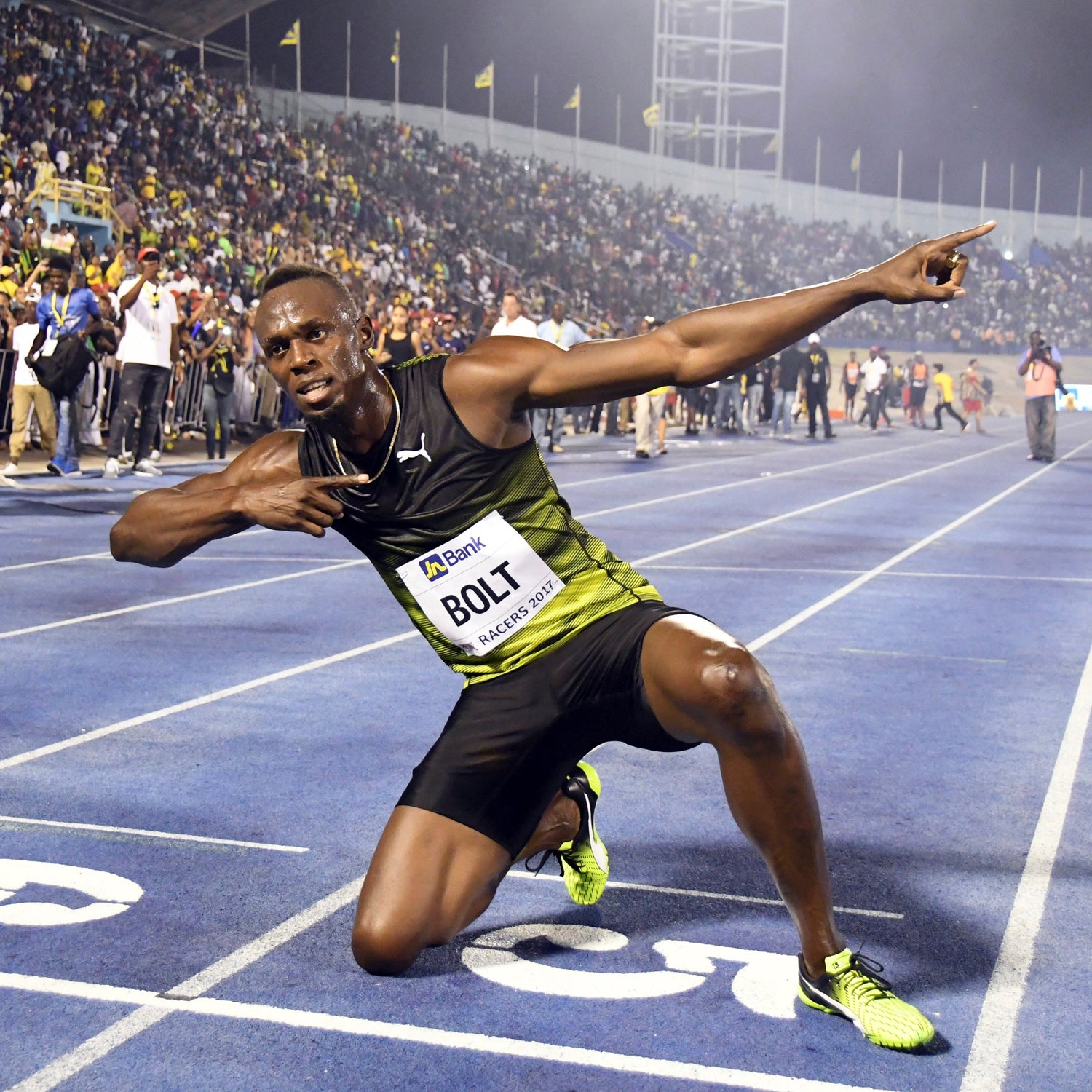 Bryan Cummings/AP(Photo)
Heading out the door? Read this article on the new Outside+ app available now on iOS devices for members! Download the app.
Usain Bolt is retiring at the end of the summer. If that isn't depressing enough, the sprint virtuoso's swan song was already half over by late June. Following easy (if, by his standards, underwhelming) victories in the 100 meters at track meets in Jamaica and the Czech Republic, Bolt will race once more in Monaco on July 21 before calling it a career at the International Association of Athletics Federations (IAAF) World Championships in London, which commence on August 5. Given the athlete in question, it's perhaps only appropriate that his final season feels like it's going by at warp speed, but it still feels kind of cruel. We don't want the show to end.
"I wish Usain Bolt could run for another 40 years. He is going to be missed," Carlos Morgan, a Jamaican fruit vendor, told the BBC following the race in Kingston.
He added, "I don't know what is going to happen to track and field when he retires."
Things do look rather bleak on that front. Along with Olympic gold medalists who fail drug tests and the persistent odor of bureaucratic rottenness, professional athletics will have to contend with losing the world's most effortlessly affable sports star. Bolt is the one track and field athlete everybody knows. His celebrity and talent as a master entertainer made him a one-man bulwark against all that threatened to banish track and field to marketing obsolescence.
"There has been a feeling through the past few years of confusion and scandal that Bolt has basically carried Big Track and Field on his back, at least in terms of its visibility, as something to be sold, able to reach out across the fug and fuzz," Guardian sportswriter Barney Ronay recently wrote, in anticipation of our imminent Bolt-less future.
That grim prospect has naturally prompted speculation about who will fill Bolt's spikes. (Good luck; he's a size 13.) South Africa's Wayde van Niekerk is the current heir apparent. It's not a bad choice. Van Niekerk, only 24, already has Olympic and World Championships gold medals to his name, as well as two world records (300 and 400 meters).
There were times when the race itself felt almost secondary—a brief interlude between the before-and-after party.
But there will always be new gold medalists and world record–setting performances. What distinguished Bolt is that he had (and still has) that rare ability to make feats of athletic supremacy feel part of a greater, life-affirming celebration. All that gyrating in the starting blocks, that hamming it up for the camera, followed by victory laps punctuated with endless "To Di World" poses. There were times when the race itself felt almost secondary—a brief interlude between the before-and-after party. In an age where sports are big business and gazillions dollars are at stake, Bolt is so disarming because he exudes a genuine sense of joy. (For a case in point: Watch his reaction to seeing van Niekerk break the world record in the 400 meters in Rio last summer.) Is there any other athlete who seems to be having a better time? I don't think so.
Of course, the man has had much to be happy about. One has to think that Bolt's perpetual exuberance comes from an awareness of his divine talent; all else aside, invincibility has got to be a lot of fun. Since his ascendency in 2008, Bolt has never lost a race in a major competition—an Olympic Games or IAAF World Championships. (Well, not quite. He was DQed in the 100-meter final of the 2011 World Championships for a false start, proving, effectively, that the only man capable of beating Usain Bolt is Usain Bolt.) It's a record of sustained dominance that we won't see again, and it adds a note of intrigue prior to the championships in London: Following a rusty start to the 2017 season, and now competing as a geriatric 30-year-old, can Bolt do it one more time?
For all that he accomplished over the years, the Bolt moment that perhaps best encapsulates his infectious joie de vivre is his first major victory: the 100-meter final at the 2008 Beijing Olympics. In a race where five out of eight competitors would end up running faster than they'd ever run before, Bolt managed to separate himself from the field to a degree that seemed completely perverse for an event that lasts less than ten seconds. With roughly a quarter of the race still to run, he was already holding out his arms in celebration. That, in itself, would have been completely unthinkable for an Olympic 100-meter final, but Bolt also ended up running a world record time of 9.69 seconds.
Afterward, there was criticism from those, including then-International Olympic Committee president Jacques Rogge, who felt that Bolt's premature display of jubilation was disrespectful. Some lamented (correctly) that had he not given in to showboating, Bolt could have run significantly faster.
But according to Bolt, showboating had nothing to do with it.
"I wasn't bragging," he said at the time. "I was just happy."
Lead Photo: Bryan Cummings/AP
Trending on Outside Online