In Stride
These 80-Year-Old Athletes Will Blow Your Mind
The new photography book 'Racing Age' reminds us that it's a whole lot of fun to be a competitive athlete for life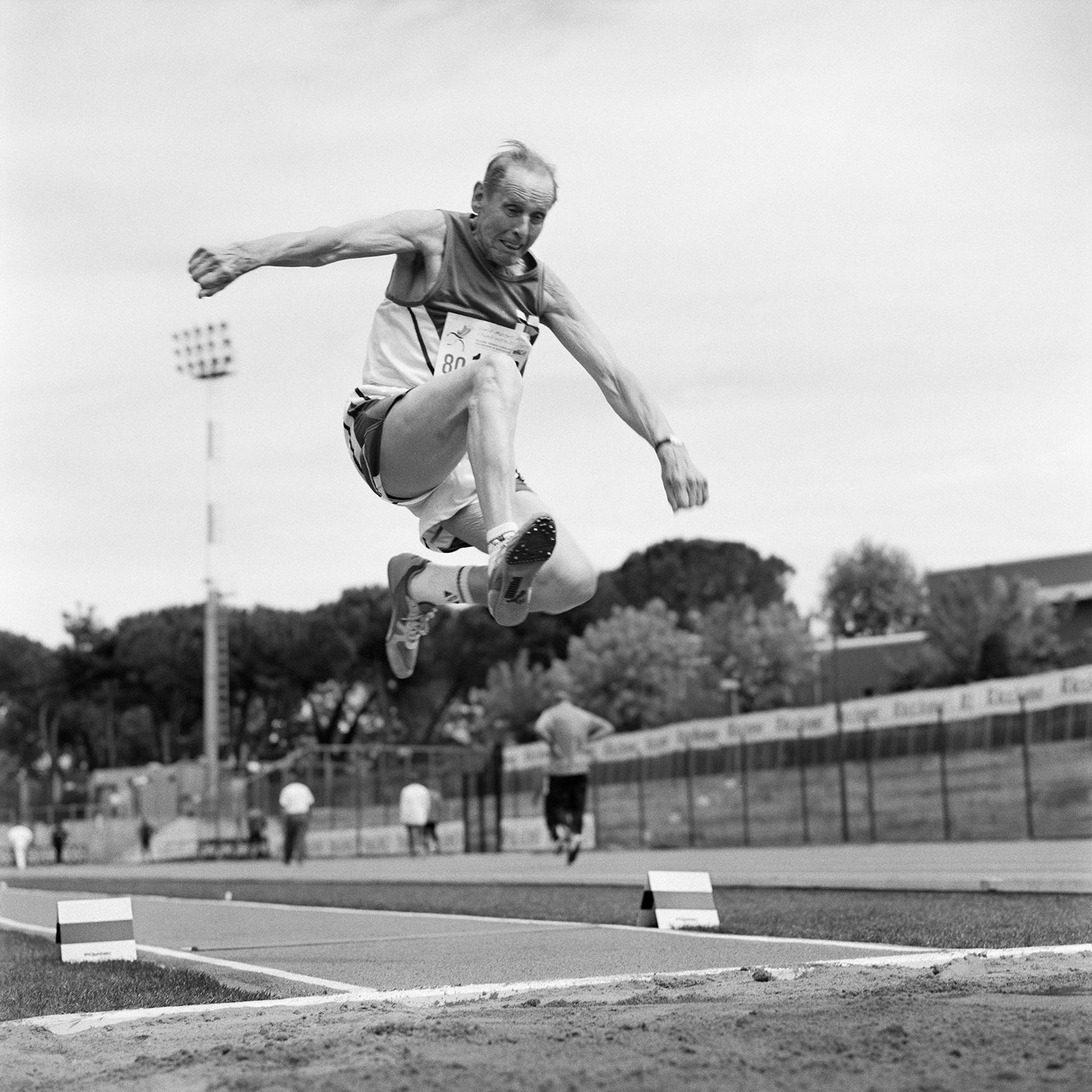 Angela Jimenez(Photo)
Heading out the door? Read this article on the new Outside+ app available now on iOS devices for members! Download the app.
The late American poet George Oppen allegedly once said of getting old: "What a strange thing to happen to a little boy." My dad will turn 72 in April, and it still shocks him whenever someone offers up their seat to him on public transportation.
In Racing Age, a new book by photojournalist Angela Jimenez, the strangeness of aging is brought to life through a series of photographs and short essays on track and field athletes who compete well into their twilight years. A former collegiate decathlete herself, Jimenez has been documenting masters track meets at the regional, national, and international levels since 2007. The subjects of her pictures exude vitality: a 75-year-old pole vaulter is captured in midair; an 87-year-old watches the trajectory of her javelin against the Louisville sky; a Colorado woman, born in 1921, runs a hard 5,000 meters on the track. There's an intensity to these athletes, a sense of purpose that also gives them an aura of defiance—it's easier for us to imagine seniors sitting around the bingo table than flinging themselves, full throttle, out over a long-jump pit.
For Jimenez, going against expectations was part of the point. "I was becoming more aware of images of older people being very stereotypical," says Jimenez about the origin for her project.
"The categories of stereotypes were sort of that older people were sick or vulnerable or kind of cute—I had seen those jokey greeting cards of a grandmother lifting a barbell or something—and I felt, as someone who was just starting to think about age myself, a sense of rebellion against that," says Jimenez. "That's something I'm always interested in doing with photography—countering visual stereotypes and thinking about how is a group of people being depicted in a simplistic way and what could I do to explore that."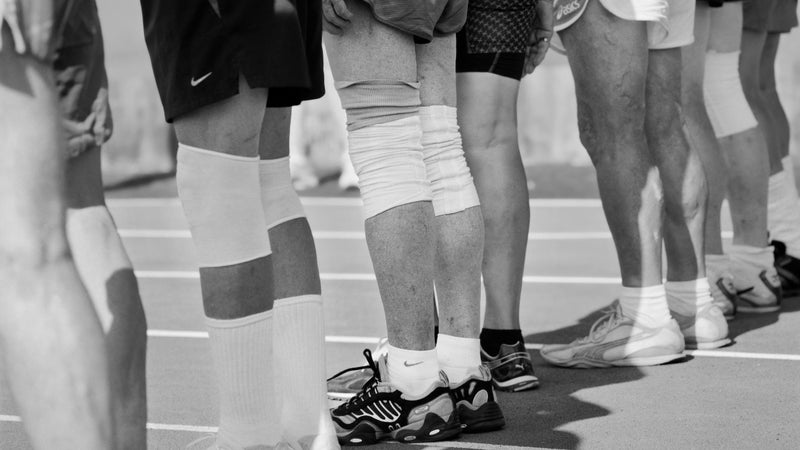 "I found it very visually striking to see these people's older bodies doing things that I had never seen them do before," says Jimenez. "The thing that made me come back to the project over the years and really stay with it was the deeper intensity of the competition and this psychology I saw that I didn't understand. These were people who were taking what they were doing very seriously and competing for reasons that, as a younger person, I didn't understand. It was the mystery of it that made me commit myself to it."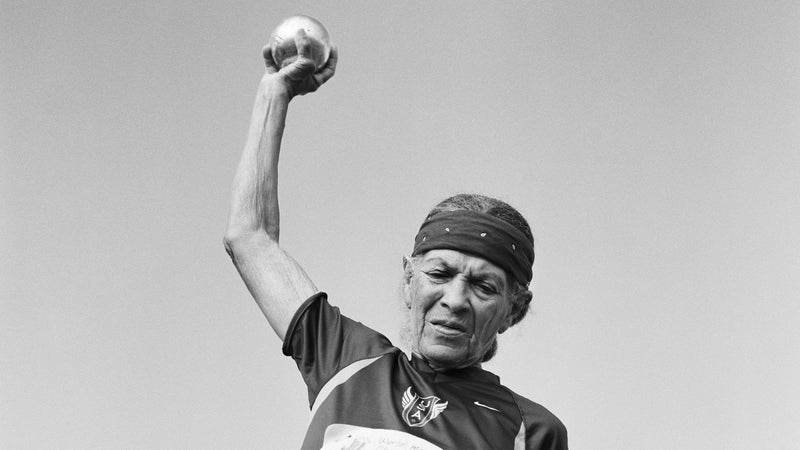 In many ways, track and field was the ideal sport for Jimenez's project. There isn't much gear or clothing involved, and the simplicity of the movements helps bring athletes' bodies to the forefront. "In track [and field], all of the events—running, jumping, throwing—are done by an individual person in a very fixed and controlled environment. I was looking at it, how the mechanics of the events create a way to observe how the body evolves over time," she says.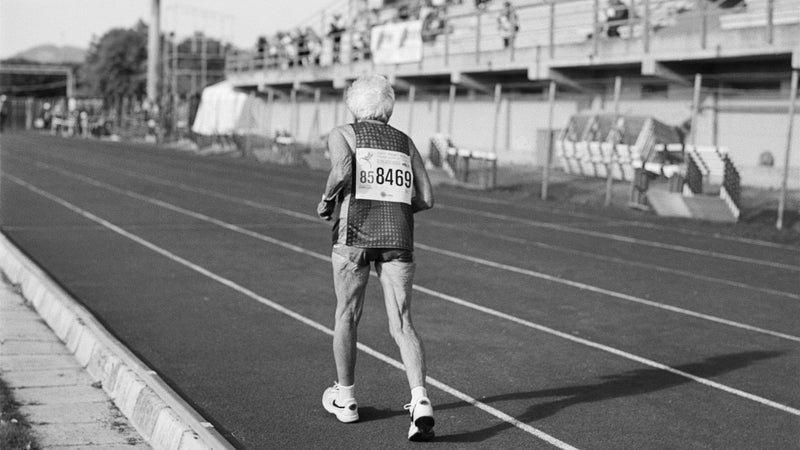 Even though it was the author's intention to portray the subjects of her photos first and foremost as athletes, she admits there were many times when it was unnerving to watch older people push themselves to their physical limits. Louise Adams, the woman in the photo above, later collapsed during this race and required medical attention.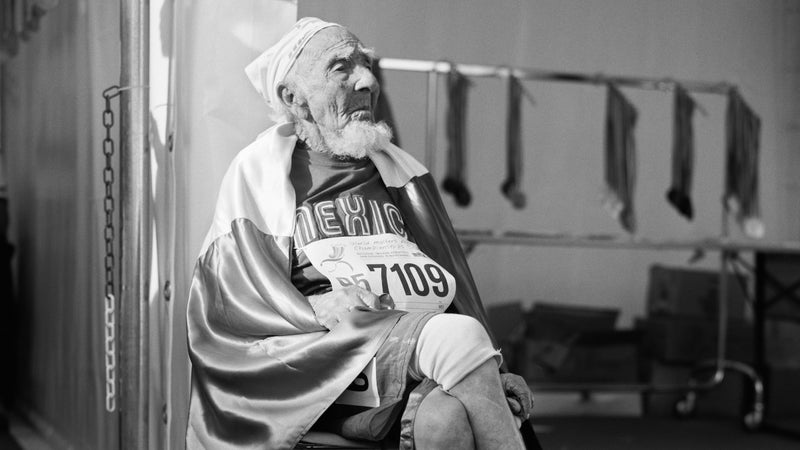 The age categories in masters competitions generally fall in five-year increments. As a consequence, athletes have an implicit motivation to stick with it as they get older. "That pull to make it to the next age group, where you're going to have a competitive edge, is so rejuvenating," says Jimenez. "They are motivated by winning and setting records and constantly looking forward to being the young kid again."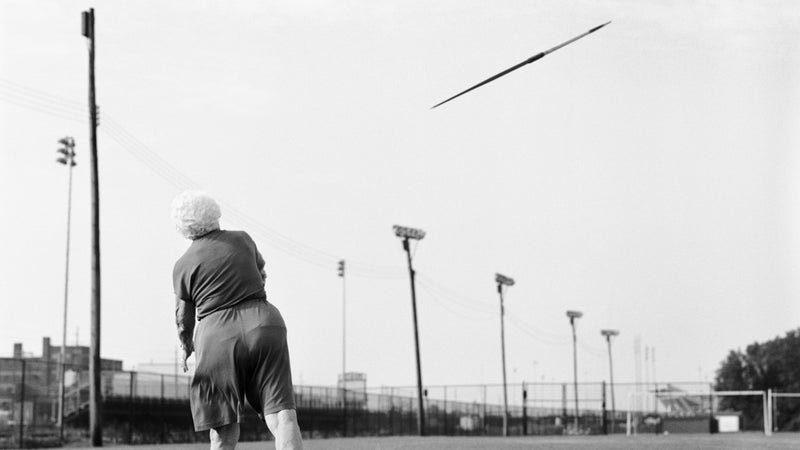 Alongside the photos, Racing Age includes essays that tell the stories of ten of the book's athletes. For Jimenez, it was gratifying to hear older people speak about something that was still vivid and current in their lives, rather than retrospective or elegiac. For these people, their athletic passions are still real and present.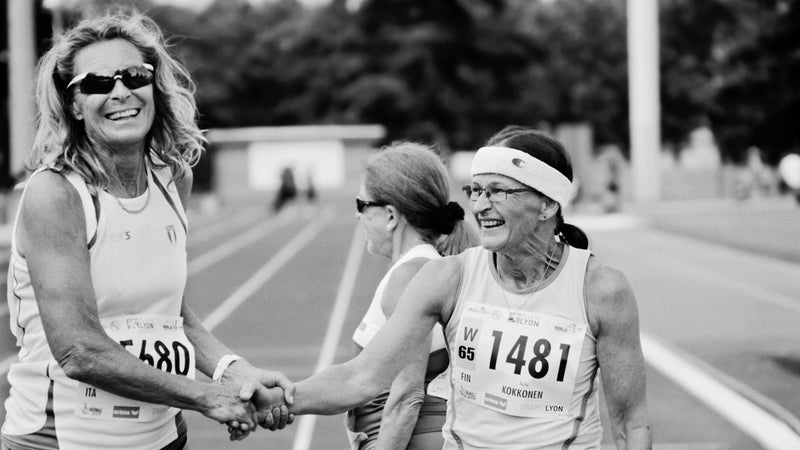 On and off, from 2007 until 2016, Jimenez attended the National Senior Games, the USA Track and Field Masters Championships, and the World Masters Athletics Championships.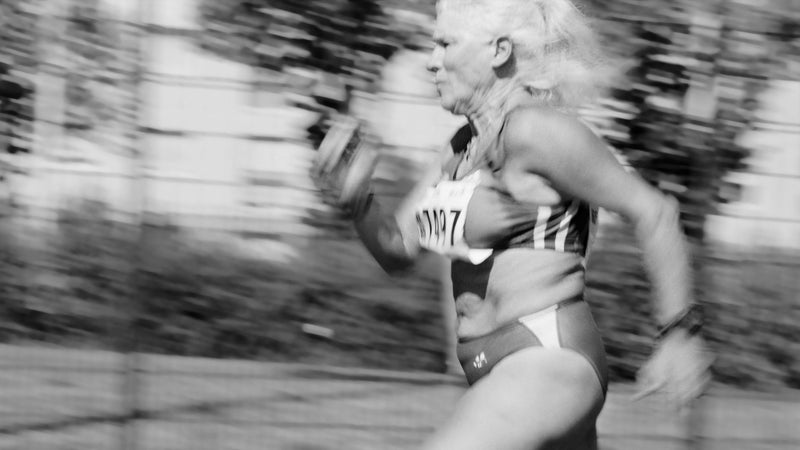 The title Racing Age is an allusion to horse racing (a horse's age determines its competition eligibility), but it also contains a double entendre, since these athletes are all racing against age itself. "That was the mysterious thing for me as a younger person—realizing that people weren't competing against each other, but competing against their own aging process," says Jimenez.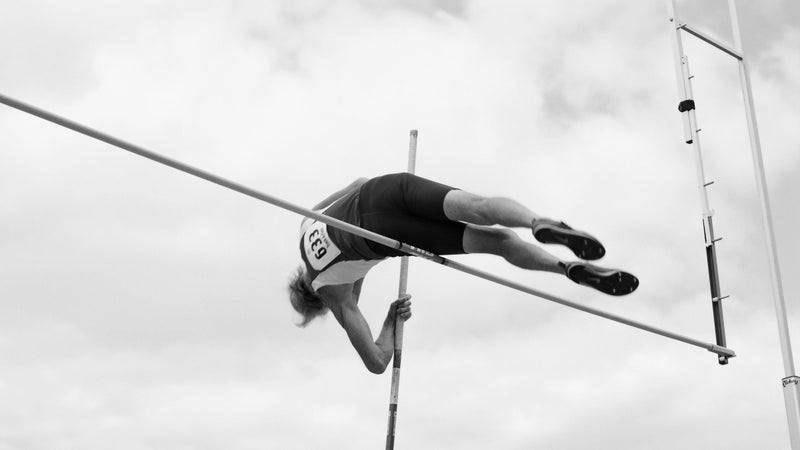 Even though some younger family members might have been concerned about the risks their parents and grandparents were taking, Jimenez says these risks were a conscious, life-affirming choice for many of the competitors: "There definitely is a spirit of choosing a quality of life over safety for some of these athletes."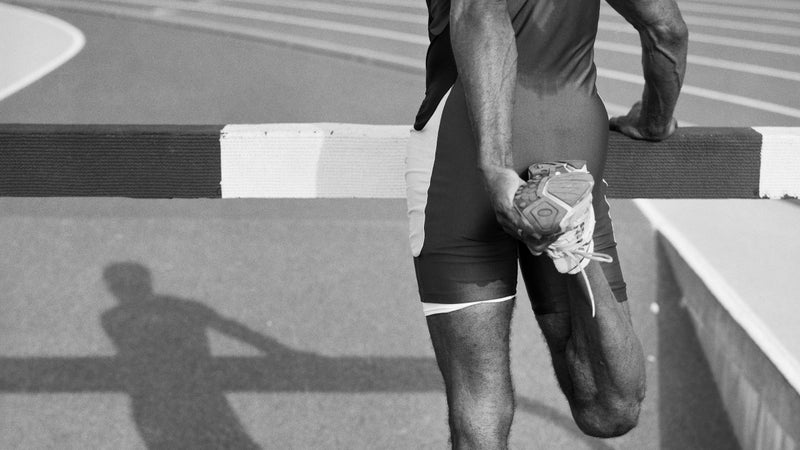 For Jimenez, there was a personal aspect to this project: her father was diagnosed with Parkinson's disease right around the time she started documenting these events. Although her father wasn't particularly athletic, Jimenez noticed a parallel between one particular aspect of his treatment and the masters competitions, where there's always a more senior age category.
"When my dad was diagnosed with Parkinson's, he joined this men's lunch group where he was the youngest person," says Jimenez. "He was in his 60s when he was diagnosed, and I saw the impact it had on him to start spending time with people who are in their 90s. It was very revitalizing and validating—that idea that you could have that much life in front of you."
Lead Photo: Angela Jimenez
Trending on Outside Online