Tips for Traveling Runners
Because before you get to the finish line before you get to the starting line.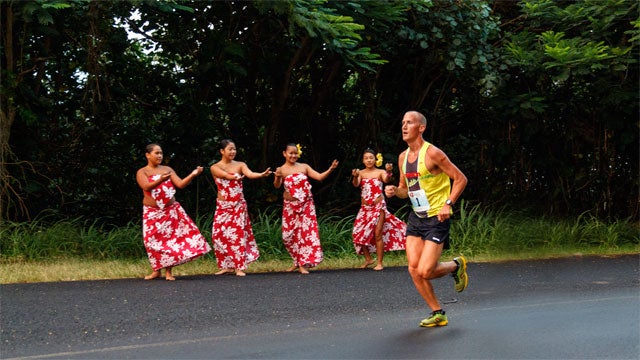 Heading out the door? Read this article on the new Outside+ app available now on iOS devices for members! Download the app.
Professional runner Tyler McCandless landed on Italy's Sardinia island in April to run the Chia Laguna Half Marathon the next day. But after departing the plane, he learned that he had arrived without one important thing: his luggage. He had parted ways with it in Denver International Airport, but alone at baggage claim he realized that he had been stood-up by the roller bag carrying his shirts, pants, and shoes.
"So unfortunately, I had the same clothes for five days until my bag arrived, which was kind of disturbing," McCandless said.
But like any smart runner, his singlet, shorts, and running shoes were safe in his carry-on. This 2:17 marathoner who logs more than 50,000 miles a year flying to races is a pro at traveling, and he shares a few nuggets of wisdom for runners making a long trip to their next race.
#1 CARRY ON your essential gear. You don't want to be sourcing new shoes and shorts the day of your race. So make like McCandless and keep your essentials—singlet, shorts, shoes, and snack—with you. 
#2 COMPRESSION socks and calf sleeves aren't just for the race. They can keep your legs fresh on the plane, too. Like a kinked hose, long periods of sitting can slow circulation, making your legs feel like there's cement coursing through your legs at the startline.
Pro Tip: McCandless prefers compression socks because blood can pool at ankles when you're just wearing the calf sleeves. So take those compression socks out of your bag and on your feet when you're traveling to the race.
#3 PACK A BREAKFAST for race day. When the sun rises on the day of the race, you and tens of thousands of other runners are going to be looking for that bagel with peanut or oatmeal. So instead of standing outside of Starbucks like it's a Soviet breadline, pack your own.
Pro Tip: McCandless packs a packet of Justin's Nut Butter in his carry on because the TSA has taken a jar of peanut butter from him. Justin's squeezable packets are small enough to make it through security.
#4 MAKE DINNER RESERVATIONS months in advance if you can. The secret trick to performing your best on race day is realizing that there is no secret trick. You'll do better if you stay consistent, and that means eating what you normally do before a race when you normally eat it.
#5 PACK A SLEEPING PILL but don't take it the night before the race. It's an easy way for you to feel groggy. An Advil PM comes in handy after the race when the extra caffeine and adrenaline leaves you tossing and turning in bed.
#6 STAY AN EXTRA NIGHT if you're doing a marathon. It can be a challenge to stay hydrated enough to travel on the same day. Don't feel like you have to rush to the airport after crossing the finishline.
Lead Photo: Joe Evans/DaKineImages