In Stride
The Top 10 Women of the Olympic Trials
Keep an eye on these fast women—three of them will be going to the Rio games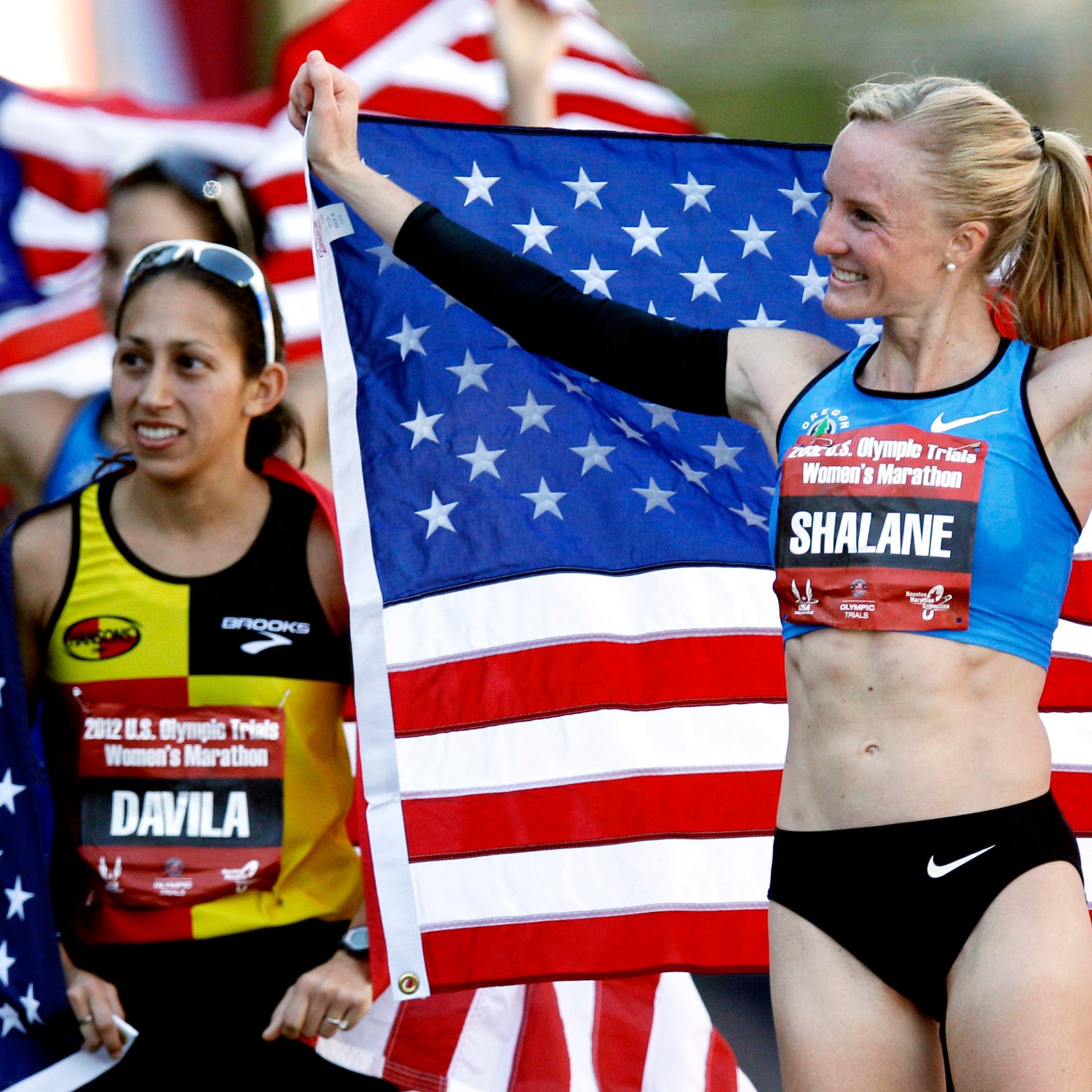 AP(Photo)
Heading out the door? Read this article on the new Outside+ app available now on iOS devices for members! Download the app.
The City of Los Angeles is preparing to host the country's fastest marathoners at the U.S. Olympic Trials on February 13. With eight women running sub-2:30 entry times and 244 total qualifiers, the women's field is the deepest and largest ever. The top ten seeded women by qualification time include the American record holder, the Olympic Trials record holder, four Olympians, and six women hoping to make their first Olympic team. 
#1: Shalane Flanagan
Two-time Olympian Shalane Flanagan (Nike) ran 2:21:14 at the 2014 Berlin Marathon to take third place and become the second fastest American woman of all-time. She is not only the top entrant in 2016, but also the U.S. Olympic Trials Marathon defending champion and event-record holder. In 2012 she finished 10th at the London Olympic marathon.
Flanagan, 34, won Olympic bronze in the 10,000 meters in 2008 at the Beijing Games where she also set the American record in 30:34.49. The Bowerman Track Club athlete returned to the track in 2015 placing 5th at the World Championships in the event. Flanagan will be competing to make her third Olympic team at the trials this year and will be toeing the start line with her new teammate and training partner, Amy Cragg. "I just thrive on a team environment and having someone to kind of share this journey and process," Flanagan said in a press conference.  "I was very fortunate that Amy wanted to join me on this journey. We have the same goals, and that is to be in the top three." 
#2: Desiree Linden
Olympian Desiree Linden (Brooks) will be competing to make her second Olympic team in the marathon. With a 2:23:54 qualifying time from the 2014 Boston Marathon, Linden is the second fastest entrant. She holds a 2:22:38 personal best from the 2011 Boston Marathon. Most recently Linden dominated marathon racing with top American finishes at the 2014 New York Marathon and 2015 Boston Marathon.
The Hansons-Brooks athlete says it's an exciting time to be an American distance runner. Linden, who will be 33 on race day, expects the competition to be deeper than ever before. "2:25 is the new 2:30," she jokes. But it's not the race that Linden is most looking forward to. "I love the three- or four-month build-up where you slowly build into it and you pile on day after day after day," she says. "I've never gone through a segment where I have not learned something about myself, or had to overcome something and felt better about it on the other side. It's a real process of self improvement."
#3: Amy Cragg
Olympian Amy Cragg (Nike) earned a spot on 2016 U.S. Olympic Trials Marathon start list with a fifth place finish at the 2014 Chicago Marathon where she tied her personal best in 2:27:03. The newly married Cragg (formerly Hastings) will be 32 years old on race day. She recently made the move West, switched sponsors, and joined the Nike Bowerman Track Club where she trains with Shalane Flanagan.  
After finishing fourth at the 2012 Olympic Trials Marathon, Cragg went on to earn a spot on the Olympic team by winning the 10,000 meters on the track. 
#4: Deena Kastor
Deena Kastor (Asics)—the American record holder, Olympic bronze medalist, and three-time Olympian—ran her personal bests in 2006, setting American records in in the marathon, 2:19:36 and half marathon, 1:07:34. More recently, Kastor, 42, broke the masters world record in 1:09:38 at the 2014 Rock and Roll Philadelphia Half Marathon and the masters American record in 2:27:47 at the 2015 Chicago Marathon. 
Even after her performance in Chicago, Kastor was unsure if she would compete in the trials. But in helping her ASICS Mammoth Track Club teammates prepare, she remembered the spirit of the Games and decided to toe the line alongside her training partners. "The U.S. has great depth and I think it is due to runners training in groups to push each other's abilities and also the use of altitude," Kastor says. "My fastest days are behind me, but I am exploring how to be tougher, more resilient, and more determined than ever before."
#5: Serena Burla
Serena Burla (Mizuno) ran a personal best 2:28:01 at the 2013 Amsterdam Marathon. Burla, 33, was the top American and 10th place overall at the 2015 World Championships Marathon in Beijing. "I was honored to represent the United States. The World Championships was a really good learning experience for me," she said. "It was an opportunity to practice championship style racing and help prepare me for various race scenarios." 
"Every marathon my hope is the same—that I cross the finish line knowing I gave it everything I had," she said. 
#6: Annie Bersagel 
Annie Bersagel (Under Armour) ran her fastest marathon in 2:28:29 for the win at the 2015 Dusseldorf Marathon. The 2013 U.S. Marathon Champion ran a personal best at the 2014 World Half Marathon Championships and finished as the top American in 1:10:10. 
The 32-year-old international lawyer lives and trains in Norway, but loves to come home to compete. "I try to schedule it so that I can see my family while I'm in the country," she says.  "(Competing) is a great excuse to come home." In preparation for the marathon trials, Bersagel scaled back to work part-time, but she still enjoys having a job.  "I find that working gives my day structure and something else to focus on outside of running," she says.
#7: Kellyn Taylor 
In her debut marathon, Kellyn Taylor (Hoka One One) ran 2:28:40 at the 2015 Houston Marathon to become the sixth fastest American female debutante in history. In 2012, Taylor competed on the track in the 10,000 and 5,000 meters at the U.S. Olympic Trials. She enters her first marathon trials as the seventh fastest entrant. 
"I am really looking forward to the (trials) atmosphere," she says. "I am also really looking forward to grinding it out in the front pack with some amazing ladies and seeing how things play out." No matter the outcome, Taylor, 29, will be celebrating with a move into a new house with her husband, daughter, and four dogs. "That could be a really good week if things go well at the trials!" she says. 
#8: Lauren Kleppin 
Lauren Kleppin (Hoka One One) ran a personal best 2:28:48 for third place at the 2014 Los Angeles Marathon. A few weeks earlier, Kleppin placed second at the 2014 U.S. Half Marathon Championships, which earned a her a spot on the World Half Marathon Championships starting line where she finished as the second American in a personal best 1:10:16.
Kleppin, 27, credits her continued success in the sport to a college art professor who handed her a life-changing poem and encouraged her to spend the summer working as a river rafting guide. That job led to subsequent work as a ski lift operator, a marina girl, and sports bar waitress. "Ultimately all these experiences, far removed from the track or roads, led me back to running, but with a mental girl scout sash full of badassery that gave me the confidence and spirit to risk it and compete with the very best," she said.
#9: Becky Wade 
Becky Wade (Asics) did not run competitively immediately after graduating from college. Instead, she traveled the world exploring running cultures for a year on a Thomas J. Watson Fellowship. Since her return to competition, Wade ran 2:30:41 in her debut at the 2013 California International Marathon. In 2012 she competed at the Olympic Trials in the steeplechase.
Wade, who will turn 27 a few days before the trials, is currently writing a book about her year abroad—Run the World, will be published by HarperCollins in July, 2016. "It's been a very challenging but rewarding process, and a great excuse to reconnect with tons of people that I met on my trip," she said. "I gained an immense amount of respect for authors of all types through this process, and have also brought my self-discipline to new levels."
#10: Sara Hall 
Sara Hall (Asics) cemented her place among the top ten entrants by running 2:31:14 at the 2015 Chicago Marathon. The 2012 U.S. National Cross Country Champion and Pan American Games gold medalist has represented Team USA at numerous World Indoor Track and Field Championships and World Cross Country Championships. Hall, who also ran personal bests in the half marathon and 10,000 in 2015, will be competing in her first U.S. Olympic Trials Marathon this year. In 2012 she competed at the Olympic Trials in the steeplechase.
Sara and her husband Ryan recently adopted four sisters from Ethiopia. If anything, Hall says the challenge of parenting has complimented her training. "It has been a really fun adventure and we are so blessed by our girls," she said. "I am thankful that since having the girls I have gotten in some of the best training of my life, something I didn't assume would be possible. They are amazing—Ryan and I are definitely the lucky ones."
Lead Photo: AP
Trending on Outside Online