Why Ankle Injuries Can Have Long-Lasting Effects
Ankles are foundational for running and ankle injuries aren't as minor as we have been taught to believe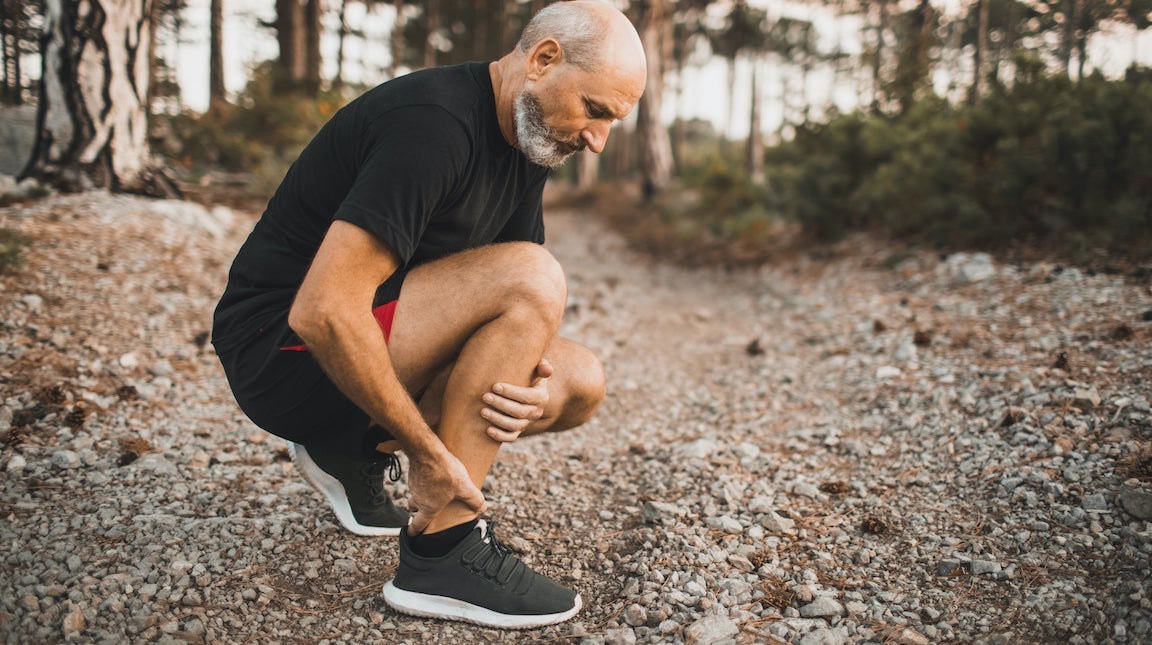 Heading out the door? Read this article on the new Outside+ app available now on iOS devices for members! Download the app.
The first time I sprained my ankle, it was quickly followed by a stress fracture and weeks of hobbling around. And for months after my ankle injuries finally healed, while swearing that everything was better, it seemed like I could constantly feel new injuries coming on—weaknesses I was susceptible to because of that ankle.
It turns out I wasn't imagining things.
Though many of us have been taught that you can shake off a twisted ankle, that's not really true. Studies are now finding that the ankle is, quite literally, the foundation of an athlete. An injury to your ankle can have long-lasting consequences.
"What we're realizing is it's a much more serious injury," says Mike Turner, an associate professor at University of North Carolina, Charlotte. Turner and his wife, Tricia Hubbard-Turner, have authored a number of recent studies on the long-lasting effects of ankle injuries.
"It's not a one-off. There are significant consequences," adds Tim McGuine, a senior scientist at the University of Wisconsin School of Medicine and Public Health. A study of college-age athletes who had suffered multiple ankle sprains in the past found that they were markedly less physically active than their peers, even taking fewer steps over the course over a day. It's almost like their brains simply didn't want to over-stress those historically hurt ankles.
The issue is two-fold. We're only starting to understand the long-term consequences of these mobility-impacting injuries, says McGuine. Similar effects are being seen with recurring knee issues and their long-lasting impacts. The second problem is that the ankle is so fundamental to the entire body's operation, especially in running. It's weight-bearing, and the constant force on your ankle makes it hard for the joint to heal. That's why Turner and his wife have made the ankle a focus of so much study. "She would say the ankle's the most important joint in the body," he admits.
According to Turner, even after ankle injuries start to heal, your brain begins to re-wire neurally and your body compensates in ways you may or may not realize. "You end up running differently, walking differently," he explains. Video analysis has shown those changes can be fairly significant.
It doesn't take a ton of research to realize an ankle injury can result in a whole new set of injuries. Researchers are finding that even these "small" injuries—ankle sprains, twists, fractures—can result in significant drops in a person's quality of life even a year later, per all measures on standard surveys. People find that it's slightly harder to walk up the stairs or do activities that require ankle mobility. Subconsciously, they even avoid things that might cause another twisted ankle.
That's because a twisted ankle isn't as small an injury as we may think.
When you badly roll your ankle or sprain it, you're essentially tearing or stretching the ligaments, which causes scar tissue to form, says McGuine. Scar tissue, in turn, affects your mechanics and functionality. Different studies have found re-injury rates between 40 and 70 percent, and many people struggle with long-term ankle instability for months or even years.
But, says Turner, it's not yet clear what makes someone more prone to long-term ankle instability or even to ankle sprains in the first place. The vast majority of sprains are caused by people rolling their ankles out—as opposed to in—and very few ankle injuries are actual bone fractures.
What is clear is what you can do about it once it happens. Let it heal, says Turner, as in, don't try to shake it off or run through it. Go to a sports-focused physical therapist or doctor who can watch how your whole mechanical chain works and make recommendations, says McGuine.
There are also a number of exercises that have been shown to improve ankle strength and mobility. The problem, however, says McGuine, is that a lot of ankle rehabilitation exercises or strengthening exercises—such as calf raises or pulling a band in and out with your foot—tend to move in straight lines or just two to three planes of motion. "But ankle injuries don't happen in a straight line," he explains.
Instead, balancing exercises and exercises that work the muscles in the bottom of the foot are more effective. These can be fairly low-tech, McGuine says, such as balancing on one foot with your eyes closed. Then, progress to standing on an uneven surface—even something as simple as a pillow—because it forces your ankle and foot to compensate. Finally, you can try one-legged knee bends.
There's also some evidence that bracing or getting your ankle taped by a trained professional can help stabilize it and prevent re-injury, says McGuine, but that doesn't really address the fundamental underlying issues.
"If you don't do your exercises for 5 to 10 minutes per day, then all the bracing in the world isn't going to help," says McGuine.
From PodiumRunner Lead Photo: Getty Images