15 Weeks Out From New York City/ Scott Fauble's Marathon Training
Scott Fauble and coach Ben Rosario share details and insights from a week of training early in the season leading to a 7th-place, 2:12:28 finish at the 2018 New York City Marathon.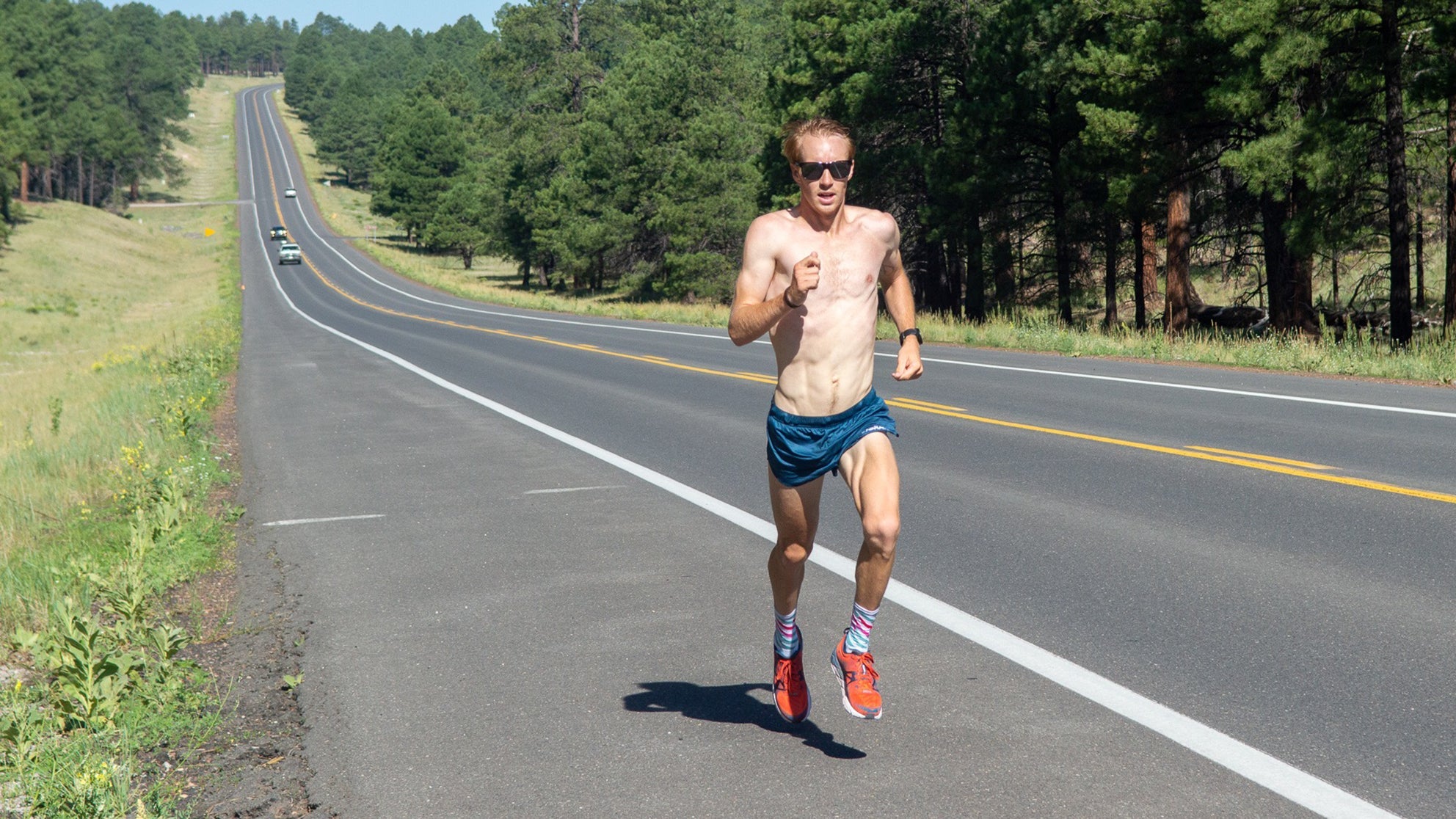 Heading out the door? Read this article on the new Outside+ app available now on iOS devices for members! Download the app.
This particular excerpt from Inside a Marathon is one that I definitely believe runners of all ages and abilities can relate to. First of all, the title of the chapter is, "Still a Little Blah." And who can't relate to that? It's early in the segment. There are still 15 weeks to the race so it doesn't seem close yet. It's tough to have the adrenaline you'll have later in the season. It's also summer and it's hot, which isn't too fun either.
I just think Scott does a great job explaining how all fall marathoners feel at the end of July. From my end, as a coach, even though I can understand all of the above, you can tell I am feeling a little antsy as well, which I think is a common trait for coaches at this stage in a segment as well—even though we try not to show it.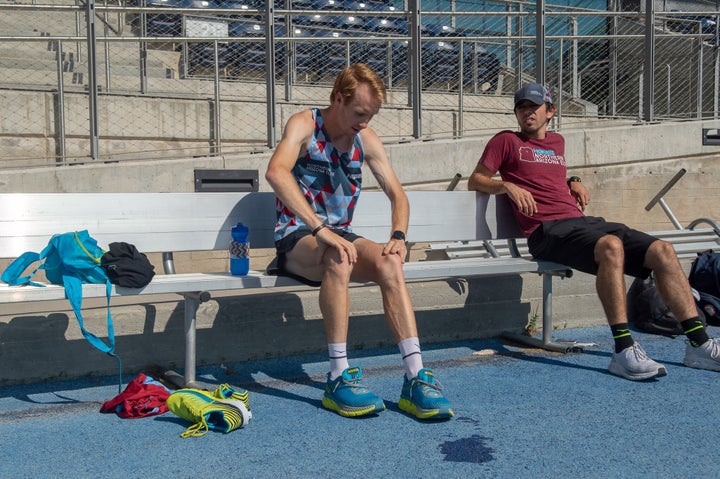 Inside A Marathon was a project that Scott Fauble and I began working on in the summer of 2018, with about 20 weeks to go before the TCS New York City Marathon. The vision for the book was that Scott and I would each write a recap of the week from our own point of view; good, bad or otherwise, and that we would not look at one another's entries until after the race.
So at it's simplest you could call it a detailed training log, but we both believe it reads a lot more like a journal. We share everything and hold nothing back. There are highs and lows, as in any training segment. There is a fair bit of humor (mostly from Scott). And there is one heck of a climax in the form of the race itself. Now that it's all behind us, and we've produced the book that we wanted to, we've been blown away by the response of the fans. People seem to have truly enjoyed it; serious runners and non-serious alike. That's pretty darn cool because it shows that the story holds up.
—Ben Rosario
"Still a little blah" (July 23 – July 29)
Day
Log
Notes
Monday
AM: 10 miles-1:09

Nap

Strength, mobility-1:30

PM: 5 miles-36:00

Locked my keys in my car/

Ran sub 7 pace, which is too fast, by far/

Afterward, got a burrito/

Took a nap, which is neat-o/

Stretched my muscles and worked my core/

Grabbed some miles, exactly 5 more.

Tuesday
AM: 10 miles-1:11

Mobility-45:00

PM: 4 miles- 30:00 + drills and strides

It's hot out again, we got a little break from the dry heat, but now its back. It's like a wool blanket was thrown over all of Flagstaff trapping the heat into the roads. I'm gonna melt. Right hamstring is still tight.
Wednesday
AM: 3-mile warm-up. 3-mile tempo, 1 mile jog, 4 x 1 minute hills. 3 mile cool down.

12 miles total: 1:23

Massage

Mobility, core-45:00

PM: 4 miles-29:00

Sauna-15:00

Splits were 5:01, 4:56, 4:54 and the hills ranged from 5:00 pace down to 4:35 pace. Didn't feel great, it was hard to find the right effort since it was the first tempo of the season and it was on a hilly part of Lake Mary Road. Felt pretty relaxed and smooth, but I was out of control, aerobically. Took the first hill a little easier and focused on form and being relaxed.  I pushed the next 2 pretty hard, and then really let it rip on the last one.

***ALERT, ALERT, ALERT*** we have our first occurrence of drifting off on the couch before 9:00.

Thursday
AM: 10 miles-1:10

Strength-1:00

Nap

Physical therapy

PM: 5 miles-36 minutes.

Sauna-20:00

My legs felt pretty bad, but I hopefully talked a kid out of visiting Eugene on his road trip. Got a burrito afterward.
Friday
AM: 4 miles easy.

10 x 150m strides with 250m recovery. 3.5 miles easy. 10 miles total- 1:12

Nap

Strength, mobility: 45:00

PM: 4 miles- 29:00

Didn't feel super smooth, my arms felt a little out of control and I felt like I was shuffling a little bit instead of really popping off the track.
Saturday
AM: 9 miles-1:11

PM: 5 miles-40:00

Lots of 8 minute miles today. Started the day by running up Snowbowl Road, to the ski resort, as part of a Pizza place's marketing campaign where if you get to the top of the mountain by human power you get a free pizza that night. I have always wanted to do this because it seemed hard, but in a fun, pointless, way. We climbed 1800 feet in 6.5 miles and then added a few miles on the trails up at 9300 feet.
Sunday
AM: 14 miles easy. 7 mile fartlek of 1 min, 2 mins, 3 mins with equal rest. 1 mile cool down. 22 total-2:22

PM: off

Took it nice and easy for the first 14, then opened it up on the fartlek. I was averaging under 5:00 pace for almost all the ons of the fartlek. I felt smooth for the first few cycles, but the last couple intervals got a little sloppy when I got tired. My back was tight and sore in the last few miles and my quads were really sore from all the hills afterward.
Totals
110 miles-13 runs

Strength, core, mobility-5:15

1 massage

1 physical therapy

2 saunas
BEN
We're starting to really get some nice training in now. My goal was for the workload to be so gradual that the fitness would sort of sneak up on us. And I think we're getting there. This past week Scott had a three-mile tempo plus four 60-second hills on Wednesday, a little leg speed session (10 x 20 seconds fast, 1-minute easy) on Friday and a 22-mile long run Sunday morning where miles 14–21 were fartlek style. That section was 1-minute hard, 1-minute easy, 2-minutes hard, 2-minutes easy, 3-minutes hard, 3-minutes easy. The idea being that we need to continue to work on pace change for New York City, and particularly pace change late into runs.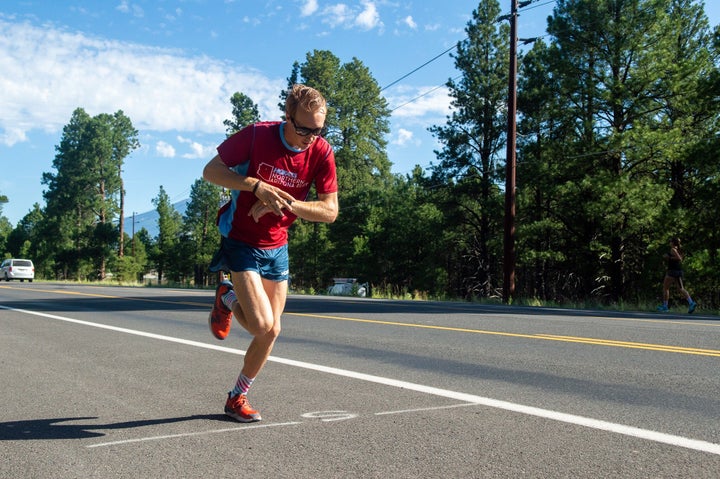 As far as how he looked, it was still a little blah. He told me he felt a little flat at the beginning of the tempo on Wednesday. I told him to let it flow and run somewhere between 4:50 and 5:00 pace. The very last thing I told Faubs before he started was that I had given those same instructions to Scott Smith last week and he had pushed a little too hard trying to be closer to 4:50. The result was a good workout, but not the effort we were really looking for.
For Faubs, I wanted the pace to come to him, not for him to force it himself. I think he took that to heart as his splits ended up being 5:00/4:56/4:54. When we got over to the hill he still looked a bit flat to me on the first two repeats. He finally snapped out of it and committed to a faster pace on the last two. I liked that. It was a conscious decision to stop worrying about how he was feeling and just go. And, funny that this is how it works, he actually looked a lot smoother when he let it rip a bit.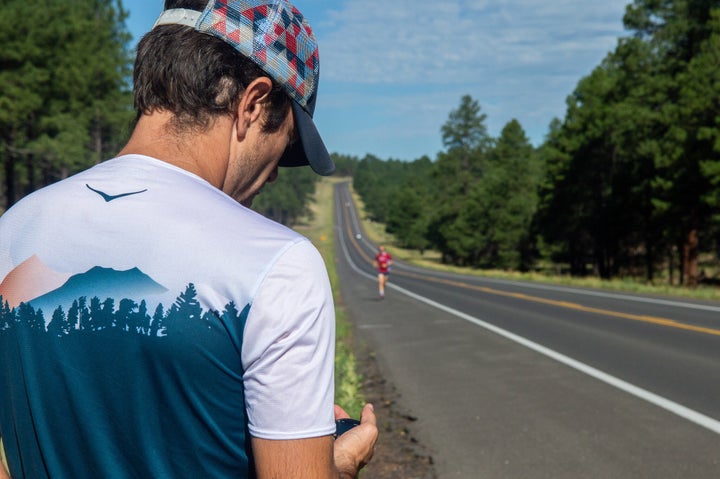 We had a brief conversation after the session, but my big thing was that he just needed to get used to feeling sort of semi-tired all the time again. In other words, he needed to embrace marathon training like he did last fall. This spring we did less mileage and a lot of speedier workouts, so he was used to having some pop in his legs at the start of a workout. It's not going to be like that during marathon training. In fact, he may often feel better toward the end of a workout then at the beginning. And that's what we want!
We moved training around a bit on the weekend so Faubs and Brauny could run with the GMO Athletes that are in town from Japan. They really wanted to run A1 with us. So that's where Faubs ran his 22-miler with the fartlek. He let the group go a bit around 13 miles up a big hill so he could gather himself for his fartlek. I suppose I would have rather seen him get a little competitive up that hill and sort of take on that, "Not only am I going to hammer this hill with these guys but then I'm going to run my fartlek afterward," mindset. But, at the same time, he was probably smart to back off just a bit.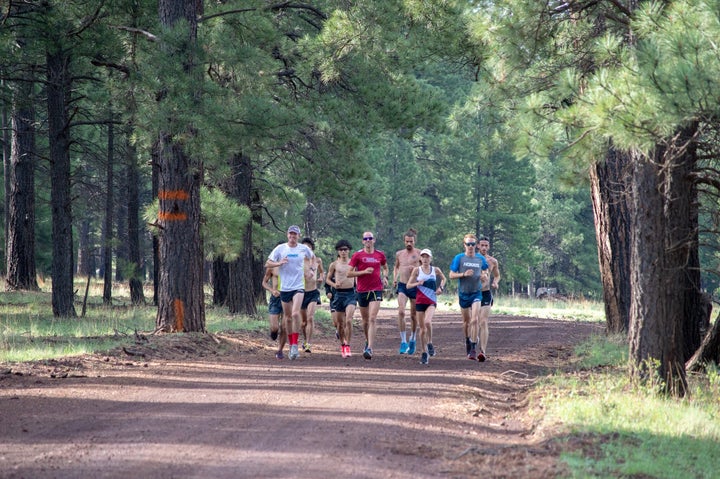 And therein lies the challenge (one of them, anyway) for a coach. We want the athlete to be smart, but we also occasionally want to see them take chances. After all, that's what we want in a race. The challenge is, when do we want them to take those chances and how much do we want to influence that risk-taking. I think there's something to be said for letting the athlete take those risks themselves. After all, on race day we can't do it for them. The result for the day was a good one though—22 miles in 2:23:16 (6:30 per mile average) on a very challenging course at 7,000 feet.
SCOTT
For the last few years, all of my seasons have kind of started the same way. They've gone:
1) Scott is getting back into it, workouts aren't going that great.
2) Scott is back into training, workouts still aren't going that great.
3) Scott rips two or three workouts, Scott is in shape.
4) Scott goes to a race, it goes well.
As it stands now, I am somewhere in between step two and step three. Which is to say that it certainly seems like I should be in good shape, or at least flirting with good shape. The mileage has been good, and I've had some solid workouts in the last few weeks. They've even been the type of workouts that usually lead to the transition from step two to step three. But, it seems like there's a disconnect between what is and what should be. I should have had a couple of days by now, or even just one day, where everything clicks and I can shift into a big gear and really do something impressive, but that hasn't happened. I was hoping that Wednesday would be that day. It was a workout that generally comes pretty easily to me. When I got out on Lake Mary Road, however, I felt like I was forcing it. I was tense and I really had to fight to try to hit the pace.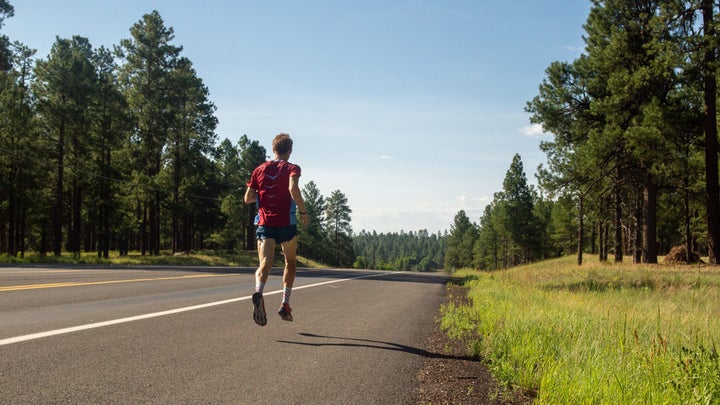 This predicament isn't really something I've experienced in previous seasons, because generally I'm pretty good at being patient and letting the fitness come organically, and also because I haven't cut it this close before. I've always had at least one day that confirms that I'm ready to rip by the time we get this close to a race. Falmouth is coming up fast, it's less than three weeks away, and I'm being completely serious when I say that I have no idea how I am going to be able to string seven sub 4:40 miles together given my current fitness.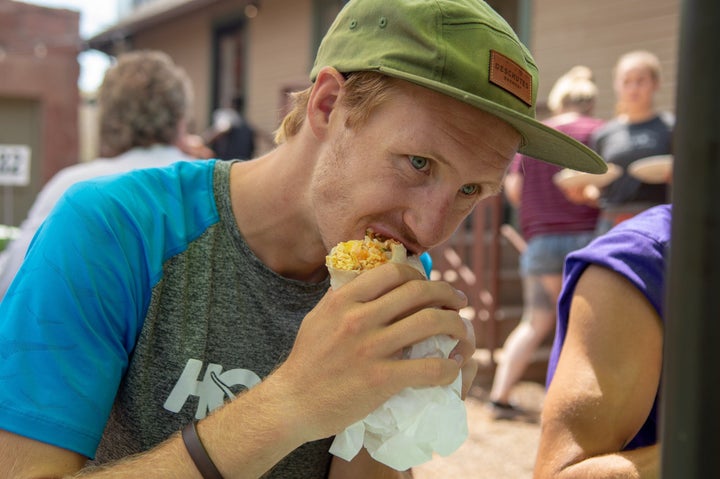 All I've experienced this summer are the corollaries of being in really good shape. I've got the heavy legs and low energy and nights where I fall asleep on the couch at 8:15. All of which are tolerable and easy to justify to yourself when you know that you are going to do some really cool shit on race day.
Excerpted and adapted from Inside a Marathon by Scott Fauble and Ben Rosario
From PodiumRunner
Trending on Outside Online