Ritz on Running: How to Train for a Marathon PR
How Dathan Ritzenhein coached Parker Stinson to a 2:10 PR at the Chicago Marathon and what you can learn from it.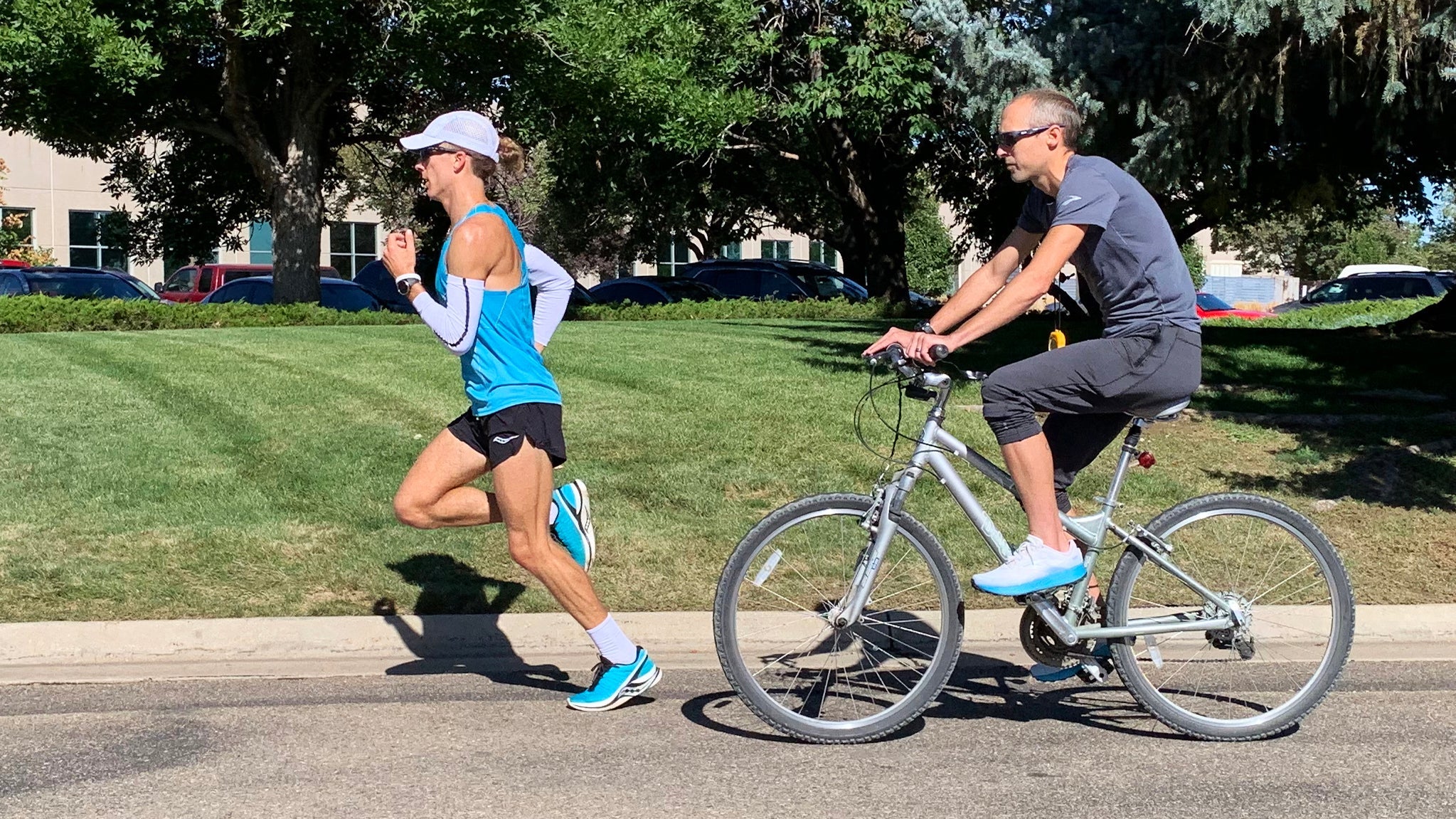 Heading out the door? Read this article on the new Outside+ app available now on iOS devices for members! Download the app.
About one year ago I began coaching Parker Stinson, who has, during that year, won the US 25k Championship in an American record and set a massive, 4-minute PR of 2:10:53 at the Bank of America Chicago Marathon last week.
I helped coach him briefly during the 2014 Indoor and Outdoor NCAA track season while he was at University of Oregon. I could tell even back then that he had the natural talent of a marathoner. He was a US Junior Champion at 10k and had a great career at the University of Oregon. After an achilles surgery in 2016 early in his pro career, he had a few solid years of professional road racing before he decided to try a marathon.
Marathon Prowess Takes Patience
Working with him this last year, I believe he has the talent and ability that one day he will be able to run at least 2:08 for the marathon. His biggest problem was that he tried to do that in his first two marathons. A new event can take years and multiple attempts to run your full potential and the marathon is no different. So while the talent was there for Parker, the training and the experience was not. Like many runners, he crashed and burned hard the final miles in his first two attempts.
I was the same. My first marathon, I thought I would step out and win the NYC Marathon. Instead I faded hard the last 10k and ended up in 11th place in 2:14:01.
Having patience in this sport is hard because great athletes always want more. So when I sit down with a new athlete I coach, I ask, and help them to come up with short, medium and long term goals.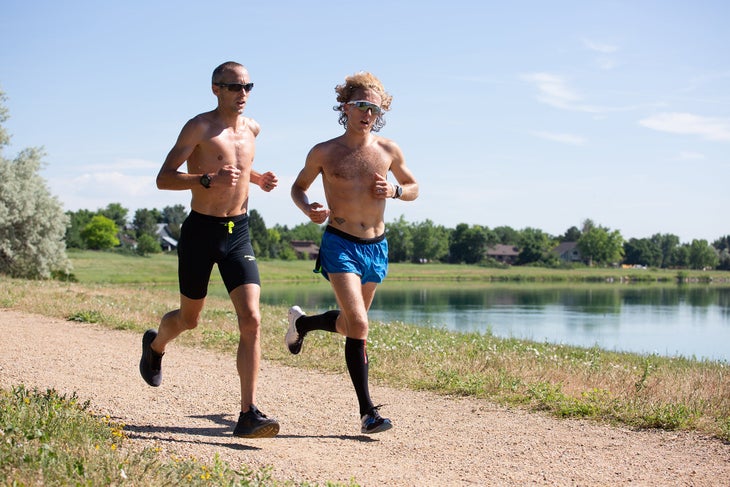 Long, Medium and Short-Term Goals
The "long term" goals are easy for a professional runner. We identified those things quickly for Parker.
Long Term: Make an Olympic team, a podium finish at a major marathon, and running 2:08.
But when we started working together he was a 2:14:29 marathoner and had never won a US title. So improving on those two things were the "medium term" goals we focused on this year. I wanted him to know the confidence of winning a US title and to learn the patience it takes to be a great marathoner. Both of which are going to be essential to becoming an Olympian and having a great marathon career.
As we looked at the year ahead, I noticed things that were lacking in his training and so our "short term" goals became identifying those weaknesses and focusing on them through the winter and spring. He had done some very long marathon specific training blocks over the previous year and I felt it was essential to get back to some basics in training.
He was only 26 and still had not fully developed those skills. You need to be good at the basics before you can focus on specifics. He needed to bring his speed and power back but he also needed to spend months just racing. In marathon training we tend to race less often and not think of the competition part. So we laid out the year to work on those short and medium goals.
Short term: Spend the winter and spring working on basic training and racing skills. Aerobic base, basic speed, power, gym work and plenty of competition.
Medium term: Win a US Championship and finish a marathon well, running sub 2:11.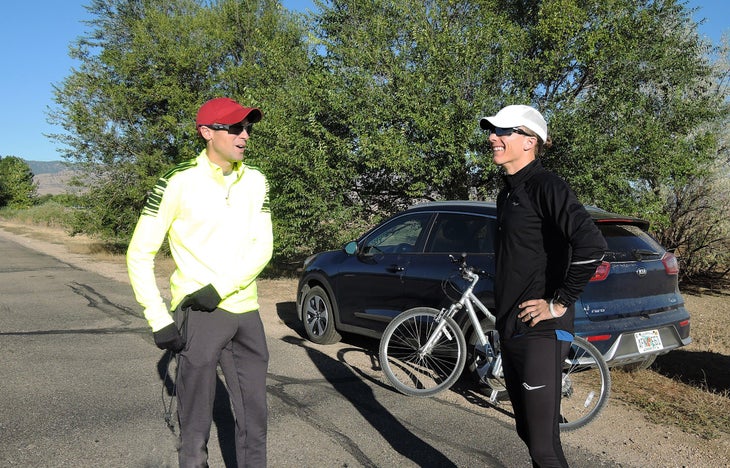 One Lion at a Time
When I looked at the calendar for the year, I wanted to spread those two goals out. A good Kenyan friend of ours says "you can only hunt one lion at a time." We needed to focus solely on one goal at a time.
The USATF 25k Championships were in May at the Amway River Bank Run. It was in my home town in Grand Rapids, Michigan and I felt that we would have a distinct advantage because I knew the course well from winning it in 2017 and we would have the chance to train on the course prior to the race.
It is also the longest non-marathon distance US Championship so it made the most sense to support our second goal of running a sub 2:11 marathon. With a break between the two goals, we decided to run the marathon in the fall at either Chicago or Berlin Marathon.
Once we had laid out those venues, everything else was geared towards getting ready for those events. I kept his training volume lower than he had been because I believe strongly that you always should have somewhere to go in training. If he could run the quality training sessions and stay healthy through the year, we could always add more volume in subsequent years.
Essential Components: Patience and Consistency
The lower volume was itself part of the second important component of the training; patience and consistency. The marathon is a game of control and balance. Being able to train hard day in and day out is so important. Over the course of the year, I think we only had 3-4 days off running that weren't planned.
We made some adjustments along the way for aches and pains but he was always able to handle the training load. He would occasionally get nervous about fitness but then we would complete a big hard workout and he knew his fitness was great. But instead of continuing to prove more after that session, we would go back to training that he could manage very well.
Over the course of the spring, that training saw his fitness grown each week and by the time the US 25k Championships came around his confidence was so high.
I knew from a few of the really impressive workouts that we had done that he had a chance to break the American Record. He stepped out that day and hit it out of the park winning his first national title and shattering the American Record.
After running so fast it was important to step back and remember the other big goal we had set out for the year, sub 2:11 in the marathon. It was easy to start thinking he was ready for a 2:09 but I always tried to bring the focus back to patience and control. With that in mind, and his great run at the 25k, Chicago became the obvious choice for the fall marathon. We knew that a large group of American were going to be there running 2:11 pace and this was a great opportunity to practice those lessons we had learned from the spring racing.
Get Specific
So after a short break we went back into two months of basic work getting his training load back to where it was in the spring approximately 100 miles per week. At that point from 10 weeks out we really turned to marathon specific work.
We had two races built into the block at six and seven weeks out from the race but they were in the middle of the marathon specific work and we knew his legs would not have the same pop that they felt earlier in the year. It was a good lesson for him as I tried to constantly tell him that if you're fit you will run ok on race day no matter how you feel. He had done that all year long and there was no reason it was going to change now. He ran fine even with the longer workouts but he was now into the hardest part of the the training.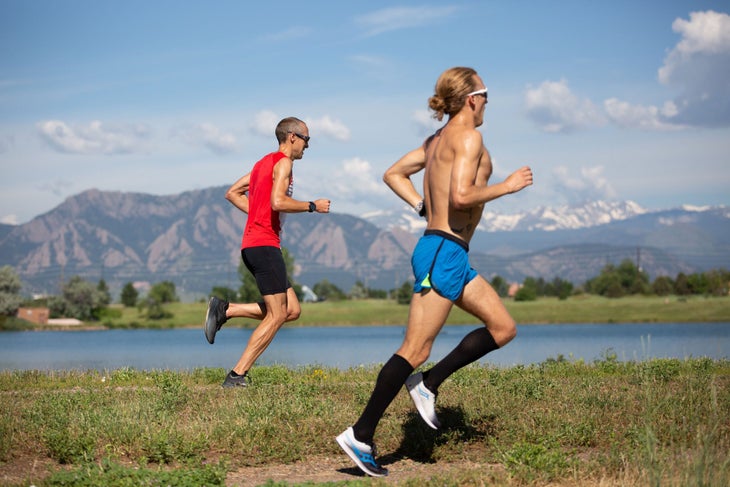 As any marathoner knows, the 4-5 weeks before a taper are the hardest part. Over those weeks we began switching to two big workouts per week instead of two workouts and a long run. The long run basically became a workout and he was getting 20-24 mile quality days twice a week.
We extended the recovery days from between workouts and focused more on getting comfortable at the paces we hoped to race for the full marathon distance. He was able to do more mental focus and visualization and that is so important in the final stages of the training.
In the final weeks, as the taper began, he had to beat away all the doubts about how he was feeling. Sometimes you feel great when the training load comes down but as many runners know, sometimes you don't. He didn't feel great so we spent much of the final two weeks just focusing on goals, race plan, mantras and reflecting on the training he had done. He knew that no matter how he was feeling he was ready for sub 2:11.
Stick to the Plan, Work Through the Doubt
After the gun went off my job was done. I rode around the course over the second half yelling and cheering as much as I could, but that was really for my benefit not his. He knew the plan. He had to run the race. Nothing I did mattered at that point. He had to stick to the plan, work through the doubt and run every step of that 26.2 miles. As his coach, I was so proud of how he ran. His splits the most even I could have ever hoped. 65:25/65:27. 4:59 per mile right down to the last mile for 2:10:53.
A few days after the race we talked in great depth. We always want more but in the end he accomplished all the goals we set out for a year ago and he walked away healthy and ready for more. We have some areas we can improve on and there is a lot more left in the tank for Parker Stinson but he is now one step closer to those long term goals we set out for a year ago. After this week's break, its time to get back to work!
From PodiumRunner