Sixteen Weeks to Your First 50K
Hal Koerner's guide to running your first 50K, including key intensity workouts and a 16-week training plan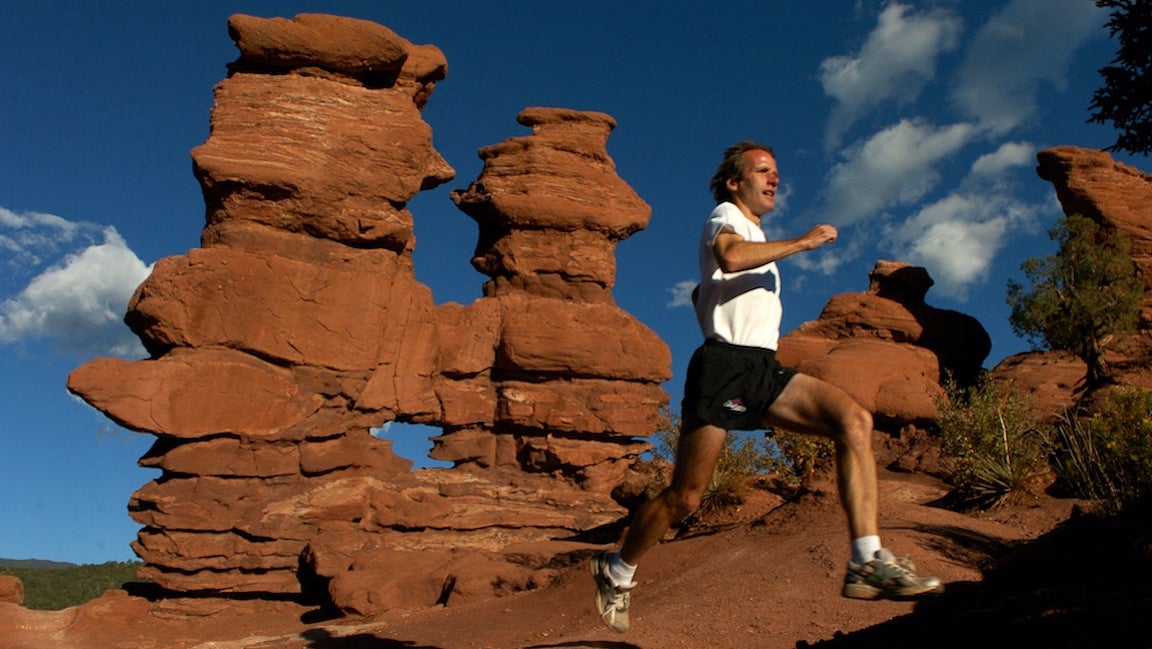 Helen H. Richardson/The Denver Post
Heading out the door? Read this article on the new Outside+ app available now on iOS devices for members! Download the app.
So you've decided to train for the 50K. Just like you, I love to run. It sometimes seems as if there can never be too much of a good thing. Motivation and excitement mix and become a seductive elixir from which big gains evolve. I would caution you to take it slowly, however. Doing so helps you avoid injury, overtraining and burnout.
Now, I know that ultra-distance running attracts a certain personality to its door, and there are plenty of runs in here to take advantage of that zeal, but please heed the progressions in this plan if you are new to the distance. I promise it will help you keep on enjoying ultras for a long time.
Intensity Workouts
This plan will help you achieve initial success for the common 50K race distance (aka 31 miles). The mileage is easy enough to follow, but sometimes that isn't enough to maintain a progressive build. Training is more than just putting in more and more miles, although that is certainly key. There also needs to be some intensity built into your training program. I am a firm believer that intense workouts must be separated by at least 10 to 12 days to allow for recovery and proper performance when called upon. With that in mind, I have suggested days on which to add one of the intensity workouts to your daily mileage. You will notice that these workouts generally follow a two-week cycle, to allow for other moderate training exercises that will exist within the plan and bring diversity.
Fartleks
Fartleks ("speed play" in Swedish) are designed to provide some change of pace for the legs, since most of the running at this time is at an easy pace. For fartlek training, run a one-minute surge every six or seven minutes for the entirety of the run. This surge is not terribly hard, perhaps 15 to 20 seconds per mile faster than your normal long-run pace. At the end of the surge, simply return to your relaxed rhythm. If you are having a hard time returning to your normal long-run pace, lower the speed of your surges.
Hill Repeats
Hill repeats are another tool for building strength, and they also give you greater confidence come race day. Locate a consistent grade on which to perform your repeats. The key is to do a sustainable effort for 90 seconds followed by a two- to three-minute cool-down and to repeat this 10 times. Ideally, you would work this exercise into the designated run, perhaps running to your preferred stretch of the climb as a warm-up and back again for the cool-down.
Tempo Runs
Tempo runs are inserted during peak training weeks to enhance the feel of a race-day effort and to make your body more efficient for the duration of the event. The key is to work on your rhythm and tempo for an hour at a comfortably hard pace.
Training Races
Although this plan does not specifically schedule preparatory training races, I urge you to factor these in. Putting yourself in race situations is a smart, useful and confidence-building strategy. Pushing yourself against competition isn't something you can replicate with ease in your day-to-day training. I find the pull of a race very motivating, and it helps to harden my legs for the big day. It always gives me leeway to make mistakes off the main stage and with less serious consequences. I would not recommend racing an ultra in advance of a 50-miler or 100-miler any earlier than four weeks out from the day of your race. You will need to adapt your schedule to accommodate a slight taper going in and recovery coming out of these races.
The 50K Training Plan
The plan is laid out to be progressive, with a healthy and exciting buildup of both mileage and appropriate intensity. You'll find the weekly mileage to be straightforward and easy to follow. There are also targeted strength workouts in the plan, built-in alongside your miles, which will build your strength and also give you opportunities to customize the amplitude of your workouts.
Reproduced with permission from Hal Koerner's Field Guild to Ultrarunning.
From PodiumRunner
Lead Photo: Helen H. Richardson/The Denver Post