A Runner's Guide To Conquering The Grand Canyon
Details on routes, weather, fuel, and gear for tackling the rim-to-rim-to-rim challenge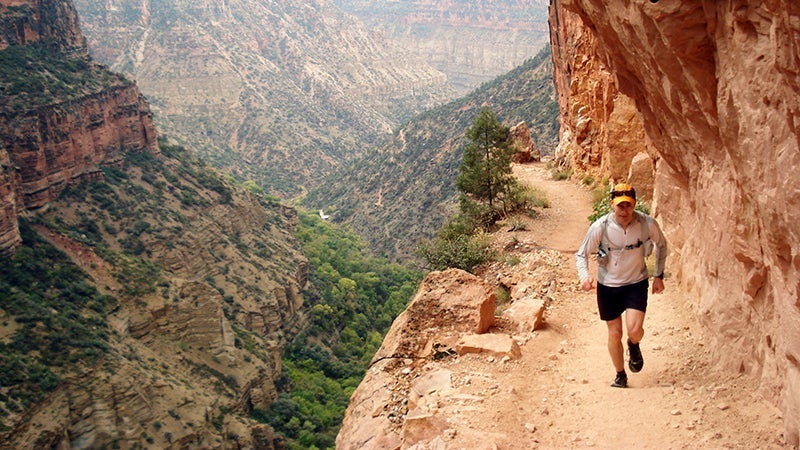 Heading out the door? Read this article on the new Outside+ app available now on iOS devices for members! Download the app.
So you want to run across the Grand Canyon? Running the Grand Canyon is an amazing adventure, one that every trail runner should put on their must-do bucket list of adventures. But, runner beware, it is an extremely difficult task, no matter if your goal is to run across once or take on the challenge of running from the South Rim to the North Rim and back to the South Rim (or in the opposite direction) in a single day. Make sure you meticulously plan your route and take proper clothing, fuel and safety gear. Most importantly, make sure you training is sufficient to be on your feet for 10 to 16 hours while covering 42-48 miles with 21,000 feet of elevation change.
If you're a strong, fit trail runner and have been doing regular ultra-distance runs (3-5 hours) once or twice a week, it's not the distance that will hurt (OK, that will hurt, too!) but it's the change in elevation you'll have to endure at both the South Rim and the North Rim. There are roughly 10,550 feet of cumulative elevation gain and loss in each direction. In the first 7 or so miles down South Kaibab Trail (or the first 9 down Angel Bright) you'll descend 4,400 feet and, no matter how fit you are, it will beat up your quads and that will lead to cumulative wear and tear later in the day. The canyon floor on the north side of the Colorado River is generally flat (or gently sloped) and entirely runnable for several miles, but it becomes steeper in the last 4 miles on the way to the North Rim (and very steep in the final 2 miles).
It will take most ultra-fit trail runners moving at a moderate pace (and stopping for necessary breaks) between roughly 5-7 hours to run one way from the South Rim to North Rim (or vice versa). Expect a Rim-to-Rim-to-Rim run to take 10-14 hours, given that you'll encounter an 8-mile, 4,400-foot climb back to the top of the South Rim after you've already run about 34 miles. For perspective, consider the one-way record (2 hours, 46 minutes) and the roundtrip record (5:50), each of which is held by Jim Walmsley of Flagstaff, Ariz Word to the wise: Being in good marathon shape is not enough to get you through a Rim-to-Rim-to-Rim adventure. Adding to your long runs and experience running on trails will help you survive the day without walking or getting hurt. The biggest thing you need is training on steep climbs and descents, whether you're running, hiking or a mix of both. Don't try running R2R2R unless you've put in several months of that kind of work. If you don't have the aforementioned level of trail running fitness, consider putting yourself through a 10- to 12-week training plan to increase your aerobic base and get yourself used to running the long, steep trails at each rim.
Most runners who run Rim to Rim to Rim start and finish at the South Rim, mostly because it's closer to numerous motels, restaurants and shops—and its closer to the airport in Phoenix. There are plenty of places to stay in Grand Canyon Village and in the small town of Tusayan about 8 miles away. Also, the South Rim is open year-round, whereas the North Rim is only open from mid-May to mid-October. (From mid-May to mid-October, it's possible to run Rim to Rim and catch a four-hour shuttle ride back to the start or stay overnight on the North Rim and make a round-trip run over two days.)
Running from the South Rim via South Kaibab Trail to the North Rim requires covering a distance of about 21 miles, whereas running that direction via Bright Angel Trail is about 22.5 miles. (South Kaibab is typically less congested and more scenic, but it's also steeper and the trailhead is 1.5 miles away from the South Rim village. Trails are well-marked and generally non-technical and free of debris, although it can get very muddy on the North Rim and very rutted on the Bright Angel Trail.
If you're running Rim to Rim to Rim and don't have elite-level ultrarunning chops, plan on starting well before sunrise. The earlier you start, the more sunlight you'll have coming up the final climb on the way back. And you'll have plenty of time to shower, get a good meal in town, and perhaps even dip in the hot tub at your motel if you have that much energy left.
Weather
The best times to run the Grand Canyon are October–November and March–April, when temperatures are cooler and trail traffic is somewhat minimal. Avoid the summer months, when temperatures can rise to 120 degrees in the bottom of the canyon. However, weather can change frequently in any season and heat, cold and precipitation can have a major impact on your run. Most of the route is exposed from one side to the other, with only a few places offering shelter from rain and sun.
Fuel
No matter how you're planning to run it, do it with an adventurous attitude and know that continual refueling is key and power hiking and walking breaks are OK. Believe it or not, if it's cool and not very sunny, it's possible to run across the Grand Canyon with two hand-held 20-oz. water bottles. There are four places to fill up with clean, potable water along the trail, as well at each rim. But if it gets hot or you're running at a leisurely pace, you might go through a lot more fluids, so you might be smarter to wear an over-the-back hydration system with a larger reservoir. As far as calories go, at the very least, you'll need to pack several gels, bars or whatever you prefer for ingesting carbohydrates on the run. No matter how fast you run, it's going to be a long day and you'll need to refuel continually.
Gear
It's wise to wear some kind of shoulder pack or fanny pack so you can carry a light shell, a headlamp and a first aid kit. Given the duration of the run and the calories burned, it's also smart to carry energy gels or bars at the very least. Beef jerky and vacuum-packed packets of tuna fish are other lightweight foods that can keep you moving. There is a small store and lunch counter at Phantom Ranch (closed from Nov. 1-April 1), but that won't do you any good if you're bonking 12 miles away on the way up to the North Rim.
The Data
Miles: 48.8
Runnable: 81 percent
Average Grade: 9 percent
Max Grade: 60 percent
Total Ascent: 11,161 feet
Total Descent: -11,161 feet
Highest Elevation: 8,190  feet
For a closer look, check out the interactive map, data, photos and virtual run simulator courtesy of Trail Run Project
From PodiumRunner