Conquering Oregon: The Pacific Crest Trail Female FKT: The First Week
Follow in the footsteps of the first week as two friends set out to set the Fastest Known Time for the Oregon Pacific Crest Trail, despite weather, bugs, late nights and hundreds of miles to go.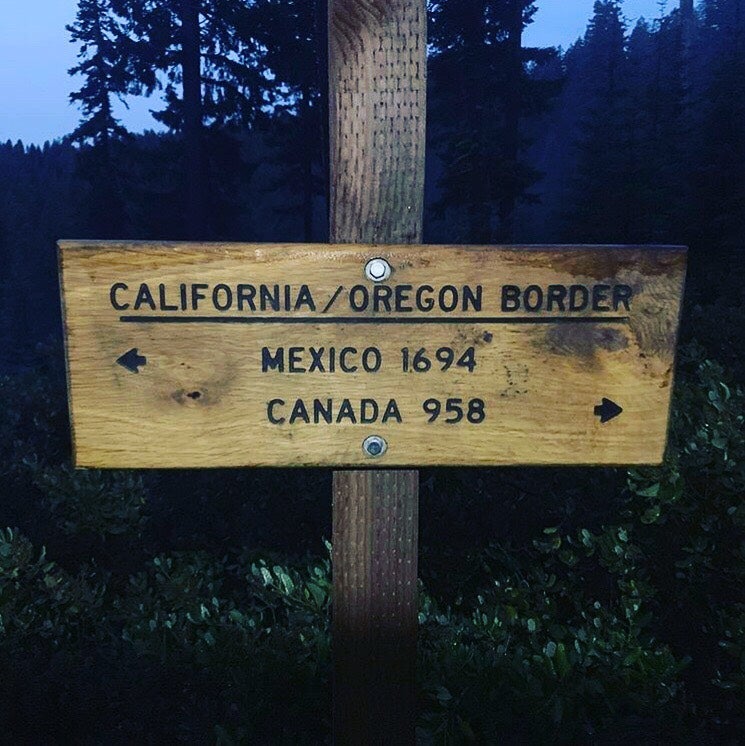 Heading out the door? Read this article on the new Outside+ app available now on iOS devices for members! Download the app.
Recap: After months of planning and a long day of complications getting to the start, we're on our way to try to beat the FKT for the Oregon section of the Pacific Crest Trail.
Day 1: Wildflowers and Blisters
Around 5 a.m. on August 22, Jameson and Matthew picked me up, we drove the hour back to the trailhead and ran the .5 mile back towards the border where we started Jameson's watch and SPOT tracker. Our journey (ha) had finally began!  
Day 1 on the Pacific Crest Trail followed the crest of Siskiyou Mountains but was never far from the road. As we climbed towards Mt. Ashland, we were surprised by a small presence of beautiful wildflowers. We noted the beauty and then remarked on how tired we both were already at the beginning of Day 1. The trail was covered with dew and rain from the evening before, soaking our shoes.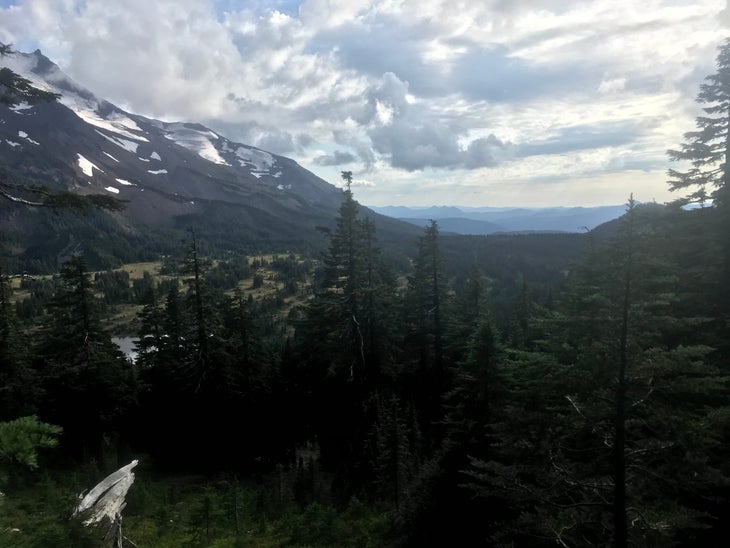 Around mile 24, we were able to intersect with our crew, refuel and prepare for the next section. I decided to switch my socks and was surprised to already see blisters forming from my wet socks and shoes. As someone who has not struggled much with blisters, I was a bit concerned about the early development, so we did our best to tape them before continuing on. 
We reached our resting place 69.34 miles into the trail. We had climbed a total gain of 10,187 ft and taken 16 hours and 59 minutes. Both Jameson and I were completely exhausted and disenchanted with needing to run 60 miles starting early the next morning.
Day 2: Into the Wild
Jameson had created small maps for each section in order to help us focus on our daily section and try not to become paralyzed with how many total miles we needed to go. Even though we had spent many hours planning, we were both shocked when we realized how limited our crew support would be on Day 2. We had access to the crew at Mile 12 and then were expected to run the next 47 miles without support. 
Although we could carry food on us and access water on the trail, creating mini-goals of making it until we could see the crew had helped us manage the first day—and we were devastated with the realization that we would be losing this. Despite feeling discouraged, we started off the morning in awe that our bodies allowed us to run after 70 miles the day before. 
Day 2 had around 7,205 ft of gain and, after starting 'late' at 7:46 am, we were climbing exposed areas in the warmest part of the day. Our pace on the rocky terrain was slow and we both were discouraged with our lack of progress. When we had 30 miles left we both started to cry from the enormity of this adventure and realizing that we would not be arriving to our crew until very late. Around 11:30 PM, we had 20 miles to go and, both completely exhausted, we took a 10-minute 'nap' in the middle of the trail on the ground. 
Although the sky and stars were beautiful, desperation had snuck in by the time we finally reached our crew at 4:00 a.m.—putting us far into a hole of exhaustion and struggle.
Our campsite in Crater Lake had been canceled (due to tree removal) a few days earlier, so we had to drive to our sleeping place and were not able to get to bed until 5 a.m. We decided to sleep a few hours and leave by 11:00 AM. 
Day 3: Views and Vulnerability
I awoke feeling nauseous due to lack of sleep and Jameson started noticing swelling in her leg. We still maintained some sense of hope, as we both were excited to see the introduction of our pacers in the second half of Day 3 as individuals from our trail community joined and supported us. 

The arrival of the pacers re-emphasized the importance of asking for help. I have never excelled at asking others for help and this trip pushed me beyond my boundaries in lessons of vulnerability. Running on little to no sleep, I was extremely emotional about the selfishness of our adventure as I witnessed the toll the adventure had on others. Not only did we want the help of others, we needed it. 
My partner and Jameson's husband were at our beck and call. Their job was not easy, and yet they kept us moving, fed and supported. This adventure required our pacers to be pushed to their limits. Ultra-running support crews and pacers deal with all of the grunt work and don't receive the glory—this is why trail running creates such a special community.

Although Day 3 started late, we set off determined to make up time. Our first snafu was when we were informed via a sign that a section of the PCT was closed due to mountain lion activity. We were told to take the rim lake trail towards crater lake. 
We could not remember what the previous FKT holders had done, and we first started down the closed PCT. Then we turned around, deciding safety was most important (and excited by the option to see Crater Lake). Although the Rim Trail was shorter, it held more elevation change and beautiful views. We were able to run and view the magnificent Crater Lake, plus get funny looks from tourists. We later learned it was the same route the male FKT holders took.
After running 24 miles with 2,897ft of elevation gain, we reached our crew and decided to sleep before completing the final 30 miles of Day 3.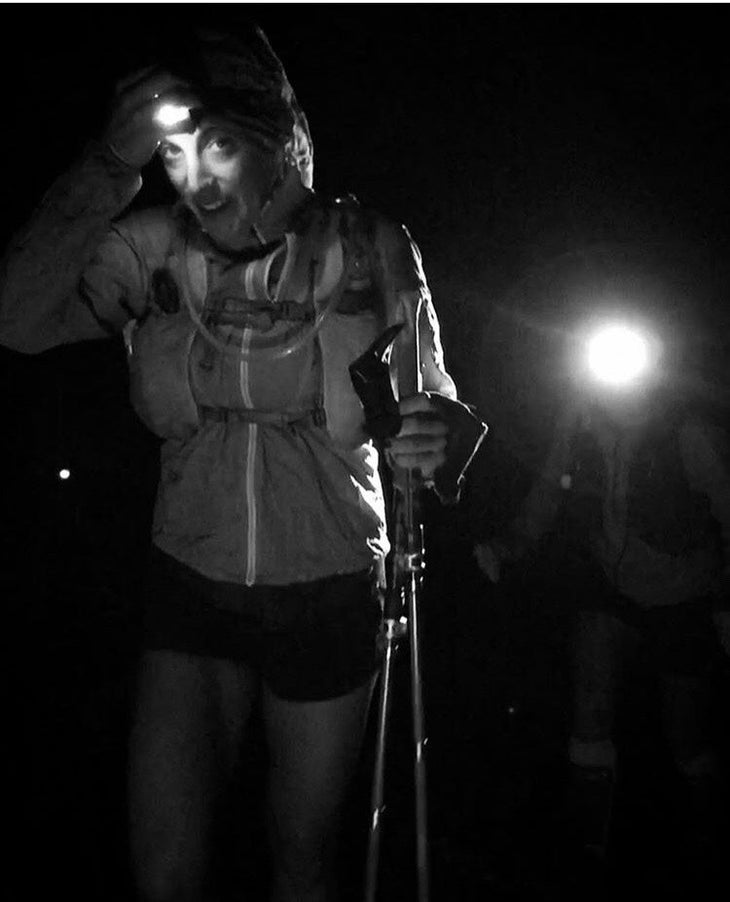 We began the second section at 10:39 PM with our pacer in tow. It started off on a positive note with us moving fairly well. Although it was dark and we could not enjoy the view, we were enjoying the company and gaining time. Perhaps we were moving too well, as we missed a crucial turn that led us 3 miles downhill and took our spirits down the drain as well. 
Once we discovered our mistake, we had to hike the 3 miles uphill, turning our 30 mile adventure into what felt an impossible 36 miles. Our pacer witnessed some of our lowest points of tears, pain and discouragement. We continued, however, and were rewarded with a highlight of reaching the highest point we would encounter on the 460 miles and being able to turn of our headlamps in order to witness the glorious sky near the crest of Mt. Thielsen. 
After 9 hours and 52 minutes, we finally reached our crew in the early daylight of August 25. Although we had gone another sleepless night, we decided to sleep only 2 hours to reset and then head out on Day 4.

Day 4: Beauty, Bugs and Dismay
Day 4 was intended to be a huge chunk of miles (72). After our nap, we started at 11:34 AM for the first 12-ish mile section which led to some beautiful views of Diamond Lake. The crisp beautiful water was enticing, but taking off the bandages on our blistered feet did not seem like a good option. 
After our pit stop, we decided that we would hike the next 18-mile section, as both of our bodies felt destroyed and exhausted (in hindsight, this clearly could have been related to the lack of sleep). I remember there being beautiful views of mountains, but mostly, I remember the exhaustion, the sense of doom and the desire to quit. Jameson kept me motivated until eventually, I decided we need to run or we would never finish this section. 
I cannot even begin to explain the misery of this section; we were running by 'lakes' (aka bogs) full of mosquitoes that were eating us alive. My feet were in so much pain and I kept thinking: "This is not fun, and how the F*CK did those guys do this." 
Jameson's leg had begun to swell even more and there was no joy in being behind schedule and in pain. When we finally reached our crew—after being out for 8 hours and 7 minutes and covering an elevation gain of 3,5667 ft—I remember just the sheer exhaustion and dismay we felt. We went to bed with a plan to start early the next morning.

Day 5: Hard Choices
After a good night sleep, I woke up with a small sense of renewal and went to check on Jameson. Jameson could barely walk, and the next few hours included some of the hardest decisions of the trip. 
Our goal was still in grasp, but my dear adventure partner, who kept me motivated the entire day 4 despite numerous times I wanted to quit, was dealing with a very swollen cankle/shin. We discussed the options and it was decided— knowing this would take us out of the running for the overall FKT— that we would use day 5 to allow her ankle/shin to heal, then move forward the next day.
In making my own choice about if we should remain together or I should go, I thought back to the bigger message to be sent to the community and what is important to me. I could tolerate asking others to support me for this adventure, but I could not accept leaving my friend behind if there were still options for her to continue. I used this day to shower, rest and reset.
Next: How
we deal with Jameson's injury, and do we make it to Washington?
From PodiumRunner