5 Weeks Out: Jared Ward's Marathon Training
Olympian Jared Ward details every mile of his Boston Marathon training from March 11-17, 2019.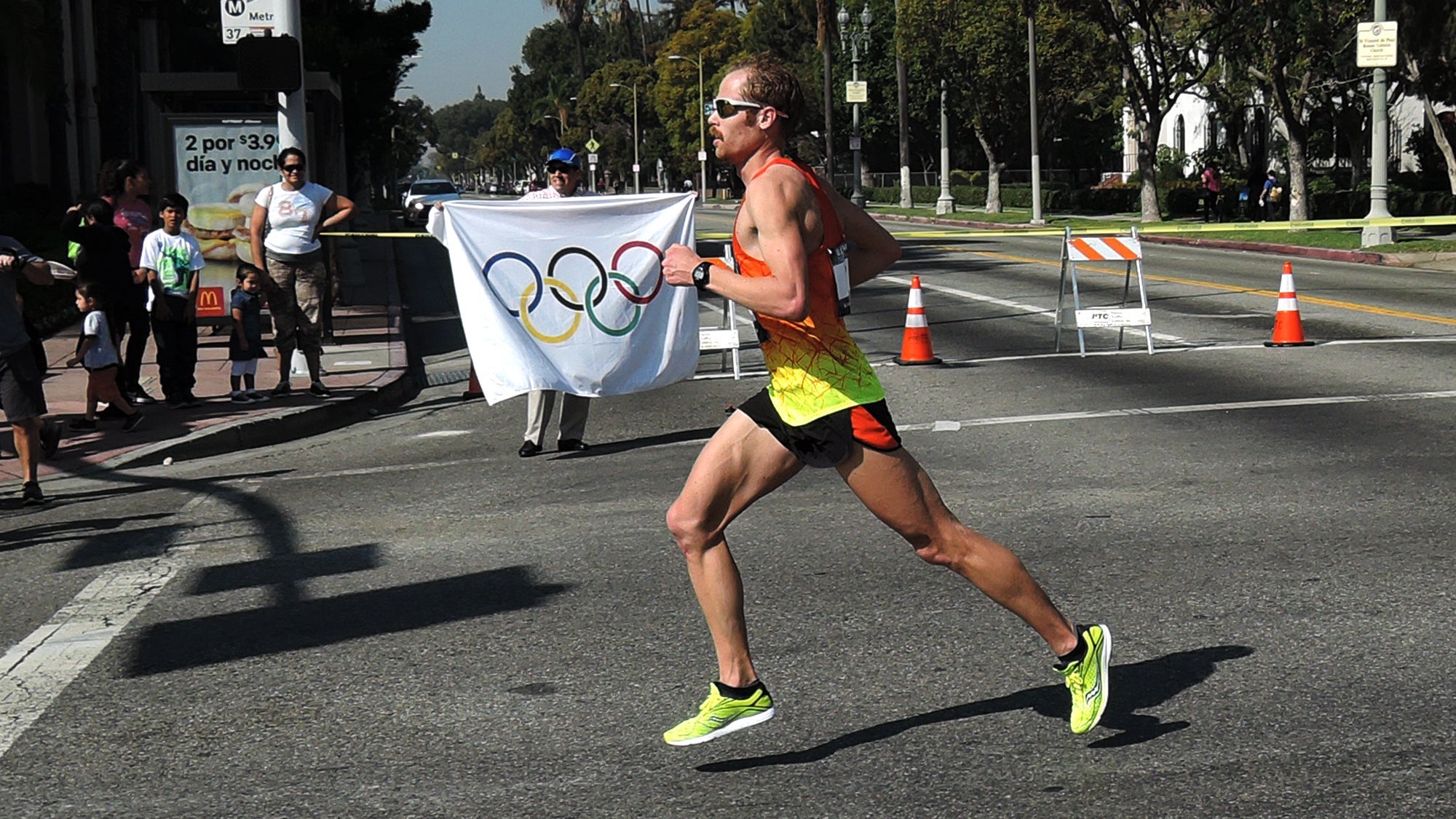 Heading out the door? Read this article on the new Outside+ app available now on iOS devices for members! Download the app.
Olympian Jared Ward is training for the 2019 Boston Marathon on April 15. Ward detailed his training for us from March 11–17, five weeks out from Boston, ending with the United Airlines NYC Half as a tune-up race.
Tune-up race week.
I confess I prefer tune-up races more like 6–8 weeks out from a marathon. At that point in training I am through the first wave of high mileage and a "down" week with a bit of taper for a race is a nice mid-marathon training segment break. Then there is enough time to build into another high volume block after recovering from the tune-up and before the long marathon taper. That said, the United Airlines NYC half is a great hilly, windy simulator for Boston, so coach Ed Eyestone and I went for it.
The only problem with a race 4 weeks out is that training is in the middle of the last high block of mileage. Taper isn't for 2 or so weeks, but cutting much volume now is going to affect the timing of the peak for Boston. A tune-up race 4 weeks out means I have to accept results of a race for which I'm not fully rested. I know I'll feel a bit heavy on race day.
We kept volume for this week at about 90 percent, and instead of a Tuesday/Thursday/Saturday workout schedule I worked out hard Tuesday, really light Friday, and then raced Sunday.
For recovery, I spend some time with my Meteor (vibrating, heating massage ball) before and after each run. And 2–3 times/week I sit in my Normatec boots. I didn't spend time with the trainers at BYU this week, but often I am in to them at least once a week. And I've been seeing Jake Carluccio for massage therapy, but this week my wife (also a licensed massage therapist) worked on me a bit. She has always been my first choice, but the more kids we have the less time there is for massage in the living room.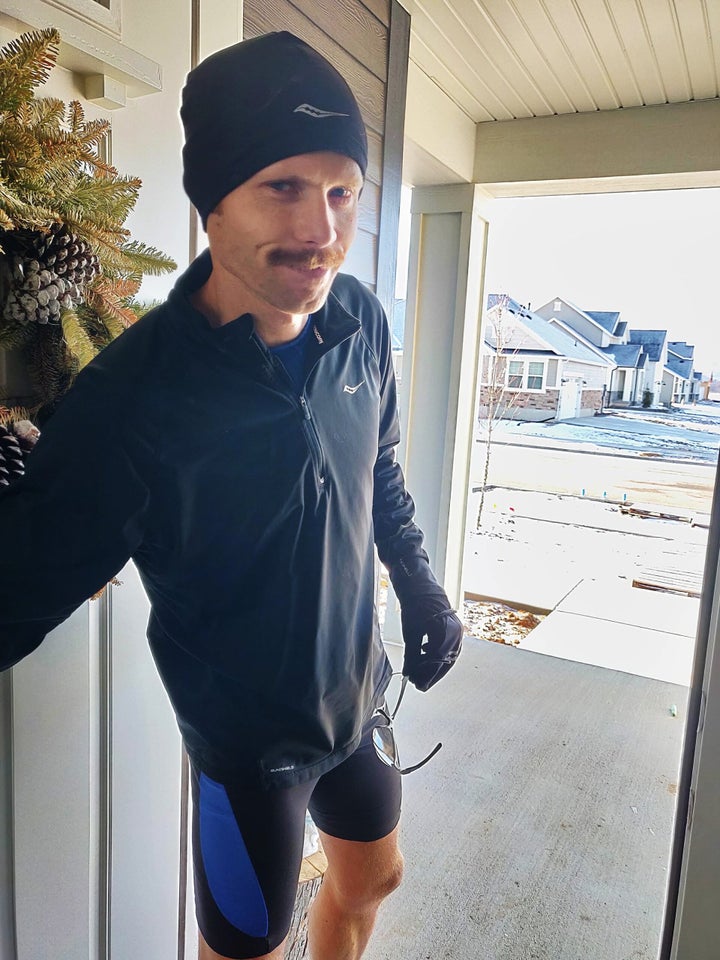 Monday:
Since the birth of our 4th child 2 months ago, I have done more running on a treadmill. This allows for me to coral the 6, 4 and 2 year old's downstairs while I run so mom and the baby can get some rest. But I don't think that has been bad, treadmills are softer than the pavement, and in the winter in Utah I'm pretty much limited to pavement outside.
So today I went 14 miles on the treadmill at an average of 6 min/mile. The end of the run was closer to 5:40. I normally don't go this fast, but I let feel dictate the pace on easy days. As I get fitter, pace gets quicker and I find the clip of my runs on easy days as a great indicator of overall fitness.
Then an afternoon nap.
In the evening I went 6 miles (6:15 clip) + 30 min on the exercise bike (HR 135ish).
Daily total: 20 miles.
Tuesday:
In the morning I got up with my kids, but spent the time getting them ready for school. We cooked eggs, read some books, and played a bit. I left to teach my class at 9. In-between sections of my class (from 11–12) I hopped on a treadmill at BYU for 5 miles.
After my second class I met the BYU team and coach Eyestone on a grass field for a set of 3 x 10 min intervals with 5 min rest. Rory Linkletter's GPS said we went about 9:20 for each 2 mile interval, but I just ran by feel. Felt great. Because of the race on the weekend coach cut the workout at 3 intervals.
Daily total: 16 miles.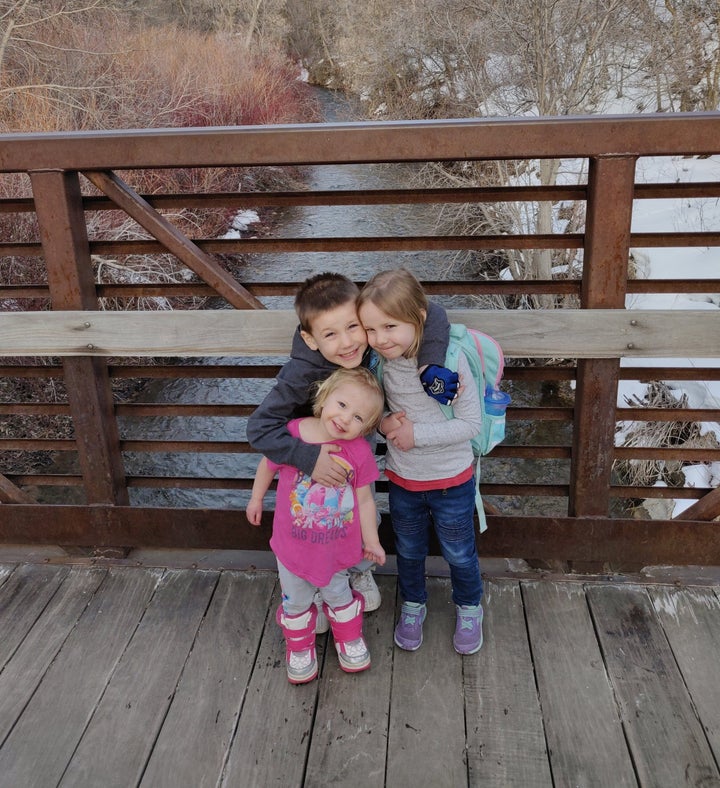 Wednesday:
Back on the treadmill again. 13 miles, finishing at about 5:30 with some moderate (1–2 percent) incline. Feeling really good. Then, after packing for NYC, I hopped back on the treadmill for 4 miles. After, I did a short lift session: Deadlifts, RDLs, and some core, before heading to the airport.
Daily total: 17 miles.
Thursday:
13 miles plus strides in central park. All by feel, but probably around 6 min/mile. Feeling good. 5 miles in the evening, back in central park (scoping out the finishing miles for Sundays half marathon).
I met with a massage therapist in NYC that I love named David for a flush out. I find after travel I need to spend some time getting my hips moving well again. So after rolling out muscles like my external rotators and glute muscles with my Meteor, I spent some time with David loosening hamstrings, glutes and hips.
Daily total: 18 miles.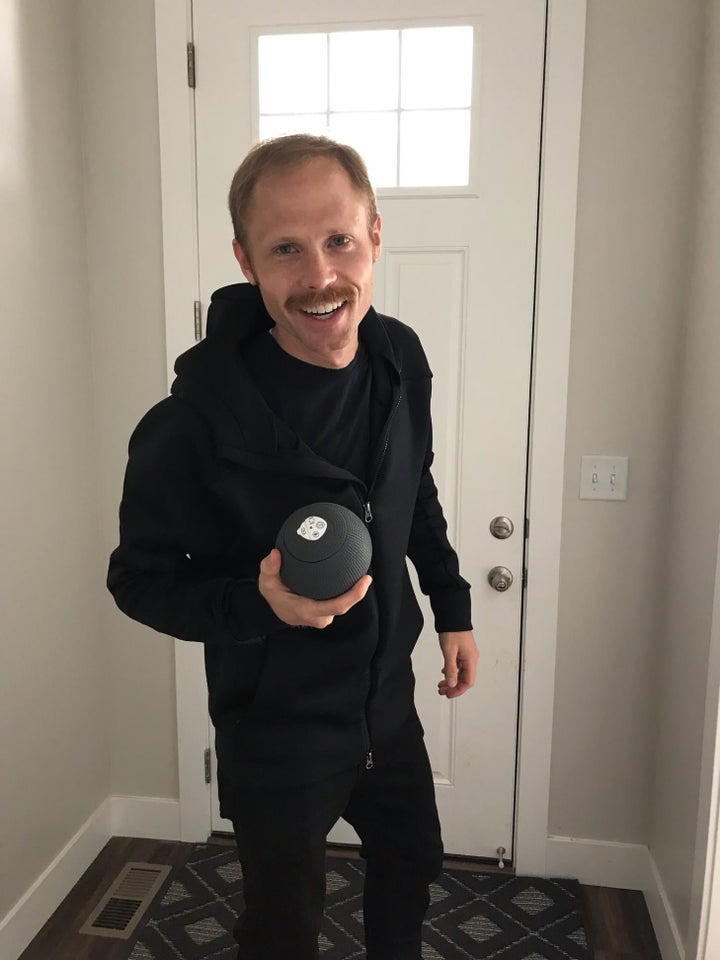 Friday:
9 miles in the am in central park with 8 x 1 min "On"/ 1 min "Off." The "Ons" began at marathon pace and finished at 5k/3k pace with the "Offs" really chill. This "workout" works more like a flush than anything else, but offers a few minutes of elevated heart rate to hang onto training fitness. In the pm I hoped on a treadmill for 4 miles before rushing off to see "My Fair Lady" on Broadway.
Daily total: 13 miles.
Saturday:
7 miles in central park easy, plus 4 strides. Met a guy named Kyle from AZ at the beginning of my run who wanted a quick photo. We ended up running together for the whole run. Great to meet such a cool person and enjoy a run with him in central park.
For the remainder of the day I tried to rest. I spent some time in the temple for my church in NYC and stuck close to the hotel for some pasta at a deli for dinner.
Daily total 7 miles.
Sunday:
Half marathon race day. Early rise, had some bagel with a bit of pb on it, and a Clif bar. Then a few swigs of Maurten prior to the start. Warmed up with Noah Droddy and Brian Shrader.
The race was fun. Noah led our chase pack of about 10 athletes, 5 of which were Saucony teammates. The rhythm felt fast, given the marathon training I have been doing. A funny thing about getting fit for a marathon is that things often feel tired from the beginning, but then I find I can sustain the pace. Such was certainly the case here, and I found that with a mile to go I had a little in the tank for a strong finish.
This was one of my best tune-ups ever, and I'm pleased to have felt pretty good in the process. 4th place, 62:33.
3 miles warm up and 3 miles cool down.
Daily total: 19 miles.
Total for the week: 110 miles
I've topped out at 110-115/week this cycle. I normally only run 6 days/week, but with the race on Sunday I ran 7 days during this training week.
Friday, March 22 update:
This week (March 19-24) I'm on track for 105–110 miles. I recovered from the race with 9 miles on Monday (2 runs), and some light spinning on the exercise bike followed by some time in my Normatec. Tuesday was just easy volume—20 min in the am and 90 min run slow on the grass in the afternoon—and some roll-out recovery with vibration and heat on my Meteor. Wednesday felt back to normal. 14 mile am run at 6 min/mile and 5 miles easy in the afternoon. Thursday I worked out with the BYU distance guys. We ran a Michigan workout (1600/1200/800/400 with 1 mile tempo in-between each). I felt very in control, and I'm looking forward to my last 2.5 hour run before Boston Saturday!
From PodiumRunner
Trending on Outside Online