Which trail-runners offer the most motion control?
I'm an over-pronator and run marathons with motion-control shoes to compensate. I'd like to get into adventure racing and need to know which trail-running shoes offer the best motion control. Any ideas? Jay Pensacola, Florida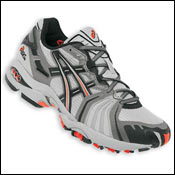 Heading out the door? Read this article on the new Outside+ app available now on iOS devices for members! Download the app.
You raise a good point. In the world of street runners, most shoes are pretty well marked as best for cushioning, stability, or motion control. In the trail-running world those distinctions are a little less clear. That's largely because you really can't build a "cushioned" trail-runner—the terrain considerations make that nearly impossible. So, most trail runners feel much more firm than a road running shoe. And that makes them inherently stable, so motion control is less of an issue, and why do I feel like I'm talking in a circle?
Asics Gel Eagle Trail V

Gel Eagle Trail V
Anyway, my point is that a firm shoe, such as a trail-runner, is inherently stable. That means there's less need for all the wedges/bi-density materials/shaped outsoles that define motion-control shoes built on fairly soft, road-oriented midsoles. That said, I'd suggest you look at the following three shoes that may give you trail-running capability with a bit more motion control than others.
Montrail's Continental Divide ($105; www.montrail.com) is a very tough shoe with a wide base for stability and a good mix of cushioning and ruggedness. It has a medial post—a wedge of firm material along the inboard side of the shoe—to help control pronation.
As a reformed marathoner (meaning, I quit), I always found that Asics shoes were exceedingly stable (like you, I over-pronate). So I think you'd like the Asics Gel Eagle Trail V ($100; www.asics.com). This is a motion-control shoe, with a medial post similar to the Montrail and what Asics calls an "Impact Guidance System" that prevents your foot from rolling inward in that classic over-pronation funky chicken deal.
The Salomon XA Pro 3D XCR ($125; www.salomonsports.com) isn't a true motion-control shoe, but it's super stable and very tough, which should work well for you. It also has a Gore-Tex liner in the event you're on wet terrain quite a bit. I also like the rubber toe bumpers, which protect your digits from rocks and roots.
Check out this year's more than 400 must-have gear items, including a comprehensive backpacks section, in the 2006 Buyer's Guide.