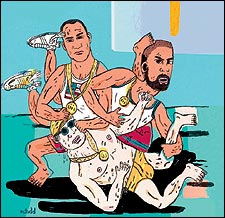 Heading out the door? Read this article on the new Outside+ app available now on iOS devices for members! Download the app.
LAST FEBRUARY, we asked Werner Hoeger, an exercise physiologist at Boise State University, to evaluate the training regimens of three top winter athletes and decide who had the best combination of power, cardiovascular fitness, and speed. (Speed skater Derek Parra got the nod.) With the Athens Games coming up this month, we asked Hoeger to eyeball three likely Olympians: runner David Krummenacker, 29, swimmer Ian Crocker, 21, and volleyball star Dain Blanton, 32.
Ian Crocker, David Krummenacker, Dain Blanton

Volleyball player Dain (upper left) gives swimmer Ian the business, as runner David joins the fray.

IAN CROCKER
(Sprint Swimmer)
At the University of Texas, Crocker notched world records in the 100-meter, 50-meter butterfly, and 4×100-meter medley relay. His week mixes 18 hours of pool time with strength training.
THE PROGRAM: Three mornings a week, Crocker swims 2,000 yards, followed by an hour of sprints and stamina drills. Then he muscles through his weight training, which targets every major muscle group in his body. Tuesday and Thursday, his afternoon practice consists of a three-mile run, a series of push-ups, pull-ups, and jumping drills, and an evil exercise called "wheels." For this one, Crocker lies facedown on a rolling sled and, using his arms, pulls himself up a ramp at the football stadium. Monday through Friday, he ends his day with a repeat of his pool workout.
HOEGER'S VERDICT: "You want to start with lots of work done at an easy effort and move toward smaller workloads at maximum effort. Ian does this very well, but the jumping drills in his dry-land training start too early in his program. He needs a strong fitness foundation to tolerate this activity, and his body isn't ready for it yet. He's increasing his risk of injury."


DAVID KRUMMENACKER
(Middle-Distance Runner)
Krummenacker, of Tucson, Arizona, took the 800-meter world indoor championship last year in Birmingham, England. Since then, the three-time U.S. 800-meter champ has been hitting the track, the desert trails, and the gym to stay in world-class form.
THE PROGRAM: Four days a week, Krummenacker logs six- to nine-mile trail runs at a five- to seven-minute-per-mile clip. On two other days each week, he runs on a track, pushing through five 1,000-meter or ten 200-meter intervals. Once a week, he'll add a round of jumping and bounding drills to his track time to put a pop in his stride. During the off-season only, he hits the weights three days a week for a light, high-rep workout.
HOEGER'S VERDICT: "The body doesn't respond if you do the same thing all the time, so David works through a variety of training phases, which force his body to react and grow stronger and faster. But he drops the weights completely once his season starts. Bad move. He needs to stay in the gym at least once a week or he'll lose some of that strength."


DAIN BLANTON
(Beach Volleyball Player)
Last year, Blanton, who in 2000 won the first Olympic gold medal in beach volleyball, with teammate Jeff Nygaard, was named pro volleyball's best offensive player.
THE PROGRAM: For three hours each morning, Blanton practices on the beach near his home in Santa Monica, California. During the off-season, he spends afternoons in the gym lifting heavy weights for four to eight reps, concentrating on two different muscle groups each day. He begins this workout with a 15-minute warm-up on a treadmill or stationary bike and ends it with 30 more minutes of cardio. During the week, he alternates between track-workout days (consisting of 40- to 100-meter sprints) and days where he spends 35 minutes doing power-building jumping drills.
HOEGER'S VERDICT: "Dain won't maximize his power until he ups the weights used for his off-season strength training and drops his reps to two. But overall, DAIN IS THE FITTEST because of his sport. Volleyball requires every aspect of the body's physical capacity. He needs anaerobic power when he's jumping to hit spikes, but he also needs aerobic endurance to survive an hourlong match."