American Running Needs More Female Coaches
U.S. women runners are on fire right now. Why are most of them coached by men?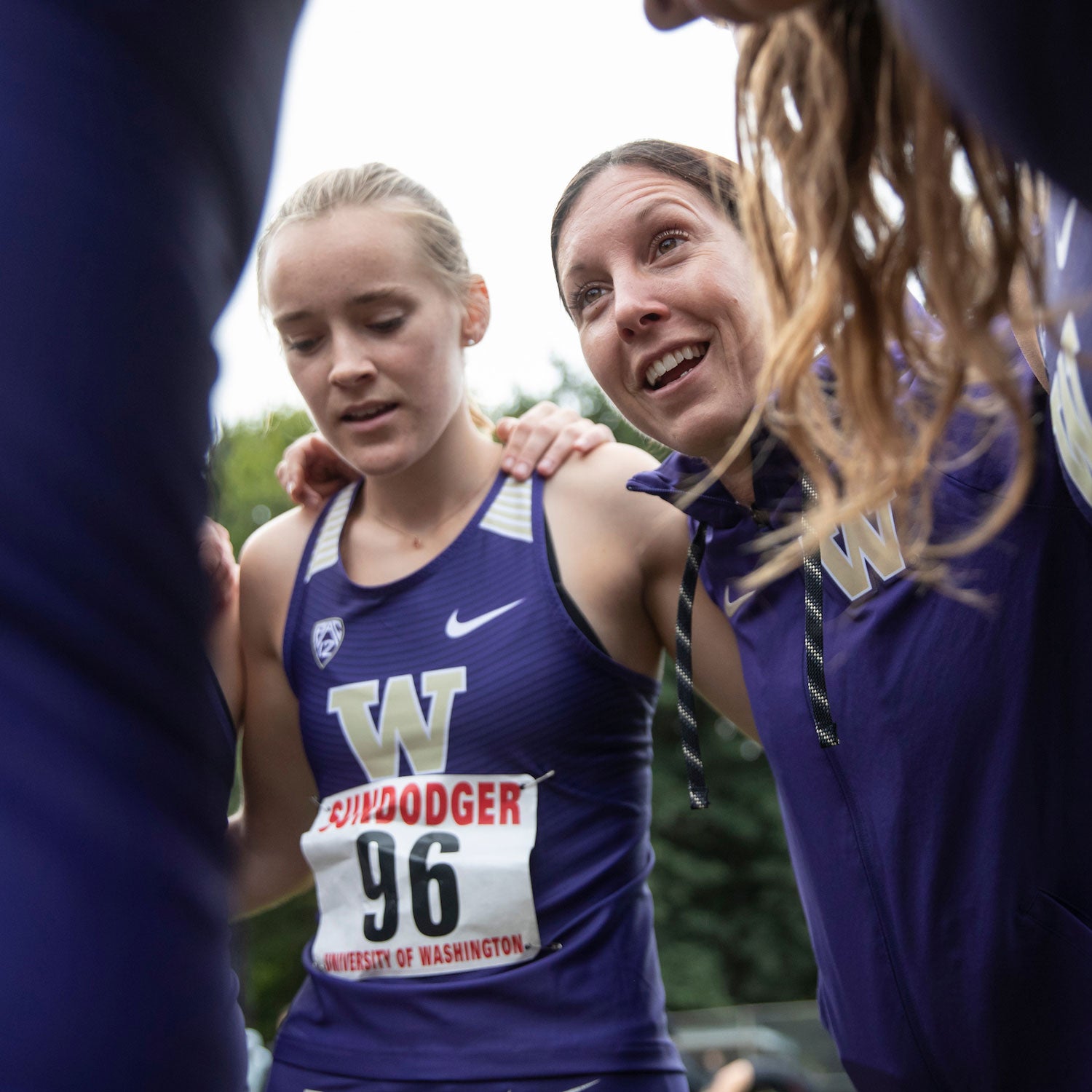 Red Box Pictures(Photo)
Heading out the door? Read this article on the new Outside+ app available now on iOS devices for members! Download the app.
It's no secret that American women are crushing it right now in pro running. Take Desiree Linden, Shalane Flanagan, Molly Huddle, and Jordan Hasay. But when you look at their coaches, you might notice a trend: They're all men.
It's a small sample size, but it reflects the larger demographics of track and field. Nearly all the coaches of the best U.S. runners are male. It's not an issue that's often discussed, but the pattern has prompted some curiosity about why more women aren't taking coaching positions—and how the culture and dynamics in the sport might shift if they did.
There are many interconnected reasons for this gender disparity, but for starters, women don't have much of a pipeline into the profession. According to a 2018 study by the Tucker Center for Research on Girls and Women in Sport and the Alliance of Women Coaches, in the 2017–2018 seasons, just ten women held head track and field coaching positions at NCAA Division 1 schools, compared to 83 men. And the numbers aren't much better for cross-country: 17 women and 86 men. The study graded each sport based on the number of women in coaching positions—cross-country and track and field both earned Fs. (Field hockey scored the highest, with female coaches in 97.5 percent of the roles).
Below the NCAA level, the stats aren't great either. The "2017 State of Play" report from the Aspen Institute found that just 28 percent of youth coaches in all sports across the country are women. Since coaching is a male-dominated profession at the lower levels, it's no surprise that it's even more difficult for women to break into the upper tiers.
"Title IX has been around almost 46 years now, so if there aren't a lot of women coaches in track and field, there's no intentionality of creating opportunities," says Nancy Hogshead-Makar, a three-time Olympic champion in swimming who is now a civil rights lawyer and the CEO of Champion Women, an organization that provides legal advocacy for girls and women in sports. "Somebody dropped the ball—[track and field] is one of the most popular sports in the country. There's no shortage of people with interest and expertise that should enable them to get into coaching."
The problem starts with a lack of access to open positions. Most of the hiring for these jobs is done by men, which can be another obstacle for women who want to enter the field, says Caryl Smith Gilbert, director of track and field at the University of Southern California, who in 2015 was the first woman to win the Pac-12 Men's Coach of the Year title.
"They fill [coaching roles] with who they're comfortable with, and a lot of people don't believe women are capable of the job," she says. "It shouldn't be a gender issue. Either you hire the best coach or you don't. You have to be open-minded and you have to be forward thinking. We bring the same skills as men do. I also think we're very attentive to detail. We talk through things to get to solutions. I don't think there are that many things that separate us."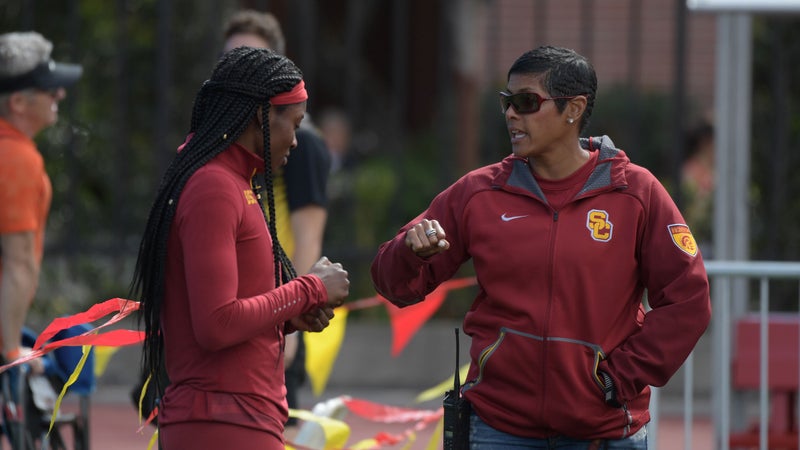 The pattern is also self-perpetuating: Women have a lack of networking opportunities and fewer mentors, they experience gender discrimination, and the demands of the job (traveling, evening practices, recruiting, and 24/7 accessibility to athletes) often aren't conducive to having a family.
Smith Gilbert, whose women's team recently won the 2018 NCAA outdoor title, is one of the only female coaches in the highest position at a D1 program. She attributes much of her success to the support of her husband, former NFL linebacker Greg Gilbert, who holds down the fort at home with their three sons when she is away—and who has also been willing to move around the country as she has taken on new jobs to advance her career.
"A lot of men don't believe a woman should have this role, so they don't support their wives being the ones who travel while they're the stay-at-home dads," Smith Gilbert says. "Most of the reason women don't last is because they're not able to juggle personal life and professional life. You have to learn how to blend it. It's not easy."
---
Shayla Houlihan, head cross-country and assistant track coach at UC Berkeley, says that the long hours, combined with the lower salaries track coaches earn compared to other sports, make it difficult to entice more women to follow her into the profession. "Between three competitive seasons and a recruiting season in the summer, you have to find a way to manage that time," Houlihan says. "You're not getting paid very much, and you're working 60 or 80 or more hours a week. You've really gotta love it." (In 2016, the NCAA reported that top programs spent an average of $103,000 on head track and field coaching salaries compared to more than $2.2 million on head football coaches' pay. The only sports in which coaches earned less than track and field were fencing, rifle, and skiing.)
Houlihan recognized early on that she wanted to pursue coaching. When she was an athlete at the University of Northern Iowa, her coach departed during her final year of competition, and she stepped in to help lead the women's team while the school conducted a search to fill the role. It changed the course of her career.
"I was pursuing a business degree as an undergrad, and I thought about what I was going to need to set myself up for the future. I changed my major to exercise science and kept positioning myself to be able to pursue a coaching career path at the Division 1 level," Houlihan says.
After completing her master's degree, Houlihan competed as a professional runner for a few years and then entered the job market in 2013. She landed an assistant coaching position at Cal, though she says it never occurred to her that she'd encounter more challenges than her male counterparts. She learned quickly that might not be the case.
"Some people said that I didn't deserve that job and the only reason I got it was because I'm female," Houlihan says. "That was pretty hurtful, but at the end of the day, it didn't stop me and it didn't make me feel like less of a coach, because I was confident in what I was capable of doing."
Houlihan now sees subtle ways in which she sometimes experiences the gender disparity in coaching. Like when people who don't recognize her role in athletes' accomplishments. "If I'm in a setting where Coach [Tony] Sandoval is with me, other coaches or spectators will come up and say congratulations to him but not me," she says. "That happens quite often. Tony will say, 'Those are Coach Houlihan's athletes.'"
Houlihan credits her strong mentors as an instrumental part of her success. Of course, all the people in position to play this role for her were men—underscoring the importance of male coaches deliberately helping women advance in the profession. Sandoval, director of track and field at Cal, promoted Houlihan after three years in an assistant position.
"Coach Sandoval has given me so much autonomy and let me create what I want to create with our program," Houlihan says. "He has been a great proponent of females in coaching. Having a mentor is huge, especially navigating this male-dominated world."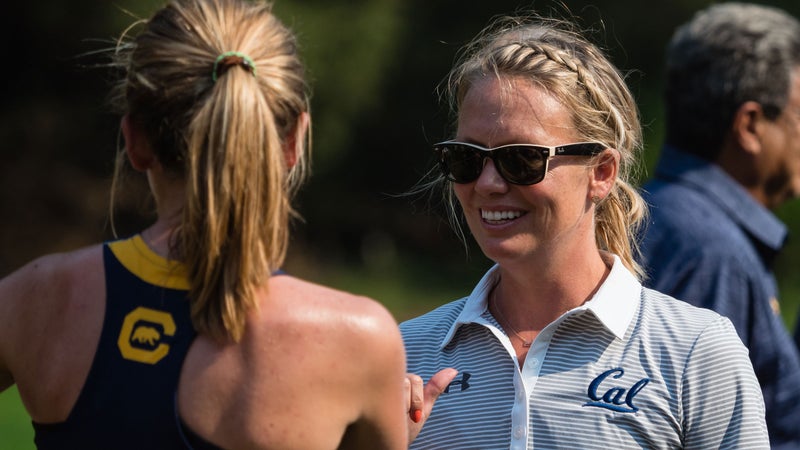 That's also why Shalane Flanagan, the 2017 New York City Marathon champion, feels prepared to turn to full-time coaching for the Bowerman Track Club after she retires from professional running. She says she never would have thought about making the leap without the support she's received from Jerry Schumacher and Pascal Dobert, her other Bowerman coach.
"That's a big factor in why I feel confident attacking this goal," Flanagan says. "That might be limiting other women from coaching at the professional level—a lot of them may not feel like they have mentors. I've been taught throughout the years, specifically with Jerry, observing and asking questions, kind of grooming me toward this because I expressed interest in it."
When the time comes, Flanagan will be among the few female coaches guiding the careers of Olympic athletes. She's also in a rare position—Nike is willing to pay her to coach. In track and field, many athletes not associated with a training group like the BTC select their own coaches and are responsible for working out individual payment agreements. Some pro coaches—who are often also working as NCAA coaches—provide services for free or little money at all, making it difficult for anybody to make a living.
Even a World Marathon Majors champion—and an Olympic silver medalist who's been lauded for her role in creating the women's BTC group—had to forge her own opportunity to pursue a coaching career path. "I don't think there are a lot of companies out there recruiting women to these positions," Flanagan says. "It's not like Nike came to me with this job—I created it. I asked them to give it to me."
---
Whether at the professional or collegiate level, Hogshead-Makar says that adding more female influence within the sport is crucial—not only to advance gender equity but also to provide a safer environment where athletes can thrive. She says that in her research and consulting, she's found that track and field has a significant problem with male coaches getting romantically involved with their female athletes, a violation of the Safe Sport Act that can often damage women's careers.
Hogshead-Makar also believes that with more female coaches, the sport could better cope with the high rate of disordered eating and body image issues, which tend to be more common on women's teams. In May, Greg Metcalf, former head coach of track and field at the University of Washington, left his job after 16 years amid allegations from male and female athletes that he verbally abused them and shamed them about their weight. Metcalf told the Seattle Times that he was "saddened" by the claims. As a result of Metcalf's departure, Maurica Powell left her assistant coaching position at the University of Oregon to become Washington's director of track and field and cross-country.
"When you hit 30 percent of women in leadership, the whole conversation changes—the whole culture changes," Hogshead-Makar says. "The conversations that men have among themselves are different than if a lot more of their peers were female."
Besides, diversity of all kinds improves performance of a group. "Intentionally including women and making sure there's a pipeline is critical. You wouldn't have a staff of ten middle-distance coaches," Hogshead-Makar says. "You need sprints, throws, and jumps, right? Similarly, you need women who have the skill sets to handle all kinds of issues—and it's just doubly important that we have women in coaching to make it safer for everybody."
As for Flanagan, her hopes are high that she can do her part when she makes the switch from athlete to coach of a group of Olympians. "With the two wins of Americans recently—myself in New York and [Linden] at the Boston Marathon—maybe more girls will realize that running and coaching are both professions," Flanagan says. "We can start taking it to all levels, and maybe we'll see an even bigger women's running boom."
Lead Photo: Red Box Pictures
Trending on Outside Online