Will Scott Jurek Break the Appalachian Trail Record? Maybe.
The 41-year-old ultra runner is falling behind on his attempt at a fastest known time. These next three days mean everything.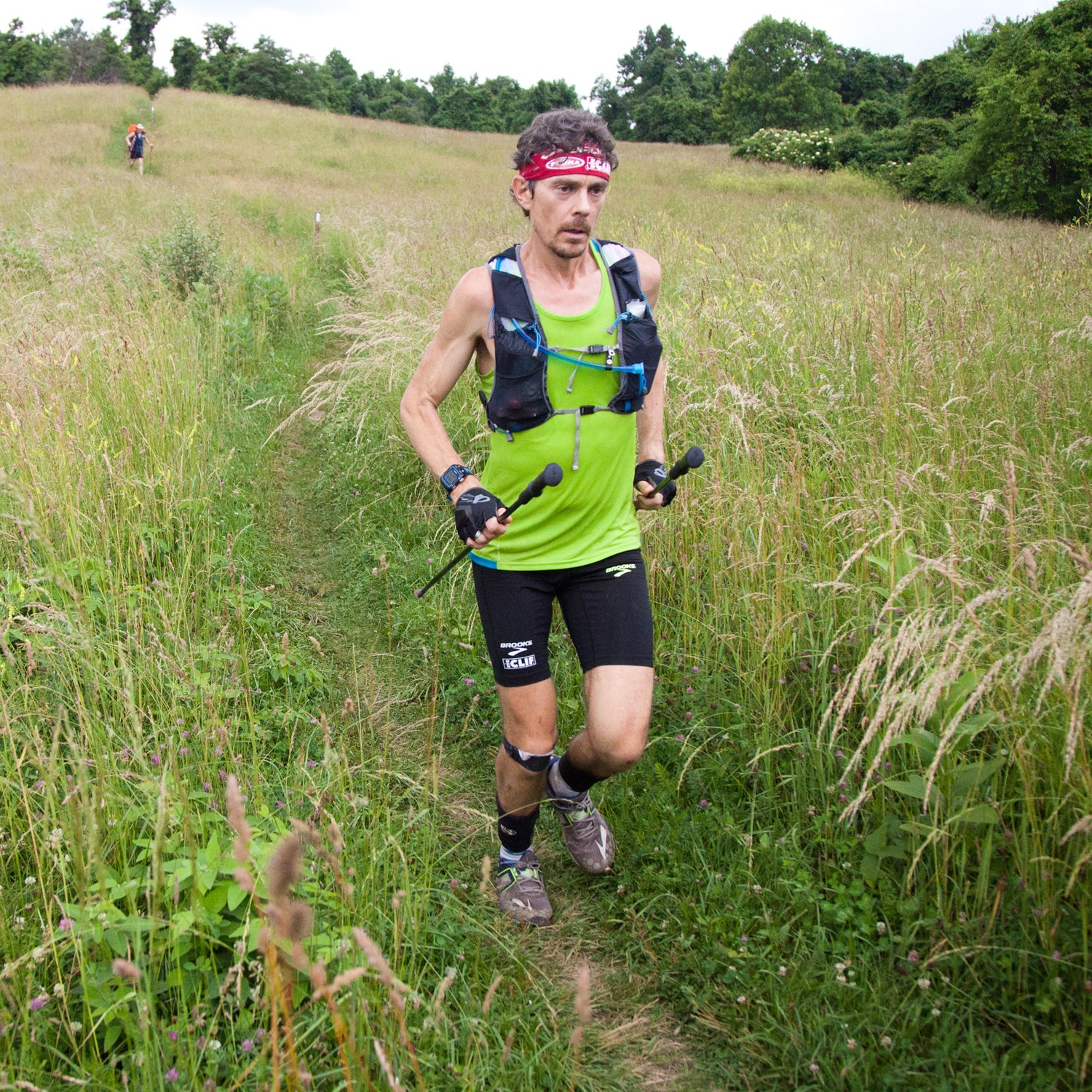 Heading out the door? Read this article on the new Outside+ app available now on iOS devices for members! Download the app.
It's almost midnight, two hours after ultra runner Scott Jurek was due to meet his support team at his destination on a heavily wooded stretch of the Appalachian Trail, and no one knows where he is. He is wearing a Delorme tracker, but there's no phone reception here in the New Hampshire backcountry. Packed inside a Dodge van parked on the side of a logging road, the members of Jurek's support team grow quieter with each passing minute. They sit. And wait. And though nobody says as much, they're maybe starting to worry.
The 41-year-old Jurek is 38 days into a furious attempt to set a speed record on the 2,160-mile Appalachian Trail using nothing but his two feet. He left Springer Mountain in Georgia on May 27. To beat the current record of 46 days, 11 hours, and 20 minutes, he needs to reach Mount Katahdin, in Maine, by 5:15 p.m. on Sunday, July 12. In a press release, he called the project his "masterpiece" and hinted that it would mark his retirement from competitive running. It was meant to be the crowning achievement of a multi-decade career distinguished by running feats, including the U.S. all-surface record (the most miles run in a 24-hour period), which Jurek set in 2010, and winning the Western States 100-Mile Endurance Run seven years in a row. But running the trail in record time is a different beast altogether and, today, Jurek is struggling.
*UPDATE, July 12: Jurek beat the speed record by a mere 3 hours and 13 minutes after pulling three all-nighters in a row. Read more about his finish here. For the details of his journey, read on.
The trouble began just seven days into the run when Jurek wrenched his right knee while traversing the Smokies and developed a nasty limp. Overcompensating for the knee, he developed a severe strain in his left quadricep. As the miles stacked up, Jurek was clearly shedding weight as well. He has always been slight, but now he's rail-thin and looks visibly worn down. He picked up a stomach bug several days ago, and it has slowed him down and put the famously cheerful guy in a low place. His pace tonight is barely a mile an hour as trudges up and down mountain ridges.
"It's been a long night on top of a long day," says legendary speed climber Timmy O'Neill, one of Jurek's crew members.  He has taken notice of a profound transformation in Jurek during the past five weeks, and he tries to put it into words: "Scott is simultaneously becoming more rigid and fluid at the same time. This [record attempt] is becoming a lesson in adaptability."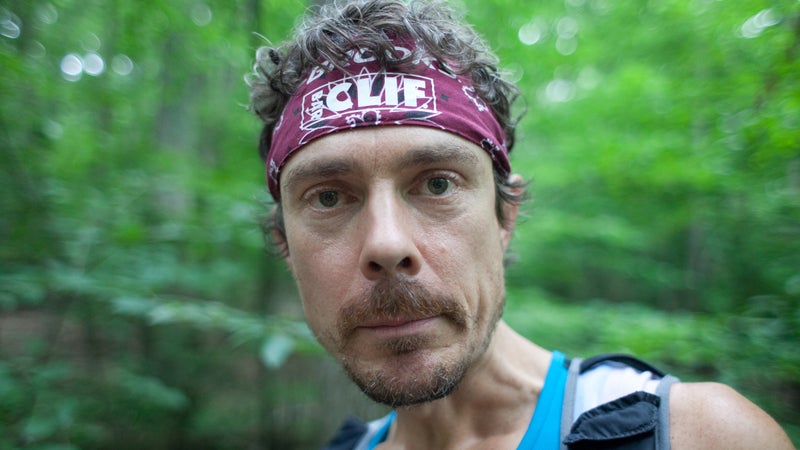 Setting a record on the trail means huffing through an ultra marathon once a day, every day, for about six weeks. The total elevation gain and loss is nearly 515,000 feet, and much of it is hardscrabble rock barely identifiable as a trail. Jennifer Pharr Davis set the trail's current record in 2011 by hiking every step with only minimal assistance. Originally, Jurek predicted he'd best her record by four days. By late June, it became clear that he won't make that. Some in his camp are wondering about the record altogether.
"If everything goes absolutely right from here on out, Scott will be hiking up Katahdin on Sunday looking at the second hand of his watch," says Andrew Thompson, the current AT men's record holder who took a couple of days to pace Jurek through the White Mountains. "It's going to be that close."
Video by Ben Keller
When Jurek finally arrives at the van, just after midnight, he seems grim.  He's covered in mud—it was knee-deep in some places—and his gait is stiff.  His face is all cheekbones and wide eyes. He says he's been sleepwalking for hours and can't make the last five miles he had originally planned for the day. His masterpiece seems a long way away.
"Those kinds of thoughts are way too deep right now," Jurek says. "Reflection isn't something I can do anymore. It's just about putting one foot in front of the other and doing what my crew tells me to do. It's just about getting to Katahdin."
---
Jurek's rise to ultra-running stardom was a gradual one. He won his first high profile competition, the Western States, in 1999, then quietly picked off first-place finishes in races like the Badwater 135 and the Hardrock 100. He was named ultrarunner of the year three consecutive times by Ultrarunning Magazine, the first in 2003. By then, he had signed a lucrative sponsorship with Brooks.
It wasn't until the publication of Christopher McDougall's bestseller Born to Run that Jurek became a name outside of ultra circles. McDougall characterized Jurek as a purist, almost mystical in his dedication to running and his preference for holing up in the woods alone or with his first wife, Leah, rather than with a support crew. It's a persona Jurek capitalized on in his 2012 memoir, Eat & Run, in which he details his trajectory from puny Midwestern redneck (his words) to one of the winningest runners in history. More than that, though, Eat & Run also chronicles Jurek's spiritual evolution into a circumspect vegan who consults shamans and understands what's transcendent about shattering perceived limits.
That, he says, is really what this current attempt is all about. "There's a joy to discomfort and pain. Any time you push through a barrier of discomfort there's an ease and a lightness on the other side."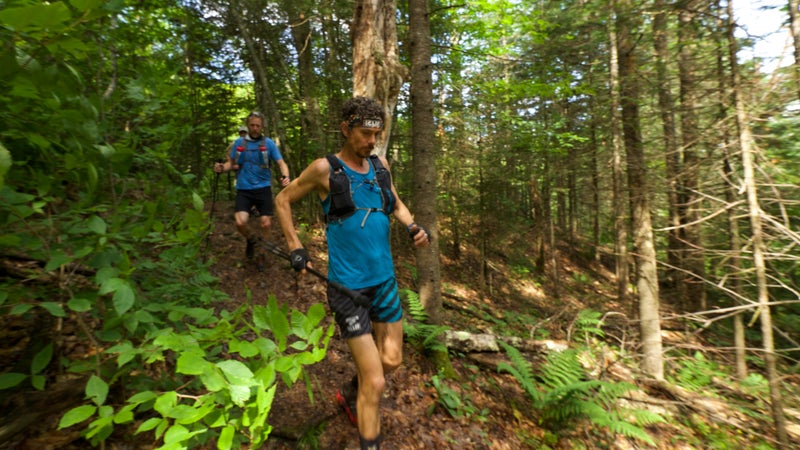 That mentality has turned Jurek into a guru for thousands of runners, many of whom have shown up on the trail to cheer him on. Fans line up by the dozens at road crossings; some stay up all night to wish him luck. They deliver quarts of freshly picked huckleberries, shopping bags filled with meat alternatives, laminated poems, and bronze medallions. (Jurek prefers curries, mostly, with extra coconut milk and served with pints of melted vegan ice cream, and fried bread and tater tots.) Many want the chance to run with Jurek, to pose for pictures, to get autographs. It puts his team in a delicate position.
"You have to walk a line," says his wife and support crew member, Jenny Jurek. "Initially Scott would stop and talk to everyone who came out. But the further north we've come, the less time we have for that. You want to give back, but not at the expense of the record."
---
After all, this may be Jurek's most personal ultra undertaking. There is no prize money at stake in Jurek's AT record attempt. Not even a T-shirt. In fact, no governing body or sanctioned running organization maintains speed records for the Appalachian Trail. When David Horton first set the record, it barely received any media attention. Ditto for Thompson, whose only support on the trail was a buddy. No one really noticed that Pharr Davis was about to set the overall record in 2011 until the New York Times ran a story a few days before she finished.
Since then, though, the running scene has changed. Over the past five years, a new obsessions with FKTs, or fastest known times, has attracted everyone from runners and climbers to swimmers, bikers, and paddlers. Athletes pick a route and try to set the best time. And it's little surprise that a popular venue for these attempts is the Appalachian Trail. But despite many running record attempts, there isn't a set-in-stone method for running it best.
When Thompson was preparing for his Appalachian Trail record, he created a series of metrics and detailed projections for getting through the trail quickly and successfully. He made reconnaissance trips to scope out terrain and aid stops. Pharr Davis did the same. They both chose to run southbound, figuring it'd be strategic to get some of the most technical parts of the trail, like New Hampshire's White Mountains and Maine's formidable boulder gardens, out of the way early.  
Jurek, however, opted for the challenge of heading northbound and finishing with those sections, thinking he'd be better conditioned to get through them. He didn't do any advanced scouting or analysis. Instead, he set a simple goal: complete 50 miles a day, every day. That plan died when he tweaked his knee. His friend Karl Meltzer, another prolific ultrarunner who has made several bids to break the AT record himself, drove out when the injury began to slow Jurek's pace so that he could help Jurek and Jenny rethink their itinerary. But Jurek has mostly stuck to his original plan.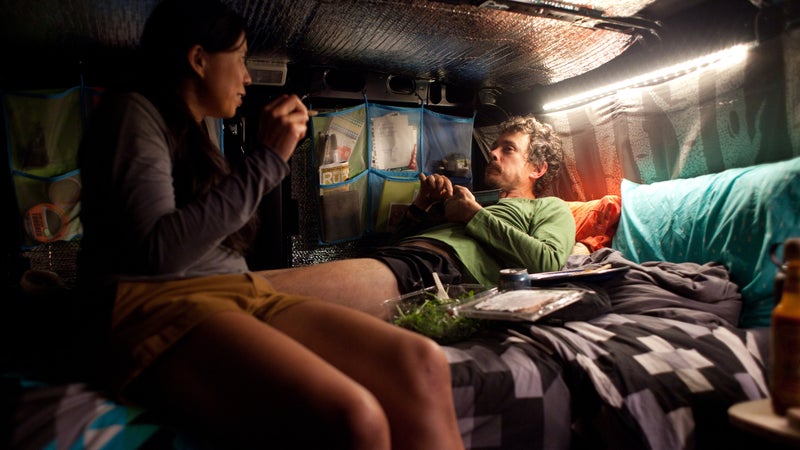 "Speed is absolutely the motivator here. It's what drives what I'm doing," says Jurek. "It's not fun. It's not a good time. At the end of the day, it's really just work."
Pharr Davis has a different take: "You really have to be the tortoise out there. Even when all you can do is crawl. So while it may seem counterintuitive, the way to break the record is to be really, really good at going slow." 
The big question now is whether or not Jurek can go slow fast enough. He's pushed past the stomach bug and is feeling more himself.  He's also made it through some of the toughest terrain on the trail. Later today, Jurek will descend out of the Bigelow Mountain Range as he begins the central section of Maine.  He's lucky—the weather forecast for the next few days is good. Both Thompson and Pharr Davis lost days waiting out snow and wintery conditions in New England, near where Jurek is now. From there, it's about 200 miles to Katahdin. He has until 5:15 p.m. Eastern Standard Time on Sunday to break the record. He's confident he will. 
"It's definitely going to be epic," says Jurek of the finish. The journey, when it's over, "will absolutely be the biggest, hardest, most badass thing I've ever done."
Lead Photo: Rickey Gates